The Best and Cheapest Renters Insurance in Indiana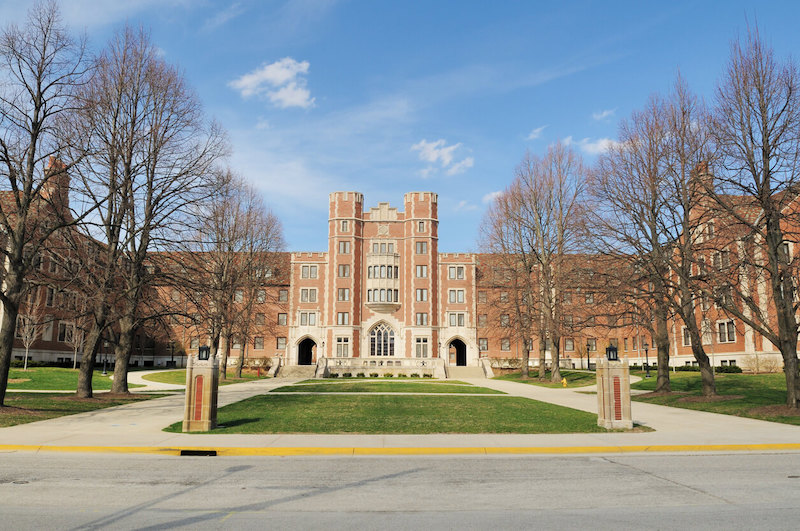 Renters insurance protects your personal belongings from damage or loss due to covered perils like theft, vandalism, storms, and similar weather-related incidents. Homeowners know the importance of having insurance to protect their home and personal possessions, but renters insurance is just as important. College students are often unfamiliar with renter's insurance or its importance.
With more than 420,000 college students in Indiana, you can't underestimate the importance of renters insurance in Indiana. Finding the best and cheapest renters insurance in Indiana involves researching some of the top companies and what they offer for insurance.
Why Do College Students Need Renters Insurance?
College students don't often understand the need for renters insurance for several reasons. One reason is that they've never had to deal with things like insurance. In most cases, their parents took care of all their insurance needs. Another reason is that, like many other people, college students underestimate the value of their personal possessions.
They often mistakenly think they don't have many possessions or that their possessions are not worth that much. It's not until they suffer a loss that they understand the value of their belongings. Most of us think a loss won't happen to us until it does.
College students, along with many other people, mistakenly believe that the landlord will take care of the insurance. Landlords only carry insurance on the buildings. It is the renter's responsibility to insure their belongings. How much is renters insurance in Indiana? That's often the first question college students ask when they're approached about renters insurance or are contemplating getting renters insurance.
The answer varies by many factors, but some companies offering renters insurance in Indiana claim they can offer policies for as little as $5 to $10 a month. It is important, however, that college students not just choose the cheapest policy but the cheapest policy that offers the coverage they need. Parents can help students choose the type of renters insurance they need. Insurance agents can also be helpful in choosing what they need in insurance amounts and coverages.
Stats on College Burglaries in College Cities in Indiana
College students are often victims of crimes, and burglaries are right up on top of the various crimes affecting college students. As of 2014, there were more than 50,000 reported crimes on college and university campuses. Of this number, 57 percent were burglaries, robberies, and motor vehicle thefts.
Recent statistics show that these crimes are still quite common. Below are some crime statistics for some of the top colleges in Indiana in 2018. These figures include full- and part-time students.
Butler University in Indianapolis – 10 burglaries, 109 larceny/theft, and 121 property crimes
Ball University in Muncie – 29 burglaries, 196 larceny/theft, and 228 property crimes
Indiana State University in Terre Haute – 4 burglaries, 220 larceny/theft, and 225 property crimes
Indiana University in Bloomington – 46 burglaries, 249 larceny/theft, and 306 property crimes
Indiana University in Indianapolis – 18 burglaries, 201larceny/theft, and 228 property crimes
Indiana University in Northwest – 3 burglaries, 17 larceny/theft, and 20 property crimes
Marian University in Marian – 4 burglaries, 32 larceny/theft, and 36 property crimes
Purdue University in West Lafayette – 29 burglaries, 314 larceny/theft, and 348 property crimes
Here is a list of some of the safest campuses in Indiana as of 2022.
Rose-Hulman Institute of Technology in Terra Haute
University of Saint Francis in Fort Wayne
Bethel University in Mishawaka
Indiana University in Kokomo
Vincennes University in Vincennes
Anderson University in Anderson
Indiana State University in Fort Wayne
Valparaiso in Valparaiso
Indiana University – Northwest
How Much Is Renters Insurance in Indiana?
This question is probably the most commonly asked question among Indiana college students looking for renters insurance. It can also be the most difficult question to answer because insurance rates are based on several factors.
Coverage you Choose – The more coverage you have on your renter's insurance, the higher the premiums are going to be. One student chooses $50,000 personal property coverage with a $500 deductible, while another might choose $100,000 personal property coverage with a $100 deductible. Consequently, the second policy will cost more. Although you want to be adequately covered, you don't want to over-insure your belongings or you'll be paying more than is needed.
Your Location – Where you live is a very big factor in determining your premium. A student living in a city with a high crime rate will pay more than a student living in a safer neighborhood. Students living in apartments with good security and are close to the fire department will typically pay lower premiums.
Deductible – Every insurance policy has a deductible, which can range from $100 to $2,000 or more. The deductible is what the student will have to pay on a claim. The higher your deductible, the lower your premiums will be.
How They Value Your Belongings – Insurance companies generally pay either Actual Cash Value (ACV) or Replacement Cost Value (RCV). When they pay actual cash value, they'll pay what the item was worth at the loss. You may have paid $700 for a TV several years ago. If it's destroyed, you will only get what the item is worth now. When you have RCV, you'll get what it would cost you to replace the item with the same item or something similar. RCV is more expensive than ACV.
Type of House – The materials that went into the construction of your home will play a role in determining premiums because some materials are more durable than others.
Credit Rating – Many insurance companies will use the student's credit scores to help come to a premium. Students with high credit scores may get lower premiums or some type of discount. Renters' insurance is not just for college students. This is beneficial for adults because their credit scores are usually higher.
Sample Renters Insurance Quotes for College Students in Indiana
I've put together some sample quotes for a 20-year-old male student living in Indiana. I'm also providing the potential premium cost for five different Indian cities. I will be using the same insurance company for all the cities. The premiums are based on a policy that offers $100,000 personal liability coverage, $60,000 personal belonging coverage, $1000 for medical payments to others, and a $2,500 deductible.
It also includes up to $24,000 for additional living expenses. Additional living expenses or loss of use coverages will pay you to live somewhere else while your home is being repaired. It pays for hotel bills or rent, travel expenses, and food. This policy also includes up to $1,500 for electronics.
| | |
| --- | --- |
| City | Monthly Premium |
| Fort Wayne | $14 |
| Terre Haute | $17 |
| Indianapolis | $34 |
| Bloomington | $41 |
| Evansville | $18 |
The Best and Cheapest Renters Insurance in Indiana
Whether you're an adult, a couple, or a college student, there are many things to consider when choosing renters insurance. Although you want to have the best and cheapest renters insurance in Indiana, you need to look at the companies that offer what you need for coverage at a price you can afford to pay annually or each month. To help you along, we've researched and put together a few sample renters insurance policies in Fort Wayne, IN with the coverage amounts most chosen by customers.
Lemonade
Lemonade offers a renters insurance policy for $14 per month. This policy offers:
Personal property – $60,000
Personal liability – $100,000
Medical payments to others – $1,000
Loss of use/Additional living expenses – $24,000
Deductible – $2500
Although this rate shows a $2,500 deductible, students and renters have the option of changing their deductible. Students choosing a renters insurance policy with Lemonade can customize their coverage so they have what they need at an affordable price. Lemonade also offers several add-ons, many of which are free. Free add-ons are for significant other, spouse, and water backup.
If you do need to file a claim with Lemonade, you can do it right from the company's website. Simple straightforward claims are paid almost instantly. Lemonade is a reputable company that's highly rated not just by customers but also by companies like Demotech, Inc, Better Business Bureau, and U.S. News & World Report.
American Family Insurance
American Family Insurance offers renter's insurance, but potential customers must contact them directly for an accurate quote. They do offer some great policies for as low as $30 a month, and these policies offer this coverage.
$25,000 – Personal Property
$300,000 – Personal Liability
$5,000 – Medical Liability
$7,500 – Loss of Use
$1,000 – Deductible
The company also offers a diminishing deductible for customers who do not make claims. The deductible decreases each year the renter goes claim-free. Customers can file their claims through American Family's website, on the mobile app, or over the phone. The BBB and NerdWallet both rank American Family Insurance with a high rating.
Progressive
Progress is another highly reputable company that offers many types of insurance, including renters insurance. Progressive offers renters insurance that's very comparable to other companies. In addition to their basic renter's policies, Progressive also offers extras not available from many other companies. For about $22 per month, renters can get the following coverage.
Personal Property – $60,000
Personal Liability – $100,000
Medical Liability – $1,000
Deductible – $500
Progressive insurance is very quick with its claims process. Renters can file a claim on the website, over the phone, or at the company's store. This company is also ranked very highly with the BBB, NerdWallet, and similar businesses.
Allstate
Allstate is another well-known insurance company that offers renters insurance as well as many other types of insurance. Renters interested in checking out what Allstate has to offer are required to contact Allstate or go to see an Allstate representative in person because they do not offer online quotes. Allstate does offer renters of the option of getting RCV or ACV.
Although Allstate advertises renter's insurance policies as low as $16, various customizations to the policy can change that price. Submitting a claim to Allstate is simple and can be done through Allstate's website on through the customer's mobile app. Renters can track and monitor their claims when they use the mobile app. Allstate has been rated highly by Better Business Bureau and NerdWallet.
Safeco
Safeco Insurance offers renters several options in a renter's insurance policy. Students can get a basic renters insurance policy for anywhere from $9 to$24. These prices offer the following coverage amounts, but are also based on location, claims history, deductible, and coverage amounts. In addition to the basic coverage, renters can also choose add-ons like identity theft, valuable items coverage, electronics coverage, and personal property ACV.
Personal property – $50,000
Personal liability – $100,000
Medical payments to others – $1,000
Loss of use – Must speak to an agent
Deductible – $1,000
The renters must contact Safeco directly to file a claim. Companies like AM Best Standard & Poor's, BBB, and NerdWallet have all ranked Safeco very highly.
GradGuard
GradGuard allows renters to choose the insurance options they want and doesn't have policies like other companies. However, they can get a policy for about $34 per month for this coverage.
Personal property – $50,000
Personal liability – $100,000
Medical payments to others – $1,000
Loss of use – Must call agent for coverage amounts and cost
Deductible – $250
Unlike other insurance companies, GradGuard doesn't use credit scores. GradGuard is rated very highly by several companies. To submit a claim, renters need to contact the company, provide proof of ownership of anything claimed, and provide proof of insurance.
Nationwide
Nationwide deals with several agencies, which makes it easier for them to shop around for the best price. They advertise that they offer renters insurance for about $20 per month, but they do not offer exact quotes online. You would need to call or visit their office to get an exact price. They offer the same type of coverage as other insurance companies.
Their policies provide coverage for personal property, medical payments to others, personal liability, and additional living expenses. Submitting a claim can be done online or over the phone. Nationwide has been ranked highly by both NerdWallet and BBB.
USAA
Although USAA is said to offer excellent renters insurance, their policies are reserved for military students or those who have family members in the military. Potential clients have to send in an application, open up an online account, and speak with an insurance agent to get a quote. Claims and information must be taken directly to an agent online or in person.
Using the information above and the rates listed below, renters can see which company is the most affordable. Here are the companies listed with the lowest premiums to the highest.
Top Renters Insurance by Monthly Premium
Allstate – $16
Lemonade – $14
Nationwide – $20
Progressive – $22
Safeco – $24
GradGuard -$34
American Family – $30
What Renters Insurance Will Cover in Indiana
Renters' insurance in Indiana is similar to most states with coverage for liability, personal possessions, medical payments, and additional living expenses. They typically cover perils like weather damage, smoke damage, vandalism, fire damage, and theft.
What Renters Insurance Typically Will Not Cover in Indiana
Renters insurance in Indiana covers just about everything listed on the policy but will only cover up to the amount of coverage the renter purchased. Damage from earthquakes, flooding, or structural damage is generally not covered. Sarah Gilbert is a licensed insurance broker, specializing in auto, home and renters insurance products. She reviews insurance content on College Educated for accuracy and has a particular passion for making sure that college students and recent graduates have proper insurance coverage. Her latest passion includes researching all forms of business insurance, to ensure that recent college grads who look to entrepreneurship can have the right protection.