The Best and Cheapest Renters Insurance in Connecticut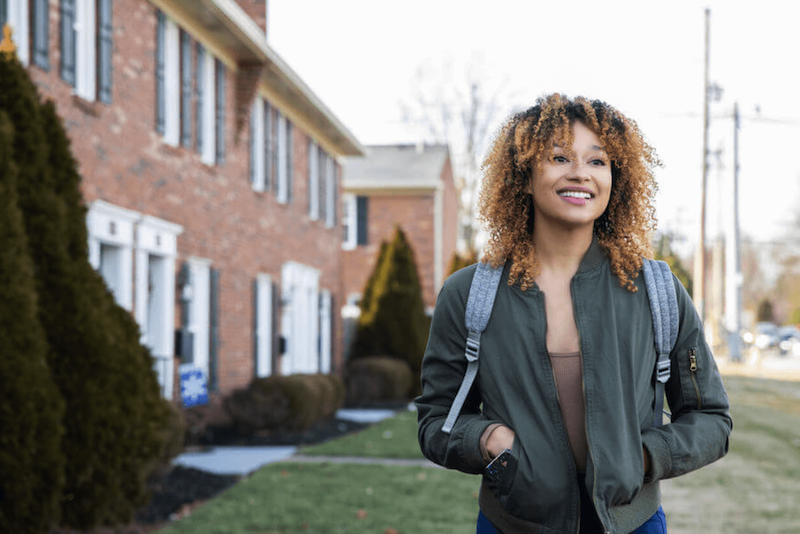 You've worked very hard to have the possessions you own, and it would be a shame to lose them all due to a fire, storm, burglary, or some other type of disaster. Renter's insurance is the best way to ensure you won't have to suffer a potential loss. Choosing a renters insurance policy in Connecticut involves research and knowing what you need in insurance. Whether you're a college student, an adult renter, or part of a family, two of the most important factors are cost and coverage.
Why Do College Students Need Renters Insurance?
College students generally live very busy lives between attending classes, doing homework, and still trying to find time for extracurricular activities. Worrying about losing their possessions should not be one of the things they need to worry about.
Students that live at home with their parents or on campus don't typically have to worry about renters insurance because their personal property is often covered under their parent's homeowner's insurance policy. However, students who live in an apartment or house off-campus should have renters insurance because you never really know what could happen.
College students often underestimate the value of their possessions until they have to replace them. Often, the first question is, "How much is renter's insurance in Connecticut?" Although insurance premiums can vary from company to company, the average cost of renters insurance in Connecticut is much less than you might think.
Statistics on College Burglaries in College Cities in Connecticut
Crimes continue to be a factor among colleges and college students. Burglaries continue to be a problem among college students. In fact, burglary is a big factor in insurance claims made by college students. Burglary is also the biggest crime among college students. Below are some burglary statistics on several college campuses or colleges in Connecticut for a specific year.
Yale University in New Haven, CT. – 57 burglaries as of 2019
Central Connecticut State University in New Britain, CT – 0 Burglaries in 2020
Quinnipiac University in New Britain, CT – 1 Burglary in 2019
Southern Connecticut State University in New Haven, CT – 6 Burglaries in 2019
The University of Hartford in Hartford, CT – 28 burglaries in 2019
How Much is Renters Insurance in Connecticut?
The cost of renters insurance in Connecticut varies from city to city. Here are the factors that determine your cost.
Location – The cost of your renter's insurance is based partially on where you live. Certain cities are more prone to theft or severe weather. Insurance rates are higher if you live in a high-crime city.
Amount of coverage – When you have renters insurance you want it to be enough to cover all your belongings, but the more insurance you have, the higher the cost will be. Renters are advised to do an inventory of everything they own and what it will cost to replace these items. You don't want to pay for extra coverage you don't need or be underinsured.
Deductible – All renters insurance policies have a deductible, which is the amount you will have to pay on a claim. Most companies offer deductibles of $100, $500, $750, $1,000, $1,500, and $2,000. The lower deductible you choose, the higher your premiums will be. A good rule of thumb is to choose a deductible that you can afford to pay out of pocket.
Replacement Cost Value (RCV) or Actual Cash Value (ACV) – Some renter's insurance policies only offer actual cash value, while others offer you the choice of actual cash value or replacement cost value. With ACV, you will be reimbursed for the value of the items lost regardless of what you paid for them. With RCV, you will be paid the actual amount it costs you to replace the items for new items of the same value or size. RCV is much more expensive than ACV.
Your Credit Score – In some states, insurance companies will use your credit scores to determine the probability of you making a claim. The lower your credit score, the higher your premiums will be. The good news for some is that credit scores are not allowed to be used to determine renters insurance in California, Maryland, Massachusetts, and Washington. Unfortunately, they may be used in Connecticut.
Sample Renters Insurance Quotes for a Connecticut Student
Here is a sample quote for a 20-year-old male college student living in Connecticut. This quote is based on five different cities in Connecticut. They are also based on a policy that offers $50,000 on personal property; $100,000 in personal liability; $1,000 in medical payments to others; $15,000 in loss of use; and a $2,500 deductible.
| | |
| --- | --- |
| Insurance Company | Monthly Premium |
| Hartford | $12.34 |
| Bridgeport | $13.92 |
| Greenwich | $15.15 |
| Danbury | $19.25 |
| Waterbury | $20 |
The Best and Cheapest Renters Insurance in Connecticut
The best way to determine the best and cheapest renters insurance in Connecticut is to research and compare different companies and different policies. Luckily, we've done some of the research for you. Here are some sample renters insurance policies for college students in New Haven, CT.
Lemonade
Lemonade offers a renters insurance policy for $16.34 per month. This policy offers:
Personal property – $50,000
Personal liability – $100,000
Medical payments to others – $1,000
Loss of use/Additional living expenses – $15,000
Portable electronics – $1,500
Deductible – $2,500
Lemonade renters insurance allows students to adjust benefit amounts to customize their policy to what they need and can afford. They also allow students to add on their spouses for only $1.67 per month. They also offer add-ons if the student has valuable items that would not be covered under the basic policy. Things like water backup and appliance breakdown can be covered for only a couple of dollars a month.
Students can file a claim online on the company's website. Provided there is no other information needed, claims are usually paid almost instantly.
Lemonade has a very good reputation. Demotech Inc. has given Lemonade a Financial Stability Rating of A for Exceptional. Although Lemonade is not accredited by the Better Business Bureau, the BBB did give them a grade of F due to various complaints against the company.
Safeco
Safeco renters insurance also allows the students to customize their policies. For about $23 per month, a student will get the following coverage.
Personal property – $50,000
Personal liability – $100,000
Medical payments to others – $1,000
Loss of use – Must call agent for coverage amounts and cost
Deductible – $1,000
Safeco does offer add-ons such as identity protection, earthquake coverage, mining substance, and fine art or electronics protection. To get the price of these items, students must contact an agent. Although they do offer loss of use or additional living expenses, they do not provide the amount on their website.
Safeco requires students to contact the company directly to file a claim. Safeco earned ratings/grades of A from AM Best, Better Business Bureau, Standard & Poor's, and Moody's. WalletHub ranked them 2.2 out of 5 based on reviews.
Nationwide
Nationwide allows students to customize their policies to get the coverage and cost they want. Although they do not provide sample rates and coverages online, they state their basic policy runs about $19 per month. Their renter's policies offer the same as other companies: personal property, personal liability, medical payments, and loss of use.
Unlike other companies, Nationwide also provides credit card coverage and building additions and alterations. Claims can be submitted online or over the phone. If the claim is simple and straightforward, it may be processed and completed on the phone. Nationwide is ranked very highly for performance and customer satisfaction. NerdWallet ranked them 5 out of 5, while the BBB ranked them A+.
Allstate
Allstate offers various add-ons that students can buy in addition to their basic policy. While they do not provide their quotes online, they do state that students can get a basic policy for about $16 per month. They offer both ACV and RCV.
Students can file their claims on the company's website or through the company's mobile app. Once the claim has been submitted, they can monitor and track the claim through the app. Allstate renters insurance received a 4.5/5 rating from NerdWallet and an A from the BBB.
GradGuard
GradGuard renters insurance also offers the option of changing coverage amounts and deductibles for lower or higher premiums. Their policy is about $48 per month and offers this coverage.
Personal property – $50,000
Personal liability – $100,000
Medical payments to others – $1,000
Loss of use – Must call agent for coverage amounts and cost
Deductible – $1,000
GradGuard does offer several add-ons for extra protection for things that are more valuable. If these types of items are destroyed with a basic policy, the student may not get enough money to replace the items. GradGuard does allow renters to go as low as a $100 deductible. They also do not require credit scores when determining premiums. GradGuard is rated very highly by rating companies as well as colleges and students.
American Family
American Family has been around for many years and continues to be a familiar name for those looking for renters insurance in Connecticut. They advertise a renters insurance policy that costs about $33 per month and offers this coverage.
$25,000 – Personal Property
$300,000 – Personal Liability
$5,000 – Medical Liability
$7,500 – Loss of Use
$1,000 – Deductible
American Family offers a diminishing deductible, and it starts immediately. One the above policy, they would automatically reduce your deductible to $900 when you purchase the policy. It continues to decrease each year that you go by without a claim. The claims process can be done online, on the mobile app, or over the phone. American Family is rated very highly and has received an A from the BBB and a 4.5/5 from NerdWallet.
Progressive
Progressive offers renters insurance that's very comparable to other companies. What it offers that other companies don't is three levels of coverage: the basics, the most popular, and their better coverage. Their most popular policy costs about $23 per month and offers this coverage.
$20,000 – Personal Property
$100,000 – Personal Liability
$1,000 – Medical Liability
$6,000 – Loss of Use
$500 – Deductible
Progress insurance offers renters insurance through two different companies and is rated highly by NerdWallet. They are not accredited by the BBB, but the BBB has received complaints about the company.
Acuity
Acuity does not offer its insurance products in Connecticut.
USAA
USAA offers renters insurance but is typically designed for military students or students who have military family members. USAA does not provide an online quote without actually submitting an application and opening an online account.
The Connecticut Insurance Company states that the average cost for renters insurance in Connecticut is about $15 a month. After learning about renters insurance costs, it can be said that the rates are based on the coverage, and the $15 per month is probably the lowest coverage. Here are the cheapest renter insurance companies of the above listed.
Allstate – $16
Lemonade – $16.34
Nationwide – $19
Safeco – $23
Progressive – $23
American Family – $33
GradGuard – $48
What Renters Insurance Will Cover in Connecticut
Renters insurance in Connecticut pays for things like personal belongings, personal liability, loss of use, medical payments,
Most renters insurance policies cover things like:
Fire damage
Smoke damage
Theft
Vandalism
Weather damage
All personal belongings that are inside the structure
What Renters Insurance Typically Will Not Cover in Connecticut
Renters insurance in Connecticut may vary, but most will not cover things like roommates, earthquakes, floods, or structural damage. They also will not pay for expensive and valuable items unless they are specifically listed on the policy. When they do pay on a claim, they won't pay more than the limits of coverage. For instance, if a student puts in a claim for $60,000 but only has coverage for $50,000 on personal property, the company will only pay up to $50,000. Sarah Gilbert is a licensed insurance broker, specializing in auto, home and renters insurance products. She reviews insurance content on College Educated for accuracy and has a particular passion for making sure that college students and recent graduates have proper insurance coverage. Her latest passion includes researching all forms of business insurance, to ensure that recent college grads who look to entrepreneurship can have the right protection.