The Best and Cheapest Renters Insurance in Idaho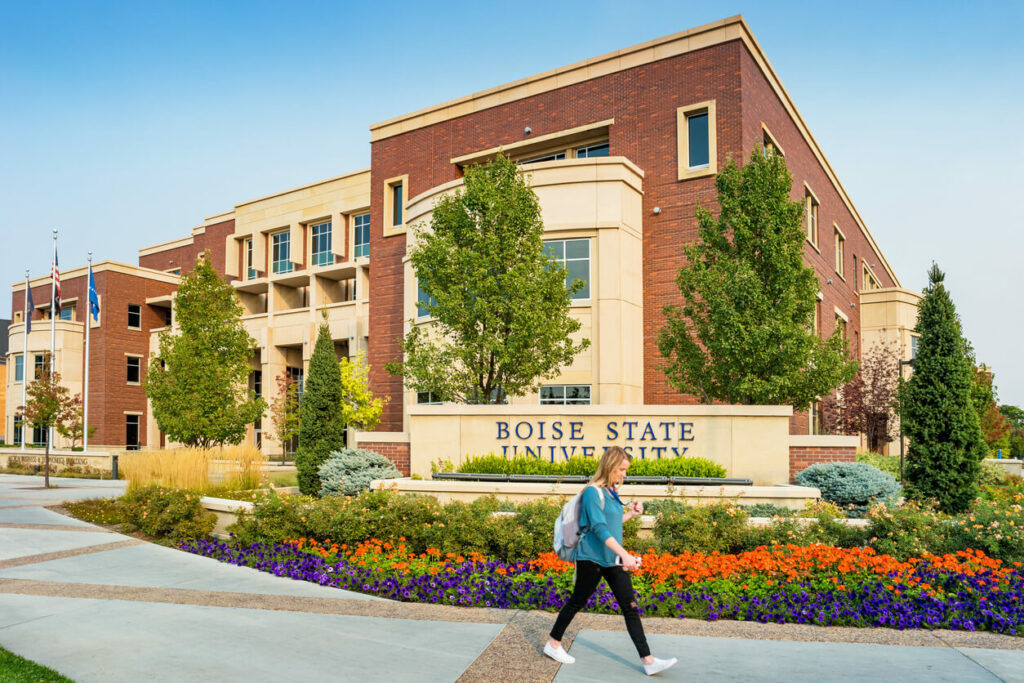 College renters insurance in Idaho is a big deal when you consider how many belongings you will have with you, and the size of the population in some of the college towns. With all the things that you think about when choosing a college, your safety (including likelihood of property theft) may not be one of them. You should look at safety statistics in each of these cities and how renters insurance can help.
College Student Safety in Idaho
Many of the colleges in Idaho have programs designed to keep students safe. You'll also find public safety departments. These departments have officers who patrol campus to look for issues. Though Idaho campuses are usually safer than other campuses, you always have a risk of becoming a victim of theft. Theft occurs when someone takes anything from you without your permission. This can include your laptop and other expensive items you carry with you to class as well as valuables you leave in your home. Your chances of becoming a theft victim are higher in Moscow and Rexburg, but Pocatello, Caldwell, and Meridian students report a few thefts every year.
The top thing you need to know about renters insurance in Idaho is that you pay both a premium and a deductible. Your premium is the amount you pay for your total coverage. Many insurers allow you to pay upfront for a semester or a full school year of coverage but also allow you to make monthly payments. When you file a claim, you pay your deductible, and your insurer pays any amount above your payment. For example, you might have a $500 deductible and need to file a claim for the theft of a $1,200 laptop. Once you pay your deductible, your insurance will pay the rest of the money you need to replace the computer.
How Much is Rental Insurance in Idaho?
As a student, you know just how much you spend at the bookstore each semester. Paying for your books can easily cost you $200 to $500 or even more. By the time you pay for your apartment and other expenses, you may not have much money left. The best and cheapest renters insurance in Idaho helps you protect all of your things without adding a lot to your monthly bills. Whether you pay for school on your own or use student loans, you can easily afford rental insurance.
To help you see how much insurance costs, we got some sample quotes from Lemonade. We compared the prices that students pay when they live in different cities across the Gem State. Though our samples were for a 20-year-old male college student, you will usually pay around the same amount. Your age and sex can affect your prices though.
Premium Cost Per Month by Idaho City
| | |
| --- | --- |
| City | Monthly Premium |
| Moscow | $13 |
| Rexburg | $13 |
| Meridian | $14 |
| Pocatello | $11 |
| Caldwell | $11 |
The Best Insurers in Idaho
We looked at the best insurers for college students with a variety of factors. Cost, coverage, additional items coverage and customer service were the main drivers of how we determined what is "best."
Here's a look at the cheapest policies:
| | |
| --- | --- |
| Policy | Monthly Premium |
| Safeco | $6 per month |
| Nationwide | $7 per month |
| USAA | $8 per month |
| Lemonade | $11+ per month |
| AmFam | $12 per month |
| GradGuard | $12.50+ per month |
| Allstate | $15 per month |
| Acuity | $15 per month |
Safeco
Though you might expect Lemonade to offer the cheapest renters insurance in Idaho because of its online ads, the cheapest company we found is Safeco. Safeco rates start at right around $6 per month and cost less than $75 if you pay for a year of coverage upfront. Your policy covers both items stolen from your apartment or rental home and things that others steal from your car. You can even file a claim to replace stolen items if you're on a school trip or vacation and become a theft victim.
Thanks to your personal liability coverage, Safeco will even cover some claims you file on behalf of your pet. This includes an injury caused by a covered incident in your home and an injury that your pet causes to another person. Many college students keep pets with them at school as a reminder of home and to have a friendly face around.
Nationwide
Nationwide claims that it has rental policies for $15 to $20 per month. When we checked on the cost of insurance for college students in Idaho though, we found that it costs much less at around $8 per month. If you or your landlord installs a security system, you automatically qualify for a discount. Nationwide has agents working in Pocatello and Idaho Falls as well as Boise but offers coverage across the state.
When you request a quote, you can try changing the size of your deductible and other details to bring the premium down to a price you can afford. All plans include both liability and personal protection coverage, but you can add any other type of coverage you might need. With medical payment coverage, Nationwide pays the medical bills of people injured in your rental home. Valuables Plus allows you to add coverage to expensive items that your standard policy excludes.
USAA
With rates starting at $8 per month, USAA is a good option if you qualify. USAA only offers coverage to members of the military and their families along with veterans and their families. You might choose USAA because you have a parent who served or is still in the military. USAA has a long history of offering insurance for people who own homes and now offers rental insurance. You can choose liability coverage of up to $100,000 to cover both accidents as well as legal fees. If you have a landlord who tries to hold you responsible for certain types of damage, your policy will pay for legal help. USAA plans cover all types of thefts. You might file a claim because a roommate's friend stole your computer or someone broke in and took your TV. Some of the other things that your policy covers include damage caused by objects hitting the roof and fire.
Lemonade
We wanted to start our review of Idaho insurers for college students with Lemonade because it offers so many convenient features. You don't need to worry about calling in the middle of the night to find the office is closed because Lemonade only operates online. With your account, you can file a claim and upload all the information you need in seconds.
Lemonade offers deductibles that start at just $250. If you want to reduce your monthly costs, you can increase your deductible up to $2,500. No matter what you set your deductible, you get both property coverage for your belongings and liability coverage against accidents. Lemonade makes it easy for you to add coverage to protect some of your more valuable items, too.
AmFam
You don't need to live with family or have kids to get renters insurance through American Family. Better known as AmFam today, it offers rental insurance that starts at just $12 per month. Based out of Wisconsin, the company has a website that is easy to use. Whether you want to add more coverage or change your deductible, you'll have no problem finding the right place on the site. AmFam offers tons of optional coverage for students who need more help like protection for jewelry, identity theft, and pets. With pet coverage, AmFam pays out up to $1,000 if your pet has an injury or dies due to anything covered by your policy.
If you are under the age of 30 and have parents with AmFam insurance, you instantly qualify for a discount. Other AmFam discounts are available for student renters who pay their premium in full, sign up for autopay, or have smart features in their homes that keep them safe.
GradGuard
Finding an exact rate for GradGuard is hard because the company allows you to pick how much coverage you want and then decides how much you pay. Rates start at just 0.05 percent of the total coverage you need. For $30,000 worth of coverage, you usually pay around $12.50 a month. In some cities, you pay two percent of your total coverage, which brings your cost up to $50 a month. GradGuard partnered with several campuses like Brigham Young University Idaho and Eastern Idaho Technical College. If you attend one of those schools, you can easily sign up for a plan and get coverage that starts as soon as tomorrow.
As the company does not base your rate on your credit score, you may qualify for more coverage for less money than you would through other insurers. GradGuard is unique in that it also covers your tuition. If you cannot attend college due to mental or health reasons, your policy will refund you the total cost you already paid to your school
Allstate
Allstate charges more than most other insurers do, but the company has many agents working in Idaho. You'll find local agents in the top college towns, including Moscow and Pocatello. Not only can you contact a local agent with questions about your policy, but they will help you file a claim, which is a process that some students find confusing. Allstate policies cover all types of vandalism and thefts such as someone stealing your phone when you're out with friends or damage that a neighbor's party guest did to your home. You also receive coverage against fire and water damage.
Though your landlord will likely have their own policy, it only covers the building itself. Your policy covers anything you own inside the building. Though Allstate is the most expensive at $15 per month, it has policies that pay for guests' medical bills and any temporary living expenses you might have.
Acuity
Priced around the same as Allstate, Acuity offers renters insurance for college students who live anywhere in Idaho. When you request a quote online, it takes just five minutes to see if you qualify and what the company charges for your coverage. If you need any other type of insurance and bundle it with your renter's policy, you save 20% on the full cost. Acuity plans protect any guests who visit your rental and pay for medical bills they have after an accident. Your personal protection coverage applies to anything you own, including your textbooks, electronics, clothing, and furniture.
The Better Business Bureau gave Acuity an A+ rating because the company has a 96 percent approval rating from customers. Acuity has other options for renters, too. You can add roadside assistance if you drive to ensure that you get help when you're stranded on the road and identity theft protection to keep your personal information secure.
Renters Insurance in Idaho – What You Need to Know
Protecting your belongings is as easy as getting insurance designed for renters. Between your school expenses and monthly bills, you don't always have enough cash to replace valuables someone stole. Before you buy a policy from any of these insurers, look at what Idaho policies cover and do not cover.
What Does Idaho Rental Insurance Cover?
Rental insurance policies are similar to homeowners' policies. They cover most of the things you own, but you may find some exclusions such as jewelry that has a higher value or items that you cannot prove you owned. It's often helpful to take a video tour of your apartment to show the company what you had before the theft. Most plans also cover injuries that affect your guests.
What Does Your Policy Not Cover?
The best and cheapest renters insurance in Idaho does not cover every situation you might face. We did not find any policy that covers things your roommate owns. If someone steals from both of you, you can only claim your belongings. Many policies do not cover structural damage or flooding either. You may want to adjust your policy to make sure you have coverage against anything that might happen when you're at school. Sarah Gilbert is a licensed insurance broker, specializing in auto, home and renters insurance products. She reviews insurance content on College Educated for accuracy and has a particular passion for making sure that college students and recent graduates have proper insurance coverage. Her latest passion includes researching all forms of business insurance, to ensure that recent college grads who look to entrepreneurship can have the right protection.