The Best and Cheapest Renters Insurance in Missouri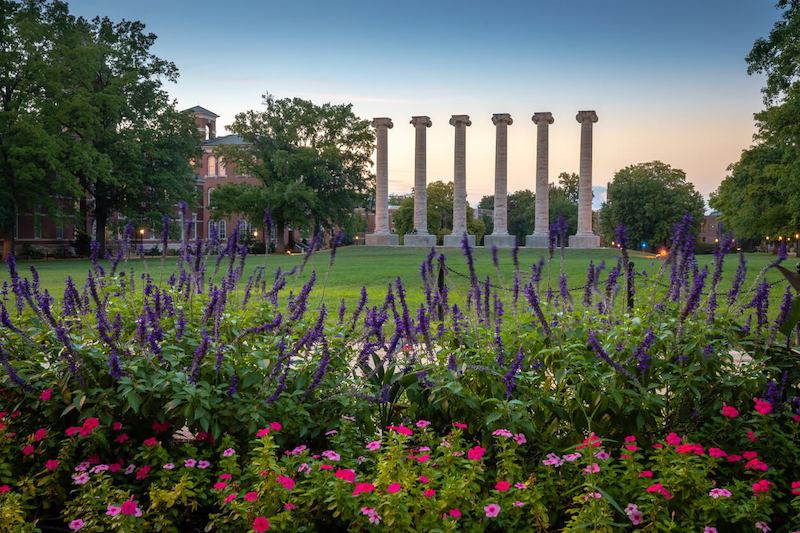 Why do College Students Need Renters Insurance?
College students need renters insurance to safeguard their property. Renters insurance provides a way for college students to recoup their losses in the event of damage or theft. At the University of Missouri, the largest college in the state, there were a combined eleven burglaries in 2020.
No one ever thinks a burglary will happen to them until it does, and having the protection of renters insurance mitigates the headache of having to replace everything you own. You are not awash in cash as a college student, and replacing your personal property can be costly. Savvy college students understand the power of making a modest investment in renters insurance. It provides peace of mind.
What Factors Influence the Price of Renters Insurance in Missouri?
For many college students in Missouri, the cost of renters insurance matters the most. The cost of renters insurance in Missouri depends on several factors. Keep these factors in mind when comparing different carriers of renters insurance.
Location: Your plan depends on where you live. For instance, if your ZIP code is associated with high crime rates or severe weather, you can pay a higher premium.
Coverage: If you need additional insurance because of your property's value, you will pay a higher premium. Ensure to inventory all your personal property and gauge how much it would cost to replace your belongings.
Deductible: The deductible is the amount you must pay before your insurance company accepts your claim and replaces your personal property. Renters insurance with high deductibles generally has lower premiums. The reverse is also true. Insurance plans with low deductibles typically have higher premiums.
Type of plan: Will your renters insurance reimburse the actual cash value or the replacement cost value of your property? Actual cash value policies pay for the depreciated value of your belongings. Replacement cost value policies pay you the cost of a new item.
Actual cash value policies will have lower monthly premiums but pay out less on a claim.
Replacement cash values will have higher monthly premiums but pay out more on a claim.
Credit score: Insurance companies use your credit score to identify individuals who are most likely to file a claim. If you have a low credit score, you may pay a higher premium.
How Much Does Renters Insurance Cost in Missouri?
In Missouri renters, insurance premiums average $8-21 per month, depending on the coverage you need.
The following sample quotes are from Lemonade. In Missouri, for a 20-year-old male student.
| | |
| --- | --- |
| City | Premium Cost Per Month |
| St. Louis | $19.09 |
| Kansas City | $19.09 |
| Springfield | $15.42 |
| Columbia | $13.25 |
| Independence | $20.34 |
| Lee's Summit | $17.59 |
Let's dive a little deeper into how much renters insurance costs in Missouri. For this comparison, we will focus on Columbia, Missouri. The University of Missouri calls Columbia home, and it is the largest university in the state, with 31,121 students enrolled.
Acuity's premium is $10.09 per month. That premium covers:
Property coverage
Personal liability
The company offers you a chance to upgrade your standard plan by adding additional coverage such as:
Cyber protection
Jewelry
Valuables
Water, sewer, drain backup
Acuity pays out the replacement cost on contents, but you have the option to change that to the actual cash value. Also, Acuity offers a discount if you bundle your auto or motorcycle insurance with them.
You can either report it online, on their app, or by calling the company to file a claim. From Trustpilot, Acuity earned a 4.5/5 star rating. The company is responsive to negative reviews.
Lemonade's premium is $13.25 per month. For that amount, Lemonade covers the following:
Fire and smoke
Bad weather
Crime and vandalism
Medical payment to others
Liability
Water damage
The company does not cover the following:
Earthquake
High-risk dog attacks (pit bulls, rottweilers, and other aggressive dog breeds)
Flood
Roommates' property or personal injuries
Lemonade has no physical offices. Everything from the initial quote, payment, and the claims process occurs online. Powered by AI, the company reduces cost and boosts efficiency with fewer agents.
Consumer Affairs rates Lemonade Insurance 4.8/5 stars claiming that its transparency and technology make it a transformative company. This Old House scored the company 83.5/100 partly due to the company's limited availability in all states.
A general trend in negative reviews of the company mentions the difficulty of contacting an actual customer service rep.
USAA
USAA's premium is $15 per month. However, USAA has strict eligibility requirements. You will need to be in the military, are a vet, or have eligible family members who served in the military.
A standard USAA quote covers the following:
Flood
Earthquake
Upon deployment or a move out of the country, USAA will protect your jewelry, bike, camera, and guns
In addition, USAA offers ways to save by bundling your auto insurance with your renters insurance. You will be able to get in contact with their claim center 24/7 and can file a claim online or via their app.
Finally, USAA prides itself on providing excellent customer service. They say, "Membership means more at USAA," as a nod to the military requirement and the company's level of support
Allstate
Allstate's premium is $16 per month. For that price, Allstate covers:
your personal property

Theft
Vandalism
Fire and smoke
Water damage

provides family liability protection
guest medical protection
Allstate offers a chance to bundle insurance and save. You have to make a small down payment of $15 "due today to start the insurance."
Allstate has an A+ rating on BBB and has agents to help you file a claim throughout the country. You are also able to file a claim using the company's website.
AmFam's premium is $16 per month. The company covers:
Personal property
Medical liability
Theft
Hotel costs if you get displaced by a fire or storm
As part of the standard plan, the company does not cover:
Roommate's property
Pets (but you can add a rider)
Home business
Jewelry ($1,500+)
Your deductible drops the longer you stay with AmFam. If you insure long enough with AmFam, eventually, AmFam can reduce your deductible to nothing. AmFam offers the ability to bundle your renters and auto insurance. Also, they offer discounts for smart home devices like:
Ring Video doorbell
Smoke/fire alarm
Water detection system
You can file a claim online or on the MyAmFam app 24/7. Overall, AmFam is a solid company. It has fewer complaints than most other insurers. The major drawback is that their service is not available everywhere in the US, but it is in Missouri!
Nationwide's premium is $22.48 per month. Nationwide does not cover water backup or sewage backup damage to your property. Still, the standard insurance does cover up to $2,500 for the following:
Jewelry
Firearms
Watches
Cameras
Nationwide lets you file a claim online. All you need to do is log in and file your claim, and one of Nationwide's professionals will handle your claim. They also provide a way to contact a rep via phone.
Nationwide has an A+ on the Better Business Bureau (BBB). However, they have a 1.14/5 star rating. The most common complaint indicates that Nationwide's customer service is lacking. The company seems to respond dutifully and directs the client to the right point of contact to resolve issues.
Safeco is $23.67 per month. For that price, Safeco covers:
Personal property
Personal Liability
Additional living expenses
You can also get optional coverage for:
High-value items (jewelry, camera, art, and collectibles)
Personal property replace cost (if something experiences a mechanical or electrical breakdown, Safeco pays to have it replaced)
In addition, Safeco offers a discount if you bundle auto insurance with your renters insurance.
GradGuard's premium is $26.79 per month. The price includes:
Property coverage of things you bring to college

Clothing
Textbooks
Gaming systems
Computers
Bikes
Cell phones

Liability
Theft and Vandalism
Fire and Smoke
Burst Pipes and Sprinkler Discharges
GradGuard guarantees that your rates will not go up if you file a claim. Another highlight is that the insurance company does check your credit. It also covers property worldwide which helps if you travel as a student.
FAQ: Renters Insurance in Missouri – What You Need to Know
Are there any specifics to what a Missouri renters insurance policy will cover?
In general, renters insurance in Missouri covers $20,000-$30,000 of personal belongings against damage or theft.
Typically, renters insurance will cover:
Fire and smoke
Windstorm and hail
Lightning
Vandalism and theft
Weight of ice, snow, or sleet
Damage from Car
What does renters insurance in Missouri NOT cover?
Usually, renters insurance does not cover:
Flood, to get insured against floods, you need to contact Missouri Floodplain Management
Earthquake
Sewer and drain backup
Normal wear and tear
Cars on your property
Critical Takeaways for Renters Insurance in Missouri
Your landlord may not require renters insurance. However, renters insurance is a generally inexpensive way to protect your personal property in the event of theft or fire.
No matter what policy you decide on, you can rely on renters insurance to at least cover:
Personal property
Liability if a guest gets injured on your property Sarah Gilbert is a licensed insurance broker, specializing in auto, home and renters insurance products. She reviews insurance content on College Educated for accuracy and has a particular passion for making sure that college students and recent graduates have proper insurance coverage. Her latest passion includes researching all forms of business insurance, to ensure that recent college grads who look to entrepreneurship can have the right protection.