The Best and Cheapest Renters Insurance in Washington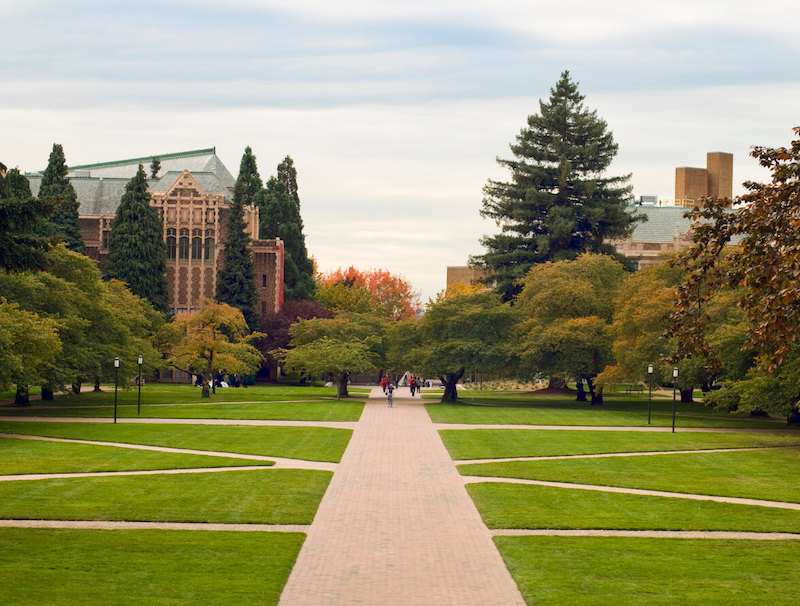 Renters insurance isn't the first thing college students think about when they move out of their parent's home – and for a good reason. With tuition, rent, and other expenses taking up a large chunk of the average student's budget, it can be tough to justify spending money on something that doesn't have an immediate payoff.
What happens when you're facing a lawsuit after a guest gets injured at the party hosted in your home? Or when someone swipes your laptop from your apartment and you have to come up with the money to replace it?
According to the FBI's Uniform Crime Reporting Program, there were 6,233 property crimes in Washington in 2018. An average of 17 property crimes occur each day in the nation's capital state. As a college student on a tight budget, the theft of essential items or getting hit with a lawsuit can be especially devastating.
Did you know that renters insurance protects against such losses? This article will explore the importance of college students having a renters insurance plan and the top affordable insurance providers.
When Would A College Student Need Renters Insurance?
Renters insurance coverage is always a smart move because it can relieve you of the financial burden of unexpected losses. However, whether you need to invest in a policy largely depends on your living situation.
If you live in a dorm or school-affiliated housing, you may be covered under your parent's homeowners since you legally still reside in their household. There are some drawbacks to relying on your parent's homeowner's insurance policy. These policies only cover about ten percent of the total value of your belongings. Additionally, often homeowners insurance policies have large deductibles and a high minimum amount threshold for which you can submit a claim. If your claim is only worth $700, your parent's $2,000 deductible insurance plan won't cover your loss.
Obtaining a renters insurance plan provides extra coverage, which is especially beneficial if you leave campus during school breaks or plan on throwing parties occasionally. Also, renters insurance policies have smaller deductibles which means they'll pay out smaller claims.
If you live off-campus in an apartment or house alone or with roommates, it's vital to have renters insurance. ‌You become an independent tenant once you sign a lease. Thus, you'll no longer be under your parent's homeowners insurance. ' A basic renters insurance plan can sufficiently protect you against losses. Most landlords require tenants to have renters insurance when they move in to help avoid liability claims.
What Is Renters Insurance and What Does It Cover?
Renter's insurance is ideal for anyone renting an apartment, condo, or townhouse. A common misconception is that the landlord or the property owner is responsible for reimbursing you for the damage or the theft of your belongings and personal property. If your items are stolen or damaged in a fire or storm, it's up to you to resolve the problem.
Renters insurance helps with the cost of replacing your possessions if they are unexpectedly destroyed or stolen. The policy covers items such as:
Furniture
Clothes
Electronics
Sports and exercise equipment
We also recommend renters insurance because it covers:
Additional living expenses: Your renters insurance will pay for temporary relocation if your apartment becomes unlivable due to fire, water damage, or other disasters. Your policy will cover the living expenses incurred, such as food and clothing until you're able to move back in.
Personal liability covers another person's medical bills or repairs to their property if you are found legally responsible for their injuries or property damage.
How Much Does Renters Insurance Cost?
Fortunately, most renters insurance policies are affordable even for a college student on a limited budget.
The average cost of renters insurance in Washington for a 20-year-old male student is $173 per year or about $14 per month. Of course, the amount you'll pay for your policy will depend on several factors, such as the value of your personal belongings, the amount of coverage you need, and the deductible you choose.
| | |
| --- | --- |
| City | Premium Cost Per Month |
| Spokane |  $8.09 |
| Seattle |  $15 |
| Tacoma |  $13 |
| Bellevue | $!2 |
| Renton | $11 |
| Kent | $13 |
Top Cheapest Insurance Companies in Washington State
We checked with multiple reputable insurance companies to determine which provider offered the best coverage at an affordable price.
Lemonade
At $8.09 a month, Lemonade has the most affordable renters insurance plan for students in Washington. The company's basic policy provides $20,000 for personal property coverage, $3,000 for electronics, and $100,000 in liability with $1,000 in guest medical bill coverage. If you are ever displaced, this policy will pay up to $6,000 in loss of use expenses.
The great thing about Lemonade renter's insurance is that it's flexible. Customers can add extra packages to cover high-value items like jewelry, fine art, and musical instruments.
Founded in 2015, Lemonade is a relatively new insurance provider, and they don't have an AM Best financial stability rating. In 2021, DemoTech, a reputable financial analysis firm in the insurance industry, gave Lemonade an A for exceptional financial stability, which means they have a good track record for paying out claims.
 Safeco
Safeco is a subsidiary of Liberty Mutual Insurance, one of the largest insurance providers in the world. Safeco has an AM Best financial strength rating of A, meaning that it is a reliable and stable company. Safeco's renters insurance plan starts at $10 a month or $120 annually for basic coverage that includes $25,000 in personal property coverage and a $500 deductible. You can save an additional 15% by combining auto and renters insurance. Safeco renters insurance plans are customizable; you can adjust the coverage amount based on your needs.
State Farm
State Farm's standard renters insurance policy is $10.41 a month or $124.92 annually. The policy provides coverage for personal property up to $20,000 and personal liability up to $100,000. If someone injures themselves on your property, this policy covers up to $1,000 in medical bills. The deductible is just $500.
This renters insurance policy offers both a low premium and deductible State Farm has an A.M. Best financial strength rating of A++ (Superior).
USAA
The average cost of a basic renters insurance policy from USAA is $11 per month or $132 per year. USAA is one of the only insurance providers that offer flood and earthquake coverage in their renters insurance policies. The insurance company's standard policy even reimburses for storage and replacement costs.
USAA offers the most comprehensive renters insurance policies at affordable rates. However, only active and retired military members and their close families are eligible for renters insurance through USAA.
Allstate
Allstate is one of the largest insurance companies in the United States, with a financial strength rating of A+ from AM Best. This means that Allstate is a financially stable company with a strong ability to pay claims. Allstate's customer service rating is also excellent, with a score of A+ from the Better Business Bureau. Their basic renters insurance policy is an excellent value for students as it's only $12 a month or $144 annually for $15,000 in personal property coverage, $100,000 in liability protection, and $1,000 in Guest Medical coverage. The deductible is also very reasonable at $500. Overall, Allstate is a great choice for renters insurance.
AmFam
AmFam's economy renters insurance plan is only $16 a month when you choose the Autopay option and enroll in paperless billing. This plan includes $15,000 in personal property coverage per occurrence, $300 000 in damage liability coverage per incident, and $5,000 in guest medical expenses. The insurer offers a $4,500 loss of use. A $1,000 deductible applies for personal property claims.
AmFam AM Best financial rating is A++. This insurance company is a licensed and bonded company with an A+ rating from the Better Business Bureau. 
GradGuard
GradGuard is an insurance provider that specializes in serving college students. Their basic renters insurance policy is 219.76 a year or $18.31 a month for $10,000 property coverage, $100,000 in personal liability coverage, and there is a $100 deductible. Gradguard has the highest premium but the most affordable deductible.
GradGuard's AM Best financial strength rating is A-. This rating is based onGradGuard's "superior" ability to pay policyholder claims and reflects the company's strong capitalization and track record of operating profitability. Thanks to these factors, policyholders can be confident that GradGuard will be able to meet its financial obligations if they need to file a claim.
What You Should Know About Renters Insurance in Washington
According to a recent study, the average cost of rent in Washington State is $850 for a one-bedroom apartment. Approximately 34% of the overall population are renters. Renters insurance is less than 1% of the monthly rent, making it an affordable option even for college students.
What Renters Insurance DOES NOT cover:
Renters insurance policies protect your belongings in a covered disaster, such as a fire or severe weather. However, some types of damage are not typically covered by renters insurance.
Earthquakes and floods
Earthquakes and floods are two of the most common exclusions. If either of these disasters
damages your rental unit, you need to bear the cost of repairs or replacements yourself.
Car Theft or Damage
If your car is stolen from your parking spot or sustained damage while parked at your apartment complex, you would likely have to pay for repairs.
Roommate's Property
Renters insurance only covers personal belongings owned by the policyholder. If your roommate isn't listed on your policy, they won't be compensated for their loss through your renters insurance provider.
High-Value Items
Renters insurance policies limit coverage for expensive items, such as jewelry or electronics. So if you have any particularly valuable possessions, you may want to consider purchasing an additional insurance policy to ensure they're fully protected.
Living on your own for the first time can be exhilarating. Yet it comes with a lot of responsibility. While you're enjoying your newfound freedom, don't forget to take steps to protect yourself. Renters insurance is an affordable way to ensure that you have financial protection in case of an unforeseen occurrence. Sarah Gilbert is a licensed insurance broker, specializing in auto, home and renters insurance products. She reviews insurance content on College Educated for accuracy and has a particular passion for making sure that college students and recent graduates have proper insurance coverage. Her latest passion includes researching all forms of business insurance, to ensure that recent college grads who look to entrepreneurship can have the right protection.