GradGuard Renters Insurance for College Students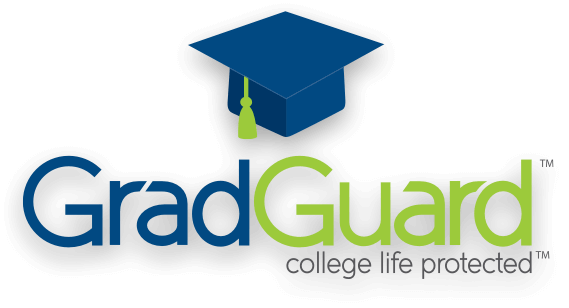 GradGuard Renters Insurance for College Students
Interest fees, rates and terms
Best for
Students with no credit score
Covering property worldwide, good for traveling students
Worst features
Can be more expensive monthly than other larger brands
Going away to school can be very exciting for college students. For many of these young adults, it's their first time away from home. Things like insurance are foreign to many students because having insurance has always been something that didn't concern them. It's a different situation now because many of the student's prized possessions go with them to college.
Having renters insurance is a must for college students because it protects them from loss caused by fire, theft, vandalism, and a dozen other perils. Many students choose GradGuard renters insurance for college students. GradGuard is one of several insurance companies that provide insurance for college students that rent a home or dorm. Below is a GradGuard renters insurance review that offers all the information you might need on renters insurance for college students.
What Renters Insurance is and Why It's Important
Renters insurance is just what the title implies. It's a type of insurance designed for renters. Homeowner's insurance protects someone's home from loss, and auto insurance protects drivers and their vehicles. Renters insurance provides insurance on the personal property owned by a renter.
It only covers the individual's personal possessions. It does not insure the actual structure or the garage. It's the landlord's responsibility to have home insurance on the buildings. Renters insurance covers all your belongings kept inside the building, including clothes, furniture, appliances, and anything else the renter might own.
Renters insurance is very important because you never know how much your possessions are worth until you lose them, and they need to be replaced. Whether it's storm damage, fire, theft, or some other peril, renters insurance covers all these incidents. Renters insurance typically covers three areas:
Liability – This coverage will not pay to replace your belongings but will protect you from being sued if someone on your property is injured. It will pay for their medical bills and offer protection if they choose to sue you. Liability insurance may also pay for legal expenses needed to protect yourself. It will not pay your medical bills.
Personal property coverage – This coverage pays to replace any of your personal possessions that were destroyed or lost in a covered peril like fire, wind damage, vandalism, and theft, among others.
Additional living expenses – If your home is damaged or destroyed and you need to live elsewhere temporarily, this coverage will help pay for expenses like rent, food, utilities, and even travel expenses.
Renters cannot choose to eliminate the liability coverage. When they purchase personal property coverage from GradGuard, they must also choose liability coverage. Some landlords and property management companies may actually require students to have a certain amount of liability coverage.
About GradGuard Renters Insurance Coverage
Students doing a GradGuard renters insurance review often find they don't need to look much further because GradGuard renters insurance for college students is everything they need in renters insurance. The cover damages done by fire, wind, hail, tornadoes, theft, vandalism, and even damages caused by burst pipes and waterlines.
It's still important to compare companies and rates, as well as compare the premiums for these rates. Although cost is always a factor, it's not the only factor renters should consider. You want to look at the company's reputation, the kind of coverage they offer, how they handle claims, and their rates. The premiums are based on certain factors.
Location of the property – Property located in a small town will be cheaper to insure than property in a large city with a higher crime rate.
Your claims history – The rates will be lower if you've never made claims.
Type of building – Is it a home or an apartment?
Size of your home – If you live in an apartment for several units, your insurance will be cheaper than if you lived in a one-unit home.
Your credit scores – Unlike some insurance companies, GradGuard does not consider credit scores.
The home's construction – Homes constructed with stronger materials will be cheaper to insure.
Type of coverage you choose – You can choose between ACV or RCV.
Amount of coverage you choose – The more coverage you choose, the higher your premiums will be.
Deductible amount – The higher deductible you choose, the lower your rates will be.
Any security – Homes with locked gates or security systems will get you lower rates.
When students do a GradGuard renters insurance review, the first thing they generally check is the premiums. Here are some sample rates for different areas based on different factors just to give you a general idea of what you might expect.
Sample Quote 1: NYC Student
A student living in a dorm in New York City can expect to pay about $495 annually. This policy offers $50,000 in personal property coverage; $100,000 in liability coverage; and a $250 deductible.
Sample Quote 2: Chicago Student
The same amount of coverage for a student living in Chicago, IL would cost $310.00. If this student increased the personal property coverage to $70,000, the premium would increase to $383.
Sample Quote 3: Alabama Student
A college student living in Mobile, AL would pay a premium of $367 for a renters insurance policy with $50,000 in personal property coverage, $100,000 in liability coverage, and a $250 deductible. If the student changed the deductible to $1,000, the premium would decrease to $344 annually.
Sample Quote 3: Arizona Student
A college student living in Avondale, AZ would pay $367 annually – the same amount for the Mobile, Alabama student for the same coverage and deductible amounts. If this student increased the coverage from $50,000 to $100,000, the premium would increase to $478 annually. If the student also increased the deductible to $1,000 rather than $250, the premium would be $447.
It's easy to see how adjusting different factors in the coverage can alter the premium they need to pay. This can be very beneficial to college students because they can customize the policy to provide them with the coverage they need at a price they can afford.
Limits
GradGuard renters insurance will also only pay up to the amount of coverage you have on your policy. If the renters are paying for $50,000 worth of coverage on their personal belongings, this is the maximum amount they will pay even if the value of all your things exceeds that amount. Renters are advised to take a serious inventory of what they all possess to ensure they are not underinsured.
Although renters insurance offers some great coverage for college students, there are some limitations to what they'll pay. When personal property is damaged or destroyed, the amount the insurance company will pay you is based on the type of policy and coverage you have.
Renter's insurance generally pays either actual cash value (ACV) or replacement cost value (RCV). If your policy has actual cash value, they will pay you what the damaged item is worth right now and not how much you paid for it.
If your policy has replacement cost value, they will pay you the amount it costs to replace the item. An example of how this works can be found with a TV you paid $500 for. If you have ACV and the TV is destroyed, you will only get what the TV is worth today.
It may not be enough to buy the same kind of TV. If you have RVC, they will pay you whatever it costs you to buy the same kind of TV. The premiums are typically higher on policies with RVC. In most situations, GradGuard uses the actual cash value payment method. Their policy is usually to pay the lesser of the two unless the renter has extra coverage on a specific item.
GradGuard also has specific limits on things they will pay for. For instance, they will only pay up to $250 on coins; $1,000 for personal property left in a vehicle that's damaged, and $500 for firearms that are lost due to burglary. There are various other limitations that can be found in the policy.
Renters who have valuable things such as guns, photography equipment, and jewelry, can purchase additional insurance just for those items. The insurance company may cover a certain item like a laptop but only for up to a certain amount. If the renter believes the item is worth more, they might want to have additional coverage on the item.
Your personal belongings are even covered if you happen to be studying abroad. However, the liability coverage does not cover you while abroad. Your personal belongings are also covered if they're in storage. GradGuard renters insurance also does not pay for animals or things that are rented.
If you have to live elsewhere because of damage done to your home, GradGuard will pay additional living expenses for up to two weeks.
Deductibles
College students can choose deductibles ranging from $100 to $1,000. They're typically offered at $100, $250, $500, $750, and $2,000. The deductible is the amount that the student is required to pay before the insurance company will pay on a claim. If you have a $500 deductible, and you make a claim for $5,000 in damages, you will have to pay the $500, and the insurance company will pay the remaining $4,500.
Unlike health insurance, which usually has a per-year deductible, renters insurance is usually per claim. This means that if the renter makes four claims in a year, he or she would have to pay the $500 four times. Increasing or decreasing the deductible can lower or increase the premium.
College students often live on a tight budget and may have a hard time coming up with $1,000 all at once. These students may choose to lower their deductible and pay the difference in the premiums. This would be beneficial to the student from Mobile, AL. Decreasing the deductible from $1,000 to $250 only increases the annual premium by $22, but the $250 deductible will most likely be much easier to pay than the $1,000.
Claims
Filing a claim is relatively simple. The college student must contact the insurance company or underwriter and inform them of the loss. They must provide the policy number and proof that they owned the item that was damaged or stolen. If the item was stolen, the student will need to show proof that it was reported to the police. You can also begin to file the claim online. Most claims are settled and reimbursed in 1 to 2 weeks.
Items of Interest
In addition to offering GradGuard renters insurance for college students, GradGuard also offers tuition insurance. This insurance will reimburse students some of the tuition if they must withdraw from college due to a covered situation.
GradGuard renters insurance is not available to all college students. The college the student is attending must be in partnership with GradGuard.
Your covered personal possessions are covered regardless of where you might be. If you're on vacation in Paris, and your covered laptop is stolen, your GradGuard renters insurance will pay for it. GradGuard renters insurance for college students will offer coverage whether the student lives off-campus or on campus.
Next Steps
Get a quote for a GradGuard renters insurance policy. For a low monthly fee, you can have peace of mind over your belongings, even when away from home. Sarah Gilbert is a licensed insurance broker, specializing in auto, home and renters insurance products. She reviews insurance content on College Educated for accuracy and has a particular passion for making sure that college students and recent graduates have proper insurance coverage. Her latest passion includes researching all forms of business insurance, to ensure that recent college grads who look to entrepreneurship can have the right protection.