Critical Care Nurse Career Overview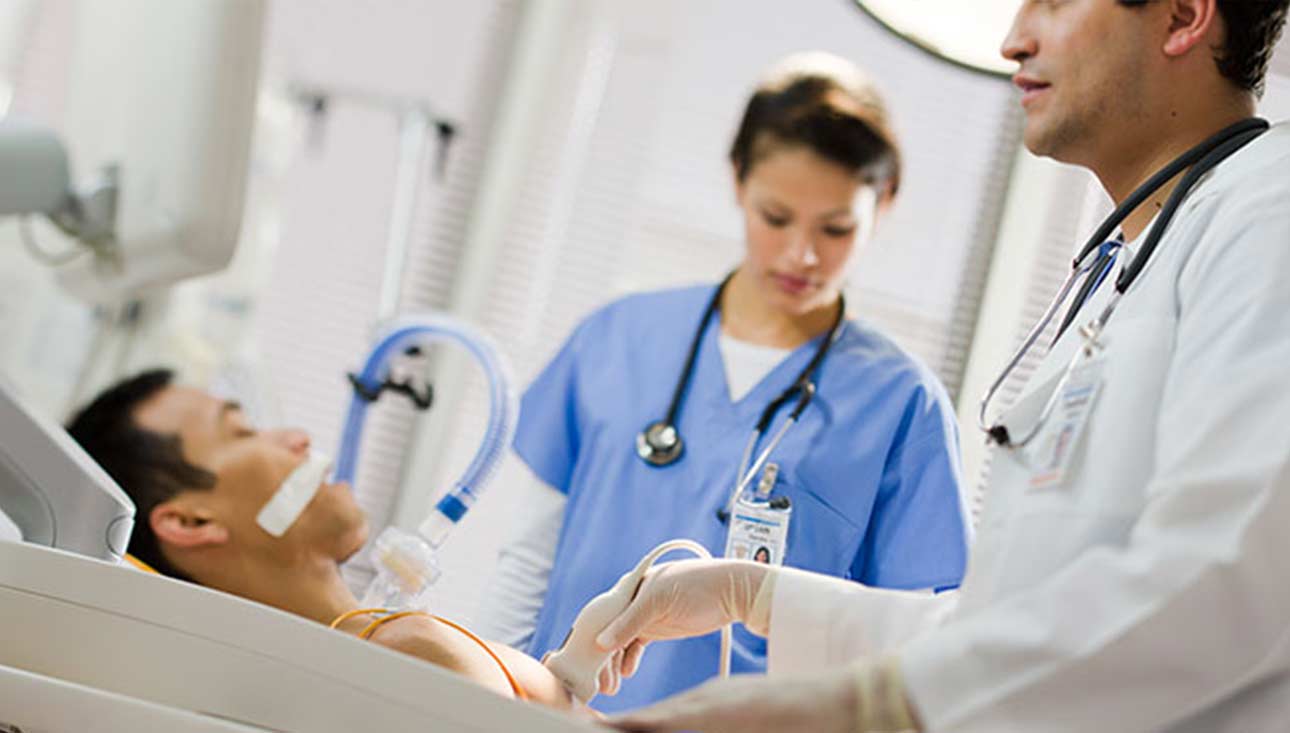 If you've even been critically ill or have been around someone who was critically ill, you've probably seen or experienced the services provided by critical care nurses. It takes a very special person to work as a critical care nurse because they see patients who are critically ill and at their very worse. There are more than 500,000 critical care nurses in the United States, according to the American Association of Critical Care Nurses (AACN). Despite this large number, there is still a shortage of these qualified professionals.
Overview

Critical care nurses are a special breed of healthcare professionals who work with and care for critically ill patients in emergency rooms, intensive care units or in-home care settings. Their responsibilities and duties are very similar to that of the emergency room and staff nurses. They work with critically ill patients of all ages. They assist doctors and specialists in treating and monitoring critically ill patients and also provide basic care for these patients.
If the patients show any change in their condition, the critical care nurse reports to the primary care physician. Critical care nurses work in various medical settings but almost always with critically ill or dying patients. To work as a critical care nurse, an individual must earn a degree, obtain experience working as a registered nurse and obtain any necessary certifications.
What is a Critical Care Nurse?

Critical care nurses are registered nurses who, much like their title indicates, work with critically ill patients. They are some of the most in-demand nurses in the nursing field. They're often referred to as ICU nurses because they spend a lot of their time working in the Intensive Care Unit of a hospital. They help provide care to patients that are critically ill or seriously injured. They may work in specific departments or units of a facility working only with certain patients such as critical care burn units.
In addition to treating critically ill patients, the critical care nurse also monitors the patient by taking the patient's vital signs and monitoring the medical equipment. Since some patients are on their last days, critical care nurses are often required to take blood oxygen levels and vital signs several times per hour. The critical care nurse often acts in the capacity of critical patient management and patient advocacy.
Where Does a Critical Care Nurse Work?
Of the large number of critical care nursing working in the United States, approximately 230,000 work in intensive care units while more than 93,000 work in transitional units. More than 50% of the critical care nurses work in a hospital setting that provides care to critically ill patients, such as:
Emergency departments
Pediatric intensive care units
Cardiac care units
Progressive care units
Intensive care units
Cardiac catheter labs
Recovery rooms
Burn centers
Some critical care nurses choose to work as transport nurses and help to deliver critically ill patients to better-equipped medical facilities. Still others work at outpatient surgery centers, in home health care and for managed care organizations. The majority of critical care nurses still work in hospitals with critical and intensive care units.
Education Needed for this Career
Becoming a critical care nurse requires education, training and a nursing degree. Although an individual may be hired as a licensed practical nurse, most critical care nurses are required to be registered nurses. The most common scenario is where the individual earns an associate or bachelor's degree in nursing and specializes in critical care nursing. After earning the degree, the student must pass the NCLEX-RN exam to become licensed as a registered nurse.
Some aspiring critical care nurses work in a traditional nursing position for a couple of years before applying for a critical care nursing position. Some nursing graduates seek work in a critical care nursing setting to begin obtaining necessary work experience immediately. This is also beneficial for those interested in earning the Critical Care Registered Nurse credential through the AACCN, which requires at least two years of experience.
Earning a degree and certification may be the only real education requirements for becoming a critical care nurse, but it's not the only requirement. Working as a critical care nurse can be both emotionally and physically challenging. They're caring for children and adults who are recovering or suffering from serious injuries and illnesses. Critical care nurses are often expected to assess a patient's condition quickly and make decisions equally as quick. They must have good communication, analytical and interpersonal skills.
Good communication skills are also necessary because the critical care nurse is often the one who speaks with that patient's family members regarding their condition. The critical care nurse must be knowledgeable of various health conditions so that they can effectively speak with the patient and/or the patient's family members and explain it in terms they can understand. Being a highly qualified critical care nurse requires a lot more than just obtaining the education and training. Their work involves treating patients who are seriously ill, in severe pain and often dying. A critical care nurse must have specific traits like patience, understanding and compassion.
Because of the seriousness of the patient's conditions and the intense care the critical care nurse must provide, they should be skillful in basic life support, cardiopulmonary resuscitation (CPR), advanced cardiac life support (ACLS) and pediatric advanced life support (PALS). They should also be familiar with defibrillators, ultrasounds, bedside monitors and similar life-saving equipment. While the primary care physician or specialist is the doctor who provides the basic care to the patient, the critical care nurse provides daily care to the patient almost hourly.
Career and Salary Outlook
Qualified registered nurses are constantly in demand, and the same can be said for critical care nurses. The U.S. Bureau of Labor Statistics (BLS) predicts that registered nurses would see an employment growth of 15% between 2016 and 2026. Because there appears to be a shortage of critical care nurses, they're expected to have an even better employment growth. Salaries for critical care nurses is headed in a positive direction.
The critical care nurse annual wages range from $39,951 to $92,989 with the average wage at $64,998, according to a September 2018 report by PayScale.com. The average hourly wage was at $32.10. Factors such as education, training, experience, employers and geographic location all play a part in determining wages. The factors that affect the wages the most are experience and location.
PayScale reports that a critical care nurse with less than five years of experience can experience a wage of about $56,000 while one with ten to 20 years of experience might earn about $79,000. Geographic location can also affect wages. Here are the five top-paying and lowest-paying states for registered nurses as reported by the BLS in 2017.
California – $102.700
Hawaii – $96,990
District of Columbia – $90,110
Massachusetts – $89,330
Oregon – $88,770
Puerto Rico – $34,630
South Dakota – $57,010
Mississippi – $57,700
Alabama – $57,890
Arkansas – $58,810
Getting Started as a Critical Care Nurse

Once you've earned your nursing degree and obtained a nursing license, you're well on the way towards starting a career as a critical care nurse. Students pursuing their nursing degrees are required to complete clinical education as part of the program requirements. The clinical education is in the form of rotations in different departments. It's beneficial for aspiring critical care nurses to spend as much time as
possible working in intensive care units or emergency rooms to get as much experience as possible.
If you're in a good nursing program, the school may be able to help you get into the type of nursing environment you need to help your critical care nursing career. If you can find work in ICU departments even outside of the actual nursing program requirements, it can be even more beneficial. It's not only a way to beef up a resume but will also provide you with more experience. Registered nurses are often required to have a couple of years of experience working in a critical care unit before they can be hired as critical care nurses.
If you choose to obtain AACCM certification as a critical care nurse, you'll also need to have a few years' experience under your belt before you can apply to take the certification exams. You'll also want to gain experience working in an acute care setting and performing duties like administering medication, implementing care procedures, evaluating patients and taking vital signs.
Joining critical care nurse associations can help you to gain knowledge of the career, network with other professionals and remain current with new procedures and nursing regulations. Here are some associations worth joining.
American Journal of Respiratory and Critical Care
Society of Critical Care Medicine
Journal of Pediatric Critical Care Medicine
American Association of Critical Care Nurses
Journal of Trauma and Acute Care
British Association of Critical Care Nurses
Sources
https://www.bls.gov/ooh/healthcare/registered-nurses.htm
https://www.aacn.org/