Nursing Degree and Career Guide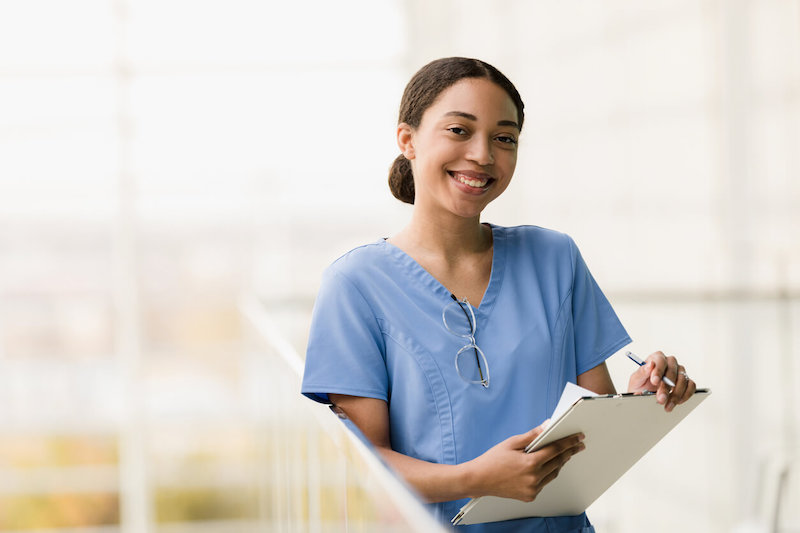 Nursing is a field that consists of a group of highly trained medical professionals that includes licensed practical nurses (LPNs), registered nurses (RNs), advanced practice registered nurses (APRNs), and nurse educators. Nurses have a wide range of duties from providing vaccinations in schools to providing care to sick and injured individuals.
Nurses may work in clinics and hospitals or may work independently. They are a very important part of the healthcare industry. Choosing nursing as a career involves medical training and a nursing degree. When it comes to the field of nursing, there are several degrees from which to choose. While there are online degrees, there is always going to be an in-person portion of any nursing degree due to the clinical nature of the profession.
The one thing that all degree levels have in common is that the nursing student must pass the National Council Licensure Examination (NCLEX) in order to become licensed. This test is through the National Council State Board of Nursing . When choosing a nursing program, it's important to make sure it is accredited by the Commission on Collegiate Nursing Education.
Rewarding Field
Nursing is an ideal career for someone who is interested in healthcare and can be a very rewarding career for those with a desire to help others in need.
Lucrative Career
Nursing is a field that pays very well. RNs earned an average yearly wage of $77,600; LPNs earned about $48,070, and APRNs earned $123,780 as of May 2021. The more training the nurse completes, the higher the wage potential.
Lots of Opportunities
Whether you choose to become an LPN, an RN, or an APRN, you'll have excellent job opportunities in a growing field. RNs and LPNS are expected to experience job growth of six percent from 2021-20, while APRNs could see a 40 percent increase according to the U.S. Bureau of Labor Statistics.
Associate Degree in Nursing
The associate degree in nursing (ADN) is typically the lowest degree for aspiring nurses. Although some LPNs may complete a diploma or certificate program, the ADN is the most common program for LPNs. This two-year program combines general education and nursing courses as well as internships. Various ADN programs are offered online.
Online ADN Programs
Excelsior University offers two paths toward becoming an LPN. Both can be completed in two years. The Associate in Applied Science in Nursing program is aimed at students who want to join the workforce as soon as they graduate. The Associate in Science in Nursing program is aimed more at nurses who want to pursue a bachelor's degree in nursing in the future. Both programs are fully online and offer eight-week courses.
The University of Wisconsin Extended Campus offers an online associate degree in nursing program that includes the general education and required prerequisite courses required if the student should choose to pursue a bachelor's degree in nursing. Completing these courses allows the student to earn a bachelor's degree more quickly. Students are provided with a Success Coach to help them.
John A. Logan has an online associate's degree in nursing that requires the completion of 73.5 credit hours. Because it's a hybrid program, some courses are online, and some are on campus. If the prerequisite courses are completed, the student can finish this program in two years and be prepared to take the licensing exam.
Bachelor's Degree in Nursing (BSN)
The bachelor's degree in nursing is typically chosen by students who want to become registered nurses, LPNs who want to become RNs or RNs who want to add a bachelor's degree to their credentials. These programs offers some areas of specialization. Many colleges offer a bachelor's in nursing degree both on campus and online. There are a couple of nursing bachelor's degrees a student may choose.
An individual with no degree can choose a bachelor's degree in nursing. A student who has a bachelor's degree but not in nursing can choose an Accelerated Bachelor of Science in Nursing (ABSN) program. Remember, you will still need to become licensed as a Registered Nurse to be considered an RN.
Online BSN Programs
Rasmussen University has an online Bachelor of Science in Nursing accelerated program designed to fit the student's schedule. In addition to online courses and clinical experiences, they also have simulations one to four times per semester on the weekends. This program can be completed in either 18 or 33 months depending on if the student already has a bachelor's or not.
Maryville University has an online RN to BSN program for RNs who want to have a bachelor's degree in nursing. This program offers students flexible schedules, the ability to transfer credits to finish the program even quicker, and six different start dates. This program is aimed at diploma-and associate degree-holding nurses.
The University of Arkansas at Little Rock offers a 100 percent online nursing bachelor's degree in nursing program. This program is designed for those with a current and valid RN license or graduates of a diploma or associate degree nursing program. Students must complete 12 credits, which include both courses and practical experiences.
Master's Degree in Nursing (MSN)
The master's degree in nursing program is aimed at RNs who wish to advance their knowledge of nursing or want to specialize in a certain area of nursing, such as emergency room, pediatric nursing, geriatric nursing, or family practice nursing, among others.
Depending on the program, RNs can generally earn their master's degree in about two years beyond the bachelor's degree. Online master's degree nursing programs are often chosen by RNs who are currently working as RNs and want to advance learning while continuing to work.
Best Master's of Nursing Administration Programs
Online MSN Programs
Sacred Heart University offers an online MSN program that offers three starts per year. This program offers the family nurse practitioner specialization. Upon completion of this 42-credit program and certification, the RNs are qualified to work as nurse practitioners in a variety of healthcare settings.
Hawaii Pacific University offers several online master's in nursing programs in a variety of areas of specialization. Whether the student wishes to work as an RN, an acute care nurse, or a nurse practitioner, this school has the appropriate online program. Students can transfer up to 12 credits and have their assignments delivered to mobile devices. This fully online program offers six different start dates and lots of student support.
Western Governors University also offers several options for online master's degree nurse programs. They offer several BSN to MSN programs as well as some RN to MSN programs. In addition to offering several options, they also offer students several areas of specialization. Applicants to any of these programs must possess a valid RN license. These programs are designed for students who want to work at their own pace.
Advanced Nursing Degrees (APRN)
Advanced nursing degrees may be master's degree nursing programs with concentrations in a certain nursing area, or they may be doctoral degrees. Nurses who choose these programs are usually interested in working in specific nursing fields or in earning a doctoral degree, which prepares them for leadership positions, academia, or work as research specialists.
Online APRN Programs
Hawaii Pacific University offers a few different options for online advanced nursing degrees, such as family nurse practitioner, acute care nurse practitioner, and psych mental health nurse practitioner, among others. HPU also offers an online MSN Doctor of Nursing Practice. The school offers several start dates. Upon completion of the respective program, the student is prepared to take the appropriate certification and licensure exams.
The University of North Dakota has a couple of different online advanced degree nursing programs, including a family nurse practitioner, psychiatric-mental health nurse practitioner, and a master's degree in nursing for students who are undecided about their area of specialty. This 100 percent online program offers three start dates, clinical placement assistance, and doesn't require entrance exams.
Chamberlain University offers an online Doctor of Nursing Practice degree that can be completed in two years. This program includes not just online courses but practical experiences at whatever place you choose. Students have various student services available to them even as online students.
Careers in the Nursing Field
One of the best things about the nursing field is that it offers many different career options and job opportunities.
LPNs – Licensed practical nurses perform many of the same duties as RNs with some restrictions based on the state in which they are licensed. LPNs must have an associate's degree in nursing or complete a diploma program and licensure depending on the school.
RNs – Registered nurses provide patient care to sick people and also educate the public as well as nursing students. RNs must have at least a bachelor's degree and licensure to work, although many choose to pursue a master's degree to advance their career potential.
APRNs –Advanced practice registered nurses may choose to work as nurse midwives, nurse anesthetists, or nurse practitioners. To work in this capacity, the candidate must have a master's degree with a concentration in the specialization they've chosen. Some choose to earn a Ph.D. or a doctoral degree in their chosen field. They must also have at least one year of experience in their area of interest.
Nursing Educator – Nursing educators may have a master's degree or a doctoral degree and relevant work experience. They teach nursing practices to certain areas of the public and teach nursing students pursuing their nursing degrees.
Research Nurse – A research nurse spends most of his or her time performing research in all areas of nursing or one specific area. This position also requires a doctoral degree.
Other Nursing Careers
Surgical Nurse
ICU Nurse
Pediatric Nurse
Nurse Manager
Hospice Nurse
Next Steps
Becoming a nurse shows you care about others and want to contribute to society. The educational path is attainable if you remain dedicated and have a good support system. Find the best RN program for you today!