Surgical Nurse Career Overview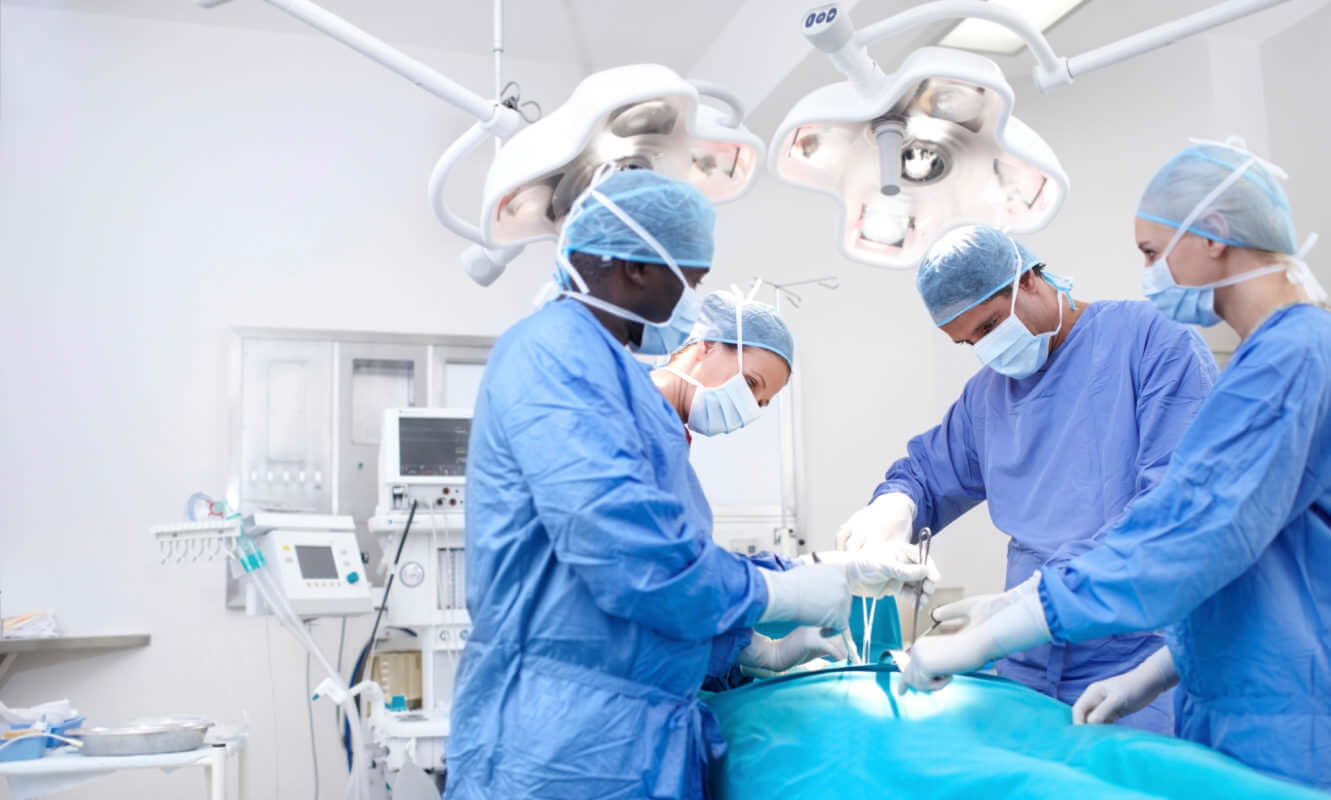 With the television networks loaded with medical shows, we're constantly watching medical professionals and surgeons operating in an operating room. Because the focus is usually on the actual surgeons, we tend to overlook the perioperative or surgical nurses who are assisting with the procedures. Surgical nurses play a vital role in medical and surgical operations and procedures. These highly trained professionals are a vital part of the healthcare industry. Because their job requires education, training and extensive experience, they are a very important part of a surgical operation.
Overview

Sometimes referred to as operating room nurses or perioperative nurses, surgical nurses are medical professionals who work alongside surgeons and surgical teams as they perform surgical procedures. They also provide care for patients before, during and after the procedure and serve as liaisons between the surgeons and the patient and his or her families. Surgical nurses also educate patients about post-operative can and recovery. Surgical nurses must complete a degree program in nursing.
What is a Surgical Nurse?
A surgical nurse is a registered nurse (RN) who is trained to work in an operating room and assist with surgeries and surgical procedures. They assist surgeons with not just simple procedures but also life-saving operations. Because of the important role they play during a procedure, surgical nurses are often considered the backbone of a surgical team. Their duties are not just to assist during a procedure but also to help with the pre-operative and post-operative care. Surgical nurses can work in all types of surgeries or may choose to specialize in a certain area such as:
Pediatric surgery
Obstetrics
Orthopedics
Dental
Cardiac surgery
Trauma
General surgery
Neurosurgery
Transplant surgery
Urology
Oncology
Ear/nose/throat
Plastic and reconstructive
Surgical nurses are most often found working in hospitals with operating rooms, surgical wards, intensive care units and trauma centers. They may also find work in intensive care units, recovery rooms and ambulatory surgery centers.
A Day in the Life of a Surgical Nurse

The main duty of a surgical nurse is to assist the surgical team with surgeries and surgical procedures. However, they have many other responsibilities throughout their day. Prior to an actual surgery, the surgical nurse stocks the operating room with surgical equipment, instruments and supplies. If you've ever watched a surgical procedure on television, and most of us have at one time or another, you've probably heard the surgeon ask for a scalpel.
It's the surgical nurse's responsibility to not only hand the scalpel to the surgeon but to ensure the scalpel is in the operating. The surgical nurse will also read the patient's medical history so he or she knows what type of supplies and equipment will be needed in the operating room. During the surgery, the surgical nurse monitors the patient's vital signs and assists the surgeon. After the surgery, the surgical nurse continues to monitor the patient's condition and ensures the patient comes out of the anesthesia and is as comfortable as possible.
Surgical nurses may also speak with family members and act as liaisons between the family and the surgeon. They also communicate with other members of the surgical team as well as other hospital departments. A day in the life of a surgical nurse may include the following responsibilities.
Explaining the procedure to the patient
Offering reassurance to the patient
Providing patient with pre-operative instructions
Prepping the patient for the procedure
Measuring and documenting patient vital signs
Starting intravenous (IV) lines
Administering medications
Sterilizing and marking incision site
Assisting nurse anesthetist and anesthesiologist
Monitoring patient vital signs during surgery
Passing surgical instruments to the surgeon
Running medical equipment during the procedure
Alerting surgical team members of any changes in the patient's condition
Transporting the patient to and from the operating room
Changing patient's dressing
Education Needed for this Career
The first step towards a career as a surgical nurse is to complete an accredited nursing program and become a registered nurse or RN. There are currently more than 2,000 nursing programs in the U.S. Becoming an RN can be completed in a few different ways.
Completing a two-year associate degree nursing program
Completing a three-year nursing diploma program
Completing a four-year bachelor's degree nursing program
Nursing programs consist of nursing coursework, lab studies and clinical education. The clinical education comes in the form of internships or clinical rotations in different departments of a hospital. The purpose of the clinical rotations is to obtain hands-on training in a medical facility. Students interested in a career as a surgical nurse may request additional rotations in the surgical department of a hospital. Upon completion of the RN program, the individual must pass the National Council Licensure Examination (NCLEX-RN). All states require nurses to be licensed.
Additional Surgical Nursing Certification
Aspiring surgical nurses must complete an additional year of education and training to qualify to work in the surgical area of a hospital. This can be accomplished by completing a post-baccalaureate perioperative certificate program or on-the-job training programs at surgical centers or hospitals. Once the training is completed, the student may choose to obtain certifications, which may or may not be required depending on the employer and the state requirements. These are just a few of the certifications available to RNs pursuing careers in surgical nursing.
Certified Nurse Operating Room (CNOR) and Certified Nurse First Assistant (CNFA) – Offered through the Competency and Credentialing Institute
Certified Medical-Surgical Registered Nurse (CMSRN) – Offered through the Medical-Surgical Nursing Certification Board
Certified Surgical First Assistant (CSFA) – Offered through the National Board of Surgical Technology and Surgical Assisting
Each of these certifications come with their own prerequisites. The prerequisites include having a valid nursing license, having at least two years and a designated number of hours of experience working in a surgical center and passing a certification exam. To maintain certification, the surgical nurse must complete continuing education courses and/or have worked a certain number of years in a surgical center in the previous years.
Traits and Qualities of a Surgical Nurse
While registered nurses must have a specific amount of education and training to work as surgical nurses, they must also possess other traits and qualities to be successful at their job. Surgery is a very serious medical procedure, and surgical nurses must be able to think critically and act quickly in this very challenging environment. They must be flexible and have the ability to multi-task.
Surgical nurses must have physical and emotional stamina because they're working in life-and-death situations and may be dealing with not just worried patients but also anxious family members. They must have technical skills and be team players. Surgery is an important procedure and one that can end badly if everything is not done to perfection, which is why it's so important that the nurse also is detail-oriented.
Surgical nurses must have technical skills and excellent interpersonal and communication skills. Surgical nurses spend a lot of their days speaking with the patient and the patient's family members, so excellent communication skills are a necessity. The surgical nurse should also be very familiar with and knowledgeable of the procedure so that it can be explained to the family members in verbiage they understand.
Career and Salary Outlook
Employment for RNs is expected to grow 15% between 2016 and 2026 according to the U.S. Bureau of Labor Statistics (BLS). The aging population in need of additional health care is contributing to this growth as is the need to provide better healthcare for everyone. Approximately 438,100 new RN jobs will be created by 2026.
The rate of surgical procedures in the United States continues to increase every year. The rate of surgical procedures performed in ambulatory surgical centers increased by 300% during the decade of 1996-2006. As of 2009, there were 48 million inpatient surgical procedures performed in the United States, according to the National Center for Health Statistics. With the number of surgical procedures growing annually, the demand for qualified surgical nurses is also growing.
As of a May 2017 wage report by the bureau, RNs earned an average annual wage of $73,550 with the wages ranging from $48,690 to $104,100. According to a September 2018 PayScale report, surgical nurses earned an average wage of $62,482 with the average hourly wage at $29.88. Wages can vary from state to state or even city to city. Other factors that can affect wage potential include education, training, experience, location and employer.
A surgical nurse may receive bonuses or pay differentials if they mentor other nurses, complete charge duties or work different shifts. Some employers may choose to pay higher wages to surgical nurses who have master's degrees rather than bachelor's degrees or to those who have additional certifications. There are many things that can affect the pay a surgical nurse receives. Nurse.org ranks surgical nurse among the 15 highest paying nursing careers or BSN careers. The top five highest-paying and lowest paying states for RNs in 2017 are listed below along with the wages.
California – $102,700
Hawaii – $96,990
District of Columbia – $90,110
Massachusetts – $89,330
Oregon – $88,770
Puerto Rico – $34,630
South Dakota – $57,010
Mississippi – $57,700
Alabama – $57,890
Iowa – $57,930

Sources:
https://www.bls.gov/ooh/healthcare/registered-nurses.htm
https://stanfordhealthcare.org/medical-clinics/surgery-clinic/patient-resources/surgery-statistics.html