The College Student Renters Guide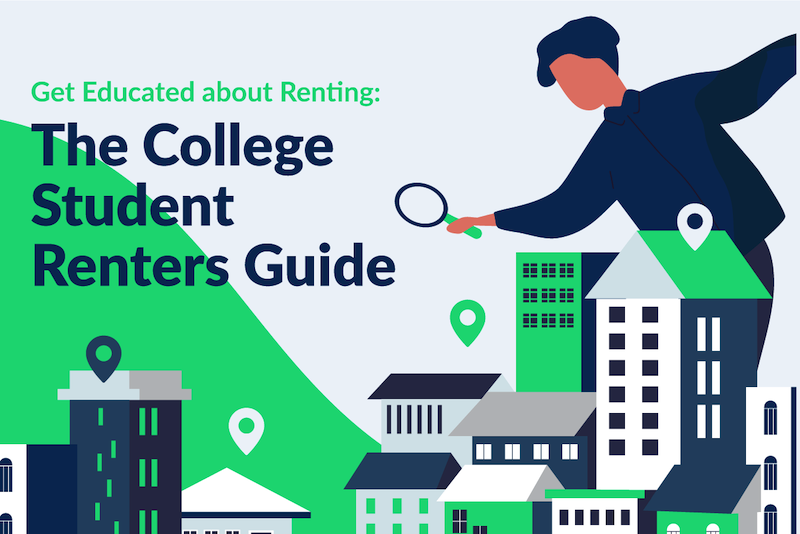 You may consider renting an apartment or house off-campus as a college student. It is a great way to have more independence and privacy than living in a dormitory. However, educating yourself about renting is essential before making any decisions.
This guide will cover the basics of finding and leasing a property as a college student. By the end of this guide, you'll need to make an informed decision about whether renting is right for you.

Step One: Determine your budget
The first step in finding a rental property is determining your budget. How much can you afford to spend on rent each month? Remember that you'll also need to factor in other expenses, such as utilities, internet, and furnishings.
Federal Student Aid strongly recommends that you figure out a time frame for your budget and go over your monthly income. Finding scholarships and other financial aid to help rent can be difficult, so being mindful of your spending is essential.
If you're stuck between renting alone or with someone, carefully compare both pros and cons before deciding.
Solo Renting
More expensive since you're the only one paying rent
Can live in a more excellent/quieter place if you can afford it
Have to do all household chores by yourself
Don't have to deal with roommate drama
Can split rent and bills with roommates
Have to deal with potential roommate drama
Often results in a more prominent and more excellent place than you could afford by yourself
May compromise on some aspects of apartment/house (location, size, etc.)
Step Two: Viewing potential properties
After you have determined your budget, you can start looking for properties that fit your needs. Many landlords prefer to communicate via email for rental inquiries, allowing them to prescreen rental applicants. So, it's a good idea to set up a professional email address before beginning your search.
Schedule a time to see it in person when you find a place you're interested in. It is the only way to get an authentic feel for the property. If you can only view it online, it's more difficult to tell if it's the right choice.
When viewing the property, pay attention to the following:
Location: Is it close to campus or public transportation?
Size: How many bedrooms and bathrooms do it have?
Amenities: Does it have features you're looking for, such as a washer and dryer, dishwasher, or backyard?
Condition: Is the property well-maintained? Are there any signs of damage?
Safety: Does the neighborhood seem safe? Are any security features in place, such as locks on the doors and windows?
When choosing a home type, you have three main options:
Apartment: An apartment is a larger building unit that includes other apartments. You'll likely share common areas with your neighbors, such as hallways, laundry rooms, and outdoor spaces.
House: A house is a free-standing structure that you typically rent from an individual owner. Depending on the size of the house, you may or may not have roommates.
Condo: A condo is similar to an apartment, but the occupants typically own it, meaning you'll likely have more responsibility for maintaining the property and paying for repairs.
Step Three: Leasing a property
Now that you've saved up and found the perfect place, it's time to know about leases. A lease is a binding contract between you and your landlord that outlines the rules of your tenancy. It's essential to read and understand your lease before signing it.
The most significant factor when considering a lease is the length. There are three standard lease lengths, including
Month-to-month leases are the shortest and most flexible type of lease. They're ideal if you're unsure how long you'll need the property or if you anticipate a change in your living situation shortly. The downside of month-to-month leases is that they're often more expensive than other types.
Yearly leases are the most common type of lease. They offer stability and are usually less costly than month-to-month leases. The main downside of an annual lease is that you're committed to the property for an entire year. If your situation changes, you may be stuck paying for a place you no longer need.
Longer leases are longer than one year, typically two or three years. They offer the most stability and often make the lowest monthly rent payments. The main downside of a longer lease is that you're committed to the property for an extended period.
When you're signing a lease, there are going to be a lot of unfamiliar terms. Make sure you understand what you agree to by familiarizing yourself with the following key concepts:
Rent: An agreed-upon amount of money paid by the tenant to the landlord for the use of the property.
Lease: A binding contract between a landlord and tenant that outlines the rules and conditions of the tenancy.
Security Deposit: A sum of money, usually one month's rent, paid by the tenant to the landlord at the beginning of the tenancy. The landlord holds the deposit to cover any damage to the property or missed rent payments.
Renter's Insurance: Insurance covers a tenant's personal belongings in case of theft, fire, or other damages. Most landlords require tenants to purchase renters insurance.
Co-signer: A person who agrees to be responsible for the tenant's rent payments if the tenant cannot make them. Tenants often use co-signers with poor credit or no credit history.
Credit Check: Landlords assess a tenant's ability to pay rent through a credit history check.
Eviction: The legal process by which a landlord removes a tenant from the property. Evictions are applicable for tenants who fail to pay rent or violate the terms of their lease.
Late Fees: penalties charged to tenants who pay their rent after the due date.
Move-in Fees: One-time fees, such as cleaning or application fees, are charged to tenants when they move into a property.
Pre-paid Rent: Rent the tenant pays at the beginning of the tenancy. Pre-paid rent covers the last month's rent.
Utilities: Services, such as water, electricity, and gas, are provided to the tenant. Utilities are often included in the rent, but some landlords charge tenants separately.
Remember to check to see if the landlord charges administrative fees, fines, additional costs, and rent. Make sure those extra charges are reasonable.
Another critical thing to consider is how to avoid rental scams. Here are a few tips to keep in mind:
Get everything in writing. If a landlord tells you something verbally, get it in writing. It will help you avoid any misunderstandings later on.
Never sign a lease without reading it first. Be sure to understand all the terms and conditions before you sign anything.
If something sounds too good to be true, it probably is. Be wary of landlords who offer too-good-to-be-true deals or pressure you into signing a lease without giving you time to read it.
Trust your gut. If something doesn't feel right, walk away. There are plenty of other rental properties, and you don't need to deal with a bad situation.
Step Four: Review the lease agreement
With a newfound understanding of leases and rental agreements, it's time to find the perfect apartment or house. But before you sign on the dotted line, there are a few things you should keep in mind. Ask these critical questions of the landlord before signing a lease:
How long is the lease?
What is the rent amount?
Are utilities included in the rent?
Is there a security deposit? If so, how much is it?
When is rent due?
Are late fees charged if rent is paid after the due date?
Are move-in fees charged?
Is there a minimum credit score required to rent the property?
What is the policy on renewing the lease?
Are any changes to the property expected during the lease period (e.g., construction, renovations, etc.)?
You should never sign a lease before reading and understanding the terms of the agreement. If you have questions, ask a parent or another informed individual before signing anything.
Before signing a lease, be sure to ask the landlord about their policy on renters insurance. Many landlords require tenants to purchase renters insurance, so it's essential to understand what is covered and what isn't.
It is critical as a renter to secure your belongings from harm or theft. One way to do this is by purchasing renters insurance. Renters insurance is a type of insurance that covers your personal belongings in the event of theft, fire, or other damages.
There are many different types of renters insurance policies available, so be sure to shop around and find one that best meets your needs. Ensure to thoroughly read the policy to clarify what is and isn't included in your coverage. And remember, even if your landlord requires you to have renters insurance, you are still responsible for protecting your belongings.
After considering the points mentioned above, it is time for the final walkthrough – a crucial part of renting a property. Your last chance is to check everything is in order before signing the lease. It allows you to inspect the property before you move in and ensure that it is in the condition agreed upon in the lease. It is also an excellent time to take pictures or videos of the property so that you have documentation of its condition.
Step Five: Moving in and making it feel like home
When it's time to move in and make the property your own, you'll want to be aware of your legal rights as a renter. Before you start unpacking boxes, you should be mindful of your rights as a renter and any financial help that may be available.
As a tenant, you have certain rights protected by law. These rights include the right to
Live in a safe and clean environment: Your landlord keeps the property in a habitable condition. The property must be free of any health or safety hazards. If there are any problems with the property, you should notify your landlord immediately so that they can make the necessary repairs.
Be free from discrimination: It is illegal for a landlord to discriminate against you based on your race, religion, gender, national origin, or disability. The Fair Housing Act protects people from discrimination when seeking housing. It includes, but is not limited to, practices such as raising prices or making false promises about availability.
Have quiet enjoyment of the property: You have the right to live in peace without interference from your landlord or other tenants.
Several options are available to assist you if you're having trouble making ends meet. You may also ask for financial assistance if you need it.
There are many different types of financial assistance programs available to help renters. Some programs offer grants or loans to help with rent payments, while others provide discounts on utility bills. You can also find programs that offer free or reduced-cost legal services.
To find out what type of assistance is available in your area, contact your local housing authority or search online for renters' assistance programs.
When you move into a new rental property, it's essential to take some time to make it feel like home. Here are a few tips to get you started:
Personalize your space: Add some personal touches to your rental so it feels like your own. Hang photos on the walls, put out some plants, or add a few throw pillows to the couch.
Get to know your neighbors: Introduce yourself to the people around you. If you have any questions or problems, they may be able to help.
Be respectful of your neighbor's space and property: Remember that you share the property with others. Be mindful of noise levels, clean common areas, and dispose of trash properly.
By following these tips, you can make the transition into your new rental property smooth and stress-free. You'll be happy to know that you have the legal right to call this place home.
Renting a property doesn't have to be difficult
Renting a property can be an excellent option for those looking for a flexible and affordable housing solution. By following the tips in this guide, you can ensure that your experience is positive. From finding the perfect place to call home to make it feel like your own, we hope you'll enjoy every step of the process.