Managing Learning Disabilities as a Teen and Young Adult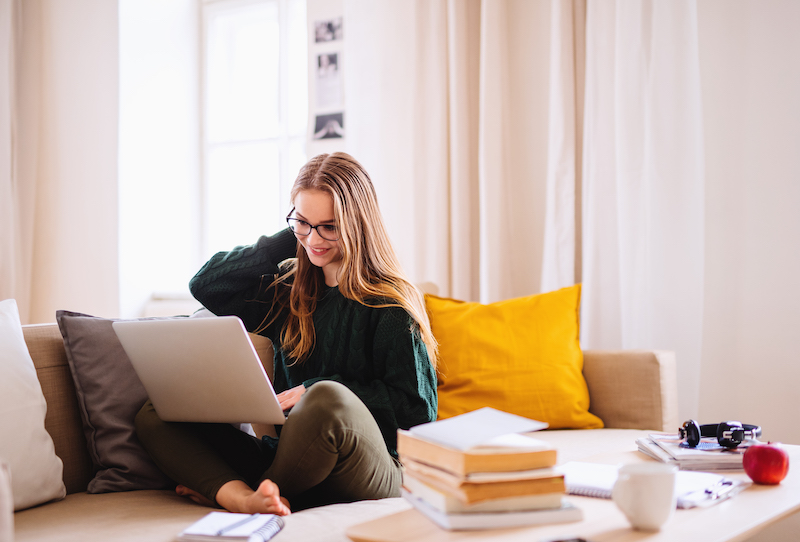 For many students with a learning disability, this is their first time out on their own and dealing with this disability without a formal IEP or a parent or support network to help them.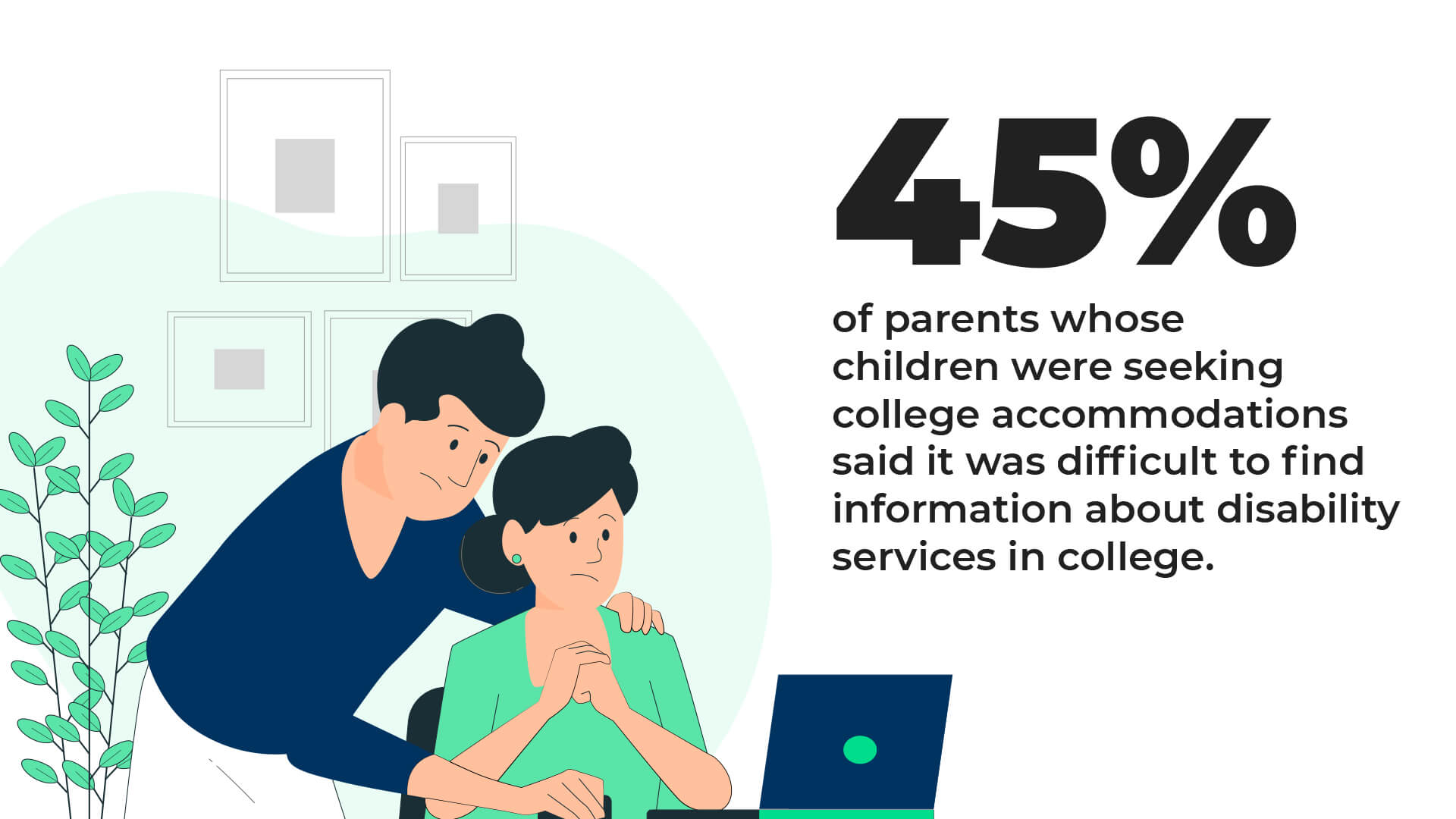 Almost 20 percent of college students have some sort of disability, including learning disabilities. While there are many supports at every college for students with learning disabilities, many students don't report they have an LD due to fear of stigma, not knowing there are services available,
Of students with learning disabilities, there are some statistics that are in support of getting help early and often.
Mean GPA is highest for students who disclosed their disability early.
Students who attend a learning support center fared better than other students who didn't.
Every hour of help from a tutoring center improved students' GPA.
This is all important stuff – because many students with learning disabilities don't graduate from college – and the reasons above are part of why. Now, take a look at our resources and save them. Hopefully you can use them to be a part of the percentage that does graduate.
Our resource gives you tools for your specific LD, how to advocate for yourself, how to ask for accommodations, help understanding your learning disability, and how to manage your LD in school, at work, and with a co-occurring disorder. There are even specific resources for teachers, and videos for those who don't like to or who have difficulty with reading.
Types of learning disabilities
When addressing people with disabilities, it is important to use person-first language. This puts the emphasis on the person, rather than on the disability.
Our resource gives you tools for your specific LD, how to advocate for yourself, how to ask for accommodations, help understanding your learning disability, and how to manage your LD in school, at work, and with a co-occuring disorder. There are even specific resources for teachers, and videos for those who don't like to or who have difficulty with reading.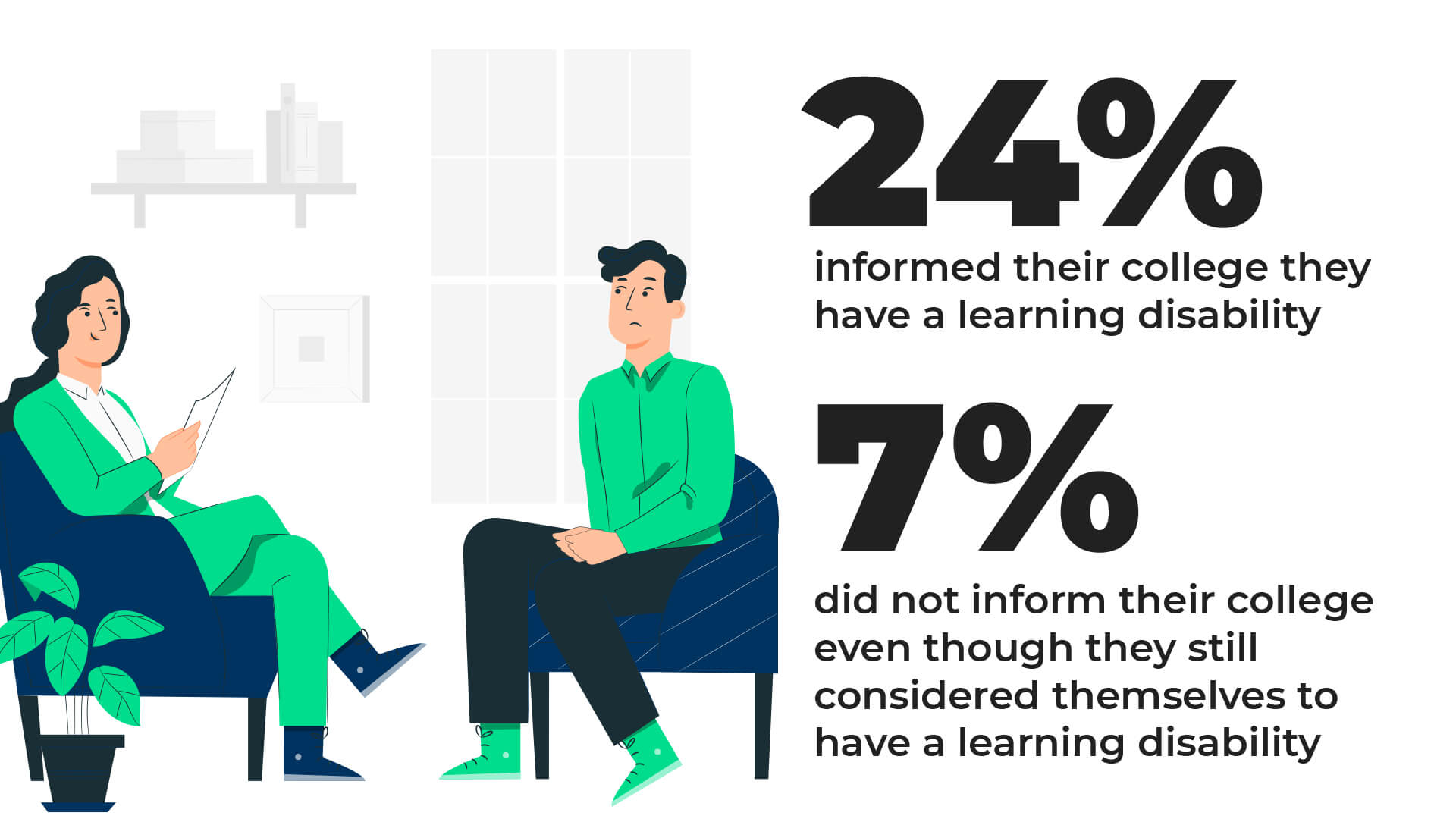 Advocating for yourself
How to Advocate
This site offers links to organizations for those with disabilities and links to sites that help you learn how to advocate for yourself in school.
LD Advocates Guide
Use this guide from the National Center for Learning Disabilities to see how you can talk to others about your disabilities and advocate to politicians and the media.
Self-Advocacy and Learning Disabilities
Self-advocacy requires certain tools. You'll find those tools on this site, which also helps you identify your strengths and weaknesses.
Advocacy
Find out what advocacy means on this site as well as the issues they address and the roles they have in this field.
How to Self-Advocate as a College Student with a Learning Disability
Designed for college students, this guide teaches you the benefits of self-advocacy and how you can determine what you need.
How College Students with Learning Disabilities can Advocate for Themselves
Learn how to decide what you need and the best way to develop a support system along with other tips for students with disabilities on this site.
Supporting Self-Advocacy and Success in Student Learning
Reading through this PDF can help you learn more about the challenges you face and the successes you'll find when you advocate for yourself.
Know Your Rights! Become Your Own Self-Advocate
The LD Resources Foundation created a guide for students that includes links for students with disabilities who have an interest in self-advocacy.
Self-Advocacy Fact Sheet
This fact sheet includes facts to help students learn about self-advocacy and comes from the Learning Disabilities Association of America.
Fact Sheet for Parents
Parents can use this fact sheet to pick up new ways to teach their children how to advocate for themselves if they have disabilities.
General Learning Disability Information
ADA.gov
Get a lowdown on what the Americans with Disabilities Act (ADA) means and what it guarantees you in school settings on this site.
Council for Learning Disabilities
Sign up here to attend the annual conference and to read through some of the publications released by the CLD.
National Center for Learning Disabilities
This Center opened in 1977 as a way to empower those with disabilities and now offers resources and other help for students.
Learning Disabilities Association of America
The LDA offers tons of resources for students with disabilities as well as resources for parents and special education teachers.
Assistive Devices for People with Hearing, Voice, Speech or Language Disorders
Find out from the NIH which assistive devices you can use in the classroom and other settings to compensate for your disabilities.
Assistive Technology Tools
Discover some of the tools you can use as a student or a teacher on this page along with the newest apps for different types of disabilities.
Center for Parent Information and Resources
Hear straight from Sara, a student with disabilities, before you look at some of the resources offered on this site.
National Institute of Health
The NIH created a detailed guide on the basics of learning disabilities and what others can do to help their loved ones.
Learning disorders: Know the signs, how to help
Use this page from the Mayo Clinic to see the common signs of learning disabilities and what you can do to help someone when you see those signs.
Learning Disorders in Children
The CDC looks at learning disorders in kids on this site and goes over both the common symptoms and possible treatments.
Introduction to Learning Disabilities
Get a lowdown on what learning disabilities are in this article and see the truth behind some common myths you might hear.
IDEA: Specific Learning Disabilities
The American Speech Language Hearing Association (ASLHA) helps you understand more about learning disabilities and what members do.
Learning Disabilities
Find out the learning disabilities that present at different ages on this site and see what teachers can do to assist those students.
In school
Students with Disabilities Preparing for Postsecondary Education: Know Your Rights and Responsibilities
This PDF from the Department of Education helps students see what schools can and cannot do at the college level.
Strategies for Managing Learning Disabilities as an Adult
Pick up some simple strategies that help you manage your learning disabilities both in school and as you grow older.
Learning Disabilities and Academic Performance
Use this site to see some of the challenges you might face due to your learning disabilities and what strategies help you conquer them.
Support and Resources for Students
The LDA has multiple pages linked from this site that help students learn about the disabilities they have and find resources to help them.
Rights and Responsibilities of College Students with Learning Disabilities (LD)
College students can use this site from the LDA to see the rights they have in college as well as their responsibilities.
Learning Disabilities: Issues in Higher Education
Discover more about the issues students have in higher education due to their learning disabilities on this site.
Common Accommodations for College Students with Disabilities
This family practice takes a detailed look at how colleges can accommodate students with disabilities and how students can use those tools.
Colleges with Learning Disability Programs
Search through this detailed list to find colleges with programs for students with disabilities and see how you can apply to any of them.
Documentation Guidelines: Learning Disorders
The College Board created this detailed guide to show students with disabilities the accommodations that are available to them when they take standardized tests.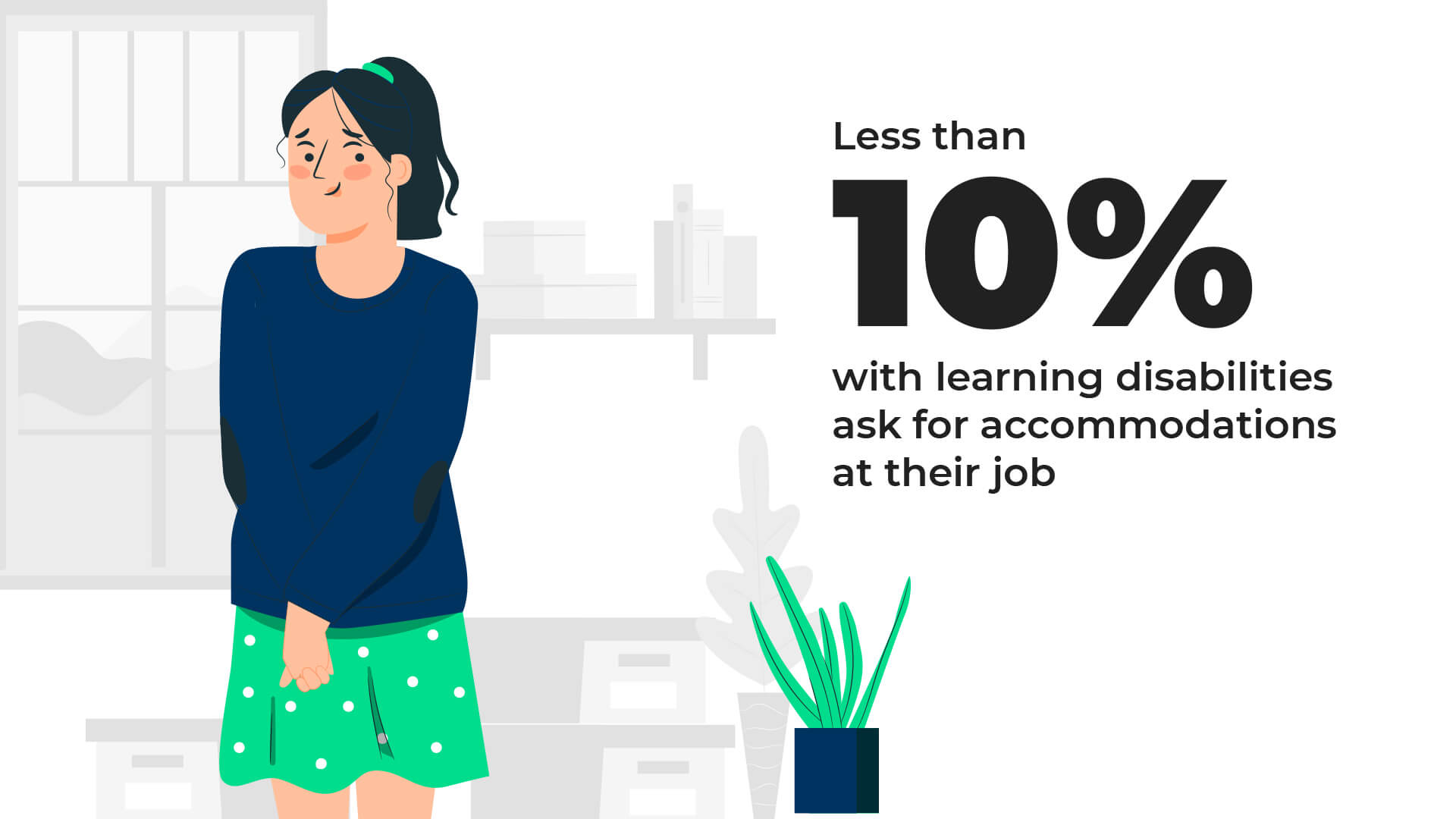 At work
Transitioning from College to Work
Find all of the tips here that you need to transition from your time in school to the workforce as you handle your disabilities.
College to Career for Students with Disabilities
Learn how schools and teachers can help students in the workplace in this PDF, which includes some real-life success stories.
Ready, Willing, but Still Underemployed
You don't need to join NACE to read this article that looks at the challenges and barriers facing students with disabilities in the workforce.
Employment Outcomes of University Graduates with Learning Disabilities
This detailed article compiles research on the outcomes students with learning disabilities have as they leave school for work.
Transitioning to Life After High School
Learn tips that make life after high school easier as you read stories from similar students and the challenges they faced.
Learning Disabilities at Work
Monster focuses this article on what workers can do to get the accommodations they need for their disabilities.
Tips for Preparing Students with Disabilities for Employment
Both teachers and schools can pick up tips on how to best prepare students with disabilities for the jobs they may have later.
How People with Learning Disabilities Handle their Differences in the Workplace
Denise Brodey wrote this article to discuss how different employees handle their jobs and use their disabilities to their advantage.
The Transition to Employment: The Perspectives of Students and Graduates with Disabilities
Several authors worked together on this article to talk about how disabilities affect students as they head to work after they finish school.
Preparing Youth for Employment Success
Find tips that are suitable for parents and others on helping students with disabilities gain success in the workforce.
Learning Disabilities and Vocational Rehabilitation Implications
The New York State Education Department produced this page to talk about the limits of vocational training and other programs for students with disabilities.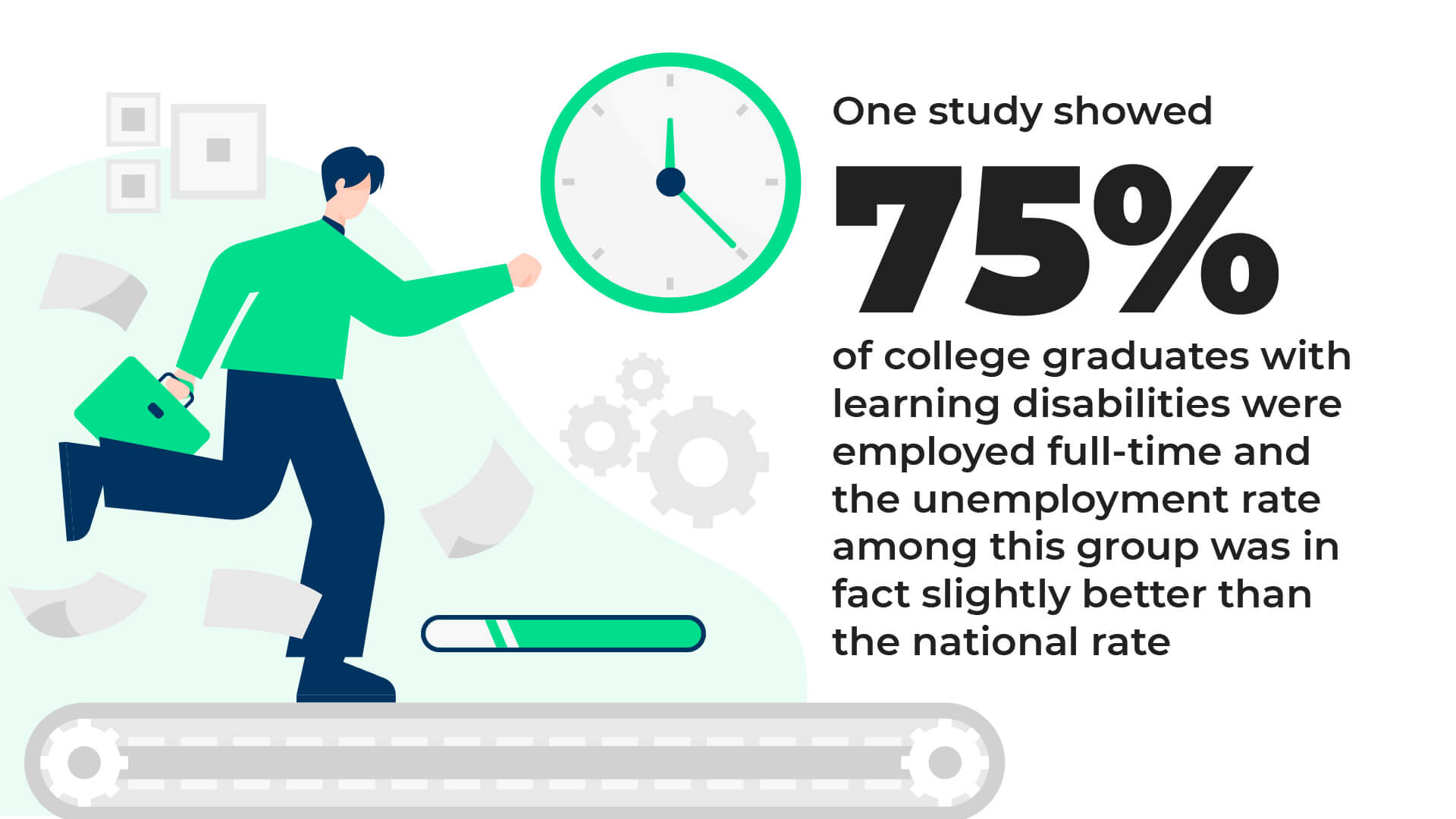 Dysgraphia
Dysgraphia
Learn more about Dysgraphia and what it means along with how to care for someone with the condition on this site.
Understanding Dysgraphia
Find out what Dysgraphia means on this page and see the common symptoms and how it affects students of all ages.
College
If you have Dysgraphia, use this page to get tips on getting ready for college and finding success in school.
Dysgraphia Accommodations in the Classroom
Use this site to see what accommodations your school must make to help you succeed when you suffer from Dysgraphia.
A Quick Guide to Working with Students with Dysgraphia
Teachers who work with students who have Dysgraphia will find tips for the classroom on this site.
The Accommodations I Received in College with Dyslexia, Dysgraphia, and ADHD
A student with Dysgraphia and ADHD talks about her experiences in this article and offers tips for those in similar situations.
Documentation Guidelines for Other Disabilities
The College Board outlines what it needs from students with Dysgraphia and other disabilities to take one of its standardized tests.
Preparing Students with A Disability for College
Kathleen Johnson released a PDF to help students get ready for college that looks at what schools can and should do.
Anxiety and Learning Disabilities: The Worst Kept Secret
Athena Hallberg wrote an article to talk about the problems Dysgraphia and other conditions caused her at school to help students find out what they can do.
Dysgraphia
This site looks at Dysgraphia and how it can occur with one or more other disabilities as well as the signs of the condition.
Nine Strategies for Dysgraphia
If you have Dysgraphia, use this article to learn about the nine strategies that will help you in and out of the classroom.
Dyscalculia
College and Dyscalculia
Learn more about a California law on what colleges can offer students diagnosed with Dyscalculia.
Tools for Dyscalculia
Discover new tools for dealing with your Dyscalculia and links to pages that offer even more resources for students on this site.
Dyscalculia Primer and Resource Guide
This guide takes a detailed look at Dyscalculia as well as the causes, types, and what teachers and parents can do to help students.
PhotoMath
Download this app to see math problems in a new way and get help solving the problems you see in your classes.
Socratic
This app gives you easy ways to look at subjects in a new way and works with most of the classes you have.
Mental Math Practice
With this app, you get convenient access to flashcards that help you prepare for both standardized tests and upcoming quizzes.
Neuronation
Get help focusing on simple tasks with this app, which essentially trains your brain and teaches you new ways to look at problems.
Specific Learning Disability in Mathematics: A Comprehensive Review
Find out how math skills help you in the future in this research article, which includes new intervention techniques.
Classroom and At-Home Accommodations for Dyscalculia
You'll find a detailed list of accommodations for students with Dyscalculia that include options at home and in school.
Dyslexia
Natural Reader
Natural Reader is a great tool for students with Dyslexia as it lets them create notes they can look at later from anything they hear or speak.
College Planning Advice for the College Student
Get advice from Yale University on how you can plan for your college experience and get help with your Dyslexia.
International Dyslexia Association
This association offers workshops and conferences for students with Dyslexia, their parents and teachers along with other free resources.
Dyslexia Help for College Students
The University of Michigan created a guide for students with Dyslexia on how they can prepare for school and get the accommodations they need.
Transitioning from High School to College
Use this site from IDA to see the tasks you can do during every year of high school to better prepare for your college years.
Preparing for College
Some of the resources you'll find here include guides on preparing for college, advocating for yourself, and getting the financial help you need.
Dyslexia Research Institute
The Dyslexia Research Institute provides multiple services and information for those with Dyslexia such as ADA laws and how to manage symptoms.
British Dyslexia Association
Take a look at some of the questions listed here to find out what to ask your school when you need help with your Dyslexia.
Advice for the College Student
Find advice on how to manage your Dyslexia and finish school on this site from Yale University.
Non-Verbal Learning Disabilities
What's the Best College for Students with NVLD
Sherri Maxman provides a list of the top colleges that provide help and resources for students with non-verbal learning disabilities.
Down in the Trenches: My Life with Nonverbal Learning Disorder
Rick Chefitz uses this article to talk about his own experiences dealing with an NVLD while in school.
NLD: Unmet Learning Challenges
Find out some of the challenges your NLD comes with and how you can ask for help when you need it on this site.
Nonverbal Learning Disability (NLD): A Case Study
The Bank Street College of Education released this case study, which looks at the challenges NLD students face as they learn.
Confronting the Puzzle of Nonverbal Learning Disabilities
Hear about the issues that NVLD students had in school and what they did to change their experiences.
Students with Nonverbal Learning Disabilities
Jean M. Foss provides teachers with ways they can help NVLD students learn and thrive in this article.
College Students with Asperger's, ASD-I, PDD-NOS, and NLD or NVLD
The eight tips featured on this site help NVLD students succeed at the college level.
Estimated Prevalence of Nonverbal Learning Disability Among North American Children and Adolescents
Published through the NIH Library of Medicine, this article found how many students have non-verbal learning disabilities in North America.
Nonverbal Learning Disabilities
Use this site to find some of the tics and symptoms that NVLD students show in and out of the classroom.
Oral/Written Language Disorder and Specific Reading Comprehension Deficit
Oral/Written Language Disorder and Specific Reading Comprehension Deficit
From LDA, this short article focuses on the oral and written signs of non-verbal learning disabilities.
What is Oral/Written Language Disorder and Specific Reading Comprehension Deficit?
This resource looks at the deficits students with oral and written disorders have compared to their peers and how to identify those deficits.
Written Language Disorders
Use this practical page to see the signs of written language disorders in students between three and 21 years of age.
Understanding Specific Reading Comprehension Deficit: A Review
Find some of the theories behind when reading comprehension deficits exist and what research may change it.
Literacy-supporting Skills in College Students with Specific Reading Comprehension Deficit and Developmental Language Disorder
This research article looks at how certain skills can help students overcome any reading or language deficits they have in college.
A Learning Disability: Written Language Disorder
A college professor addresses some of the issues he noticed in college freshmen relating to their reading and writing skills in this piece.
Dyslexia and Developmental Language Disorder: Same or Different?
Maggie Snowling from the University of Oxford uses this article to talk about the differences between developmental language disorders and Dyslexia.
Specific Language Impairment and Reading Disability: Categorical Distinction or Continuum?
The Journal of Learning Disabilities published this article that looks at whether language impairments and reading disabilities share anything in common.
The Interface Between Spoken and Written Language: Developmental Disorders
In just a few pages, this PDF discusses the connections between different development disorders that relate to writing and speaking.
For teachers
Specific Learning Disabilities for Teachers
Get some tips on how to handle certain disabilities in your classroom and find activities for students of all ages on this site.
Helping Children with Learning Disabilities
The Help Guide gives you tips on how to assist children with specific learning disabilities and advice on when to get help for yourself
Teaching Students with Learning Disabilities
You'll find out how to accommodate students with disabilities and tips on teaching and working with those students on this site.
Recognizing and Managing Learning Disabilities in Students
Dr. Amy McKenzie created a list of how to identify and manage students' learning disabilities such as talking to doctors and working with other teachers.
Teaching and Assessment Strategies for SLD
This resource is a good place to find strategies for teachers that include giving them lists of definitions and helping them better organize their time.
Tips for Recognizing Learning Disorders in the Classroom
Teachers will find tips on how to recognize learning disorders in school settings in this article such as students who act up or cannot complete their work.
Learning Disabilities in the Community College and the Role of Disability Services Departments
Read through this article to see what departments in community colleges can do to help those with learning disabilities and what students can do for themselves.
Reasons University Students with a Learning Disability Wait to Seek Disability Services
This article looks at current and past research to identify some of the reasons why students wait to ask for the help they need for their disabilities.
Oral Language Skills and Learning Disabilities: A Review for Educators
​​Go through this site to find a roundup of the learning disabilities and oral language skill deficits that teachers see in their classrooms.
Understanding Literacy Difficulties vs. Disabilities
Find out more about the literacy crisis in the United States and how literacy issues compare to other learning disabilities.
Legal Rights for Learning Disabilities
The RISE Act
The National Center for Learning Disabilities released this PDF to help teachers and others learn what the RISE Act does and how it affects them.
FERPA
From the US Department of Education, this page covers the Family Educational Rights and Privacy Act (FERPA) in a way that anyone can understand.
How to Ask for Accommodations
Accommodations for Students with LD
Discover the accommodations that students with learning disabilities can ask for such as breaks during tests and help preparing for exams.
Accommodations, Techniques and Aids for Learning
This list gives teachers 15 techniques and aids they can provide students with to make classroom time easier for those with learning disabilities.
The Necessity of Academic Accommodations for First-Year College Students with Learning Disabilities
Written by Dr. Wanda M. Hadley, this PDF explains why incoming freshmen with learning disabilities need special accommodations in college.
How to Find College Disability Documentation Requirements
Use this site to find out how you can document and prove any of your disabilities when your school asks for more information and where to find that proof.
Life with LD: Navigating the Transition to College
You'll find three great tips on this site that help you transition from high school and life at home to college and dorm life.
Reasonable Accommodations Explained
This detailed article shows you all of the reasonable accommodations you can ask for when you attend college and how to request them.
College Accommodations for Students with Disabilities
Include NYC provides students with tips on how they can ask for accommodations for their disabilities and some of the things they may need.
Documentation of a Learning Disability
Learn how you can use any old documents you might have to prove your learning disability and what to do if your school asks for more.
Managing a Learning Disability and Other Co-Occurring Disorders
Yes, You Can Get ADHD Accommodations in College
See what accommodations are available to you from your school when you have ADHD and need help.
The Transition to College for Students with LD And ADHD: The IEC's Role
​​IEC provides students with information on what they can do before and after they begin a college program.
Myths About College Admissions and Students with Learning Disabilities and ADHD
Go over some of the myths you might hear before you apply to college and the truth behind each one.
Students' Perceptions of a Postsecondary LD/ADHD Support Program
Two women from Curry College look at what students think about the support programs that post-secondary programs now offer.
When Traditional College is Not the Answer: Other Avenues for Young Adults
CHADD talks with an expert to find out more about the other opportunities that are open to students who do not want to go to college.
Inclusive Postsecondary Education for Students with Intellectual Disabilities
PACER takes a look at how post-secondary programs now welcome and help those with intellectual disabilities in this piece.
The Road to Higher Education with an Invisible Disability
This article from The Atlantic looks at invisible disabilities and what some schools now do to help those students.
Videos
The College Transition: Tips for Students with Learning Disabilities
Find a nice list of tips on how to transition to college along with a video that includes more information for students like you.
Going to College with a Learning Disability
​​View this video to hear directly from a student about what college is like for those with one or more disabilities.
Applying to College with LD and ADHD
Though this video is more than an hour long, it provides some helpful information on how students with disabilities can apply to college programs.
College and Alternatives for Students with Disabilities
Navigate Life Texas offers this video for parents of students with disabilities to help them learn about alternatives to college.
Learning Disability in Higher Education
​​Watch this TED Talk from Lexie Garrity to see how learning disabilities affect students in higher education settings.
Transitioning to College with a Disability
In less than five minutes, Rebecca Sitton goes over tips on making the college transition easier for students with disabilities in this video.
Transitioning to College with a Disability
PACER created this video as a way to help students and their parents transition from high school to college.
Resources for Students with Disabilities
Watch this short video to see some of the resources that are readily available on the web for students with disabilities.