RN to BSN: The 2023 Definitive Guide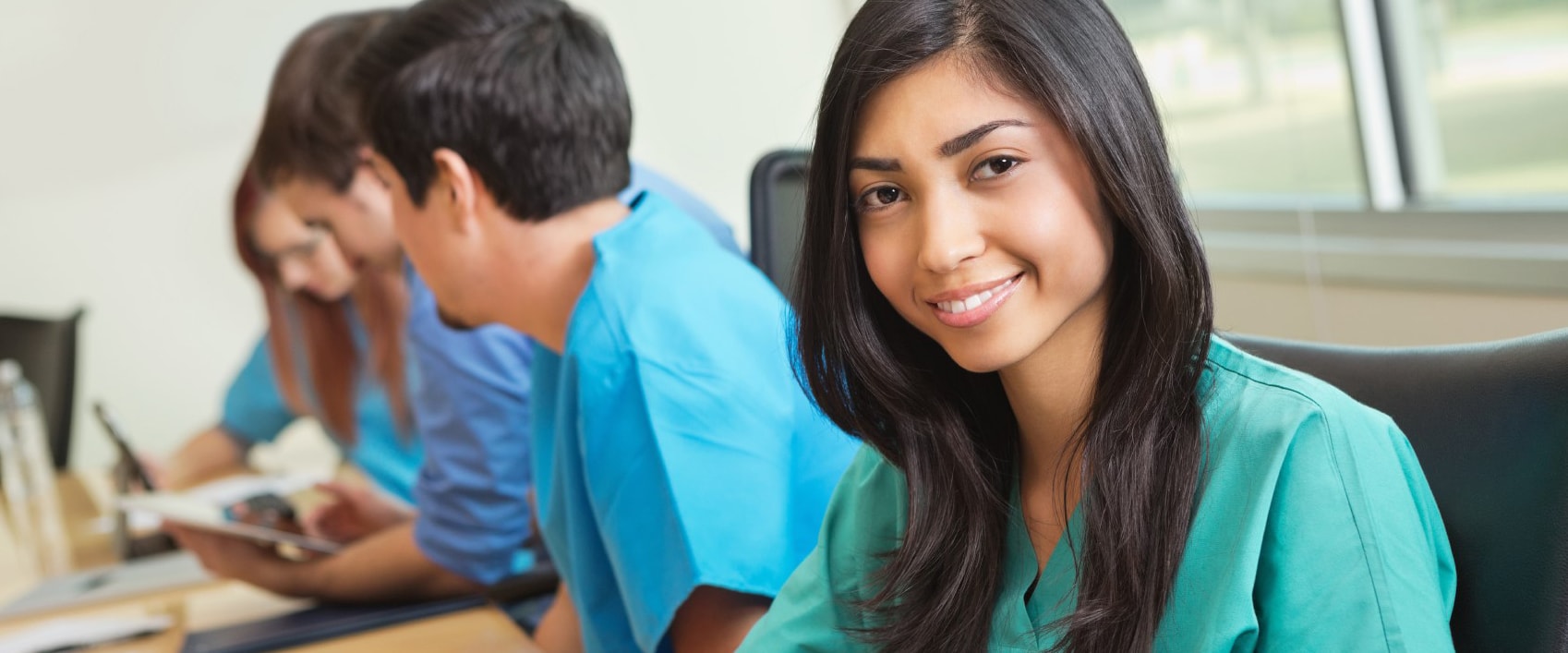 RN to BSN programs are an important part of the nursing profession. The RN-BSN reflects the shifts in medical care that involve more complex procedures, new types of treatments, and new technology. The goals of medical care have changed; no longer does it measure progress by the numbers and volumes of patients served. Now, success is measured by the quality of patient outcomes. The new measuring rod is the value-based care standard, and it depends on the quality of patient care and positive results.
Studies by the National Institutes of Health have researched nurse-sensitive patient outcomes. The studies involving heart and surgical patients showed that hospitals with a higher percentage of BSNs, or master's level nurses had lower mortality rates and better patient outcomes. The medical care environment has also changed, and computers play a greater role in inpatient and outpatient care. With so much fundamental change in healthcare, there is no wonder that the nursing profession must also change. The RN to BSN completion enhances RN skills, adds knowledge, and sets a career on a path for growth.
What is an RN to BSN Degree?
The RN to BSN program is a specific program for Registered Nurses (RNs) who already hold an Associate Degree of Nursing (ADN) and/or an RN license. The RN-BSN is also referred to as a bridge program, as it serves as the bridge from the RN to a bachelor's degree. It is often used by ADNs to improve on their career prospects, gain access to more opportunities, or meet requirements of their hospital for continued employment.
The RN to BSN program at a length of about two years is typically shorter than a regular BSN program, which usually lasts four years. The great thing about the RN to BSN is that it can be completed 100 percent online, and the RN can continue working while earning the BSN.
What to Expect from an RN to BSN Program

Today, most nursing requirements include some level of formal education. In the past, a high percentage of nurses came from hospital-based training programs. The trend shifted to formal education, and the majority used an Associate degree to enter the profession. The other widely used method was a bachelor's degree, and the differences are remarkable for the income, promotion potential, and range of career options. The BSN opens a lot of career choices that might require many years of experience and training for holders of associate degrees. Further, in recent years, some states have considered laws requiring new entrants into the nursing field to have a bachelor's degree.
The RN to BSN completion adds professional value for the nurse that employers seek. Modernization and costs containment in the healthcare industry require greater use of computers, management of information, and information technology. The modern nurse must combine experience, nursing education with technical skills; they must interpret and work with patient information.
Benefits of a BSN Degree
Registered nurses and healthcare provider organizations recognize the need for baccalaureate level education in the modern healthcare workplace. The demands on RNs grow with the expansion of medical services and new technology. Nurses must do more and do it quickly and in highly automated environments. They must have an orientation that enables adaptation to emerging tools and techniques. They must play a greater role in problem-solving and in communicating with teams and patients. RNs must engage patients and promote understanding and positive consumer relations.
Increased pay, more knowledge and a stronger grasp of the modern healthcare workplace are all benefits of a BSN degree. The demands on RNs are growing and having a competitive advantage will only help you in the workplace. Additionally, having a BSN will pave the way if you are interested in becoming an advance practice nurse at some point.
Career and Salary Opportunities for BSN Level Nurses
RN to BSN programs can open doors for faculty positions, more rewarding specializations, and higher salaries. With BSN completion, RNs can qualify for clinical educator jobs, clinical emergency department educator positions, and roles in clinical management.
According to the Bureau of Labor Statistics, the demand for nurses is strong and the outlook through 2026 indicates a growth rate of about fifteen percent. The drivers of the professional growth include the laws, policies, and the changing US population. Laws like the Affordable Care Act brought healthcare insurance to millions of Americans including low-income families. The ACA also strengthened hospitals and other medical services providers with reforms that emphasized the value of medical care, lower readmissions, and increased positive patient outcomes.
How Long Does an RN to BSN Take?
If you are already working as a RN, you may wonder how long it will talk to complete your BSN. Here's a look at a typical timeline from RN to BSN.
| | |
| --- | --- |
| Finish RN/AND | 2 years |
| Pass NCLEX-RN | Upon completion of RN |
| Earn Accelerated BSN | 9 months – 1 year |
| Earn Traditional BSN | 2 years |
Types of RN to BSN Programs
There are essentially two types of RN-BSN programs – an online option or an on-campus option. The main difference between the two is in the delivery.
BSN-RN Bridge Programs
A nursing bridge program takes someone with a nursing license, and possibly even an associate degree, and terminating in either a BSN or a Master of Science in Nursing (MSN). There are also LPN/LVN to BSN bridge programs and are aimed at the nursing professional who is looking to advance their career.
Online RN-BSN Programs
Now, students can take all of the required courses for an RN to BSN program online. Students will still receive support from faculty and connect with classmates, but this will be done virtually. If there is a need for any clinical coursework, that can do done at a local hospital. As an online student, you can benefit from learning from students from across the country. You can also benefit from the flexibility of an online program, since most programs have rolling start dates and the ability to go to class whenever works with your schedule.
Who is a Great Fit for an Online RN-BSN Program?
Have full-time employment and inability to attend class in person
Have children at home or are the primary caregiver for someone that takes up a fair amount of time
Pros and Cons of Online RN-BSN Programs
| | |
| --- | --- |
| Pros | Cons |
| Attend classes on your own schedule | Need a lot of self-motivation |
| Can complete program quickly | High level of technology needs |
| Tuition can be more affordable | Have to work harder to interact with teacher and peers |
| Can still qualify for financial aid | |
RN to BSN Admission Requirements
The basic admission requirements for the RN to BSN include:
An active and unrestricted RN license,
An associate degree in nursing or nursing diploma
All prerequisite coursework completed
Live in an authorized state
Have a certain GPA, usually 2.75 or higher
Structure and Content of RN to BSN
The RN to BSN course of study typically involves the equivalent of 120 credit hours that meet the clinical education hours requirement (about 70 to 90 hours). Most applicants complete the program within two years. The base of the qualifications is the status of the licensed RN. The education requirements build from that base of knowledge and experience. Applicants can transfer previous credits in which they got an equivalent grade of 2.5 on a 4.0-point scale. The structure enables a concentration of the BSN core that includes prevention, community care, and research.
The general education requirements promote social responsibility, personal responsibility, ethics, and liberal arts study. The nursing education curriculum includes clinical instruction, the physical and life sciences. The requirements include studies in physics, chemistry, biology, genetics, and the mathematical sciences. The social sciences studies add sociology and psychology. In addition, per the school's preference, coursework includes the below-listed categories specific to nursing:
Health Care Informatics
Evidence-Based Practice
Leadership and Management
Community Health Nursing
Contemporary Issues in Nursing
Women's Health, Geriatric and Community-Focused Nursing
RN to BSN FAQ
Is a BSN Required?
One tip of the trend towards RN to BSN programs is in the laws of the state of New York. They passed a "BSN in Ten" law that requires nursing graduates to complete a bachelor's degree within ten years of the time they get an NY nursing license. NY was the first state to formalize the requirement, but many other states have similar legislation in process. Nursing groups sponsored a similar proposal in New Jersey. North Dakota passed a BS requirement in 1986.
What's the Difference between an ADN and an RN-BSN?
The ADN is the Associate Degree level of Nursing, which often involves in-person clinical training and prepares students to take the NCLEX-RN, which is how you will earn your Registered Nurse (RN) license. The RN-BSN is a bridge from the RN license to a Bachelor of Science in Nursing, where you will use your existing credits to fulfill some of the 120-credit requirement, and take additional courses to fulfill the requirements of a bachelor's degree. The lack of clinicals is why a large portion of RN-BSN programs are online.
How Much Does an RN-BSN Cost?
The answer to that – it varies! It depends on if you go to a public or private school, how many credits you are transferring in, the fees and more. The low range of an RN-BSN is about $10,000-$15,000, while the high end is $35,000 a semester for a private school. More importantly than cost, you should look at the value of a program compared to what they offer. If the instruction is amazing, their job placement is top-notch, then it may be worth a higher cost-per-credit-hour.
How Do I Pay for My RN to BSN?
Many nurses want to expand their education, but they worry that money is a factor holding them back. There are many ways to fund your education, with the main ones being:
Employer-Sponsored
Scholarships
Grants
Federal Loans
Private Loans
Family Assistance/Savings
Employer-Sponsored
The first place you should check for tuition assistance is with your place of employment. Talk to your HR department – they may already have a program, or you may be able to talk them into giving you some money toward your tuition.
Several hospitals already do this, and you can look to their programs for inspiration. For example, The University of Iowa Hospitals and Clinics offers $3,000 per year in tuition reimbursement. Other hospitals and places of employment have similar arrangements for employees to use for college tuition, continuing education, and conferences.
Scholarships
There are many scholarships specifically for BSN candidates, as well as a variety of scholarships available to different subgroups. Sometimes, scholarships are awarded one time, and others are available for every year you are in school. It is important to apply for as many as you can. The great news about scholarships is they do not need to be paid back, so the time it takes to apply is well worth it.
Take a look at our comprehensive list of BSN Scholarships for scholarships you can apply for to fund your education.
Grants
The federal government operates a grant program for students called the Federal Pell Grant. The Pell Grant is awarded to undergraduate students who demonstrate financial need and who have not earned a bachelor's degree yet – making RN to BSN students available to apply for and potentially earn this grant.
The Federal Pell Grant is different than a student loan – you are not required to pay this back, unless there are certain circumstances, like you withdrew early from the program or you went from full-time enrollment to part-time.
You can apply for the Federal Pell Grant the same way you apply for student loans – by filling out the Free Application for Federal Student Aid (FAFSA). The government application is always free, and you will need your taxes and other information to fill out the forms online. Since the Federal Pell Grant is based on income, need, cost of attendance and your enrollment status, you can receive anywhere from zero to $6,345 for the 2022 academic year.
You can read all about the Federal Pell Grant here.
Federal Loans
Unlike scholarships, grants and tuition reimbursement, federal loans do need to be paid back, plus interest. This means you will likely pay more over time than you took out in a loan. Since student loans are not dispersed based on a credit score, they are easier to qualify for than private loans. If you are very low-income, then you may qualify for the lower-interest Direct Subsidized Loans, or the Federal Perkins Loan.
Private Loans
In some cases, the cost of tuition for your desired program may be higher than the amount awarded in financial aid. If that is the case, you may want to apply for a private loan to cover the difference. These will have higher interest rates, and stricter payback terms.
Loan Repayment 
Loan repayment varies based on the type of loan you took out and the terms of the loans. For example, private loans may need to be paid back starting immediately, whereas federal loans do not need to be paid back until you graduate or stop attending school.
Federal Loan Repayment
There are two main types of repayment plans for federal loans: Standard and Graduated.
With a Standard Repayment Plan, you will repay a set amount each month.
With a Graduated Repayment Plan, your payment will start out low and increase at regular intervals, usually every two years.
If for some reason you are having a hard time repaying your loans, you should always communicate with your lender. You may qualify for a forbearance, a deferment in cases like economic hardship, or a lower payment under the Income-Driven Repayment plan.
Nurse Corps Loan Repayment Program
If you are willing to work for at least two years in a Critical Shortage Facility (CSF) or serve as Nurse Faculty (NF) in a school of nursing that meets the eligibility requirements, you can apply to receive up to 85% of your unpaid nursing debt forgiven. This program, through the Health Resources and Services Administration (HRSA) serves two purposes: gets necessary nurses into high need areas and helps nurses cover education expenses without a burden on personal income.
Is the RN to BSN Right for Me?
An RN to BSN education can complete your nursing education and put you in a position to for a higher salary, more job opportunities, and greater academic advancement into more advanced types of nursing if you choose to continue your education.
BSN education can complete your nursing education and put you in a position to choose higher levels of learning and achievement. The master's degree requires a bachelor's degree, and the specializations that can come from further graduate study can add income and career options. Nursing like the medical professional and medical science is in a period of tremendous change. The RN to BSN completion can help in the short term to meet current trends and requirements. The BSN can set the stage for further learning and participation in the evolution of medicine and the practice of nursing.
RN to BSN Schools
Many schools offer RN to BSN programs, from schools with 100% online coursework to local community colleges. Often referred to as Bridge Programs, or RN to BSN Bridge Programs, many employers now require you to prove your enrollment in a BSN program before they will consider your application.
Here's a look at a few schools that offer RN to BSN programs:
Bellevue College, Bellevue, WA
Bellevue College has a variety of nursing programs, and their RN to BSN program is one of these offerings. The program requires 180 credits for completion, with 90 coming from the ADN, 45 credits for the NCLEX-RN exam, and then 32 credits from Upper Division Nursing courses and 15 credits from Upper Division Electives. The program is able to be completed in four quarters, and there are full- and part-time options. Courses are taught through a hybrid model, with some online coursework and some (1-2 days per week) attendance on campus.
Walsh University, North Canton, OH
Walsh University offers a 100% online RN to BSN program. Theirs is considered a "fast track" program, with completion in only eight terms, with one course per term. The total program is 125 credits. Students may also gain up to two credits for work experience in the nursing field. Walsh's programs are accredited by the CCNE, and they have four start dates per year. Walsh also has a 100% online RN to MSN program for those looking for a more advanced degree.
Penn State World Campus, University Park, PA
Penn State World Campus is a division of Pennsylvania State University, and they offer all courses 100% online to complete the Bachelor of Science in Nursing. If you live near a Penn State campus, you can blend the learning models and take some courses on campus. Penn State offers a traditional and an accelerated BSN, allowing students to take short 7.5-week courses. Once you earn the BSN, you can add on a certificate in Nursing Management, Nursing Forensics or Nursing Informatics to set yourself apart from other job seekers.