Best Degrees for Fifty-Year-Olds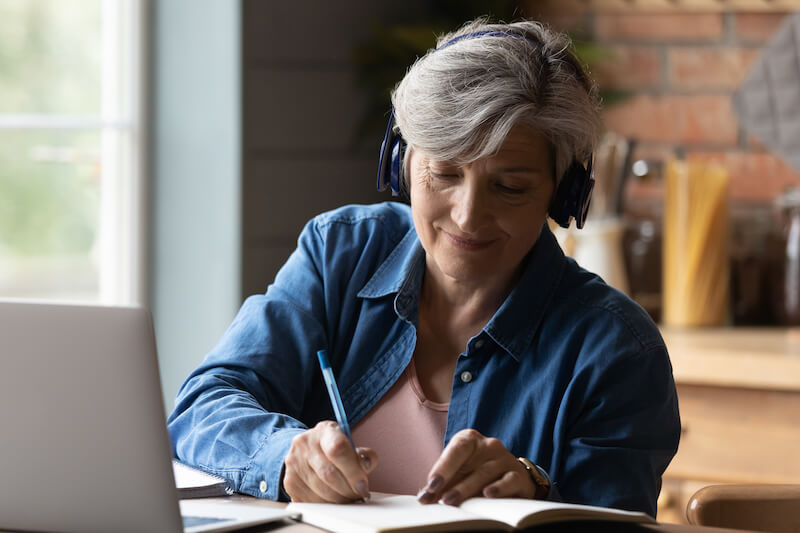 In years past, most college students were those fresh out of high school. Things are a lot different now. With so many employers requiring degrees, people of all ages are seeking a degree. Are you way past high school age but still wanting a degree? If so, you're in luck! There are many degree programs available to students of all ages.
Whether you're 50 years old or older, it's never too late to start a new career or change careers, to learn new skills or demand more from your current role. If you decide this is your path, you are not alone. An article from Forbes calls going back to school after 50 the 'new normal,' and the National Center for Education Statistics shows more than 600,000 students aged 50 or older are attending a postsecondary institution. This article will provide you with plenty of information on the best degrees for fifty-year-olds whether you want more responsibility, a complete change of scenery, or are motivated by money.
Choosing the Best Degrees for 50-Year-Olds
If you're wondering how to find the best degrees for 50-year-olds, the answer is simple. Find one that interests you. Too many college students choose a degree that they feel will provide great career opportunities only to discover they're not really interested in that field.
When searching for ideal programs for 50-year-olds, many aspiring students find online programs to be the best option. Below is a list of the 15 best degrees for 50-year-olds. All these programs are online programs since older students typically have work and family constraints to factor in when choosing a program.
15 Best Degrees for Fifty-Year-Olds
1. Accounting

Accounting is an occupation that is still very popular today, especially for individuals who enjoy working with numbers. It's also one of the best degrees for 50-year-olds in terms of career opportunities.
Accounting degrees are offered online at many colleges. Students learn about accounting principles, economics, and finance. Graduates of online accounting programs may find work as:
Accountants
Accounting Assistant
Bank teller
Accounts payable specialist
Audit clerk
Budget analyst
Accounting is considered one of the best degrees for entrepreneurs and 50-year-olds because they're flexible programs with affordable tuition and the potential for good wages upon graduation. The U.S. Bureau of Labor Statistics (BLS) reports that accountants earn an average annual wage of $78,000 as of 2022.
2. Digital Marketing
A digital marketing degree is an online option that prepares students to work in various areas of social media and marketing in general. Online students will take courses in digital marketing, content marketing strategies, search engine optimization, copywriting, and marketing fundamentals. Digital marketing graduates may find work as:
Content manager
Digital marketer
SEO specialist
Email marketing specialist
Web developer
Digital marketing analyst
Advertising, promotions, and marketing managers earned an average wage of $138,730 as of 2022. This is a great online degree that can be completed in one to two years. With social media playing such a large part of our lives, this degree can offer many different careers. Students can save even more money by taking a few courses at a time until the degree program is completed.
3. Computer Programmer

If you're an aspiring entrepreneur or 50-year-old who enjoys computers, you might find this degree quite appealing. Online computer programming programs teach students about codes and various programming languages. Possible jobs with this degree include:
Web developer
Computer coder
Computer programmer
Software developer
Network architect
As of May 2022, computer programmers earned an average yearly wage of $97,880, which makes this a profitable degree. Online students can earn a bachelor's degree in less than the traditional four years. They can also complete an online associate degree in only a year.
4. Culinary Arts
If you enjoy cooking and would like to impress your family and friends with your mad cooking skills, an online degree in culinary arts might be a perfect fit. Culinary arts students can choose to specialize in cooking, baking, or both.
According to the BLS, chefs and head cooks earned an average wage of $56,520 in 2022. Graduates of an online culinary arts program may find work as
Chefs
Head Cooks
Food service Supervisor
Cooks
Nutritionist
Pastry Chef
One of the best things about an online culinary arts degree is that this field offers certificate programs, diplomas, associate, and bachelor degrees. Graduates can choose to take an entire degree online or only a few courses, which are typically quite affordable.
5. Business

There are many types of business degrees out there, and many of them are online programs. Depending on the major or area of specialty chosen, business graduates may find work as:
Financial manager
Business manager
Market research manager
Fundraiser
Management analyst
Employees working in the business and finance fields earn an average annual wage of $76,850. Job growth in these areas is also growing at a very fast rate. Students can earn online business degrees or choose to just take some online business courses to get started. Every part of our lives involves some sort of business, making this a very useful degree. A very popular online degree choice is the Master of Business Administration (MBA).
6. Creative Arts
Whether you're interested in earning a creative arts degree for a career or for personal growth, you'll love everything an online creative arts degree has to offer. Online creative arts students can advance their creative and artistic skills to the next level. Courses like fine arts, photography, graphic design, creative arts, and theatre provide students with various skills, and they can be taken from the comfort of their homes. Possible jobs include:
Art director
Game designer
Animator
Creative designer
Graphic designer
Photographer
The BLS states that workers in art and design occupations earned an average yearly wage of $51,150. Creative arts degrees offer many career options, affordable courses, and programs, and are offered online at many schools and colleges.
7. Photography
Have you ever taken pictures and wished you had better photography skills? Or perhaps, you have a new camera but no idea how to operate it. An online photography degree is a great way to not only start a new career but enhance your skills for your favorite hobby. Photography courses include:
iPhone photography
Storytelling through photography
Composing photos for social media
Learning different lenses
Outdoor photography
Adobe Photoshop
Earning an online photography degree can open opportunities, such as:
Photographer
Desktop publisher
Videographer
Photojournalist
Photo technician
Wedding photographer
Photographers earn an average annual wage of $40,170 as of a 2022 BLS report. An online photography degree is more affordable than you might think, and many of the programs are online programs.
8. Nursing

Do you have experience working with sick people or have a desire to help others feel better? An online nursing program can be the ideal career choice even if you are 50 years old. Many colleges offer online nursing programs. Although nursing programs do require completion of an internship in a healthcare setting, most of the courses can be completed online.
Potential jobs for nursing graduates include:
Registered Nurse
Licensed Practical Nurse
Nurse Manager
Health Informatics Specialist
Nurse Consultant
The BLS reports that RNs earned about $81,220, while LPNs earned $54,620 in 2022. Online nursing programs are ideal for those who are already working in a healthcare setting because the student may get credit for the work performed. What makes this an ideal career choice is not only the online option but also the various flexible options offered at many colleges.
9. Psychology

If you're 50 years old or older, the one thing you can say is that you have had many life experiences. Many of these life experiences put you in a place where you can be helpful to others. A degree in psychology can enhance those experiences and put you in a position where you can help others. Online psychology programs provide students with the skills and knowledge to work as not just psychologists but many other jobs.
Psychologist
Substance abuse counselor
Human resource specialist
Psychology assistant
Therapist
Researcher
Psychologists earned an average annual wage of $85,330 as of May 2022, but wages will vary by job. This degree can be earned almost all online. Completion of an online psychology degree can lead to many rewarding positions.
10. Financial Planning
Whether you want to fix your own finances or wish to do it as a career, a degree in financial planning might be a great choice. You'll take courses in mathematics, business, economics, taxes, and estate planning. According to a 2022 wage report by the bureau, personal financial planners earned about $95,390. Other potential jobs with this degree include:
Financial advisor
Wealth manager
Personal financial planner
Personal financial advisor
Financial consultant
Online financial planning programs offer various degree-level options and have some affordable courses. The fact that they're online makes them easier to obtain.
11. Early Childhood Education

If you enjoy working with children, particularly young children, you may be a great candidate for an early childhood education degree. You'll learn how to work with and teach young children through courses like:
Psychology
Sociology
Emotional attachment
Child development
Growth stages
Special needs
Preschool teachers earned about $35,330 according to the bureau. Other potential jobs include:
Kindergarten teacher
Preschool administrator
Childcare center director
Daycare Assistant
Childcare worker
This degree is ideal because most of it can be completed online and many of the programs are available online. It also offers a few different career options other than just preschool teacher. Although the courses in this program are online, students are typically required to complete an internship inside the classroom prior to certification as a teacher.
12. Public Administration
Public administration is an excellent career choice for individuals interested in working in the public sector and having a say in how their community operates. Online public administration degree programs are offered at the associate, master's, and bachelor's degree levels.
Public policy and social service jobs earned an average annual wage of $50,000 as reported by the BLS. Potential jobs for graduates include:
Operations manager
Case manager
Urban planner
Park manager
Development coordinator
Public administration is a degree option that can open up many doors to graduates. It's also offered online in many colleges. Courses are slightly easier than in other programs.
13. Medical Billing and Coding
A medical billing and coding degree can prepare you to work as a medical records specialist. You will learn the different coding languages used in healthcare and how to enter them into the computer system.
Medical records specialists earned an average annual wage of $47,180 in 2022. This degree also prepares students to work as:
Medical records technician
Medical coder and biller
Medical records associate
Medical records specialist
This program is a very affordable program in terms of tuition and the fact that it's offered online. Graduates can even become certified online. Many medical billers and coders are able to work remotely from home, which makes this degree and career even more attractive.
14. Restaurant or Hospitality Management
How many times do customers compliment or criticize the waitress or cook for the food or service they receive at a restaurant? It is the job of a restaurant or food service manager to ensure everything is running smoothly and efficiently. If you'd like to have a hand in managing a restaurant, why not consider an online degree in restaurant management?
With more and more restaurants trying to beat the competition and stay open, the need for good food service managers continues to grow. Food service managers earn an annual average salary of about $61,310. There are other jobs a food service manager can pursue, such as:
Food service supervisor
Caterer
Cafeteria manager
Executive chef
Restaurant manager
This is a relatively easy degree program that's available online and offers certificates, diplomas, and degrees. Students can also take individual courses towards the degree.
15. Computer Support Specialist
Computers are everywhere in our lives today, and the need for computer support specialists is high. A degree in computer support specialist will prepare you to not only work on your own computer but also help others with their computer issues.
Computer support specialists earn about $59,650 annually. Graduates of these programs are typically qualified for jobs as:
Technology support specialist
IT support specialist
Help desk analyst
Computer technician
A computer support specialist degree offers various computer-related courses that can be taken online with relatively low tuition. These can include IT degrees or networking degrees. Students can also choose from different degree levels.
Admissions Requirements
Admission requirements typically vary from one school to another or from one program to another.
However, the most common admission requirements for these programs include:
Official transcripts from any schools attended
Should have an acceptable GPA
Completion of any prerequisite courses
Entrance exams (varies by school)
Why an Online Program?
Online programs have been taking the world by storm these days. There are so many benefits of online or distance learning. The biggest benefit is that you can study and learn at your convenience. You can also determine how long it will take you to earn the degree. Online programs are ideal for students who want to continue working while completing the degree program.
Tuition and college fees for online programs are often less expensive than on-campus programs. By not having to travel to college every day, you can save a fortune on fuel, time, and wear and tear on your vehicle. In the past, online learning only consisted of some online courses, but schools are now offering online degrees.
Getting Started
When choosing a degree, look for these things.
Accredited programs
Flexible programs
Affordable programs
Research the admission requirements
Degrees that typically offer positive job growth and good wages
Do not underestimate the importance of choosing a degree that matches your career goals and your interests. Getting started toward your degree is easier than you might think. Look over not only the program but also the courses you'll be taking.