Healthcare Administration Degree and Career Guide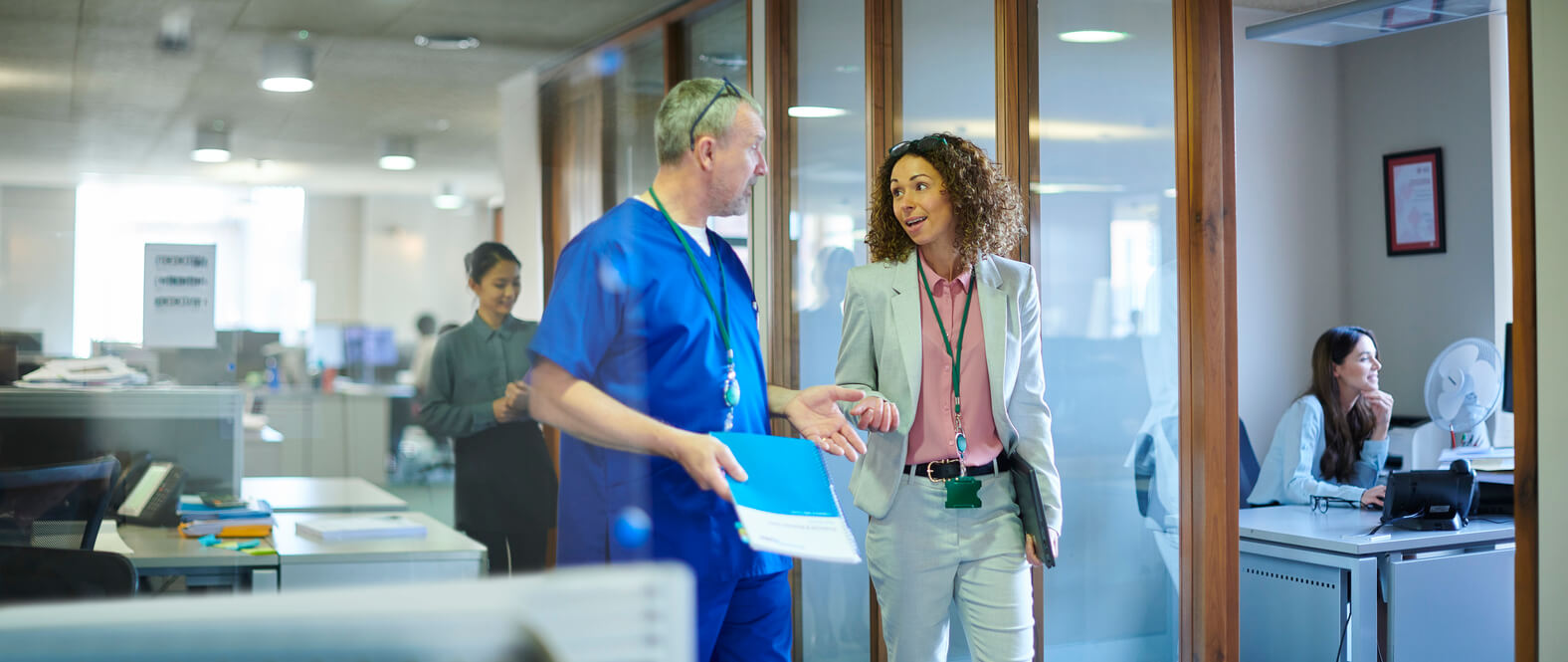 Healthcare administration is a very broad field that encompasses many areas within a healthcare facility. Unlike doctors who manage patients, a healthcare administrator oversees and manages the entire medical facility. A healthcare administrator may have the following duties.
Managing the facility's finances
Developing work schedules for doctors, nurses, and other staff
Training staff members
Monitoring spending and budgets
Managing patient charges and billing
Communicating with doctors and nurses
Improving the quality and efficiency of the facility
Making sure the facility is compliant with all regulations and laws
Meet with governing boards and investors
What is a Healthcare Administrator?
Healthcare administrators, also known as medical and health services managers, typically have master's in healthcare degrees, although some are hired with a bachelor's degree, which is the bare minimum degree requirement for this career.
There are some positions within the field of healthcare administration that are possible with an associate degree. Many colleges offer online degrees in healthcare administration at several levels.
Excellent Job Growth
Healthcare administrators have very good employment opportunities. According to the
U.S. Bureau of Labor Statistics
, medical and health services managers are expected to have a job growth of 28 percent during the 2021-2031 decade.
Competitive Wages
As of May 2021, these trained professionals earned an annual average wage of $101,340.
Lots of Opportunities
Graduates of healthcare administration programs are trained and qualified for various jobs within a medical facility as well as in other industries.
Associate's Degrees in Healthcare Administration
An associate degree in healthcare administration is generally not enough to qualify as a healthcare administrator, but this two-year degree does qualify individuals for positions like patient intake clerk, medical scheduler, patient services representative, and health information coder, among others. Online associate in healthcare administration degree programs are offered at several colleges.
Online Programs

Bryan University
Bryan University offers a 100 percent online associate's degree in health information management and healthcare administration. This program not only provides students with the knowledge necessary to work in the healthcare administration field but also prepares them to obtain several industry certifications. Students also get free membership to the American Health Information Management Association.
Colorado Technical University
Colorado Technical University offers an Associate of Science in Healthcare Administration degree program that offers a FastTrack option that allows students to complete the program quicker than normal. It also features an adaptive learning platform so students can learn what they need for their career goals while still acting as a foundation for a bachelor's degree.
Pima Medical Institute
Pima Medical Institute has an online healthcare administration associate degree program that can be completed in 20 months. This program prepares students to work in both the clinical and the administrative side of healthcare. If the student has prior healthcare education, the student can transfer some of the credits into this program.
Bachelor's Degrees in Healthcare Administration
The bachelor's degree is generally the degree level required if your goal is to be a healthcare administrator or a medical or health services manager. This four-year degree covers topics like healthcare management, nursing, medical terminology, public policy, law and ethics, and hospital organization.
Most of undergraduate programs require the student to complete an internship at the end of the program. Healthcare administrator undergraduate programs can be found both on campus and online.
Online Bachelor's Degree Programs
Purdue University Global
Purdue University Global has an online bachelor's in healthcare administration degree program that gives students credit for prior work experience and prior education in this field. They also offer students a free three-week trial period to see if they like the program. Students can learn at their own pace and take the courses they want to take when they want to take them.
Western Governors University
Western Governors University offers an online bachelor's and MBA program with concentrations in healthcare management, business administration, and IT management. Students can choose to learn on their own at their pace or join in on the live sessions. This program can be completed in 12 months.
Aurora University
Aurora University offers an online Bachelor of Science in Healthcare Administration that can be completed in from two to four years depending on the student's commitment and time. Students have access to tutoring, career services, IT services, and academic advisors. The curriculum includes coursed designed to teach students all aspects of healthcare management and administration.
Here's our top 15 Online Bachelor's Degrees in Healthcare Administration
Master's Degree in Healthcare Administration
Although candidates may work as healthcare managers or administrators with a bachelor's degree, many have master's degrees. In fact, some employers may require a master's degree. The Master of Business Administration with a focus on healthcare administration is becoming one of the most common healthcare degrees for aspiring healthcare administration.
Online education is a popular option for those that are currently working in healthcare but only have a bachelor's degree because they can continue to work while pursuing the master's degree.
Online Master's Degree Programs
University of Southern Indiana
The University of Southern Indiana offers a 100 percent online master's degree in healthcare administration program that prepares students to work in various areas of healthcare, including healthcare administration. It offers several start times per year as well as an accelerated option for students who want to finish the program as quickly as possible. Applicants must meet work and GPA requirements to enroll.
University of Wisconsin Extended Campus
A 100 percent online master's degree in healthcare administration program is offered at the University of Wisconsin's Extended Campus. This program requires the completion of 37 credits and 13 courses. Students can learn through online forums, online lectures, and basic assignments. They also learn about both the administrative and clinical sides of healthcare administration.
University of North Carolina
The University of North Carolina has an online master's in healthcare administration program that offers specializations in health policy and health informatics. Courses cover topics like human resources, organizational leadership, marketing, accounting, and strategic planning, among others. They also learn about the ethical and legal parts of healthcare administration. Students can tailor the program to what meets their area of interest.
Advanced Degrees in Healthcare Administration
Advanced degrees like postgraduate certificates or doctoral degrees in healthcare administration are typically chosen by individuals who wish to work in healthcare research or as professors teaching at a college. Doctoral degree students are usually required to complete examinations and dissertations. There are many online advanced degree programs in the field of healthcare administration.
Online Programs
Capella University
Capella University offers an online doctoral degree program in health administration that can be completed in as little as 15 months. This school offers flexible courses and learning formats so students can learn the topics most needed for this program and for their career goals. No GRE or GMAT is required to enroll in this school or program. The tuition rates are based on the course load you want to take even if it's only a couple of classes at a time.
A.T. Still University
A.T. Still University offers an online doctorate in healthcare administration program that can be completed in less than four years. Students can successfully complete this program by passing the exams and completing the required dissertations. The advanced doctoral courses teach students all aspects of healthcare administration and health service management.
Central Michigan University
Central Michigan University has an online doctoral degree in healthcare management that is ranked one of the best. Students have a flexible format and access to academic advisors and research support. This program requires the completion of research courses and dissertations.
Careers in the Healthcare Administration Field
Graduates of a healthcare administration degree program may find work in the following places.
Healthcare organizations and facilities
Pharmaceutical sales or development
Health insurance agencies
Laboratories
Nursing homes
Health information organizations
Ambulatory services
Nonprofit organizations
Long-term care facilities
The graduates of healthcare administration degree programs may find the following healthcare positions.
Medical billing and coding – These individuals translate medical diagnoses and treatments into codes that go to insurance companies or government agencies. An associate degree is generally required for this position.
Medical administrative assistant – Also referred to as a medical secretary, these assistants perform secretarial duties in a medical facility.
Health information technician – Health information technicians manage and oversee the medical records in a medical facility. These technicians have an associate's or bachelor's degree.
Healthcare human resources manager – These healthcare professionals oversee the human recourses department of the healthcare facility. These managers have at least a bachelor's degree.
Healthcare consultant – Healthcare consultants are hired by healthcare facilities to make recommendations on how to improve the quality and efficiency of the facility. They must have a bachelor's degree.
Health services manager – These highly-trained professionals manage the entire healthcare facility and oversee how it's being run. They need a master's or doctoral degree and work experience.
Next Steps
Getting started in the field of healthcare admin is a matter of getting the right education and positioning yourself to get the right job. Check out the wide variety of healthcare administration degrees today.