15 Best Bachelor's in Healthcare Administration Degrees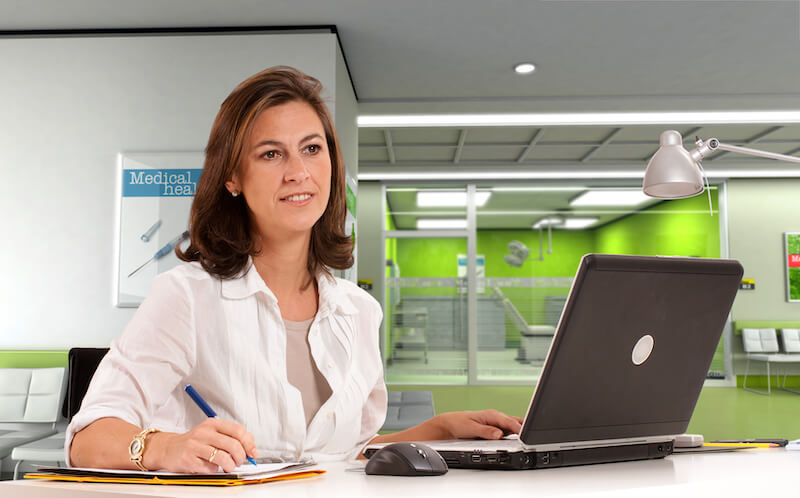 Are you interested in working in healthcare but prefer to work in administration rather than working with patients? If so, you might want to pursue a job in healthcare administration. The first path toward this career is earning a Bachelor's in Healthcare Administration. Continue reading and get information on this career and the Bachelor's in Healthcare Administration.
What is a Healthcare Administration Degree?
A healthcare administration degree is a degree that will benefit someone interested in administrative positions in physician offices, hospitals, medical clinics, insurance companies, and outpatient care facilities, among others.
This degree is often used interchangeably with healthcare management degrees. Although a management position in healthcare often requires a master's degree, it's also possible with a Bachelor's in Healthcare Administration. The good news about this degree is that it's offered as an online program at many colleges.
The healthcare administration degree includes general education courses, core courses, and major-related courses. The Bachelor's in Healthcare Administration program also offers several areas of specialization, such as:
Organizational leadership
Marketing
Business administration
Human resources
Project management
Emergency management
Data management and analysis
Public relations
Information technology management
Who Needs an Online Bachelor's in Healthcare Administration?
Anyone interested in healthcare may consider the healthcare administration undergraduate degree. However, the individuals who can benefit the most from this degree are those who want leadership positions where they can oversee the healthcare staff and help make the company more efficient and profitable without having to deal with patients. Earning a healthcare administration degree can help you have more career opportunities in the healthcare industry and offer better wages.
Salary and Job Prospects for Graduates of a BA or BS in Healthcare Administration
The U.S. Bureau of Labor Statistics (BLS) doesn't provide specific wage and career information on healthcare administrators but does provide it for medical and health services managers, a category in which healthcare administrators are grouped. The BLS reports that healthcare jobs overall are expected to grow 13% from 2021-2031. However, the bureau states that medical and health services managers are predicted to see a 28% employment growth during that same decade. This growth is higher than all other occupations. Below are the states with the highest number of medical and health services managers employed in 2022.
California – 52,350
Texas – 46460
Florida – 32,730
New York – 25,430
Massachusetts – 20,300
Medical and health services managers earned annual wages ranging from $64,100 to $209,990 with the average annual wage at about $104,830. These figures come from a 2022 wage report from the BLS. Salaries can vary by many factors, including degree level, certifications, years of experience, employer, and geographic location.
Of all these factors, location probably plays the biggest part. An example of this can be found below, where we've listed the five states where healthcare administrators earn the highest wages followed by the states with the lowest wages.
States with the highest wages for healthcare administrators
| | |
| --- | --- |
| State | Annual median salary |
| New York | $171,620 |
| District of Columbia | $156,870 |
| New Jersey | $153,300 |
| Massachusetts | $152,450 |
| Delaware | $150,840 |
States with the lowest wages for healthcare administrators
| | |
| --- | --- |
| State | Annual median salary |
| Iowa | $95,380 |
| Kentucky | $94,180 |
| Alabama | $82,160 |
| Mississippi | $80,950 |
| Arkansas | $80,330 |
Admission Requirements
Admission to this program is completive, and GPA plays an important part in the selection process. Admission requirements for the healthcare administration bachelor's degree program can vary from school to school and program to program. For instance, one school we researched has the following admission requirements.
Must have completed 30 hours of courses prior to admissions
Must have completed accounting, healthcare administration, and math courses with the required GPA
Submitted application
Submitted official transcripts
Letter of intent
Personal statement
15 Best Bachelor's of Healthcare Administration Degrees

With so many online bachelor's of healthcare administration programs available, students have a great selection from which to choose. Below are 15 of the best Bachelor of Healthcare Administration degree programs, all of which are online programs.
George Mason University
Penn State Global Campus
University of Alabama
Johnson & Wales University
Texas State University
Colorado State University
Tiffin University
Southern New Hampshire University
Ottawa University
Western Governors University
University of New Hampshire
Bellevue University
University of Minnesota
University of Miami
University of North Florida
1. George Mason University
Bachelor of Science in Healthcare Administration
This fully online program, offered through the school's College of Health and Human Services, requires completing 120 credits. It offers concentrations in health informatics, health systems management, and assisted living/senior housing administration. Virginia residents pay $546.50 per credit, while nonresidents pay $1,523.50 per credit. This program usually takes four years to complete, but online students can work at their own pace.
2. Penn State University -Global Campus
Bachelor of Science in Health Policy and Administration
This highly-ranked online undergraduate program is aimed at students who want a leadership position in healthcare where they can work with hospitals and healthcare policies. Online students must complete 120 credits including an internship at a healthcare facility in their area. Tuition is $620 for residents and $664 for non-residents. The curriculum is a combination of courses in health science, business administration, and liberal arts. Course topics include:
Health services policy issues
Health care payment
Microeconomic analysis and policy
Health care leadership
Statistics
Health care quality
Human resource management in health care organizations
3. University of Alabama
Bachelor of Science in Public Health
Although this program's major is public health, its curriculum is designed for students who want to work in healthcare administration. This program also is a good foundation for those who want to advance their studies into advanced healthcare. This fully online program requires completing 120 credit hours. Students learn about health disparities, public health systems policies, personal health, environmental health, and patient education. Graduates of this program can pursue certifications, such as Certified Public Health professional or Certified Health Education Specialist. There is no GMAT or GRE required.
4. Johnson & Wales University
Bachelor of Science in Healthcare Administration
This undergraduate program is 100% online and can be completed in 4 years or less. Students learn to use policy development and data analysis to evaluate healthcare systems. This degree prepares students for not only careers as healthcare administrators but also for careers in health marketing, nursing home administration, program management, and more. The curriculum includes courses related to healthcare delivery, finance, and management. The flexible courses are 8 weeks long and are taught by industry professionals.
5. Texas State University
Bachelor of Science in Health Information Management
This fully online program prepares students for positions as health service managers or healthcare administrators. This 120-credit program is broken down into two parts: two years of prerequisite and core courses and two years of high-level health information management (HIM) courses. Students learn about information technology, healthcare informatics, leadership, and business areas like legal compliance and finance.
6. Colorado State University Global
Bachelor of Science in Healthcare Administration & Management
The 100% online healthcare administration and management bachelor's degree program at CSU requires that students complete 120 credits that include electives, general education, core, and specialization courses. Students can choose from several areas of concentration. Graduates of this flexible degree program are prepared to work as healthcare administrators, program managers, medical staff credentialing analysts, and hospital HR generalists to name just a few. Annual tuition for this program is $8,400.
7. Tiffin University
Bachelor of Business Administration – Healthcare Management
This 100% online undergraduate program provides students with the skill and knowledge to become healthcare administrators. Students can also choose from different areas of specialization. At the end of the program, the student will complete a 200-hour internship to obtain real experience in a healthcare setting. Students who already have an associate degree can earn this bachelor's degree after completion of 60 credits.
8. Southern New Hampshire University
Bachelor of Science in Healthcare Administration
The BS in healthcare administration is an online program that requires completing 120 credits. Tuition is an affordable $330 per credit. The program offers concentrations in health information management, and patient safety & quality. Students can transfer up to 90 credits in the program. Course topics include healthcare finance, healthcare marketing, and ethical and legal issues in healthcare. Students get nonstop support 24/7.
9. Ottawa University
Bachelor of Science in Healthcare Administration
This 124-credit-hour online program offers students a choice of two tracks: a clinical and nonclinical. The clinical track is for students who have completed clinical training. The program has a blended curriculum of core courses, electives, liberal areas courses, and 30 hours of courses at OU. Upon graduation, students are prepared for entry-level employment in a healthcare administrative setting.
10. Western Governors University
Bachelor of Science in Healthcare Administration
WGU's bachelor's degree in healthcare administration is an online program that allows students to complete as few or as many courses of the 40 required courses as they can in each term. WGU also offers an online bachelor's degree in health information management and a bachelor's degree in health and human services. Tuition is $3755 per six-month term. Graduates of this program are prepared to work in hospitals, insurance companies, community health organizations, and residential care facilities.
11. University of New Hampshire
Bachelor of Science in Health Care Management
This highly ranked online program offers affordable tuition, flexible courses, and free career advisement. Students learn how the overall condition of a healthcare facility can affect patient care. The program requires the completion of 120 credits, and students may be required to complete a few of the courses on campus. Course topics include human resource management, statistics, mathematics, fitness and health, healthcare policy, and healthcare management.
12. Bellevue College
Bachelor of Science in Healthcare Management and Leadership
The online 120-credit bachelor's degree in healthcare management and leadership offers concentrations in general healthcare management, radiation and imaging management, and healthcare informatics. This is a very flexible program that allows students to work at their own pace. Students may be required to complete internships and fieldwork, but they can choose the most convenient location. Tuition is $123.58 per credit.
13. University of Minnesota
Bachelor of Science in Health Management
UM's health management program is a fully online program that requires completing 120 credits and has no on-campus requirements. In addition to general education courses, the curriculum also includes management, technology, and healthcare-related courses. This program offers a concentration in long-term care. Tuition is $437 per credit. Graduates are eligible to sit for certain major-related certification exams, such as Nursing Home Administrator.
14. University of Miami
Bachelor of Science in Business Administration – Health Management and Policy
The BS in business administration degree focuses on health management and policies. It teaches students the important aspects of being a healthcare manager. This 120-credit online program requires students to take courses not just for the BA portion of the program but also the courses focused on health management and policy. Graduates are qualified to work in healthcare facilities in leadership positions.
15. University of North Florida
Bachelor of Science in Health Administration
Offered through UNF's Brooks College of Health, this fully online 120-credit program offers the perfect curriculum for students interested in health administration and overseeing a healthcare facility. Although typically a four-year program, it can be completed in less time. Courses might include:
Healthcare human resources
Health care finance
Health law and ethics
Health administration
Professional skills
Why an Online Program?
Online education has become very popular in recent years. This is especially true with programs like healthcare administration programs. Unlike in the past when students had to attend college on campus five days a week, today students can study, do assignments, and take tests on their own time in the comfort of their home or anyplace they may have a computer with internet access.
Online colleges offer several learning platforms and allow students flexibility and convenience not found in traditional brick-and-mortar schools. Tuition and fees are usually lower with an online program. When you add in your gas savings and commuting time eliminated, you'll see why so many students are choosing an online program.
Getting Started
There are many steps towards earning your bachelor's degree in healthcare administration. If you already have a busy schedule or don't have a college near you, an online program might be the ideal choice. Since it is an online school, location is not an issue. Your first step is finding a school that's accredited. The Commission on Accreditation of Healthcare Management Education (CAHME)is one of the most common accrediting agencies used. You'll also want to find a program that offers the program you want. Here are some important tips.
Find an accredited school
What is the school's reputation?
What is the rate of job placement after graduation?
Does the school offer specializations in the areas that interest you?
Is tuition competitive and affordable?