STEM Identity Resources for Women and Girls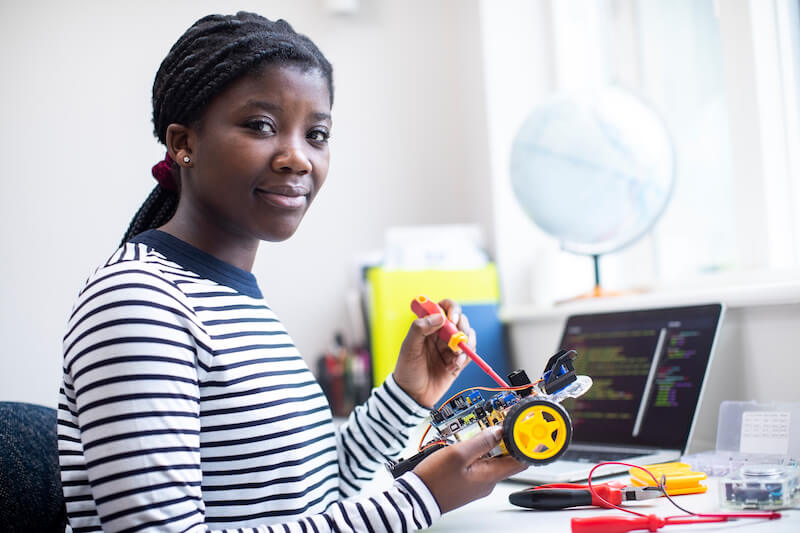 Why are there so many fewer women in STEM occupations than their male counterparts? Especially since, according to the National Student Group scores, girls are actually just as good at math as boys in eighth grade tests, and actually perform better than boys in science and engineering. It comes down to identity and confidence, and this resource will provide you with the ability to help build a girls' STEM identity from adolescence to adulthood. 
Women in STEM jobs are increasing in numbers, but there is still a long way to go for equity. Keeping young girls engaged in science, technology, engineering and math from a young age, and avoiding the typical 'drop off' that happens to girls around the world in STEM will create a more equitable STEM workforce.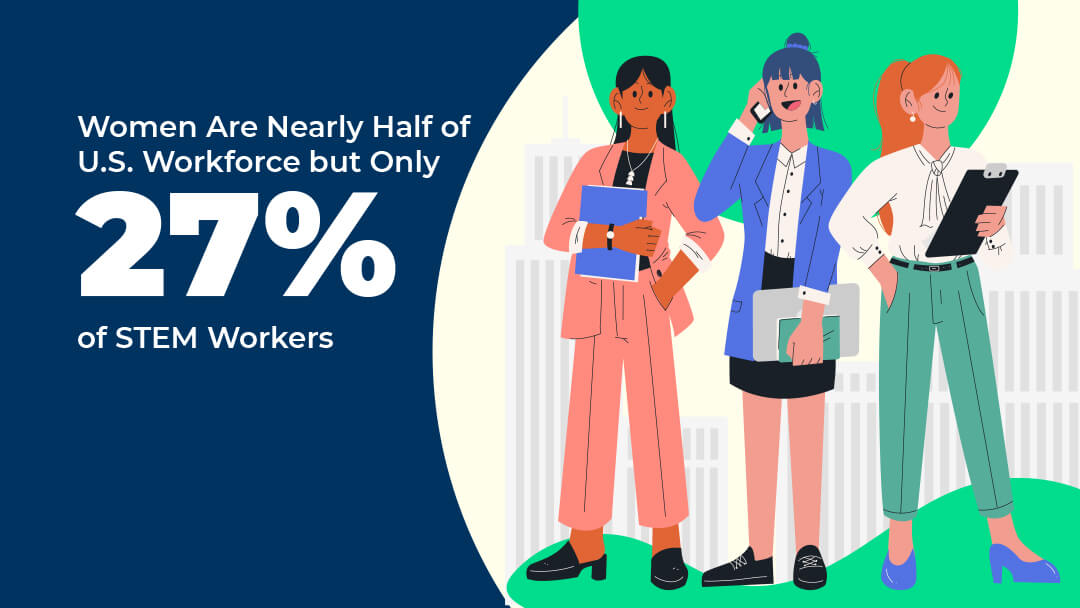 Keep reading for our comprehensive list of resources in STEM, articles on the impact of girls and women in STEM and how forming an early STEM identity can keep girls and women involved in STEM for years to come. We also explore the worldwide digital gender gap and provide organizations and resources for getting engaged in STEM learning. The impact of STEM on mental health also can't be ignored, and is included here.
You'll also find videos, podcasts, scholarships and much more. If you see anything we've left out, let us know!
Science
Earthwatch offers a fellowship program for girls interested in science who live in one of several regions and are 15 to 18 years of age.
Find out more about the annual Girls & Science event in Denver, which features mentors and speakers from different areas of scientific studies. 
This nonprofit in Chicago offers opportunities for girls who want to learn more about the various STEM fields and gain more experience. 
Check out this fellowship program for girls in Massachusetts and see how you can apply for the August event.
International Day of Women and Girls in Science
Held on February 11, this international event celebrates women and girls and the work they did in different scientific fields.
Learn more about this organization and the special programs it offers for girls who are passionate about science as well as how to apply.
Jennifer Palmer uses this page to talk about major events for girls with an interest in science and her own experience in wildlife conservation.
The Burke Museum and UW offer a Girls in Science program that pairs younger girls with experienced mentors who work in science or technology. 
Technology
This page looks at the barriers that prevent girls from working in technology and offers ways to remedy these problems.
Find resources for girls who want to work in tech such as conferences for women in the industry and local events across the country. 
Teachers and parents can use this site to find ways to encourage girls' interests in technology, but it also offers activities for students.
Sign up for a virtual summer day camp for younger girls who want to learn more about information technology. 
Find a local chapter of this organization on the official website and see how girls and women want to change the technology world.
Tech Needs Girls, and Girls Need Tech
This article looks at the importance of getting girls involved in tech and STEM fields and shows how they can get help online.
Four Ways You Can Encourage Girls to Pursue Technology
Take a look at the four key ways in which people of all ages can encourage girls to pursue technology courses and improve their skills. 
The U.S. Department of State helped create this site that offers a camp program to help girls gain valuable tech skills.
Engineering
The Girls in Engineering team at UC Santa Cruz offers a five-day summer camp that teaches girls the basics of engineering.
Watch videos and find other resources that help girls of all ages discover more about engineering jobs and the skills they need. 
This organization hosts a summer program for girls in middle school who have an interest in engineering as well as other events.
Spencer Chin talks about National Engineers Week in this article and how adults can foster girls' interest in this field.
ESD Girls in Engineering Academy
See what to do to apply for a spot in this engineering summer camp for girls hosted by the Engineering Society of Detroit in Michigan.
Introduce a Girl to Engineering
Get access to free planning guides and other resources on this site that help girls learn about engineering and what it involves.
See the nearest chapter of this organization and find ways to get involved along with other resources to encourage girls to enter the engineering field.
This organization strives to help young African American women learn about engineering and get their start in the field.
Math
Discover the special math programs for girls available during the school year through this organization and how to help.
"Girls Can't Do Math": How Unconscious Bias Leads to Gender Gaps in STEM 
This article looks at how teachers have a bias against girls in math and the impact it had on the modern STEM field. 
Find tons of articles on math and girls on this site along with research into the subject and links to other resources.
The Myth of the Male Math Brain
Readers will learn why some people assume boys do better in math and the truth behind the gender gap in this area.
Why Girls are Better at Math But Don't Get STEM Jobs
Christian Spencer looks at the factors that affect the number of women working in STEM and how they start at a young age.
Girls and Math: Breaking Down the Wall
Barbara Gottfried focuses this article on the ways that others can break down the barriers between girls and math.
Making Black Girls Count in Math Education
This e-book takes a serious look at the barriers black girls face in math classes and what teachers can do to break them down.
Engaging Girls Through Math Media
See some of the fun math activities that the University of North Carolina offers online to help girls get interested in math.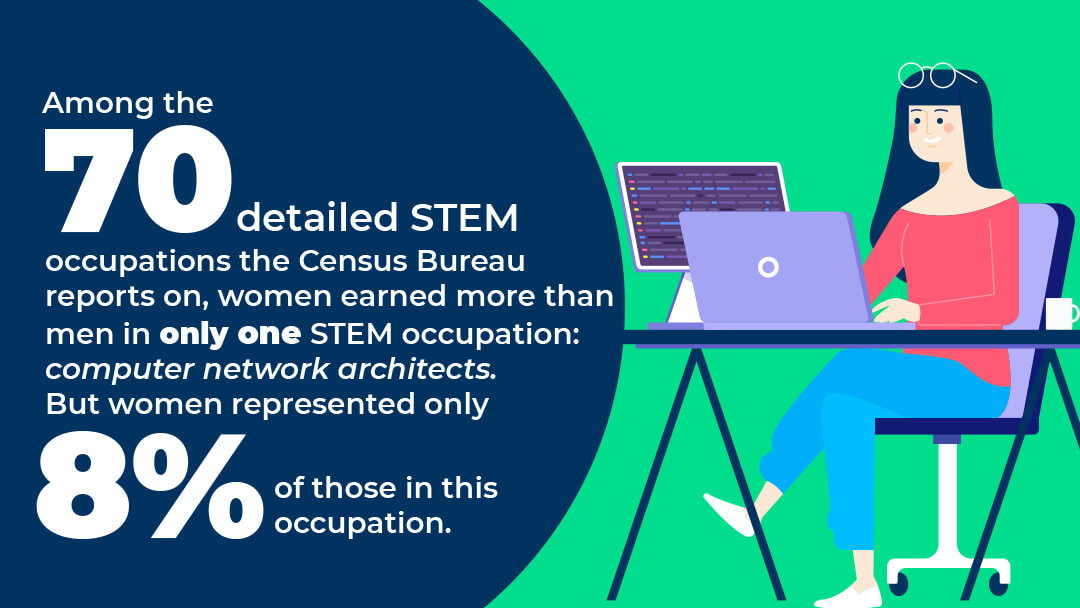 Articles

 
Effective STEM Programs for Adolescent Girls
This PDF helps readers find the best and most effective programs that help girls learn more about STEM and develop helpful skills.
STEM Provides Tech Opportunities for Teens
Find out some of the tools and products teens developed in STEM programs with a quick look through this article.
STEM Teens: Youth Participation in Research
Discover what researchers found when they compared youth participation in STEM programs with their later interests.
Adolescent Girls' STEM Identity Formation and Media Images of STEM Professionals: Considering the Influence of Contextual Cues
Jocelyn Steinke uses this article to look at how popular media can foster and encourage girls to enroll in STEM programs.
Survey: Teen Girls' Interest in STEM Careers Decline
This recent study surveyed many young girls and looked at why some of the participants no longer had an interest in STEM careers.
Three Approaches and Many Lessons Learned
See three common approaches to STEM programs and what professionals learned through them.
How To Get Young Girls Excited About A Career In STEM
Bianca Barratt uses this piece in Forbes to talk about the ways that adults can encourage girls to feel excited about STEM subjects.
Girls in STEM: Is It a Female Role-Model Thing?
This research article looks at whether having female role models encourages girls to focus on STEM studies later.
(Un)Hidden Figures: A Synthesis of Research Examining the Intersectional Experiences of Black Women and Girls in STEM Education
Several researchers worked on this paper to look at the experiences women of color had in the STEM industry. 
The Effectiveness of a One-Year Online Mentoring Program for Girls in STEM
Find what happened to participants in a one-year STEM program that paired them with an online professional mentor
The Gender Gap in STEM Fields: Theories, Movements, and Ideas to Engage Girls in STEM
Professionals working at the University of Illinois wrote this paper to find possible solutions to the lack of girls in STEM fields.
Online Mentoring for Talented Girls in STEM: The Role of Relationship Quality and Changes in Learning Environments in Explaining Mentoring Success
This article looks at the benefits of pairing female students with mentors to foster their interest in STEM fields.
Black girls speak STEM: Counterstories of Informal and Formal Learning Experiences
Young black girls talked with the authors of this journal article to share their experiences in different learning settings. 
Digital Gender Gap
This article looks at one way to bridge the gap by encouraging women to work in digital finance positions.
Bridging the Digital Gender Divide
Find out both what the digital gender gap is and how it happens through the articles and resources on this site. 
Digital Development and the Digital Gender Gap
Take a look at the development of the gender gap and future trends in this simple PDF.
This policy brief focuses on the digital gender gap and why so many girls have less access to technology than boys.
The Underlying Causes of the Digital Gender Gap and Possible Solutions
Use this article to see some of the issues that led to the digital gender gap and some of the ways to fix the gap.
Bridging the Digital Gender Divide
See some of the ways to solve the digital gender gap and the role that policy has in the gap in this PDF.
What We Know About the Gender Digital Divide for Girls 
This literature review looks at various articles and research on the digital gender gap in relation to young girls.
Read this article to see some of the solutions to the gender divide as well as the challenges that get in the way.
Closing the Gender Digital Divide 
USAID focuses on the more than one million young women without internet access and the best way to help them.
This digital map shows the gender gap that exists in every country and region around the world. 
How to Close the Digital Gender Divide and Empower Women
Find out more about how closing the gender gap can empower women and help them compete against men.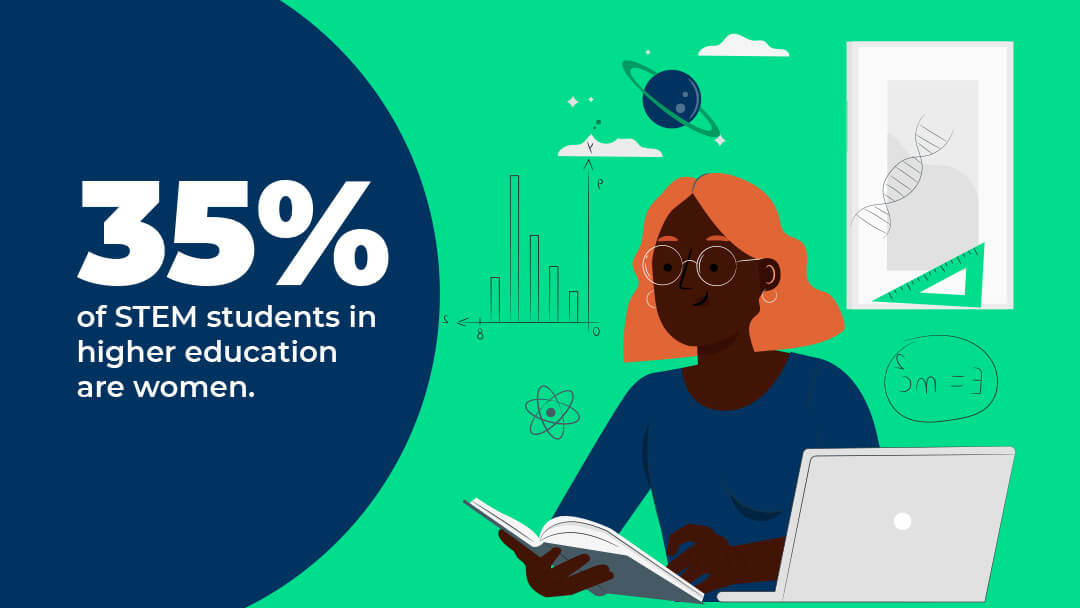 Mental Health and STEM
Adolescent Girls' STEM Identity Formation and Media Images of STEM Professionals: Considering the Influence of Contextual Cues
Discover the role that popular media has in the way adolescent girls feel about STEM careers and the subjects they can study.
This paper published by Winona State University looks at the expected growth of females entering the STEM industry in the future.
Personifying the Intersection of STEM and Activism
Emily Becker looks at the growth of women in STEM and what activists can do to encourage future growth.
This article goes over some of the best ways to get more girls involved in STEM classes at all educational levels.
Do Internalized Feminine Norms Depress Girls' STEM Attitudes & Participation?
Read through this PDF to see some of the reasons why girls avoid STEM studies or try to avoid taking part in STEM classes.
How to Build Girls' Interest and Confidence in STEM Learning
The author of this article takes a detailed look at the best ways to get girls into STEM subjects and boost their confidence.
Barriers to Seeking Counseling Among STEM Students: The Revised Fit, Stigma, and Value Scale
Learn more about some of the barriers that keep young girls from studying and forming an interest in STEM subjects.
The Mental Health Crisis in Science
Wei Li looks at the mental health crisis and the effects it had on students at different levels, especially in science fields.
The author of this article looks at some of the common mental health conditions and how they affect people in the STEM community.
Imposter syndrome is just one of the mental health issues addressed in this article that focuses on the issues among women in STEM.
Organizations

 
STEM Like a Girl helps girls become more confident as they build their knowledge of different areas of STEM.
STEM for Her offered more than 170 programs and invested more than $170 over the years to get girls involved in STEM. 
Explore the issues facing girls interested in STEM fields through STEMED for Girls, which offers a variety of free resources.
The National Science Foundation offers programs designed to make STEM fields more diverse and encourage female participation.
Based out of Chicago, Girls 4 Science has special programs and events that are open to more than 500 students every year.
This website features free activities and resources for teens who want to experiment with science and learn more about STEM subjects. 
Girls Who Code fosters the next generation of female coders with summer programs and activities kids can do at home.
This organization recently celebrated its 10th anniversary of offering high school programs to help marginalized students develop new skills.
Find programs and learning opportunities through this organization designed just for girls who want to learn how to code. 
As a branch of Women in Technology, Girls in Technology offers programs and activities for Washington DC students in sixth through 12th grades. 
Girl Up hosts several summer camps and other programs every year to get girls involved in science and technology. 
This organization focuses on the idea that STEM is for everyone and offers resources and programs to foster interest in those subjects.
Girls in STEM Careers
Improving the Pathway from School to STEM Careers for Girls and Women
Find a variety of stats and charts on this site along with some ways to help more women enter the STEM field.
Increasing Opportunities for Girls in STEM
Girls Inc. looks at some of the top ways to get more girls involved in STEM such as giving them access to more classes and programs.
STEM Summer Programs For Girls
This page includes information on many different summer programs that help girls get involved in STEM subjects. 
Find information on more than 70 STEM programs for women of all ages that are available at schools across the nation.
Use this page to learn more about the top three methods that teachers can use to get girls engaged in STEM.
There's a Lot of Financial Aid Available to Women Pursuing STEM Careers
CNBC offers a list of resources to help girls and women find financial aid to pay for programs that lead to STEM careers.
Discover more about the STEM gap between men and women and some of the ways to solve or lower the gap.
How to Encourage Girls to Choose STEM Careers
Take a look at the top three ways to encourage girls to learn more about STEM and help them work in this field.
Increasing Female Representation in STEM Careers Starts with Exposure
This article from EdSource focuses on the lack of female STEM representation in California and how exposure can help.
Check out some of the STEM jobs open to women and find both events for job seekers and the benefits of STEM work. 
Why Don't More Girls Choose STEM Careers?
OECD looks at some of the challenges facing girls with a passion for STEM fields and why many choose to work in other areas.
STEM Jobs See Uneven Progress in Increasing Gender, Racial and Ethnic Diversity
The Pew Research Center focuses on how changes in higher education may slow down the diversity in STEM jobs.
Women Making Gains in STEM Occupations but Still Underrepresented
Created by the United States Census Bureau, this page shows that the number of women working in STEM rose but still has a long way to go. 
"Go for it!" Women at the NEA Share Their Stories and Advice for Girls Interested in STEM Careers
Read stories directly from some of the women working at the National Energy Agency to see how they overcame challenges and issues over the years.
Podcasts

 
Women in STEM Career and Confidence
Dr. Hannah Roberts uses her podcast to talk with professional women in scientific positions about the obstacles and challenges they faced.
Ordinarily Extraordinary – Conversations with Women in STEM
Many different women participate in this podcast to talk about what they went through to work in STEM fields.
SheCanCode brings in a new professional every week to discuss issues facing women today as they talk about working in tech.
Dr. Sabrina Walthall uses this podcast to highlight a different working woman with an emphasis on women of color.
This podcast features a new interview with a woman working for the University of Washington, especially those in STEM positions.
Two authors take a unique approach to STEM in this podcast, which interviews women about their professions.
Prasha S Dutra hosts this weekly podcast where she talks to a new woman every week who works in a STEM position.
Melinda Garvey interviews a new professional woman every week for her podcast with an emphasis on STEM fields.
The United Nations runs this podcast that includes interviews with seven women who work in math and science.
Available for Apple users, this podcast talks to successful STEM professionals about the setbacks and challenges they faced.
Videos
How to Engage More Girls in STEM
The Ecology Project International created this video as a way to talk about the best ways to get girls more interested in STEM.
This fun video offers a quick look at what women can do within various areas of STEM.
Girls in STEM: High-Quality Hands-on Experiences Matter
Created by the STEM Education Coalition, this video talks with several women about the benefits of hands-on STEM learning.
Girls in STEM: A New Generation of Women in Science
This video covers one of the councils the White House held to talk about fostering the next generation of girls in science. 
Watching this TED talk is a good way to hear about what happened to early generations as they paved the way for future STEM professionals.
The Career Girls website offers this video to show girls some of the reasons they should choose to work in STEM.
Women In Science Encourage Young Girls: "You Belong In The STEM Fields"
Fast Company met with different women who encourage other girls to join them in working in STEM.
Inspire, Empower, Ignite Girls in STEM | Elizabeth Valentin | TEDx Lancaster
In less than 15 minutes, this TED talk gives teachers and others a few ways to get girls more involved and interested in STEM.
White House Council on Women and Girls: A Focus on Girls and STEM
Held when President Obama was in office, this White House Council looked at the lack of women and girls in STEM studies and fields.
UW uses this video to talk about the lack of women working in STEM fields and what needs to happen to fix the problem. 
Scholarships
Aysen Tunca Memorial Scholarship
Open to undergrads who plan to major in STEM, this scholarship gives $2,500 to a new female student every year.
Find out how to apply for this scholarship, which is open to STEM majors in undergrad and graduate programs.
Zonta International provides information for students who want to apply for its scholarship, which is open only to female STEM majors.
Kris Paper Legacy Scholarship for Women in Technology Fund
Students with a GPA of 3.2 or higher in a STEM program who live in Kansas can apply for this scholarship.
Alpha Omega Epsilon National Foundation Scholarships
See what it takes to get one of these scholarships, which come directly from the national honors society for engineering and technology students.
The University of North Dakota maintains this scholarship program that gives winners $2,500 for their education. 
Women in Technology Scholarship
Check out the scholarships available through this program that give worthy students up to $2,500 a year.
Women in Mathematics Scholarship 
Find out the deadline for this scholarship program that gives $1,000 to women who major in math at the college level.
The Science Ambassador Scholarship 
STEM majors can apply for this scholarship from Cards Against Humanity, which covers the total cost of their tuition. 
The SME Education Foundation maintains a large list of scholarships for STEM majors with links for those who want to apply.
The Heinlein Society Scholarship Program 
Learn how to become one of the four students annually who receive a $4,000 scholarship through this program.
Dynamic Edge Women in STEM Scholarship
Dynamic Edge awards two women in Tennessee and Michigan a $2,000 scholarship every year to pay for a technology program.