92 ASL Resources to Improve Inclusion for Deaf and Hard of Hearing Students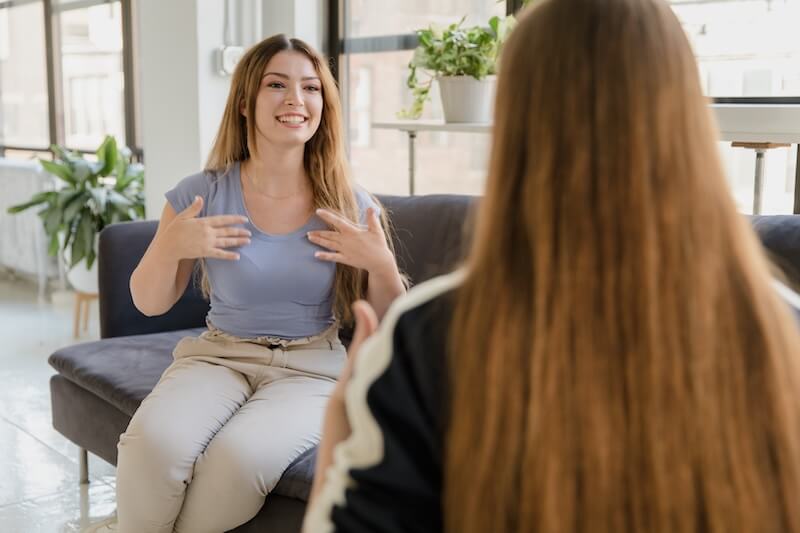 Over 5 percent of the world's population is Deaf or hard of hearing, according to data from the World Health Organization. Part of creating an inclusive culture for Deaf and hard of hearing people is giving equal access to communication by using ASL and creating a higher quality of life for the Deaf and hard of hearing community.
In a world that relies on spoken language, ASL opens doors for the Deaf community.
Benefits of ASL for Allies and Teachers
ASL is enjoyable to learn
Become allies to the Deaf community
Learn more effective nonverbal communication like facial expressions and gestures
Strengthens the brain
Creates inclusivity
Become a part of Deaf culture
Lower limitations at school and work
Improve loneliness
This resource seeks to bridge the gap between those who interact with people who use ASL as their language, their employers, teachers, professors, friends, and family. Almost half a million people in the United States use ASL, and this resource provides beginning, intermediate and advanced resources for those who wish to learn ASL, include ASL in their daily life, learn about the history of ASL and more.
For this resource, the term "Deaf" is used in an all-inclusive manner to include people who identify as deaf, deafdisabled, deafblind, late-deafened, hearing impaired and hard of hearing. The use of one term honors the idea of Deaf culture and recognizes that identity can change over time. Using one term allows people to unite under one term with shared experiences.
Learning ASL
The ASL App 
Filled with more than 2,500 phrases and words, The ASL App helps anyone with an Android phone or iPhone learn how to start signing almost instantly.
VL2 Storybook Apps 
Download one of these apps to unlock more than just signs because it also gives you access to other free resources, such as worksheets and lesson plans.
Sign Language 101 
Sign Language 101 helps you learn sign language from the comfort of your home as deaf language experts create lesson plans you can complete on any device.
Lingvano 
Start learning ASL today with Lingvano, which helps you remember everything you learned in previous sessions and teaches you practical skills for daily conversations.
SignSchool 
Sign up for SignSchool for free and unlock a dictionary, learning games that make ASL fun, and even a new sign sent to your inbox daily.
StartASL 
This app includes four courses you complete on a schedule that works for you and lets you join a community of other students who share resources like vocabulary videos.
ed2go 
The 12 lessons included in this app go over some of the key things you need to know and teach you how to sign a variety of words for clothes, animals, and much more. 
SignIt ASL 
ASL Experts worked with this app to create courses and lesson plans that include vocabulary and grammar sessions with certificates you receive as you work. 
Cudoo 
Cudoo offers a masterclass in ASL that features 100 hours of classes and lessons you take on a PC or mobile device to earn a certificate at the end. 
Lifeprint 
The founder of this program gained inspiration from major university programs and now offers more than 30 lessons that cover all aspects of daily life.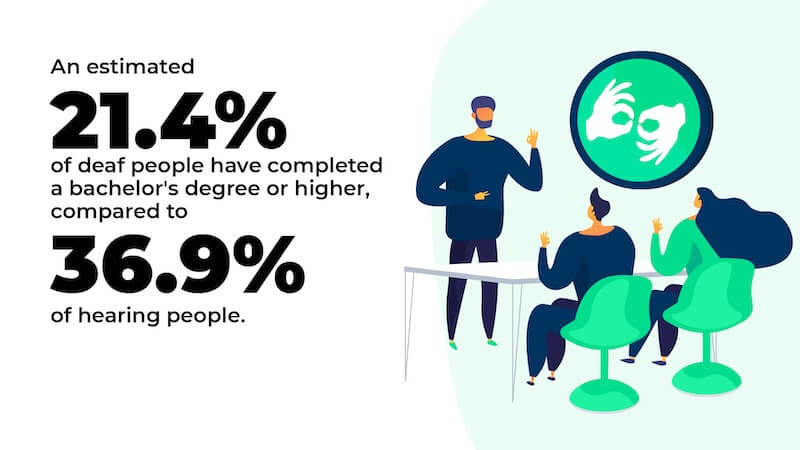 ASL Organizations
National Association of the Deaf 
The National Association of the Deaf offers loads of free resources like deaf artwork and government programs that people of all ages can use. 
American Speech-Language-Hearing Association 
This organization believes everyone deserves the right to communicate with others and offers programs and resources to assist members and others. 
National Consortium of Interpreter Education Centers 
Though the NCIEC lost its funding and closed down, you can still use its resources, which include free assessments, media toolkits, and classroom standards. 
Registry of Interpreters for the Deaf
Search this registry to find qualified interpreters when you need help or follow the guidelines to see how you can become a certified interpreter for the deaf. 
National Black Deaf Advocates
This organization strives to assist black people who are deaf or hard of hearing through special events and advocacy programs on the local and national levels. 
World Federation of the Deaf 
The World Federation of the Deaf monitors and shares news from around the world and assists more than 70 million deaf people. 
Hands and Voices 
Find your local chapter of Hands and Voices on the official website or learn more about what the organization does, such as the support for deaf business owners. 
AG Bell 
AG Bell offers support for deaf children and their families, such as explaining why hearing loss happens and how parents can help their kids. 
American Society for Deaf Children 
Also known as the ASDF, this organization has more than 50 years of experience helping families learn ASL to communicate with their deaf children. 
Hands and Voices 
Discover how Hands and Voices can help you and check out some of the programs the organization offers.
The Outreach Center for Deafness and Blindness
See some of this organization's upcoming events on its official website and discover free resources like a director of medical providers and college programs.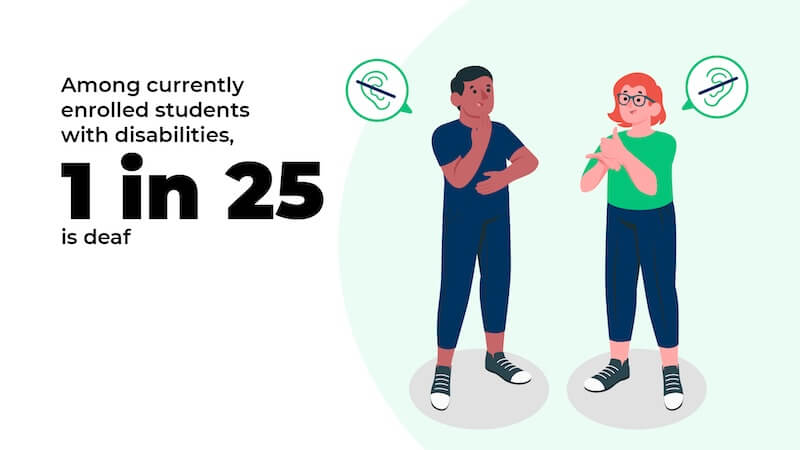 Articles

 
The Moral Case for Sign Language Education
This article looks at some of the reasons why schools in the United States should make ASL mandatory and how it would benefit the community. 
The Effects of Learning American Sign Language on Co-Speech Gesture
The authors of this article studied the benefits that learning ASL had on students who attempted to study another language at the same time. 
Learning Sign Language Does Not Hinder Acquisition of a Spoken Language
A study involving more than 50 students and published here found that learning ASL did not have any negative effects on students also learning a spoken language. 
Why Deaf Culture Matters in Deaf Education
The authors of this piece focused on deaf culture and the positive effects or benefits it had on students in deaf education programs. 
Sign Language and the Brain: A Review
This article looks at how the brain processes sign language and discusses some of the problems that others had when studying them. 
4 Scientific Reasons Why Everyone Should Learn ASL 
Discover the four best reasons backed by scientific evidence why people of all ages should learn or study American Sign Language. 
Signing to Success: Developing Effective ASL Curricula in Secondary Public Education 
Claire Sutterer wrote this piece based on her research into how schools could develop successful ASL programs for secondary school students. 
Exploring the Sign Language Proficiency of University Undergraduate Students in a Preservices Preparation Program for Teachers of Deaf Students 
Learning how to communicate with deaf students is an important topic and the focus of this piece that looks at how to prepare future teachers. 
Hearing Parents Learning American Sign Language with Their Deaf Children: A Mixed Methods Survey 
Three authors worked on this article to look at whether using ASL at home would help parents learn how to communicate with their deaf children. 
Don't Fear a Deafer Planet 
This opinion piece comes from a deaf parent who wants teachers and others to know they should not fear similar parents in school and beyond. 
Journals
American Annals of the Deaf 
This peer-reviewed journal covers many topics related to deaf studies and is one of the oldest as it dates back to the 1880s. 
Journal of Speech, Language and Hearing Research 
First published in 1997, this journal has a long history of showcasing stories and peer-reviewed pieces on speech, hearing, and language. 
Language, Speech and Hearing Services in Schools 
Find modern articles and older subjects from as far back as 1993 in this journal that looks at speech, language, and hearing subjects in schools. 
Sign Language Studies 
Discover a variety of articles in this journal, which has a major focus on sign language as a whole and modern research. 
Journal of Interpretation 
You can read the current issue and past issues of this journal to learn more about interpreters and what they do in the modern world. 
Sign Language and Linguistics 
Every article in this journal goes through the peer-review process to ensure they are accurate and cover topics that relate to sign language or linguistics. 
Sign Language Studies 
Published by Gallaudet University Press, this journal focuses on topics related to sign language studies in the US and abroad. 
Society for American Sign Language 
Get open access to articles from this journal published as far back as 2017 that have a connection to American Sign Language. 
Online Dictionaries and Learning Apps

 
ASL Nook 
ASL Nook helps you learn thousands of signs through simple photos and features categories like holiday, weather, and sports signs. 
Kids4Koko 
Learn from Koko, the gorilla that learned how to sign, on this site, which also talks about efforts to save her species and her history. 
Handspeak 
You'll find many tutorials and blog posts for new ASL learners on this site along with videos that show you how to sign words and phrases. 
Signing Science and Math Dictionaries 
Use any dictionaries on this site to learn the basics of signing words in categories related to math and science subjects. 
ASL Translator 
This translator makes learning sign language easy and fun because you just enter a word or phrase and see how to sign it to someone. 
Signing Savvy 
Type a word or phrase into this dictionary and get a definition of the word and a short video that shows you how to sign it. 
American Sign Language Dictionary 
The ASL Dictionary includes a list of words other visitors searched for and lets you search for words to see how to sign them. 
Lifeprint – ASLU 
As a living dictionary, this website is constantly evolving to include new words and phrases as people search for and add them. 
Spread the Sign 
Learn more than just ASL on this website, which lets you search for a single word and view sign language translations of it from other languages. 
ASL Dictionary 
Use these dictionaries on your phone or computer to watch over 5,000 videos of people signing different words and phrases. 
National Technical Institute for the Deaf 
The NTID offers a subscription dictionary with a low annual fee that gives you access to thousands of different word and phrase translations. 
Start ASL 
See how quickly you can start learning ASL on this site, which offers free dictionaries along with fun lessons and classes for beginners. 
Colleges that teach ASL Online or Mostly Online
Oregon State University eCampus 
Learn ASL through Oregon State University, which charges a low tuition rate and lets you start classes during one of four semesters every year. 
University of Northern Colorado 
The University of Northern Colorado offers free application days for students who want to enroll in a hybrid program and earn an ASL degree. 
Colleges for Deaf Students

 
National Institute for the Deaf
The National Institute for the Deaf is one of the nation's biggest and oldest deaf schools with an enrollment of more than 1,100 students. 
Gallaudet University 
Located in Washington DC, Gallaudet University places an emphasis on bilingual education and preparing students for life outside of the classroom. 
Southwest College for the Deaf (SWCD)
This Texas college opened in 1979 and offers programs for deaf and hard of hearing students who need more support than other schools offer. 
Central Washington University 
Central Washington University offers an undergraduate program designed for students who are deaf or hard of hearing that includes on-campus resources. 
The University of Michigan 
Not only does the University of Michigan have a deaf studies program, but it also has a deaf clinic and other resources that are available to incoming students. 
CSU Northridge 
CSU Northridge boasts a Deaf Studies Department that offers different degree programs as well as a degree in deaf studies that covers a variety of topics. 
Find Interpreting Services
Sign Language Resources 
Find an interpreter through this website, which allows you to search for experienced professionals who are close to you. 
Classroom Interpreting 
This website offers assessments for interpreters who want to work in classroom settings and resources for those who need to hire interpreters. 
Registry of Interpreters for the Deaf, Inc. 
Find out how to become a certified interpreter here or learn more about hiring a certified interpreter to help with anything you need. 
Deaf Services Unlimited 
Deaf Services Unlimited wants to help people communicate with each other and offers solutions for business owners, schools, and individuals. 
Boastlingo
You don't need to have an interpreter on-site because this site offers virtual solutions for anyone with access to a camera and PC. 
AML-Global 
AML-Global helps individuals and business owners find interpreters and others who can translate or transcribe the written or spoken word. 
Purple Communications 
At Purple Communications, you'll find professional services that use the latest in technology to provide interpretation services online or on-site. 
Propio
This company offers interpretation and translation services for schools with students who are deaf, hard of hearing, or from a foreign country. 
Interpreters and Translators 
Work with this company to get professional interpretation or translation services designed for colleges and other schools with deaf students. 
Interpreters Unlimited 
This website helps you find interpreters who can translate ASL for anyone who needs help through your choice of video platforms. 
Rise Interpreting 
Designed for distance learners, this website helps remote students get the help they need if they are deaf or hard of hearing. 
Interpreter Resource Videos

 
Resources for Interpreters #2: A Self-evaluation Tool for Independent and Peer-Supported Reflection 
At just over an hour, this video goes over some of the resources that interpreters can use if they want to work in remote settings and help others. 
Resources for Interpreters Webinar Series: #3 How Can I Get Work in VRI? 
Watch this video to see how you can find a job in the VRI field and what you need to succeed in the industry. 
Interpreter Training Resources 
In less than an hour, this video delves into the online resources you can use to get the training needed to work in interpretation. 
Resources for the Consumer and the Interpreter 
RID offers a range of free videos that go over some of the reasons people may need interpreters and what interpreters can do to find work. 
Federal Court Interpreters 
Learn the basics of how you can work in the federal court as an interpreter through some of the videos featured on this site. 
Interpreting
The NDC offers many resources on this site, which include a video on the different kinds of interpreters and what they do. 
Interpreter Resources: Legal Interpreters 
Discover what a legal interpreter does on this website along with the general duties of the job and what you need to do to become one. 
Student Resources 
The ATA designed this site to help students become translators and learn what they will do in different positions. 
Interpreting Services 
On this site from the NIH, you can learn how to get a job with the National Institutes of Health and work as an interpreter. 
Request an Interpreter 
Available from the U.S. Department of Transportation, this site goes over the steps you can take to request help from an interpreter. 
Access Interpreting, Inc. 
Visit this site to learn about the benefits of working for this company, search for available jobs, and apply quickly.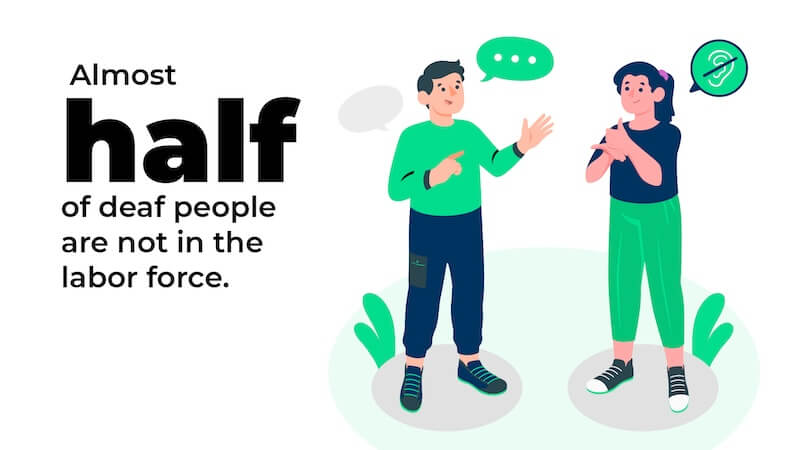 Inclusion

 
What Inclusion Really Means to Deaf and Hard of Hearing Kids: Joecelyn's Story 
Available from the Boys & Girls Club of America, this video looks at what inclusion means from the eyes of a young deaf woman. 
Call for Inclusion, Equality for the Deaf Community 
This short video features an interpreter and discusses the need for more inclusion and equality among those in the deaf community. 
Viral ASL Interpreter Calls for More Deaf Access and Inclusion 
More than two million people watched this video on YouTube in which an interpreter discusses the need for more inclusion and access for the deaf. 
Why Does Inclusion Often Neglect the Needs of Deaf Students? 
Roberta J. Cordano uses this piece to look at how schools often neglect deaf students and uses practical examples from Los Angeles. 
Supporting Equity and Inclusion of Deaf and Hard-of-Hearing Individuals in Professional Organizations 
This article features a number of professionals talking about their experiences of working in major organizations that lacked support for deaf workers. 
Position Statement on Inclusion 
The National Association of the Deaf designed this page to show its statement of inclusion and what inclusion means. 
Is Your Organization Inclusive of Deaf Employees? 
Cordano uses this article to talk about what happens when companies ignore the needs of their deaf employees or neglect them. 
For the Deaf Community, Sign Language Equals Rights 
This piece focuses on how increasing the number of people fluent in ASL can help deaf people feel more included in different positions. 
Deaf Awareness 
Pick up some tips on how to communicate with deaf people and make them feel included, even if you're not fluent, on this site. 
Deaf Awareness Week: Building an Inclusive Community 
See when Deaf Awareness Week takes place every year and what you can do to celebrate and bring attention to the event. 
The Importance of Inclusive Education for Deaf People 
This site looks at how inclusive education can make deaf people feel part of their community and what Sign Solutions can do to help. 
Inclusion and Deaf and Hard of Hearing Students: Finding Asylum in the LRE 
This researched piece discusses how some hard of hearing and deaf students seek refuge in the LRE and what others can do to help them.