Engineering Degree and Career Guide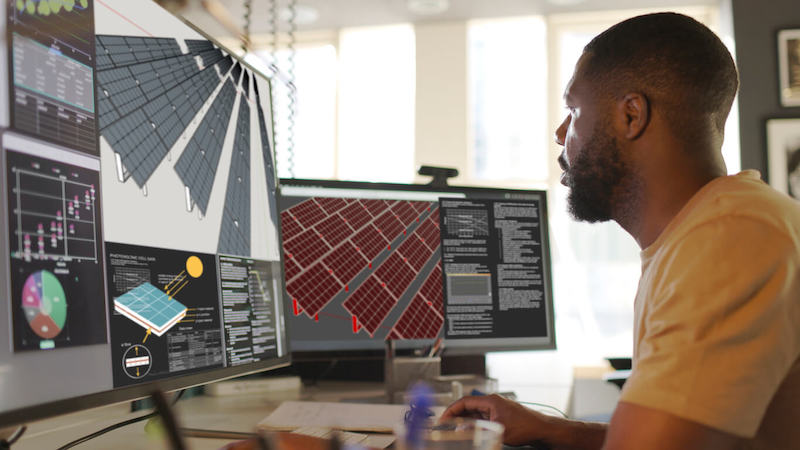 Engineering is both a profession and a field of study. As a profession, people use engineering to design, create, and analyze solutions using scientific theory. Almost everything in our lives is the result of some sort of engineering. As a field, it's a very large field that branches off into several other branches. The major engineering branches include:
Mechanical
Electrical
Civil
Software
Industrial
Chemical
Within these branches are several other branches (fields) and subfields, including material engineering, computer engineering, structural engineering, and electronic engineering, among many others. There are many careers available for individuals with engineering degrees. In fact, there are careers for graduates of all degree levels from associate degrees right up to doctoral degrees.
Regardless of which engineering program a student chooses, it should be one that's accredited by the Accreditation Board for Engineering and Technology (ABET) or a similar organization. This is important because most employers want engineers who have graduated from ABET-accredited programs. Many engineering degree programs are also offered online.
Various Positions
With so many fields and subfields in engineering, the job opportunities and promotions can be endless.
Great Wages
Licensed engineers have the potential to earn very good wages according to the U.S. Bureau of Labor Statistics (BLS). Civil engineers earned an average yearly wage of more than $80,000 as of May 2021, while software engineers earned more than $93,000.
Lots of Opportunities
Regardless of which engineering field you choose, you'll have very good job growth because this profession is constantly in demand.
Associate Degrees in Engineering
Earning an associate degree in an engineering field is the best way for candidates to begin their careers in engineering or find work as engineering technicians or engineering technologists. Associate degree engineering programs take two years to complete on campus. Online students may complete them in less than or more than two years. The curriculum generally includes general education, prerequisite, and major-related core courses.
Online Engineering Programs
DeVry University offers an online associate degree in engineering technology program that can be completed in only four semesters. The program offers three areas of concentration: machine learning and design techniques; renewable energy and sustainable power; and medical technology and healthcare systems. Completion of this program qualifies graduates for positions as electrical engineering technicians.
Penn Foster has an online associate degree in engineering technology program that prepares students for entry-level positions in a few different areas of engineering, including industrial, electrical, and mechanical engineering. This flexible program allows students to study and complete assignments at their own pace. Students must complete 64 credits and pass 31 exams.
University of Wisconsin – Oshkosh offers an online Associate of Arts and Science program that prepares students for enrollment into a bachelor's degree program. The curriculum includes the required courses the student might need to advance. This degree can be earned in two years or less. This program is aimed more at those who wish to earn a higher degree but want to get prerequisite courses out of the way while still earning a degree.
Bachelor's Degrees in Engineering

Bachelor's degree engineering programs generally take about four years to complete. The curriculum is often like the associate degree programs only with more courses. A bachelor's degree is usually the minimum degree level to become licensed engineers. There is often confusion regarding engineering programs and engineering technology programs.
Engineering programs (four years) qualify the student to become an engineer, while engineering technology programs (two years) qualify the student to become an engineering technician or technologist. Upon completion of engineering bachelor degree programs, students are prepared to take the licensing exam required in their state.
Online Programs
Loras College offers an online bachelor's in engineering program and an online bachelor's in mechanical engineering. Both ABET-approved programs can be completed in four years. The engineering program offers three areas of concentration: computer, biomedical, and electro-mechanical. This school is known for its excellent faculty and student services.
ECPI University offers an online bachelor's degree in electronics engineering technology program that's ideal for the individual just starting an engineering career. Many of the credits can be transferred to graduate degree programs. This program can be completed in two and a half years. Graduates may find positions as engineering technologists or technicians.
Stony Brook University has an online bachelor's in electrical engineering program. This is a flexible program that allows students to work and earn a degree at the same time. This program is 100 percent online, but some students may have to complete certain prerequisite courses on campus.
Master's Degrees in Engineering

Master's degrees in engineering programs are generally chosen by individuals who want senior or leadership positions. Most master degree programs take about two to three years to complete. Some colleges offer five-year programs that allow students to earn bachelor's and master's degrees simultaneously.
Online Programs
Colorado State University Online offers an online master in engineering degree program that offers various areas of concentration, including computer engineering, mechanical engineering, aerospace engineering, and many others, all of which require completing 30 credits. CSU also offers several online graduate certificate engineering programs.
Arizona State University has an online Master of Engineering in Quality, Reliability, and Statistical Engineering program that requires the student complete 30 credit hours. Classes run from 7.5 to 15 classes per week. This program also allows students to choose from areas of concentration. The best candidates for this program are those interested and experienced in manufacturing, distribution and supply chains, and process development.
University of California – Los Angeles offers an online Master of Engineering program that allows students to choose and focus on their area of interest. This program, which includes online lectures and streaming courses, can be completed in two years. The courses are identical to the ones offered in the on-campus programs.
Other Master's Degrees in Engineering
Master's in Biomedical Engineering
Easiest Engineering Degrees
Advanced Engineering Degrees
Advanced engineering programs are typically doctorate degrees or post-graduate certificate programs. The post-graduate programs are aimed at engineers who have master's degrees but wish to study a specific area of engineering. Doctoral degree programs are usually chosen by engineers who want careers in research or teaching.
Online Programs
Penn State World Campus offers an online Doctor of Engineering program that focuses on advanced engineering and high-level research principles. This 45-credit program offers students the choice of ten engineering disciples. At the end of the program, the student completes a research-based project demonstrating his or her knowledge of engineering.
Texas A&M University has an online Doctor of Engineering program that requires completing 64 or 96 credits depending on if the student has a bachelor's or a master's degree upon enrollment. In addition to courses, students must complete a written qualifying exam and a 16-hour internship.
An online Doctor of Philosophy (Ph.D.) in Mechanical Engineering program is offered at the University of Alabama. This 72-credit program prepares students for leadership or teaching positions upon graduation. Exams must be completed live in-person proctored setting. Students must complete a research-based dissertation.
Careers in the Engineering Field
With so many different branches, fields, and subdivisions available, it's not surprising that they are many different careers in the engineering field.
Engineering Technologist and Technician – These professionals assist engineers in developing, designing, and inspecting devices, engines, machines, and tools. Candidates must have at least an associate degree.
Mechanical Engineer – Mechanical engineers work on designing and building mechanical devices. Mechanical engineers must have a bachelor's degree.
Computer Engineers – Computer engineers work with computer software and computer hardware to make sure the projects work as they should. Computer engineers should have a bachelor's degree.
Civil Engineer – Civil engineers design and build things like bridges, buildings, airports, and roads, among others. Civil engineers generally have at least a bachelor's degree. They typically need a master's degree for senior positions.
Chemical Engineer- Chemical engineers will have many duties throughout their work days. They work in several branches of engineering. They often have master's or doctoral degrees in engineering.
Engineering Manager – An engineering manager is a professional highly educated in various areas of engineering. They typically oversee an entire engineering crew or project.
Other Engineering Careers
How to Become a Data Engineer
How to Become a Machine Learning Engineer
If you are interested in Engineering, you may also want to look at a Master's in Data Science or a Bachelor's in Data Science.
Next Steps
Becoming an engineer is a great way to secure your future. The educational path you choose will vary depending on the type of engineer you'd like to become. Starting now, you can get a great career in engineering by requesting information from a few different schools to compare programs.