How to Become a Ballistics Expert: Career Guide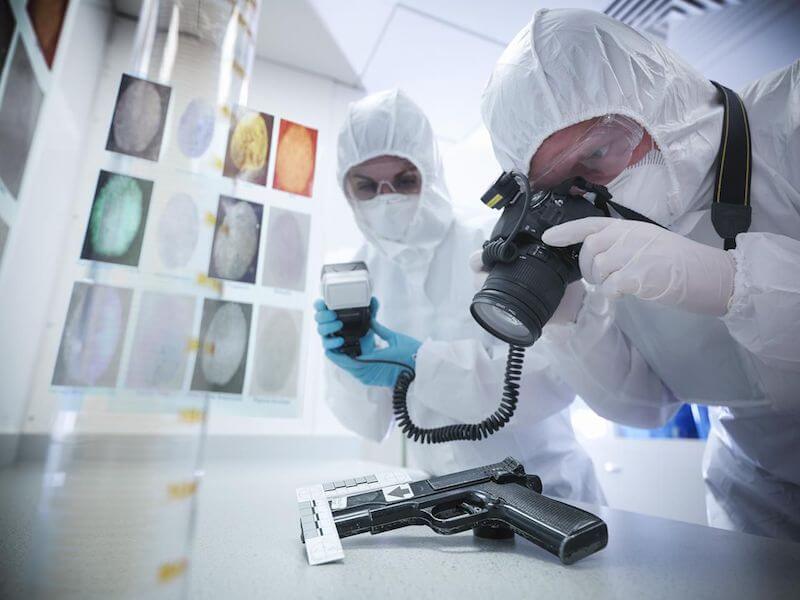 We've all watched an interesting crime drama where a murder is solved because some expert figured out exactly what weapon was used to kill the victim, when it was used and from what distance. The show may have been fictional, but the expert is a real professional known as a ballistics expert. Ballistics experts are professionals who work in the field of criminal justice assisting with criminal investigations.
How to Become a Forensic Ballistics Expert
The U.S. Bureau of Labor Statistics (BLS) groups ballistics experts under the category of forensic science technicians. They are also referred to as firearms examiners, forensic ballistics experts or firearm and toolmark examiners. Although forensic science technicians are part of a rather small occupation, their importance and expertise cannot be underestimated. A ballistics expert is a forensic specialist who collects and analyze firearms, ammunition and similar ballistics-related evidence.
When there is a firearm-related incident, the ballistics expert studies all aspects of the shooting, including probable distance, trajectory and angle of shooting as well as individual firearms, clips, bullet fragments and shell casings. If it has something to do with the weapon and ballistics, it's collected and studied by the ballistics expert.
What is a Ballistics Expert? (known prof Firearm and Toolmark Examiner)
A ballistics expert is a forensic specialist known professionally as a Firearm and Toolmark Examiner trained in the area of criminal justice but with a focus on ballistics and firearms. The ballistics expert has the duty of collecting and analyzing evidence having to do with ballistics. These might include:
Firearms
Live ammunition
Spent cartridges
Spent bullets or shell casings
Bullet fragments
Shot shell wadding
Clothing
Ballistics experts may go to crime scenes to collect evidence or may spend a good part of their day analyzing the evidence to study the firearms and perform ballistics fingerprinting, which involves assessing the marks left on weapons to determine which weapon was used in a shooting. They're also required to identify specific characteristics of a firearm, from rifling patterns, bullets and calibers to which firearm was used to fire the bullet.
They study all aspects of a firearm, including firing pin impressions, extractor marks, ejector marks and various other tool marks. In addition to writing up reports, the ballistics experts may input their information into a forensic firearms identification system or similar databases, such as the FBI's ballistic database.
Ballistics experts may also choose to teach students about ballistics and firearms analysis.
Education Needed for This Career
Ballistics experts, like most forensic science technicians, must have at least a bachelor's degree in forensic science or a related field. The study should have a solid background of chemistry, physics and mathematics because these subjects are used in determining things like statistics, how objects move or how to identify certain chemical residues often found in firearms examinations. A knowledge of human anatomy and biology is also necessary.
The American Academy of Forensic Sciences (AAFS) recommends that programs be accredited by Forensic Science Education Programs Accreditation Commission. It typically takes students four years to complete the academic portion of the program. In addition to core and general education courses, the student may complete these courses.
Forensic toxicology
Fingerprint analysis
Criminal court systems
Laboratory instrumentation usage
Evidence collection
Crime scene documentation
Investigation procedures
The student will also complete a supervised internship at a forensic laboratory and assist forensic science technicians or law enforcement officers at active crime scenes. Some programs may also offer internships at actual ballistics labs so the students can obtain hands-on training working with firearms, ammunition and explosives.
Upon completion of the hands-on training, the candidate can begin working in the area of ballistics and complete ballistics-specific training. At this point, the candidate may be required to work as an apprentice and complete firearms forensics training, which can take two to three years. As apprentices, they learn about evidence collection, procedural rules and evidence documentation.
Licensure Needed
Ballistics experts are not legally required to be licensed, but they must pass a proficiency exam once they complete firearms analysis training. This is required to prove that they have the ability and knowledge to work on criminal cases unsupervised. They are also required to pass the test before they can testify in court as expert witnesses. With the constant advances in technology, the forensics field is frequently changing, so forensic technicians should complete continuing education courses or attend seminars to stay up to date with new trends and laws.
Day in the Life of a Ballistics Expert
While they typically work a regular workweek, ballistics experts may be required to work in the evenings, on weekends or work overtime to retrieve and analyze evidence. They may also be required to travel outside of their normal work area or city. They don't always have a "typical day in the office". Their time may be spent in the office, working in laboratories, or they may have to work outside or in unfamiliar areas to collect and look for evidence. Their job requires working in all kinds of weather. After completing their analyzing and testing, ballistics experts must write detailed reports on their findings, which may be used at trials, in criminal court cases or by law enforcement agencies.
There were about 15,400 forensic science technicians employed in 2016. Some worked in testing laboratories; medical and diagnostic laboratories; and for state government agencies and hospitals. Some ballistics experts choose to work as independent contractors or consultants. The majority of them worked for local government agencies.
Traits and Qualities of a Ballistics Expert
In addition to having the required degree and training, a ballistics expert must possess other qualities and traits. Ballistics experts perform important work that can help solve crimes or even determine if, in fact, a crime was committed. Good science and math skills are needed to help him understand statistics and analyze the evidence correctly. The individual must also be detail-oriented with excellent critical-thinking and problem-solving skills.
These traits help the individual use scientific methods and tests needed to analyze evidence, such as DNA and fingerprints. The written and oral reports provided by ballistics evidence are often used in court cases along with their testimonies, so the ballistics expert must have excellent communication skills. A ballistics expert must not only have the skill and knowledge to collect, analyze and interpret evidence but must also be able to relay the information in a format that can be understood by others.
Career and Salary Outlook
The bureau predicts that forensic science technicians would see a job growth of 17% during the decade of 2016-2026. The technological advances are making ballistics experts' services very much in demand. The government also requires the services of these professionals to assist with the growing number of criminal caseloads. The positive job growth should result in about 2,600 new forensic science technician jobs created by 2026.
Forensic science technicians earned wages ranging from $33,880 to $95,600 as of a May 2017 B-LS report. The average annual wage for forensic science technicians nationwide is $61,220, and the average hourly wage is $29.43.
www.aafs.org
https://www.bls.gov/ooh/life-physical-and-social-science/forensic-science-technicians.htm