Bachelor's in Paralegal Studies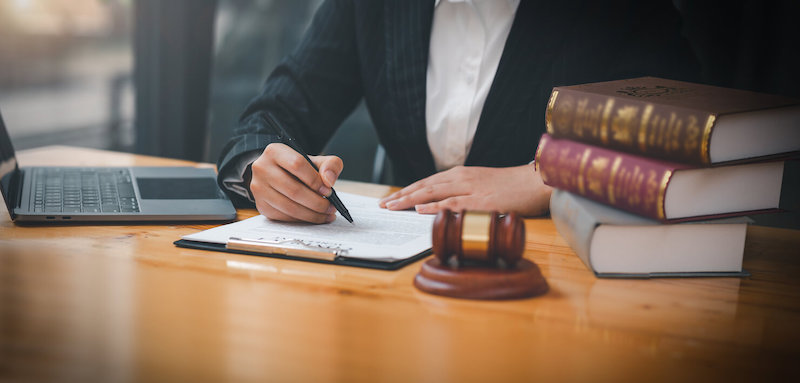 Lawyers lead very busy lives between defending clients and initiating litigation. They don't typically have a 9 to 5 job. Most lawyers have one or more paralegals on staff to help them lighten their load. Many law firms claim they wouldn't be able to get by if it were not for their paralegals and they are an important part of the criminal justice system. Most paralegals have completed a paralegal studies program, often called a bachelor's in paralegal studies. Does working as a paralegal sound like a career that would interest you? Read on to learn more about paralegals as well as what it takes to become one.
What are Paralegal Studies?
Paralegal studies is a type of education and training individuals complete when they aspire to be a paralegal. It's also a type of educational training you can take to be qualified to work as a paralegal without having to go to a university. There are various types of paralegal studies offered at different schools, and many of these are offered online.
Paralegal studies may come in the form of a certificate program, an associate degree, or a bachelor degree in paralegal studies. Although certificate programs and associate degrees may both lead to becoming a paralegal, many employers prefer their paralegals to have bachelor's degrees.
Students in a paralegal studies program will complete courses in these areas.
Legal writing
Legal research
Corporate law
Family law
Legal applications of computers
Legal ethics
Contracts and consumer law
Interpersonal communications
Most programs also have the students complete a supervised internship working in a law firm to gain hands-on training.
Do I Need Paralegal Certification?
Although certification is not a legal requirement for paralegals, many paralegals choose to become certified to enhance their resumes. Many employers also look favorably to paralegals who have gone the extra mile and obtained certification. Paralegals can obtain certification through the National Federation of Paralegal Association by passing at least one or two of their exams.
The Paralegal CORE Competency Exam® is for individuals who have completed a paralegal studies program and want to use the CRP title after their name.
The Paralegal Advanced Competency Exam® is for paralegals who not only have completed a training program but also have a few years of experience working as a paralegal and want to use the RP title after their name.
It's important to understand that completing a certificate program is not the same as being certified. Completing a certificate program just means that you are certificated. Certificate programs are usually used by individuals who already have a degree but want to become paralegals, or they may also be for individuals who want entry-level jobs as legal assistants depending on the type of certificate. To become certified, you must pass the certification exams.
What Can You Do With a Degree in Paralegal Studies?
Earning a degree in paralegal studies is the first and most important path toward becoming a paralegal. The degree is usually in paralegal studies, but it may also be in business, social sciences, law, security, and protective service.
When choosing a paralegal studies program, the U.S. Bureau of Labor Statistics (BLS) states that it's important to choose a program that's approved or accredited by the American Bar Association. Upon successfully completing a paralegal studies program, the graduate may be qualified for the following jobs.
Paralegal
Legal assistant
Law clerk
Contract administrator
Claims adjusters or investigator
Human resources specialist or assistant
Financial service professional
Project manager
Mediator
Educator or Corporate trainer
They may also work in various settings other than just a law firm.
10 Interesting Bachelor's In Paralegal Studies Degrees
As stated above, paralegals may have an associate's degree or a bachelor's degree. Some complete a two-year associate degree program to take the general education and prerequisite courses required in a four-year bachelor's degree program. Others take the program to join the workforce as quickly as possible after graduation.
A Bachelor's degree in paralegal studies program usually requires the completion of 120 credit hours. Students can typically complete this program in four years. Of the required credits, The American Bar Association requires that 27 of them must be general education courses. Some colleges do offer accelerated programs, which shave off a little time. Below are some colleges that offer paralegal studies programs as well as a little information on the program.
1. Loyola University Chicago
Bachelor of Arts in Paralegal Studies
Loyola University Chicago offers a 120-credit Bachelor of Arts in Paralegal Studies through its Institute for Paralegal Studies. Students must complete 46 credit hours of major credits. The program, which is available on campus and online, offers five start dates with courses running in eight-week sessions. Course topics include civil litigation, legal ethics, bankruptcy, secured transactions, legal research and writing, and legal computer applications. Students must also complete a capstone course.
2. National University
Bachelor of Science in Paralegal Studies
National University has a Bachelor of Science in Paralegal Studies that consists of 180 quarter units. Courses like torts, legal theory and ethics, contracts, criminal law, and corporations are part of the curriculum. This program is a combination of theory-based coursework and practical experiences. Students learn to perform research, apply legal analysis, draft documents, and understand legal terminology.
3. Purdue University Global
Bachelor of Science in Legal Support and Services with a concentration in paralegal
Purdue University Global offers a Bachelor of Science in Legal Support and Services with a concentration in paralegal. Course topics include administrative law, criminal law, and litigation as well as some specialized elective courses. Students who have prior relevant credits can save up to 50 percent on tuition fees. The school gives students a free 3-week introductory period to see if they like the school.
4. Arizona State University
Bachelor of Science in Justice Studies
Arizona State University offers an online Bachelor of Science in Justice Studies that requires 120 credit hours, and 40 classes, which run for 7.5-weeks. This program teaches students about law, policy, and social change; citizenship, human rights, and migration; social identities; media, culture, and technology; and disability, justice, and advocacy. The school offers an alternate admission option by allowing students to take online courses and maintain at least a 2.75 GPA.
5. Regent University
Bachelor of Science in Paralegal Studies
Regent University offers a Bachelor of Science in Paralegal Studies program that offers flexible classes that can be completed online as well as special options for military personnel. This program prepares students for many positions in the legal system. It also offers several areas of concentration. This school offers students the curriculum through a Christian worldview.
6. University of Cincinnati
Bachelor of Science in Law and Paralegal Studies
University of Cincinnati offers a 100 percent online Bachelor of Science in Law and Paralegal Studies program that requires no campus visits. The faculty consists of well-known attorneys. This school is highly ranked for its online programs. Course topics include legal terminology, intro to legal studies, family law, civil litigation, family law, investigative techniques, and criminal procedure, among others. This program can be completed both part- and full-time.
7. Bryan University
Bachelor of Science in Paralegal Studies
Bryan University has a Bachelor of Science in Paralegal Studies program that's 100 percent online. Students learn about business, civil, criminal, contract and family law; investigation research and civil litigation; database management; legal office management; paralegal science; and more. Credits from an associate degree or prior life experiences can be transferred into this program. Graduates of this program are prepared to take the certification exam.
8. Grand Canyon University
Bachelor of Arts in Legal Studies
Grand Canyon University offers a Bachelor of Arts in Legal Studies program that offers online, on campus, and evening courses to make the program as convenient as possible for students. This program can be completed in less than four years, and students can specialize their curriculum to the area of law that interests them the most. Students will complete projects and participate with discussion boards.
9. Nova Southeastern University
Bachelor of Science in Paralegal Studies
Nova Southeastern University offers a Bachelor of Science in Paralegal Studies program that offers students a comprehensive understanding of the U.S. legal system. This four-year program includes courses in wills, trusts, and estates; debtor and creditor relationships; real estate procedures; family law; and immigration laws. Students will also complete an internship in a law firm or legal setting.
10. Southern Illinois University
Bachelor of Science in Paralegal Studies
Southern Illinois University offers a Bachelor of Science in Paralegal Studies that has students completing not just paralegal courses but also pre-law specializations and appropriate courses. Students can choose the general area of study rather that the pre-law specialization. However, they must complete 120 credits to earn the degree.
Salary and Job Outlook
If you're thinking of becoming a paralegal to earn the big bucks, this may not be the right career path. But if you're interested in working in the legal system and want to earn a good wage, becoming a paralegal might be an ideal choice.
As of May 2021, paralegals earned annual wages ranging from about $36,410 to $88,640 or more with the average annual wage at $56,230 according to a BLS report. The average hourly wage for paralegals is about $27. Things like certifications, employer, location, and experience can all affect the wage. Below are the top five states where paralegals earned the highest wages.
District of Columbia – $83,420
Washington – $71,900
California – $70,290
Massachusetts – $66,820
New Jersey – $65,950
Lawyers and legal firms are constantly looking for ways to save money, lighten their workload, and maximize the firm's efficiency. This bodes very well for the employment growth of paralegals and legal assistants. The BLS indicates that paralegals could see an employment growth of 14 percent between 2021 and 2031. They also predict that almost 50,000 new paralegal jobs will be created by 2031.