How to Become a National Park Ranger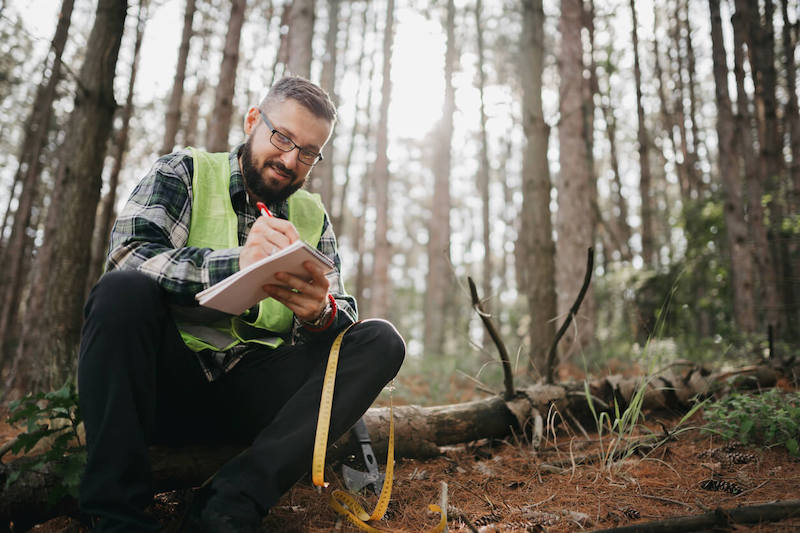 If you love exploring the outdoors, protecting natural environments, and educating people about conservation's importance, consider a National Park Ranger career. Becoming a ranger is an excellent way to use your passion for nature and make an impact on preserving our priceless national parks for years to come. This post explains vital facts you need to know about how to become a national park ranger.
What Is a National Park Ranger?

National Park rangers are government employees responsible for managing and protecting the parks and wildlife. They also educate visitors about conservation, preserve important habitats, help manage recreation activities, enforce laws, and conduct research into the natural environment.
Career Outlook
National Park rangers have exciting jobs requiring various skills and knowledge. As such, they enjoy excellent career prospects in the outdoor industry. Park rangers are employed by national parks, nature preserves, state parks, and other public lands managed by the government.
Rangers must be physically fit and resilient to perform demanding physical labor, including hiking, maintenance of park facilities, and equipment sales. They must also be flexible regarding working weekends, holidays, and peak times for tourists.
In addition to leading tours, park rangers interact with tourists to advise them on local rules governing the preservation and enjoyment of nature. Most importantly, they work to keep visitors and nearby animals safe by performing law enforcement, firefighting, and fee collection jobs.
Additionally, they perform other tasks such as helping lost or injured hikers, offering general information to visitors, and even gathering environmental data on wildlife and plant populations.
A person with an open mind who is prepared to live and work in a location other than their current residence is required for the position of a national park ranger. A love of the outdoors and the natural world should also be present. National Park rangers may anticipate a pleasant and gratifying career with strong employment prospects in the years to come with the proper training and credentials.
Salary of a National Park Ranger Based on Department
The salary of a national park ranger depends on several factors, such as the type of job performed, the location, experience, and qualifications. Those with more education or specialized skills may command higher salaries than entry-level employees. Additionally, park rangers looking for higher wages can investigate seasonal positions that offer more flexibility while still providing competitive salaries.
Park rangers employed by state or local governments may have different salaries than those employed by federal agencies such as the National Park Service (NPS), so be sure to research salary information for your specific park ranger job.
National Park Service National Park Ranger Salary
A park ranger with the NPS could earn up to $72,451 annually, including bonuses, depending on their experience. Park Rangers employed by the NPS may also receive additional benefits or allowances such as housing supplements and hazard pay depending on the region where they work.
U.S. Fish and Wildlife Service National Park Ranger Salary
Full-time Park rangers in the United States working for U.S. Fish and Wildlife Service can make an average of $85,000 a year. Rangers work in various environments, from large urban parks to remote wilderness areas. They also have access to specialized training, equipment, and vehicles used for their duties.
In addition to the traditional law enforcement tasks, some park rangers also become certified wildlife biologists and provide educational programs. On the law enforcement side, rangers patrol park areas to enforce regulations and to protect visitors from potential dangers such as wild animals or hazardous conditions.
They also investigate hunting and fishing law violations, respond to pollution reports, assist in search and rescue operations, prevent poaching or illegally harvesting resources, and provide customer service to park visitors.
Bureau of Land Management National Park Ranger Salary
Bureau of Land Management employees who work as park rangers can earn up to $77,655 annually. They are responsible for protecting, preserving, and managing BLM-administered lands. They work to ensure that these areas remain safe, clean, and enjoyable for visitors while also conserving our nation's natural resources.
Duties of a National Park Ranger
The job duties of a park ranger can vary depending on the region and type of land they manage. However, some typical park ranger duties include:
Monitoring visitor activities while providing information and assistance to visitors.
Patrolling areas on foot or by vehicle to protect natural resources and enforce laws and regulations.
Maintaining visitor facilities such as trails, roads, and campgrounds.
Investigating incidents of pollution, poaching, and other illegal activities.
Assisting in wildfire suppression efforts when needed.
Conducting educational programs for visitors about the natural environment and related topics.
Bureau of Reclamation National Park Ranger Salary
Working for the Bureau of Reclamation as a park ranger can provide an average salary of up to $92,482 per year. Depending on your location and qualifications, you may be eligible for bonuses or additional benefits.
Park rangers are expected to maintain and protect public lands, manage visitor activities, educate visitors on proper outdoor ethics and conservation practices, provide emergency medical services, and carry out search-and-rescue operations. In addition to these primary duties, park rangers may also be responsible for law enforcement activities, such as issuing citations and apprehending suspects.
The Bureau of Reclamation offers park rangers competitive salaries, health, and retirement benefits, paid leave time, and career development opportunities. Depending on the specific position, park rangers may be expected to work evenings, weekends, and holidays.
Forest Service National Park Ranger Salary
Forest Service park rangers may earn up to $69,685 annually. The Forest Service department specializes in forest management. Park rangers in the United States Forest Service are responsible for managing and protecting the resources of more than 193 million acres of public land. They plan activities, patrol trails, provide visitor assistance, and respond to emergencies in national forests and grasslands.
Rangers perform various duties, including providing backcountry permit services, maintaining recreation sites for visitors, combating illegal activity such as poaching, enforcing regulations and laws, providing educational services to visitors, and developing plans for natural resource management.
Rangers often serve as a liaison between local communities and the Forest Service to ensure that public lands are being managed responsibly and with consideration of the interests of both parties. They also work closely with other government agencies, volunteer groups, and non-profit organizations to conserve natural resources.
Additional National Park Ranger Benefits and Bonuses
No matter which organization or job a park ranger works, they can expect competitive salary and benefits packages when working with federal agencies. Park rangers may receive locality pay based on where they work, and law enforcement availability pay if they are involved in law enforcement activities. Park rangers may also receive health insurance coverage, paid vacation and sick leave, retirement plan options, and other perks that come along with being employed by the federal government.
Additionally, the Bureau of Labor Statistics reports that park rangers working in areas with dense populations tend to make more money than those who serve in rural locations. This can benefit those looking to live near bigger cities while still enjoying the outdoors. Park Rangers may receive additional income from overtime pay or side jobs such as weekend teaching classes.
Therefore it is vital to research the salary ranges for park ranger jobs in your desired location and compare them to those of other positions. Doing so will help you make an informed decision about your career path and maximize your earning potential.
How to Become a National Park Ranger
The following is a step-by-step guide on how to become a national park ranger.
1. Education
A minimum of a bachelor's degree in park management, law enforcement, natural resources management, or a related field is required for most ranger positions. Most agencies also require applicants to have at least one year of work experience in the environmental field.
2. Training
Even if you meet the education requirements, you may still be required to attend additional training courses before becoming a National Park Ranger. Depending on where you are employed and what type of position it is, these courses can range from basic orientation programs to advanced skills certification.
3. Physical Fitness
You must also be physically fit to work as a National Park Ranger. Most agencies require you to pass a physical fitness test that includes running, swimming, and climbing, to mention a few.
4. Licenses and Certifications
Depending on your position title and duties, you may need to obtain additional licenses or certifications to become a National Park Ranger. This can include operating heavy machinery or watercraft, first-aid certification, CPR training, firearms training and certification, bear safety courses, and more.
5. Background Check and Drug Test
All applicants must submit to a background check and drug test before being hired as a National Park Ranger. The background check will ensure that you meet the agency's character requirements, while the drug test will confirm that you are not using any illegal substances.
6. Apply for a Position
Once you meet the requirements and have completed all required training courses and certifications, it is time to apply for a position as a National Park Ranger. You can apply with either the federal government or a state park system depending on your preferences.
7. Advancement Opportunities
Finally, you can advance your career and take on more responsibility within the agency by obtaining additional professional certifications or completing specialized training programs. You may also be eligible for promotions when positions open up at higher levels in the agency. You can continue growing your National Park Ranger career by taking advantage of these opportunities.
Day in the Life of a National Park Ranger
Park rangers are responsible for protecting and preserving national parks and their visitors. This means that a day in the life of a park ranger is always exciting. Depending on the level of experience, a park ranger's job can involve any number of tasks, from providing visitor information to managing complex interpretive and educational programming.
In entry-level roles, rangers spend most of their time engaging with tourists, giving tours of the park, describing natural highlights, providing educational programs, and doing patrols to check on conditions in various regions. They are also in charge of compiling data on visitor behavior.
The development and implementation of interpretive, educational, safety or visitor usage plans may fall within the purview of mid-level staff members. You may also give approvals and manage student or volunteer projects.
At the journey level, park rangers are responsible for more duties. The development, management, and assessment of more complex interpretive, educational, preservation, interpretation, or safety programs are among their extra responsibilities beyond those of lower-level rangers.
Finally, senior ranger positions include managing a regional program office and serving as the Superintendent or Visitor Services Manager in charge of all activities in one or more parks or refuges.
Licensure, Certifications, and Continuing Education of a National Park Ranger
Licensure and certifications vary based on the individual's background, qualifications, and state requirements. In general, a National Park Ranger must possess at least one or more of the following:
A valid driver's license with an acceptable driving record.
An Emergency Medical Technician (EMT) certification.
Current Wilderness First Aid certification or higher.
Certification from approved agencies demonstrating completion of Basic Firefighter Training (BFT).
Certificate in Lifeguarding from American Red Cross or equivalent.
Coast Guard Boat Operator Licenses or Marine Navigation Certificates for commercial vessels.
Appropriate state/local certifications related to positions in parks.
A National Park Ranger may also need to complete continuing education courses to maintain licensure and certifications. The Institute for Learning (IFL) offers several online courses geared toward park rangers that cover emergency management, natural resource management, and cultural resource protection.
Additionally, the National Park Service provides various training opportunities throughout the year for park rangers. These programs offer new skills related to job duties and refresher courses on established practices.