How to Become a Paraprofessional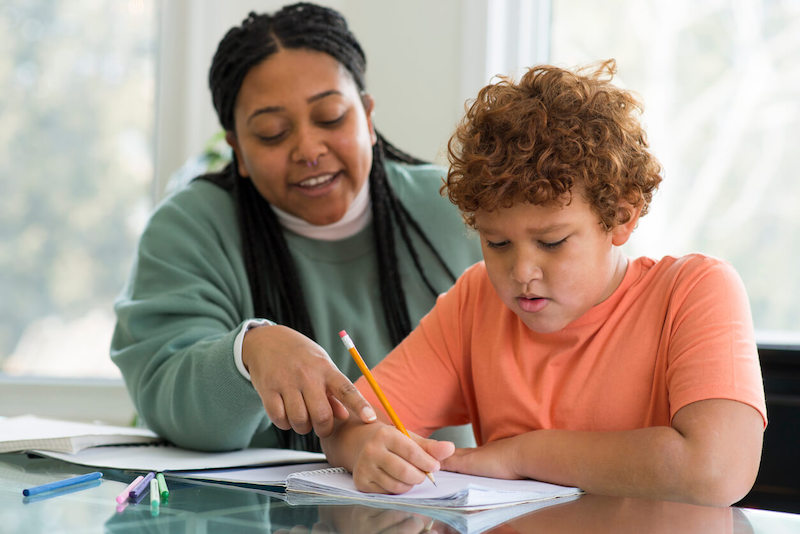 Paraprofessionals are educational professionals who are supervised by a certified teacher or other professionals in a school or educational setting. These individuals support teachers and students of all ages, from early childhood to high school. They assist students with special needs, such as those with learning or physical disabilities, depending on the school's needs.
Paraprofessionals usually assist teachers in instructional activities, such as curriculum development, leading classroom activities, behavioral management, grading assignments, and helping students with homework. They may also assist in other areas of the school, such as monitoring hallways and cafeteria duties and providing support for lunch or after-school activities.
Paraprofessionals are often referred to as teaching assistants, instructional aides, or para-educators. They are typically employed by public and private schools, educational service agencies, community centers, and other organizations that provide educational services to students. They may work in regular education classrooms, special education classrooms, or resource rooms and may work one-on-one with students or small groups of students.
Paraprofessionals are not required to have the same level of education as a certified teacher, but they must have at least a high school diploma or equivalent educational credentials. Some states may require paraprofessionals to have an associate degree in education or a related field besides the diploma. Sometimes, paraprofessionals must pass a state-approved examination before they are granted their certification.
Career Outlook and Salary Expectations
Paraprofessional Career Outlook
The job outlook for paraprofessionals is outstanding and is expected to continue to grow in the coming years. According to the Bureau of Labor Statistics, the employment rate for instructional paraprofessionals is projected to grow by 11 percent from 2018 to 2028. This growth is faster than the average rate of all other occupations.
One of the main factors driving this career growth is the increasing number of students attending school, the growing emphasis on inclusion, and the need to provide services to students with complex needs, such as those with disabilities. As more and more schools and educational organizations adopt technology and other innovative teaching methods, the need for paraprofessionals to assist with these efforts is also expected to increase.
Paraprofessional Salary
The average salary for a paraprofessional varies depending on several factors, including experience, education level, and location. For example, paraprofessionals working in urban areas or with more advanced degrees may earn a higher salary. According to Glassdoor, the national average salary for a paraprofessional is $31,269 per year. According to the Bureau of Labor Statistics, the median annual salary for education, training, and library workers, which includes paraprofessionals, was $25,410 as of May 2019 and $47,680 in May 2020. The lowest 10 percent earned less than $20,180, while the highest 10 percent earned more than $40,000.
How to Become a Paraprofessional
Becoming a paraprofessional is a great way to make a difference in the lives of students and families while having a meaningful career. Paraprofessionals provide valuable support for teachers in classrooms, unique education settings, and other educational environments. Below, we discuss the steps to become a paraprofessional. The steps on how to become a paraprofessional can vary by state and school district.
1. Earn a high school diploma or GED
The first step on how to become a paraprofessional is to get a high school diploma or GED. Most states require paraprofessionals to have at least a high school diploma or equivalent. You can enroll in a traditional or online high school program to earn your diploma. You will be required to attend classes, complete assignments, and take exams to earn credit for your high school diploma.
If unable to attend a traditional high school program, you can take the GED test. This test covers four subjects: math, science, social studies, and language arts. You will need to pass all four sections to earn your GED. Each high school program or GED test will have its own set of requirements you will need to meet to earn your diploma or GED.
A high school diploma provides the foundation for further education and career advancement. Some employers may require additional education or training.
2. Consider getting a post-secondary education or a bachelor's degree.
While a high school diploma is the minimum educational requirement for paraprofessionals, in some states, many employers prefer or require candidates to have additional post-secondary credentials, such as an associate's or bachelor's degree in education, special education certification, or vocational training. These programs can vary in length and content, but they typically cover topics such as child development, instructional strategies, and classroom management.
3. Complete on-the-job training
Experience is an essential factor in becoming a paraprofessional. Many positions require or prefer applicants with previous experience working in a school or educational setting.
On-the-job training provides hands-on experience and practical knowledge required to perform their duties. It enhances job performance, thus increasing productivity and improving the overall quality of services. It can also help paraprofessionals develop teamwork skills and foster a positive working environment allowing them to learn from experienced colleagues and understand how to work effectively as part of a team.
This experience can be gained through volunteer work, internships, or part-time positions.
4. Pass a state-approved examination
Some states require paraprofessionals to pass an examination, such as the Praxis Parapro Assessment, before being granted certification. The Educational Testing Service (ETS) administers the exam, which helps schools evaluate prospective paraprofessionals. The assessment measures basic skills and knowledge in reading, writing, and math.
5. Obtain a Paraprofessional license or certification
To get a paraprofessional license or certification, you will typically need to meet specific educational and experience requirements and pass a certification exam. The requirements will vary depending on the state or organization issuing the license or certification. Some states may require that you have a high school diploma, pass an exam or complete a training program, while others may require an associate's degree or higher. Some states may require that you complete a certain amount of coursework or training in a related field or have a certain amount of work experience in a related field.
6. Continuously learn and enhance professional development

Paraprofessionals are required to maintain their licenses or certifications and to improve their professional development continuously. This can be done through workshops, training, and attending continuing education classes.
Paraprofessionals must stay up to date with the latest developments and best practices in education by attending courses and workshops to provide the best support for teachers and students.
7. Apply for a paraprofessional position in a school or educational setting
Find job openings for the role on job boards, networking events, and educational institutions. Research the school or organization you are applying to and tailor your resume and cover letter to the position. Highlight any relevant education, certifications, or experience that make you a good candidate.
Prepare for the interview, gather any necessary documents or certifications that may be required for the job, and submit your application and resume as instructed by the organization. The cover letter should explain why you are interested in the job and how your qualifications match the position's requirements.
Meet any additional state or district requirements, such as background checks or fingerprinting
As a paraprofessional, it is essential to complete background checks after applying for a job. Background checks help to ensure the safety and well-being of the students and staff in the school or educational setting by identifying any potential red flags or concerns that may impact their ability to perform their job effectively and safely.
Background checks scan for past convictions for crimes against children or other forms of abuse and any history of unethical or inappropriate behavior in the workplace. They also verify educational credentials and any relevant certifications or licenses that may be required for the position.
Day in the Life of a Paraprofessional
The day-to-day duties of a paraprofessional can vary depending on the setting and the position's specific responsibilities. However, some typical duties include:
Assisting the teacher in the classroom: This can include working with small groups of students, providing one-on-one instruction, grading assignments, or working with students with special needs.
Monitoring student behavior: Paraprofessionals may monitor student behavior, helping to maintain a positive learning environment, and addressing any issues that may arise.
Assisting with administrative tasks: Paraprofessionals may grade papers, preparing materials, or keeping student records.
Supervising students during lunch or recess
Provide support for extracurricular activities and field trips
Communicating with parents and other professionals: Paraprofessionals may communicate with parents and other professionals, such as special education teachers or speech therapists.
Conclusion
Becoming a paraprofessional is a great way to support teachers and students. It requires only a high school diploma or equivalent, but may also require additional education or certification, depending on state requirements.
Paraprofessionals are in high demand and can look forward to good job security and competitive salary. Contact the relevant regulatory agency or professional organization or research to find out your state's requirements for licensure, certifications, and continuing education. With the proper education and training, anyone can become a paraprofessional and make a difference in students' lives.