How to Become a Science Teacher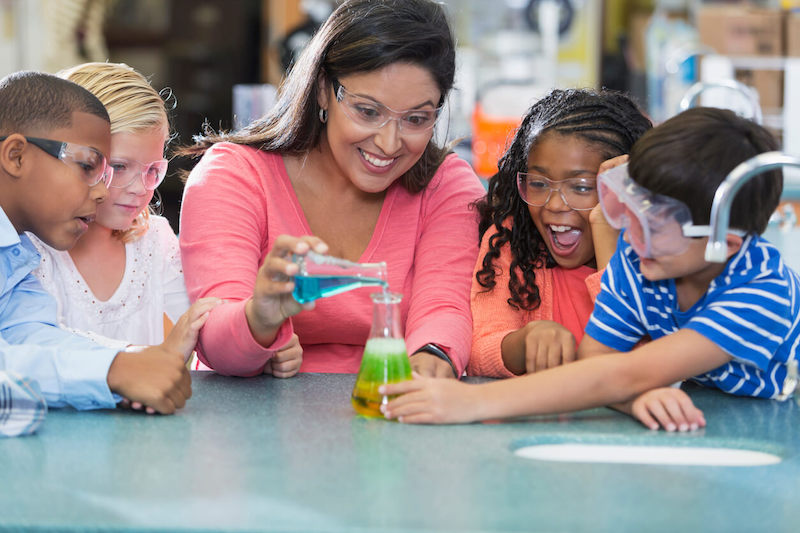 Have you always had an interest and curiosity in science and wondered what makes things happen the way they do? Would you like a career where you can nurture student curiosity while also encouraging scientific learning in others? If so, you might want to consider a career as a science teacher. Wondering how to become a science teacher? Read on and learn not just how to become a science teacher but all what this rewarding career entails.
What is a Science Teacher?

A science teacher is a professional educator who loves all things science-related and teaches others about science. A science teacher helps students interpret and understand the natural systems of the world around them. While many think science education is memorizing formulas, theories, and scientists, it is that and so much more.
Science education also inspires collaboration and problem-solving. Although kindergarten and elementary school students may learn about science, it's more often taught to students in the high grades, such as grade 5-12. The best science teachers are those with a passion for discovering new things. For many young students, science is not only fun but exciting as well.
Career Outlook for Science Teachers
The demand for qualified science teachers is much higher than the number of licensed science teachers available. According to the United Nations Education, Science, and Cultural Organization (UNESCO), about 69 million new educators will be needed for primary and secondary education by 2030. Many of these needed educators are science teachers, which demonstrates the need for more qualified science teachers.
The increasing use of STEM programs has put science teachers very much in demand. This is because science is an important part of the STEM program. There are currently more than 1.3 million science teachers working in the U.S., and we still need more. Despite the strong demand for qualified science teachers, their potential job growth is consistent with all other occupations. The career growth for kindergarten and elementary school teachers is similar to that of middle school and high school teachers.
The According to what the U.S. Bureau of Labor Statistics (BLS) reports, teachers in general should see a job growth of up to five percent during the 2021-2031 timespan. About 85 percent of the educators teaching science in our country work in public schools.
Top states for science teacher job growth
Illinois – 1,739
New Jersey – 1,380
Maryland – 1,012
Massachusetts – 1,003
Virginia – 919
Arizona – 831
Colorado – 813
Minnesota – 735
Nevada – 596
Connecticut – 457
Science Teacher Salary
The salaries for science teachers can vary by many factors, degree obtained, certifications, geographic location, and school district. The grade levels you choose can also affect wages. Science teachers at the postsecondary level generally earn more than elementary, middle school, and high school science teachers. While the BLS does not list wages specifically for science teachers, they do list wages for teachers in general as of May 2021.
Kindergarten teachers – $43,950 to $99,420 with an average annual wage of $61,400
Elementary school teachers – $43,950 to $99,420 with an average annual wage of $61,400
Middle school teachers – $45,510 to $99,470 with an average annual wage of $61,320
High school teachers – $46,090 to $99,470 with an average annual wage of $100,320
Salary.com, another wage reporting agency, states that high school science teachers earned wages ranging from $49,349 to $65,602 with the average annual wage at $56,732 as of December 2022.
Here are a few areas in the U.S. where science teachers earn the highest wages according to Indeed.com.
Brooklyn, New York – $71,131
Washington, D.C. – $68,298
New York, New York – $67,034
Denver, Colorado – $61,456
Austin, Texas – $57,413
Fort Worth, Texas – $57,048
How to Become a Science Teacher
Interested in how to become a science teacher? It's easier than you might think. To become a science teacher, you must have at least a bachelor's degree preferably in education or science. Students interested in teaching science to kindergarten or elementary school students may choose a bachelor's degree in education, while those interested in teaching the upper grades like middle and high schoolers may choose a major in science education.
The bachelor's degree is generally a four-year program. When choosing an education degree, it's important to choose one that includes a good teacher preparation program. It's also important to choose a school or program that's accredited by the Council for the Accreditation of Educator Preparation (CAEP).
The bachelor's degree teaching program will include education courses, core courses, science courses, and an internship. The internship will have the student working in a classroom alongside a licensed science teacher. This internship ideally should be in the grade that you wish to teach.
Once you've successfully completed the bachelor's degree program and the internship, you'll be ready to take the teacher and science teacher certification exams. Students who are unsure if they're ready to take the exam have access to practice tests and valuable resources online. Once you've passed the certification exams, you can apply for your teaching license.
Although earning a bachelor's degree in education or science is the most common path toward becoming a science teacher, it's not the only path. If you already have a bachelor's degree but not in an education field, you can still become a science teacher by completing a teacher preparation program and passing an alternative certification exam.
Other paths to science teacher certification
Another way to obtain science teacher certification is by earning a master's degree in an education field. Many individuals earn their master's degree online so they can continue to work while they're earning the degree. It's important to find out the specific education and certification requirements for your state because every state is different.
Day in the Life of a Science Teacher
When discussing the daily routine for science teachers, there is much to be said because almost every day can be different. Their duties typically include the following.
They design and develop lesson plans that comply with school and national guidelines.
They collaborate and communicate with students and staff.
They inform the students of rules and regulations in the lab and classroom and ensure they are being followed.
They handle many administrative duties, including updating records and grading papers.
They communicate with parents on class projects, grades, classroom goals.
They set up field trips for learning purposes.
They establish rules while in the lab and the classroom.
They provide support to both students and student teachers.
They act as chaperones on school field trips.
They assist students with setup up demonstrations and experiments.
They also supervise the students while they're conducting experiments.
They often participate in various other school activities.
There are various other duties performed by science teachers. This can vary by the grade level the science teacher is teaching. For instance, science experiments for high school students can be more time-consuming and complex than an experiment performed by kindergarten students.
Licensure, Certifications, and Continuing Education
Although earning a bachelor's degree is the first major part of becoming a science teacher, it's not the most important part. Science teachers, along with all other teachers, working in public schools are required to be licensed in all the states. To obtain licensure to teach the individual must pass a certification exam. They'll also need certification as a science teacher. Students and aspiring teacher can learn more certification information at teach.org.
There are several types of certifications a teacher can obtain. Typically, the more certifications a teacher has, the more valuable he or she is to the school district. Multiple certifications may also increase wage potential. In addition to initially obtaining your teaching certification, you'll also need to maintain it.
Teaching licenses are only valid for a certain amount of time depending on the state. For example, Wisconsin and Michigan have a five-year period for the initial licensure, while Utah is two years. There are a few states that offer lifetime certification. Teachers in these states only must become certified once. Each state differs in its requirements. In most states, the initial licensure requirements include:
Having a bachelor's degree
Completing the teacher preparation program
Passing a criminal background test
Passing the teaching certification exam in your state
To maintain certification in the states that do require it, the teacher must complete a designated number of continuing education credits prior to the certification period. If the teacher fails to complete the continuing education, he or she may be required to repeat the initial certification, which includes taking and passing the certification exam again.
Another fact to remember is that teaching licenses are only valid for the state the teacher wishes to teach. You may be a teacher licensed to teach in the state of Wisconsin, but if you move to another state, you will need to obtain licensure in that state. It can't be emphasized enough that you follow the requirements set by your state. The U.S. Department of Education offers some very helpful information for teachers or aspiring teachers.
Next Steps
Getting a degree is the first step to becoming a science teacher. Whether you are starting with a bachelor's degree in education, or you are looking to switch careers and need a master's in education or in science, you can start your new career today.