How to Become a Substitute Teacher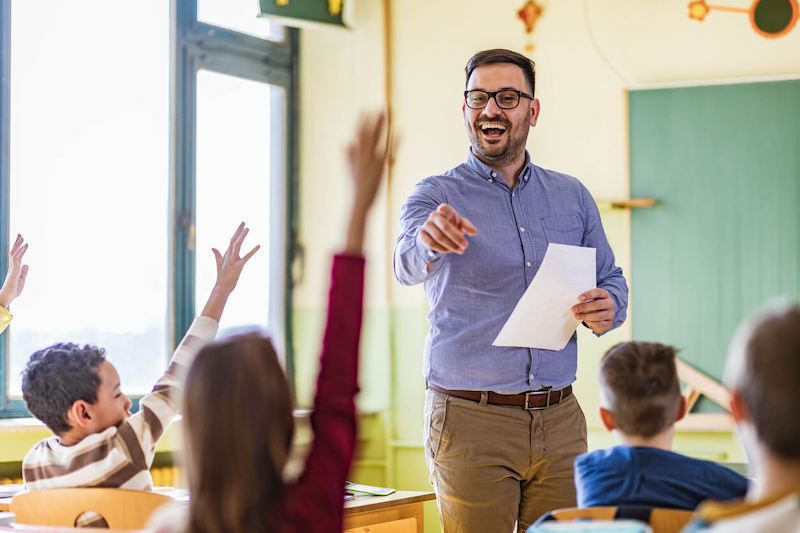 Anyone who's ever attended a traditional classroom school setting is probably familiar with the concept of a substitute teacher. It's exactly what it sounds like. A substitute teacher is a person who steps into the role of teacher when the other teacher is out of the room for any reason. Substitutes may step in for a few minutes, part of the day, a full day, or even longer periods of time. The role of a substitute teacher is often very flexible and can be tailored to what the school or district needs as well as what the individual can or is willing to do.
Different Types of Substitute Teachers
A substitute teacher is an individual who may step into a variety of classrooms at one school, one district, or even several schools and/or districts. These professionals are often able to pick and choose what jobs they want to take and can work as much or as little as they please. For example, someone who wants to focus on a particular subject or age level has the freedom to do so by not accepting jobs outside of those parameters. Most schools or districts have a pool of substitute teachers available to take jobs as they are needed. These jobs may be planned by the classroom teacher well in advance or made available with little prior notice.
You don't have to agree to sub in places you don't want to, but the more availability you have, usually the better.
Subs can work in:
One school or multiple schools
One district or multi-district
Various subjects
Long-Term Substitute Teachers

Other substitute teaching roles include long-term positions where the substitute would be in the same position for days, weeks, or even semesters at a time. Long-term subbing positions become available for a variety of reasons: medical leave, maternity leave, or other unplanned emergency situations. These roles will typically include a more general overview of lesson plans made by the classroom teacher for the substitute to follow but may require the substitute to make more executive decisions as a typical classroom would and relate their role more closely to a classroom teacher than a more traditional, short-term substitute.
Long-term subs cover:
Medical leave
Emergencies
Planned or unplanned extended travel
Additionally, some districts will fill a salaried position as a building substitute, meaning that person would be part of the staff and would be the first resource for administration to use to fill open positions in their building or department. These people have the benefit of knowing the school's unique culture, rules, and systems as well as be able to be a more recognizable face for students. However, individuals in this role may not have the benefit of being able to be selective as to which grade levels or subjects they fill in for. Additionally, if there are days where no substitute teacher is required in a classroom, they may be asked to perform additional duties as needed, much like a teacher's aide or administrative assistant would.
Career Outlook for Substitute Teachers
The role of a substitute teacher can be filled by an individual for a variety of reasons. College students seeking flexible employment may find substitute teaching a useful way to earn income while in school. This is a great way for future educators to gain classroom experience as well. Really, the potentially flexible schedule could be appealing to anyone seeking part-time employment, such as parents with school-aged children or retirees who still desire to work.
For those wishing to pursue a career in education, becoming a substitute teacher is a great way to gain classroom experience. Substitute teachers are still responsible for classroom management and teaching lessons or assisting students in completing assignments. For those who may be seeking employment in a particular school or district, becoming a reliable substitute teacher can also be a great way to get their foot in the door if a particular position is not immediately available.
Substitute teachers can expect a rise in employment of 2.8% over the coming decade, according to the BLS.
Substitute Teacher Salary
Substitute teaching wages may vary widely by state, district, and type of position. Those in the role of a traditional substitute will typically be offered an hourly wage or a daily rate. This amount depends on the laws governing minimum wage for the state of employment, the individual's prior education and/or experience, as well as whether the school is private, public, or charter. According to the BLS.gov, the national average for a substitute teacher in the U.S. is $18.47 an hour.
Whether or not a substitute teaching position includes benefits is dependent upon the district itself. Some districts do not offer full time hours to substitute teachers, which means the position would not include benefits such as insurance or retirement savings. For salaried substitute positions, benefits would follow what a district offers its other employees, and there is the potential to negotiate salary and/or benefits.
How to Become a Substitute Teacher
While there are variations in the necessary steps for how to become a substitute teacher, there are some aspects of preparation that will be observed across the board. In any situation where someone is working with minors, a background check will be required. At minimum, all states also require substitutes to have a high school diploma or GED. Many states also require substitutes to have a substitute teaching certification or license and/or at least some college credit hours. Anyone wanting to know how to become a substitute teacher will need to look up the specific requirements for their state. While state laws dictate the minimum requirements for substitute teachers, districts still can have additional conditions for employment.
To review, you'll need to:
Meet the qualifications
Apply for positions
Interview with districts
Keep your availability open
Say yes to jobs as they come in
A Day in the Life of a Substitute Teacher
For a substitute teacher, a typical day may look a little bit or even vastly different from one job to the next. Of course, factors such as the district, classroom, age level, and subject all come into play in how to set expectations for how a day will play out. However, there are some things that can be expected in a day as a short-term, full-day substitute teacher.
Hours
The hours required of a substitute teacher will be the same as required for the classroom teacher, which typically means arrival at school half an hour before the start of class and leaving half an hour after dismissal. The substitute teacher will be responsible for all of a classroom teacher's typical duties, which, depending on the grade level taught, may include things like monitoring the hallway before school or assisting students with breakfast for districts that offer breakfast.
Lesson Plans
Some teachers leave very detailed lesson plans, other may leave a general goal for the class or day, and if the absence was unplanned, may not have any lesson plans at all. If no lesson plans are left, or if the lesson plans are unclear or unmanageable, substitutes should speak with the supervisor. While teachers work hard to establish unique classroom routines and expectations for their students that substitutes should do their best to maintain, there are also situations where your best judgement will be enough.
Schedule
The classroom teacher or administrator should provide a schedule for the day including times for things like arrival, when classes change, passing periods, lunch, recess, and dismissal. Substitutes should also expect to be given a copy of class lists with student names in the form of a list or seating chart. While students are in the room, it is the substitute's job to take attendance, teach the lesson according to the teacher's lesson plan, and ensure students are participating, following instructions, and adhering to classroom and school-wide expectations. Teachers will appreciate any notes left by a substitute, both negative and positive.
Interaction with Students
The level of interaction between students and the substitute teacher will vary depending on the age of the students and the lessons left by the classroom teacher. Younger students will require a substitute to be up, moving around the room, assisting, and teaching students as needed. Older students may require less direct instruction as teachers often can assign reading, work, or even entire lessons online. A substitute teacher should never expect to be able to merely sit at a desk during the day, though in some cases with older students this is more acceptable at certain times. Constant monitoring of students at any age is part of the role.
Licensure, Certifications, and Continuing Education
For those wishing to make substitute teaching a career rather than a part-time job, the pursuit of a degree will be necessary. While not every state requires certification or licensure, there are often pay, or salary increases available to those who do go that route. For those seeking long-term subbing positions, which often pay more than short-term positions, most schools and states will require licensure. Acquiring a teaching license is done in addition to obtaining a degree in education. There are some cases where an emergency license or temporary license may be issued, with the stipulation that the necessary higher education is completed by the applicant within a certain time frame.
Even for those not seeking long-term substitute teaching jobs, preference will always be given to those with more experience, education, and licensing. Certifications and licenses also must be renewed to remain valid, which will require additional professional development and/or continuation or higher education. Many states and districts also require that those in the field of education have a CPR license as well as training in workplace safety, mandated reporting of abuse or threats, and classroom management pedagogy.
Requirements to become a substitute teacher
Experience
Education
Valid certifications and licenses
CPR training
Background check
Become a Substitute Teacher
Join this growing career field and help bridge the gap between your new career and the shortage of teachers facing this country. Get started with your new career today.