How to Become a Fire Inspector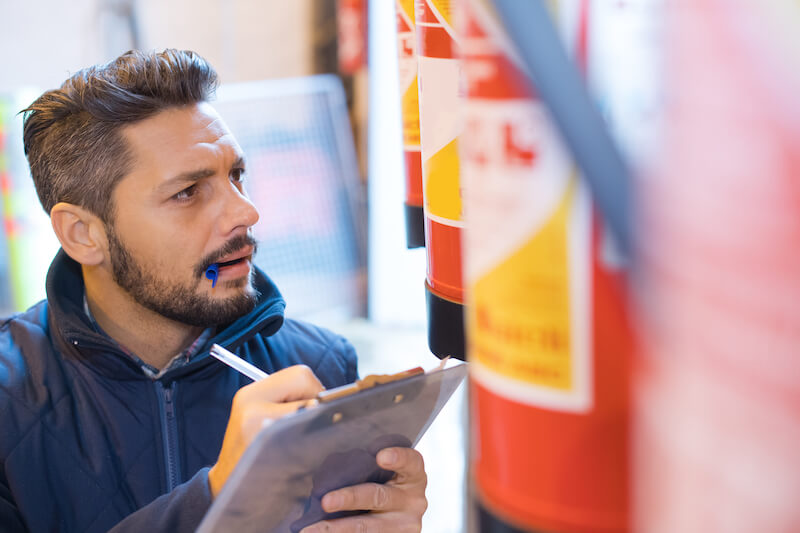 Firefighters and fire inspectors play an important part in their communities. Firefighters help fight fires, while fire inspectors determine the cause of fires and ways they could have been avoided. They are a part of the crime scene investigation team, but they also work in governments and help get permits to avoid problems before they occur. They also inspect buildings and homes for signs of fire hazards. Fire inspectors come to the fire location to investigate why and how a fire may have started. Does this career sound interesting? Read on and learn all about fire inspectors, including how to become a fire inspector.
What is a Fire Inspector?
Fire inspectors are trained professionals who play a large role in protecting people and property from fires, often before they start. They inspect potential fire hazards, advise people on fire preventative measures, and investigate the cause of a fire.
Fire inspectors ensure that the building or site follows local and state fire regulations. They also collaborate with fire departments city code enforcement agencies, and similar organizations to ensure safety building codes are satisfied. These are just a few of the many things these valuable people do.
Career Outlook
Working as a fire inspector can be exciting, challenging, and rewarding. It's also a position that's always going to be in demand. The U.S. Bureau of Labor Statistics (BLS) indicates that fire inspectors can expect an employment growth of six percent between 2021 and 2031. They also predict that about 1,800 new fire inspector jobs per year should be added by 2031.
The projected employment growth for fire inspectors comes from different factors. When we think of fire inspectors, we typically think of them working at or for fire departments. However, fire inspectors may work in various occupations.
Fire inspectors may use their expertise to help determine the cause of explosions and structural fires. They may also oversee making sure existing buildings meet updated fire codes at the local, state, and federal levels. They also are called upon to inspect potential fire hazards n newly constructed public, commercial, and residential buildings.
Their knowledge and skills are also used to help prevent the numerous wildfires that have been occurring almost every year. Because fire inspectors can work in so many different settings, their job growth may be affected as well. Where the fire inspector works and the type of work he or she does plays a role as well.
Although the bureau predicted a six percent growth for fire inspectors, they also predicted a four percent growth for firefighting and prevention workers; a three percent growth for fire inspectors and investigators; and a 19 percent growth for forest fire inspectors and prevention specialists. Employment growth also varies by location.
Below are the top five states with the most fire inspectors employed.
| | |
| --- | --- |
| State | Fire Inspectors Employed |
| Florida | 2,400 |
| New York | 1,320 |
| California | 1,110 |
| New Jersey | 1,100 |
| Texas | 930 |
Fire inspectors work both indoors in an office setting and outdoors. They typically work a 40-hour week, with many working more than 40 hours per work. Fire inspectors may work in the evenings, on the weekends, and even on holidays. They are basically always on call because when there is a fire, they must go.
According to the BLS, about 67 percent of all fire inspectors are employed by local (rural, county, or city) fire dependents. The remaining inspectors work with government agencies, insurance companies, or law enforcement.
Fire Inspector Salary
When it comes to the wages earned by fire inspectors, it can be said that they can earn very good wages according to a wage report by the bureau. As of 2022, fire inspectors earned an average annual wage of $69,450. Fire inspectors at the lowest ten percent earned about $42,930, while the top 90 percent earned about $125,610.
Just as many factors can affect employment growth, salary, and wages can also be affected by different things. Degree level earned, training completed, years of experience, certifications earned, employer, and location all play a part in determining wages. Below are the top five states where the highest wages were earned.
Highest wages by state
| | |
| --- | --- |
| State | Annual mean wage |
| Oregon | $103,680 |
| Washington | $102,290 |
| Idaho | $99,930 |
| California | $92,180 |
| Illinois | $86,410 |
How to Become a Fire Inspector
There are a few different steps you must complete to become a fire inspector.
High school diploma or equivalent
Firefighter training program
Firefighter certification
On-the-job training
Fire inspector training program
Fire inspector certification
As important as it is to be familiar with fire safety regulations and building codes, you must also know as much as you can about fires and how they start. You'll also need a solid understanding of firefighting equipment, materials, and tactics.
The best way to gain this knowledge is through a firefighter training program. Many candidates join a volunteer fire department to gain knowledge and experience. Once they've gained a little experience, their next step is enrolling in a state, national, or regional firefighting training academy. There are not a lot of educational requirements to be eligible for entry into the firefighting training academy.
The applicant should have a high school diploma or equivalent. Although some employers may want their fire inspector candidates to have an associate's or bachelor's degree in fire science or a related field, some may accept a high school diploma as the minimum requirement. The type of degree that might be required often depends on what area of fire inspection the individual wishes to work in.
For instance, some fire inspectors may opt to have a criminal justice degree, while potential fire inspectors and prevention specialists may need a degree in forest management or forestry. Fire inspection programs may be offered at colleges, fire training academies, or even through an employer.
Candidates in the training programs will get training in investigation procedures, hazardous material handling, problem structures, maintenance and installation codes, and structure audits. Students not sure if they want to earn a degree or complete the training program can benefit from taking courses like report writing, CAD, and similar computer software. Every jurisdiction is different, so it's important that candidates speak with their local or state agencies to learn the requirements for that area.
Applicants must pass a drug test, a background check and must have a valid driver's license. Aspiring fire inspectors will receive a lot of on-the-job training working with other firefighters. In addition to the on-the-job training, the candidate will learn all areas of firefighting, fire inspection, and fire prevention. There are currently more than 14,500 fire inspectors and investigators in the U.S.
As stated above, working as a fire inspector requires education and training. However, there are other skills for the individual that are necessary to be a successful fire inspector. These skills are not learned from a book.
Skills needed for fire inspectors
Communication Skills – Fire inspectors and investigators will be talking to a lot of different people whether it's interviewing witnesses or explaining potential code violations to property and building managers and contractors. Fire victims may be frightened or even uncooperative. The fire inspector must have good communication skills to be able to communicate with all types of people.

Physical Strength and Stamina – Fire inspectors often work alongside of firefighters at a fire. Working a fire scene and sorting through debris generally requires wearing heavy clothing. This all requires fire inspectors to have good physical strength and stamina.
Detail-Oriented – It's often difficult to determine if a fire was accidental or arson. It's often a small little detail that can be the most helpful. Discovering the truth often requires an eye for detail and the ability to notice small details.
Problem-Solving Skills – Fire inspectors not only have the task of determining fire risks and code violations but must also have the problem-solving skills needed to offer solutions and solve problems.
Critical Thinking – When investigating a fire, the inspector will have to analyze and assess every little detail in order to come to the correct conclusion, which requires critical thinking skills and the ability to "look outside the box".
Day in the Life
People interested in learning how to become a fire inspector are often amazed at the many things a fire inspector does throughout the course of his or her day. They spend a lot of their time at places that may be fire hazards or places where there is already a fire. A big part of their duties involves determining the cause of a fire or noticing things that may cause a fire.
They not only inspect homes and buildings but also forests and similar places outdoors. They work not only as fire inspectors but also as fire prevention specialists. While most of their time is spent working as fire inspectors, they may also act as fire investigators if necessary. Here are some of the many duties they perform as fire inspectors.
Looking through buildings to detect potential fire hazards
Recommending preventative steps
Investigating what may have caused a fire
Making sure all fire codes are met
Looking at construction blueprints with contractors and developers
Testifying in criminal and civil legal proceedings
Collecting evidence from fire and explosion scenes
Working with law enforcement on possible arson cases
Patrolling specific areas to detect hazardous conditions and forest fires
Monitoring the area if there is a potential for damaging weather conditions that could cause a fire
Assisting firefighters in putting out a fire
Operating, repairing, and maintaining firefighting supplies and equipment
Reviewing new construction and development plans/proposals
Inspecting new construction sites for hazardous conditions and nonconformance with structures
Developing and implementing programs to educate the public about fire hazards and fire prevention
Testing equipment like sprinklers, fire alarms and other fire prevention equipment
Working in an office doing reports of potential fire hazards
Writing up and maintaining detailed records regarding their findings during investigations and inspections
Conducting follow-up inspections to make sure hazardous conditions are reduced or eliminated
Licensure, Certifications, and Continuing Education
Fire inspectors may need to be licensed or certified in some states; however, the requirements vary from state to state. If in doubt, candidates can check with their local fire departments or state licensing agency. In states where licensure is required, fire inspectors may need to pass a certification exam.
Even if certification is not required by law, fire inspectors may choose to obtain as many certifications as possible. Certifications are a way to not only enhance a resume but also demonstrate knowledge of and commitment to the profession.
The International Code Council offers the Certified Fire Inspector I certification exam. This certification is valid for three years. To maintain this certification, the fire inspector must complete a certain number of continuing education credits before the end of the three-year period. The ICC also offers a Certified Fire Investigator certification.
The National Fire Protection Association offers Certified Fire Inspector I certification. The CFI I is also a three-year certification that required continuing education credits for re-certification. The International Association of Arson Investigators also offers the Certified Fire Investigator certification.
The National Association of Fire Investigators also has the Certified Fire and Explosion Investigator certification. Another certification, the Certified Wildlife Mitigation Specialist, is also authorized through the National Fire Protection Association.
To obtain certification from any of these organizations, the applicant must meet eligibility requirements, which might include a degree, a completed training program, work experience in this area, or any number of things.
For instance, a fire inspector or investigator pursuing the Certified Fire Investigator certification from the International Code Council must complete the application, submit the required documentation, and show proof of having earned the required number of points for training, education, and work experience.
Once the candidate has completed these requirements, he or she can take the certification exam. This certification is valid for five years. To maintain this certification, the fire investigator must submit a recertification application and have earned at least 50 continuing education points. Of these 50 points, 20 of them must be from training, and 50 must be from work experience.
If this is completed and sent to the ICC prior to the expiration date, the investigator will not be required to take another exam. This is why it's important that aspiring fire inspectors and fire investigators should be aware of the requirements for any certifications they may wish to earn.
A Rewarding Career
A career as a fire inspector takes skill and diligence but is a rewarding one. Grow your education and experience even further by getting a degree in fire science.