How to Become a Data Architect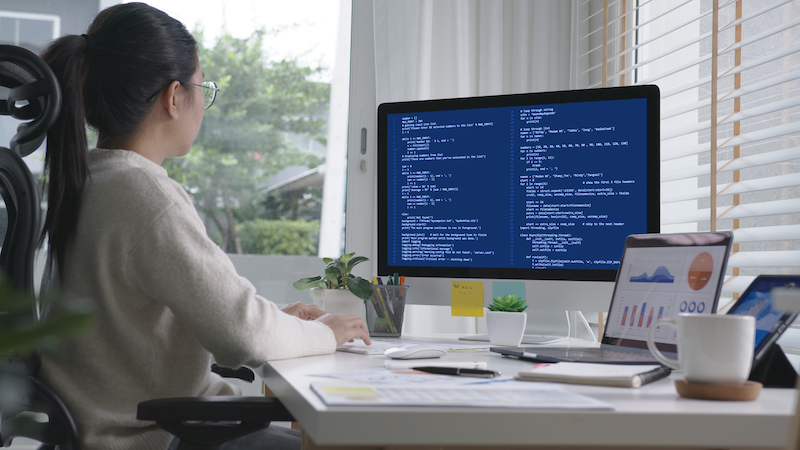 What is a Data Architect
Data architects are computer science professionals that have a role similar to an architect in a building process. Just as construction architects create blueprints for structures, data architects create blueprints or maps for data management systems. The data architect must first identify the organization's possible types of data and the internal and external sources. The data architect then designs a plan of actions to centralize data and protect it from intrusion and unauthorized uses. The responsibilities of the design include maintenance, integration, and location.
The data architect can tailor the data framework to align with the goals of the business or organization. Data architecture is a foundation for a broader plan called a data strategy. The data strategy is a long-term plan to integrate data assets and operations with overall goals.
Data architecture consists of models, policies, and rules the control data. The architecture informs which data to collect, how the data may be stored, and the arrangement of integration of the data. The goal is to have data available for every need, and the data architect must meet this challenge.
The role of the data architect can vary with the organization that employs them. Some companies need data modeling; other organizations may require data warehousing. Data architects typically use ETL tools, SQL, and other advanced database management and administration. The role of data architects is usually essential to the organization, and data architects are often among the organization's senior-level employees.
Career Outlook
The Bureau of Labor Statistics does not have a specific category of data architects. They label a similar group as Computer Network Architects (https://www.bls.gov/ooh/computer-and-information-technology/computer-network-architects.htm); the field of Computer and Information Research Scientists has some related aspects to the field of data architecture (https://www.bls.gov/ooh/computer-and-information-technology/computer-and-information-research-scientists.htm).
Given the close relationship of these fields, data architecture may have a similar outlook and will experience strong growth far above the overall averages for all occupations. The drivers of growth in the field of data architecture are the growing types and sources of data. Solutions to data storage, analysis, and usages can create further demands and opportunities.
Today many types of businesses seek data science capacity in many forms, and demand includes data architects. They can be important members of product and process development. The data architect can put the appropriate 4eources and mechanisms in place to support the desired business or organizational outcomes.
Data Architect Salary
According to PayScale, the median salary for a data architect is $115,000 per year. The skills that affect salary and demand include software and programming knowledge. Apache Hadoop, Oracle DB, and Microsoft SQL were program working environments that raised salary. Top rated skills included data modeling, Big Data Analytics, data management, and data mining.
Experience plays a key role in advancement and salary. Late career salaries average about ten percent above the national average. The field of data architecture is relatively new, and there is a high level of demand for these skills and knowledge.
How to Become a Data Architect
Step One- Formal Education
Most data architects begin with a bachelor's degree from an accredited program in a major like computer science, computer engineering, or another closely related computer-based field. The bachelor's degree is the entry-level educational achievement for the field of data architecture. Many computer science students reach for a master's degree for competitive advantages and to specialize in one or more areas of technical, business, or another type of study.
Step Two – Professional Growth
Data architecture includes a range of skills and knowledge, including data mining and analytical problem-solving. Data architects must combine such skills with a depth of knowledge about the businesses or fields in which they work. Technical skills include server software, database management software, and UI and query software. They must master one or more development environments and the all-important backup and preservation phases.
The field of data architecture is large, complex, and continually changing as the use of these skilled professionals changes the ways companies and organization mobilize their data resources for maximum benefit. Employers look for experience in managing application architecture, network development and management, and performance issues.
Courses Needed
Data architecture relies on knowledge and experience. Many employers insist on master's level formal education and five or more years of related experience. Large and complex organizations may tend to hire master's degree holders with five or more years of relevant experience. These hires are often for senior-level positions in small, medium, and large corporations.
Data Management
Programming
Big data development
Technology architecture
Day in the Life of a Data Architect
A typical day in the business life of a data architect solving complex problems in unique and creative ways. Data architects must know data and all aspects of viewing, assessing, and analyzing it. The data architect possesses expertise in data but must also express solutions and actions in terms of marketing, business analytics, statistics, and math. As with all usages of data, the architect must always focus on governance and security. The data architect must work with other parts of the organization, both as a resource and leader.
The data architects' skills and knowledge make him or her the center of projects and activities that include and go beyond data management and data solutions. The data architect's day includes a significant amount of time in meetings, consulting with team members, and using a wide variety of software tools.
Licensure, Certifications and Continuing Education
Licensure is not required for Data Architecture professionals. Although some may be licensed engineers or licensed in other professional areas, the practice of data architecture does not require a license. Continuing education requirements for licensure are also not an issue for data architects. However, certifications are important and useful training programs. The certificates represent confirmation of skills, knowledge, and experience. Maintaining certifications does require continuing education, and these requirements are similar to those found in licensed professions.
Certifications are an important vehicle for improvement and demonstrating professional expertise. For example, the Big Data Professional (CBDP) from ICCP- https://www.iccp.org/index.html. Certifications demonstrate the level of knowledge of a subject such as ETL or UI. Certifications also establish that the student meets the standards and benchmarks of the proprietary source of the system or programs, for example, Oracle IT Architecture Training and Certification is a standard for the ability to design specific solutions for an organization.
The below-listed items describe some of the relevant certifications for data architecture.
Certified Data Management Professional (CDMP) by the Data management Association International is a frequent item on expert resumes.
Hortonworks Data Flow Certified NiFi Architect (HDFCNA)
IBM Certified Data Architect – Big Data
Simplilearn's Big Data Hadoop Architect Master's Program for data modeling, database interfaces, SparkSQL, and RDD. The training certifies expertise in replication, scalability, and Hadoop clusters.