Is Accounting a Good Major?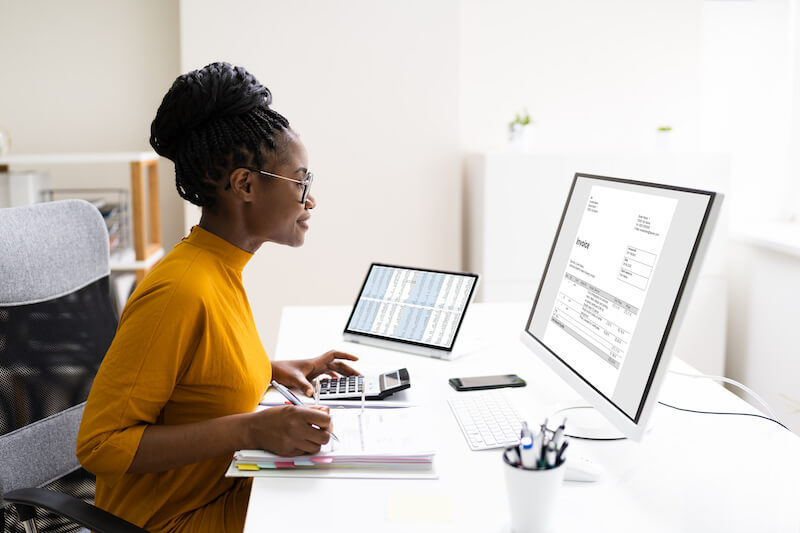 Do you enjoy working with numbers? Do you want a career where you can work with numbers and have positive job growth? If so, you may want to consider a career in accounting. Is accounting a good major? We think so! Most people with accounting majors are very happy with their choice. Here, we'll give you all the information on accounting, including wage and job growth potential as well as what an accounting career can look like for you, what business degree you may need, and more.
Accounting Explained
Accounting is a field that involves the process of recording and analyzing financial transactions having to do with a business. An accountant has many duties. They not only analyze and summarize financial information but also report financial transactions to tax collection entities, regulators, and oversight agencies.
These professionals may be found working for an accounting agency, or they may work independently in a freelance capacity. An accountant or similar accounting specialist is needed in almost every business because they keep the organization informed as to the financial status of the business.
Accountant Salaries

Accountant wages can vary by several factors, such as degree level, experience, certifications, and location. The U.S. Bureau of Labor Statistics (BLS) reports that accountants earned an average annual wage of $77,250 as of May 2021. Accountants at the lowest level earned about $47,970 while those in the top 90% earned about $128,970.
Location is a huge factor. Here are the top five states where accountants earned the highest wages in 2021 followed by the states with the lowest accountant wages according to the bureau.
States with the highest wages for accountants
District of Columbia – $110,750
New York – $110,320
New Jersey – $102,040
California – $96,210
Massachusetts – $95,830
States with the lowest wages for accountants
Mississippi – $59,420
Arkansas – $62,260
Nevada – $63,160
New Mexico – $63,640
North Dakota – $63,690
Why Choose Accounting vs. Finance?
Despite being two separate disciplines, finance and accounting are very similar. Individuals with a degree in accounting or finance both deal with the finances within a business. The main difference is how they handle the financial transactions.
Individuals with a finance major focus their attention on planning and directing an organization's financial transactions while someone with an accounting major report and record the financial transactions. If there are financial issues within the company, it's typically the accountant that notices these issues.
In summary, finance revolves around money management, and accounting revolves around the management and organization of financial information. For example, if an organization needs funds, the finance person will deal with that as well as functions like investing, budgeting, lending, and borrowing money. An accountant monitors and records those functions.
What Jobs Can You Hold with An Accounting Degree?
There are few things more depressing for a college graduate than to discover their degree only opens one or two job opportunities or careers. An accounting degree can prepare you for many jobs. Below you will find the various employment opportunities as well as the average annual wages for each position according to a BLS 2021 report.
Although these jobs all have something to do with accounting and money, they're all very different jobs with different job duties and responsibilities. They also offer a wide variety of wages.
Is Accounting a Good Major?
Choosing a degree or a major can be a big decision. It goes without saying that you want a degree that can possibly lead to more than one career. If you want to change jobs or careers, it can be very helpful to have a degree that's versatile. Fortunately, this is the case with an accounting major.
Although wanting a degree that can prepare you for several different jobs is a very good idea, there are other factors that can affect your choice of major, including salary potential and job growth. The BLS has already indicated that the wage potential for accounting majors is very good whether you're choosing to become an accountant, a financial advisor, or one of the various other jobs possible with the degree.
Accounting is a very good major in terms of career growth as well. According to the BLS, accountants and auditors are expected to experience job growth of 6% between 2021 and 2031. Approximately, 136,400 new jobs for these professionals are expected to open each year during that decade. The predicted growth is due to several factors.
Some accountants will retire.
Some accountants will change careers.
The growing economy
Globalization such as international acquisitions, mergers, and trade
Regulatory and complex tax environments
All these factors will continue to put out a demand for accounts and auditors. Becoming an accountant requires a bachelor's degree in accounting or business. This is typically a four-year program. Students who wish to work as Certified Public Accountants (CPAs) only need to complete 30 semester hours of graduate work after they've earned a bachelor's degree.
Becoming a CPA is a great way for an accountant to advance his or her education to the highest level. Some jobs may require the services of an accountant while others may require the services of a CPA. Any accountant who wants to work with the Securities and Exchange Commission (SEC) and deal with the stock market must be a CPA.
Becoming a CPA can also increase both their job prospects and their wage potential. CPAs and accountants in general are in demand. Controllers Council indicates that there is a shortage of both accountants and CPAs.
In fact, they report that the number of auditors, accountants, and financial professionals decreased by 17% between 2019 and 2021. This reported shortage of accountants and financial professionals can only be a good thing for these professionals because it increases the job outlook and wages for these workers.
Although many accountants work for large businesses or accounting firms, some choose to open their own businesses. Once they've earned the accounting degree, all they need to do is obtain certification and any licenses that may be required in the individual's state. There are many benefits to becoming an accountant.
Offers many career options
Offers great wages
Offers job security
Offers different areas of concentration
Offers opportunities to travel
Offers chances to work with different industries
Offers a better understanding of finances
Accountants are also regarded with respect because of their strong mathematical and financial skills. Any time we think of intelligent professionals who deal with numbers and money, accountants are what typically come to mind first. There's an old-time joke about one individual asking another a question regarding money or a certain number.
If the second individual doesn't know the answer, he or she will often reply with, "What do I look like an accountant?" Imagine how great it could be to actually be an accountant.
Is an Accounting Degree Worth It?
An accounting degree is very much worth it. When considering what it has to offer, it's very much worth the time, money, and commitment. Whether you choose to earn a bachelor's degree in accounting or a graduate degree for CPAs, you'll become part of a career that can take you to many places in many directions.
If you find yourself becoming bored with regular accounting, you may choose to become a personal financial advisor, which allows you to put your knowledge to work and help others manage their money. You could also choose to work as an actuary for an insurance company. There are just so many options available to graduates of an accounting degree.
Are you concerned about where to go to college or what it could cost? You'll be happy to know that accounting is a degree that's offered in most colleges and business schools. Many colleges also offer accounting as an online degree program. This is ideal for students who need to continue working while earning their degree.
As an accounting student, you'll take a variety of courses related to finance and money. When one thinks of accounting, the idea of hard classes often comes to mind. This is not always the case with accounting programs. Most people who choose accounting as their career choice generally enjoy working with numbers or have a solid foundation in math.
Accounting courses generally include finance, accounting principles, taxation, economics, information systems, management, quantitative methods, and law, among others. Most accounting programs require the student to complete an internship in an accounting firm or business where they can put their new knowledge to use in a supervised setting.
Get Started
Many of these colleges also offer grants, loans, and other types of financial aid to help with college expenses. If you're looking for a great degree that offers a lot, you may want to check into an accounting degree.