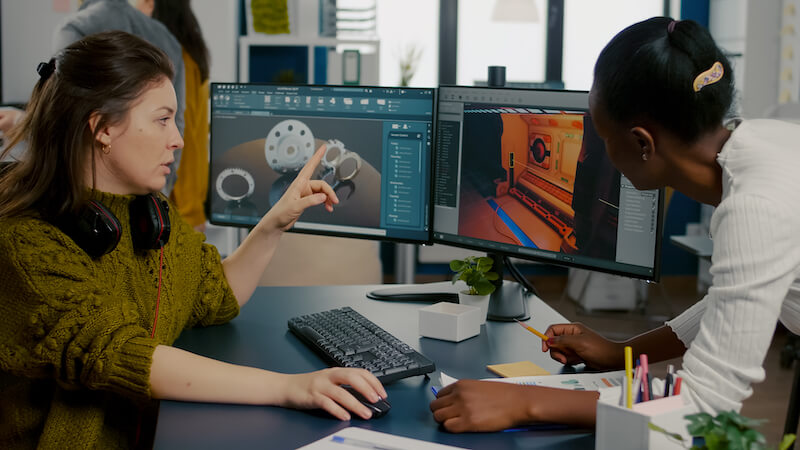 Game developers are very much in demand today due to the popularity of video games and the increasing number of devices available in which to play these games. One of the most impressive things about game development is that it's a field within computer science that offers many career choices, such as art and design, game development, animation, software development, and more. Sound like an interesting career option? Learn more about this career and how to find the perfect game development degree.
Who Should Do Game Development?
Game development is a great choice for someone that enjoys working on computers and electronic devices. It's also a great choice for anyone that enjoys playing games, particularly digital games. When digital games first came out on the market, they were generally created for computers.
A lot has changed since then. In addition to personal computers, digital games are now offered for hand-held portable game machines and mobile devices like tablets and phones. If you have a keen sense of electronics and games, a career in game development just might be an ideal career choice.
Game Development Career and Job Prospects
Game developers have the potential to earn good wages and experience good job growth. The various job opportunities game development offers make it such a good choice. Below you will find the potential job growth from 2021-2031 and average annual wages as of May 2021 for different career choices in this field, according to the U.S. Bureau of Labor Statistics (BLS.
The average annual wage for game developers was $66,322 according to a June 2023 report by Salary.com.
15 Best Game Development Degrees

With so many great game development degrees out there, it can be hard to choose the one you want and the one that best meets your career goals. To simplify the process for you, we've listed what many consider the best game development degrees. All of these are online programs and programs that can lead you to a job in the gaming industry. You can learn more about our methodology here.
1. Fisher College
Bachelor of Science in Information Technology – Game Development
The Information Technology Game Development program at Fisher is a 120-credit program that takes three years and four months or 20 terms to complete. Each term is eight weeks long. Students gain knowledge of how to develop mobile two and three-dimensional games for mobile devices and computers. In addition to learning about game development, they also study computer science and information technology fundaments. This fully online program prepares students for jobs as independent game developers or computer game programmers.
2. Savannah College of Art and Design
Bachelor of Arts in Digital Media with a Concentration in Game Development
This online program is a 180-credit program that's offered both online and on campus. Full-time online students can complete the program in four years or less. The 180 credits include 20 foundation courses, 90 general education courses, 45 concentration courses, and 25 electives. Concentration courses include courses in game design, game art, programming, interactive design, and game development, among others. Graduates are qualified to work as game designers, narrative designers, mobile game/app designers, web/social media developers, and technical artists for various high-tech companies.
3. Southern New Hampshire University
Bachelor of Science in Video Game Programming
This 120-credit program allows students to transfer in 90 credits, which can save students time and money. It also gives students credit for life experiences. Students learn game programming trends, programming languages, game development standards, game design, and production and testing techniques. This program can be completed in four years or less. The curriculum includes both general education and major-related courses.
4. Blue Ridge Community College
Associate of Science in Game Development
This online game development program is offered in two options: an instructor-led or a work-at-your-own-pace. Students get an overview of platforms, audiences, and game genres while learning the fundaments of game development. They also become familiar with the different techniques and tools to create their own designs. Students also obtain hands-on training in game development and how it works. Course topics include working with development tools, game interface design, game development processes, and developing mobile app games.
5. Full Sail University
Bachelor of Science in Digital Arts & Design
Sail University's undergraduate program teaches students how to make digital arts and design projects. Students learn the techniques used to create motion graphics and learn how to develop 3D computer graphics using industry-standard software. The program provides students with Project LaunchBox™, a program that helps students create and store all their creations so they can access them 27/7. Course topics include design and art theory, graphic principles, technology in the media and entertainment industries, color theory, and visual design. Sail University is ranked among the top design schools by Graphic Design USA.
6. Lindenwood University
Bachelor of Arts in Art & Design
This fully online program helps students advance their artistic talent and ability to master many things including animation, graphic design, illustration, and project development. Students can choose from several areas of concentration, such as web user, graphic design, digital art, and photography. The art and design program requires completing 120 credits and generally takes four years to complete. It also offers an accelerated option that allows students to earn the degree in only two years. Upon earning the degree, students are eligible to earn several industry certifications.
7. Maryville University
Bachelor of Fine Arts in Digital Media
The fully online digital media program at MU prepares students for careers in the global design industry. MU offers online students financial aid and transfer credit opportunities. Students use state-of-the-art industry tools and are taught by industry professionals in the design industry. Course topics include graphic design, user interface designing, motion graphics design, digital media design, and more. Prior to the end of the program, students will create a portfolio with the help of professional faculty. Graduates of this four-year program are prepared for high-paying jobs in the digital media and graphic design industry.
8. Texas State Technical College
Associate of Applied Science in Digital Media Design
TSTC's online digital media design program is aimed at students interested in learning to make digital media designs to be used in many industries. Online students can complete this program in 20 months. The curriculum includes courses in computer illustration, technical and business writing, digital imaging, digital publishing, interface design, and digital videos. The college also offers a certificate and technical certificate program in digital media design.
9. Academy of Art University
Bachelor of Fine Arts in Animation & Visual Effects
The BFA in animation and visual effects is a fully online program that consists of eight semesters. This program is aimed at individuals interested in a career in the media industry. Courses include analysis of form, history of animation, intro to 3D production, finger drawing, compositing, intro to rigging, character animation, and motion set design and fabrication. Students choose from one area of interest: 3D modeling, visual effects, 2D animation and stop motion, storyboarding, and 3D animation.
10. University of Advancing Technology
Bachelor of Arts in Game Art and Animation
The BA in game art and animation is a fully online program that prepares students for jobs as texture and modeling artists, character artists, environmental texture artists, and character animators and riggers. This is an ideal program for tech-minded individuals. Students learn all aspects of game development using animation assets and 2D and 3D art on various video game platforms including consoles, mobile devices, computers, and even virtual reality. Students have non-stop access to support from industry-leading faculty and complete hands-on training despite it being an online program. Full-time students can complete this online program in four years or less.
11. Full Sail University
Bachelor of Science in Computer Animation
Full Sail's computer animation undergraduate program is an online program that teaches students the same production path used by professional students. Students learn about character animation, modeling, sketching, storyboarding, and final compositing. This program can be completed in 108 weeks. Some courses include creative presentation, model creation, fundamentals of art, 3-D foundations, shading and lighting, and portfolio creation. This program was ranked among the top best animation schools by Animation Career Review.
12. Strayer University
Bachelor of Science in Information Technology with Software Development Concentration
This 100 percent online program provides students with the skills and knowledge to develop, test, and design software, whether you're overseeing a large corporation's network system or working independently developing games for devices. The time it takes to complete this program depends on how long it takes to complete the required 40 courses, each of which takes 11 weeks. Students gain some knowledge in engineering as well as learning various programming languages.
13. Bellevue College
Bachelor of Science in Software Development with Application Development Concentration
The online software development program at Bellevue is a four-year program that requires the completion of 180 credits. This program prepares students for several careers in software development. The application development concentration builds on the student's knowledge of C# programming to teach them how to develop web-based and desktop computer applications. In addition to the traditional admission requirements, applicants should have an associate degree in computer science, information technology, or a related field. Course topics include developing mobile applications, application architecture, enterprise data applications, and advanced web development.
14. Grand Canyon University
Bachelor of Science in Software Development
This fully online program requires completion of 120 credits with each course taking seven weeks to complete. Students can also transfer 94 credits (84 lower division courses). This program covers all areas in software development, including programming languages, project management, web application security, database design and development, web development languages, and current trends in software development. Upon graduation and any certifications, the student is ready to join the workforce as a software developer.
15. Penn World Campus
Bachelor of Science in Software Engineering
The online software engineering program is a great choice for anyone interested in game or software design and development. While most students take four years to complete this 126-credit program, online students can take more or less time depending on their time and commitment. Courses students will take include probability and statistics, software design, software validation and verification, computer programming, operating systems, digital design, software architecture, and object-oriented methodology.
Admission Requirements
Admission requirements for entry into an online game development degree program can vary from school to school or program to program. In most cases, the applicant should have at least a high school diploma with a minimum GPA. First-time students may have to provide standardized test scores.
They may also be required to submit letters of recommendation, personal statements, and a list of professional achievements or goals. Depending on the program, some applicants may be required to submit a portfolio of their work and designs.
Why an Online Program
With the increasing number of online programs available today and the ease and convenience online programs offer, it's little wonder why so many students are choosing to earn their degrees online. This is especially true with game development programs. Online programs offer students and convenient and flexible learning platform and allow them to earn the degree at their own pace.
Since game developers spend so much of their time on computers and electronic devices, it stands to reason that online programs are ideal for aspiring game developers. Many colleges offer online game development programs, which makes it even easier.
Getting Started
Earning a game development degree and becoming a game developer requires completing certain steps. First, you'll want to check out online schools and programs. When choosing a program, it's important to choose one that's ABET-accredited. This can make a difference when looking for a job after graduation.
Once you've narrowed down the accredited schools that offer game development or something similar, research the school and program. You'll want a school that offers affordable tuition, and the areas of study that interest you most. Remember that game development covers various areas.
Check out the admission requirements for each program so you know what you need to do and what type of documentation you need to provide the school. Once you've covered all these areas, you're ready to submit your application, and the application fee if necessary. You may want to apply to a few different schools just to be on the safe side.