Social Science Degree: Everything You Need to Know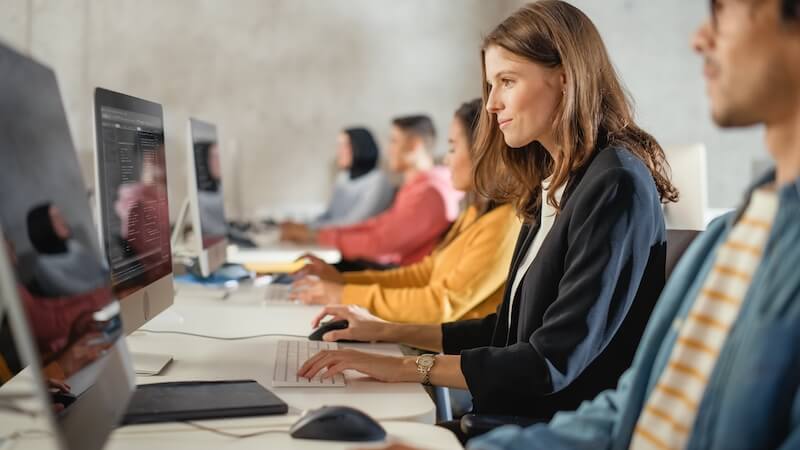 Now that you've decided to earn a degree, you may be undecided on a major. Fortunately, you have many from which to choose. Social science is becoming a popular choice in the liberal arts for many students. Although social science is typically considered a field that leads to jobs in politics, economics, and urban planning, it offers so much more. Graduates of a social science degree have versatile skills that can be useful in many tops of jobs and occupations. Learn more about social science and what this major can lead to in terms of careers and wages.
What is Social Science?
Have you ever wondered why people talk to each other in a certain manner or act differently around others? Social science is the field that focuses on how individuals interact with each other. Social science is part of a liberal arts education. Social science programs also help students develop problem-making and decision-making skills, which are tools useful in many jobs and industries.
Social science is not to be confused with the natural sciences. Natural sciences include things like biology, physics, and chemistry. Social science, on the other hand, studies the relationships between people and societies. There are several social sciences:
Economics
Anthropology and Archeology
Social psychology
Sociology
Political science and government
International relations
Of these different social science types, political science and government is the area that has the highest number of employees.
Graduates of social science programs often have the title of social scientist. Social scientists study people and society in general. They research a variety of things, such as what makes people happy, what the causes of unemployment are, and what things affect the economy, among others. They use the information gathered to inform urban design, education programs, public policies, marketing strategies, and more.
Potential Salary with Social Science Degree
A social science degree can be the start of a career that offers not only positive job growth but very good wages as well. According to the U.S. Bureau of Labor Statistics (BLS), employment in life, physical, and social science jobs are expected to increase 7% from 2021-2031.
This potential job growth should bring approximately 98,700 new jobs by 2031. Between the predicted job growth and the number of people leaving their jobs, the number of new job openings each year should be about 147,900. Individuals in the job group earned an average annual wage of $72,740 in 2021 according to the bureau.
Possible Jobs with Social Science Degrees

Because of the versatility of a social science degree, graduates may find a variety of jobs available to them. Below are some jobs possible with social science degrees along with the average annual wages in 2021 and the projected job growth during the 2021-2031 decade. These reports come from the BLS.
Social Science Majors and Degrees
Social science is a field that's offered at all degree levels from the associate degree right up to the doctoral degree. The higher wages generally go to the individuals with the highest degree level. However, there are many high-paying jobs for those with a bachelor's degree in social science. Here are ten of some of the more popular social science majors and degrees.
Associate of Arts in Communications
This program takes two years to complete for full-time on-campus students. Online students may complete it in less time. The curriculum includes courses that prepare students for jobs in business, law, or any career that requires good communication skills. It also helps students develop and improve their writing, speaking, and communication skills. Graduates may find work in public relations, media, marketing, and human resources.
Associate of Arts in Social Science
This two-year program is ideal for students interested in joining the workforce sooner rather than later. It also acts as a foundation for a bachelor's degree in areas like history, psychology, political science, social work, and geography. Upon graduation, individuals are prepared to work in various areas of the social services field, such as community outreach workers, social services assistants, and case management aides.
Bachelor of Science in Anthropology
This four-year program requires completing about 120 units of lower-division, upper-division, and major-related courses. Upon completion, students are prepared for careers in pathology, forensic science, nursing, archeology, and medical anthropology. Many of these programs offer students areas of concentration so they can choose the area that meets their career goals.
Bachelor of Arts in Criminal Justice
Students in the social and criminal justice bachelor's degree program are earning an education that can prepare them for careers not just in law enforcement and criminal justice but also in many others. Courses in the program focus on areas like crime prevention, psychology, forensics, the correctional system, and the law in general. Upon graduation, candidates will have unique perspectives in the areas of criminology, sociology, science law, and philosophy. This program is usually offered both online and on campus.
Bachelor of Science in Economics
This four-year program, also offered as a Bachelor of Arts, teaches students on both the theory and history of economics as well as quantitative research methods. With the help of the curriculum, students will develop good statistics, math, problem-solving, and critical-thinking skills. This program prepares students for jobs as market research analysts, actuaries, benefits managers, financial analysts, and public policy analysts, among others. This degree is best utilized by individuals with a strong programming and analytical background.
Bachelor of Arts in Political Science
Students interested in learning more about governments and how they function may find this the ideal program. This four-year program helps students develop skills like negotiation, relationship-building, political analysis, critical thinking, and communication. Course topics include economics international relations governance and political theory. Many colleges offer this program online. Some of the potential jobs include communications specialist, policy analyst, political journalist, and public affairs specialist.
Bachelor of Science in Psychology
Psychology is a field that spans many directions with various fields and subfields, including social science. This four-year program focuses on better ways to understand people's actions, motivations, and behavior. Students develop good research, communication, and analysis skills. The psychology majors offer students various areas in which to focus, such as cognitive psychology, developmental psychology, and child psychology to name just a few. Career paths may include market research analyst, career counselor, substance abuse counselor, human resource specialist, and UX writer.
Master of Arts in Urban Planning
The urban planning degree teaches students the important parts of the development of cities. These include how to create plans, gather data, and conduct field investigations. Students develop skills necessary for this career, such as communicating effectively, organizing data, and making difficult decisions. They also learn about the legal, economic, and environmental factors involved in urban planning. Graduates may seek work as historic building inspectors, cartographers, urban planners, housing officers, transport planners, and policy analysts.
Master of Arts in Sociology
A sociology master's degree program provides students with the analytical, intellectual, and critical thinking skills necessary to be successful in their careers. The program, which may be completed in two years, helps students learn how humans behave and relate to one another. Sociology professionals are very much in demand. Graduates may seek careers in higher education, community help, market research, scientific research, counseling, advocacy, data analysis, and government. Unlike psychology programs that focus on individuals, sociology programs focus more on groups and their behavior. Their research is based on race, age, and gender.
Master of Science in Environmental Studies
The master's in environmental studies program, like most master's degree programs, can typically be completed in two years if the student already has the required bachelor's degree program. This program teaches students to learn more about how society affects our environment and what can help climate change. Students become familiar with statistics, Geographic Information Systems, critical thinking, and data collection. Possible career paths for graduates are environmental journalist, water resource specialist, city planning aide, and occupational health and safety specialist.
Getting Started

Getting started toward a career in social science may seem daunting, but it's easier than one might think. However, it does require planning and knowing what you want for a career and how far you're willing to go in terms of a degree.
Associate's Degree in Social Science
With so many schools offering social science degree programs, students have plenty from which to choose. Many colleges offer social science degrees as on-campus and online programs. There are different jobs available with different social science degree levels. A two-year associate degree program can prepare you for jobs as police officer, credit analysts, community health workers, and museum technicians.
Bachelor's Degree in Social Science
Social science bachelor's degree programs generally take four years to complete, but they offer even more career opportunities. Graduates may find jobs as librarians, survey researchers, business reporters, and social workers to name just a few.
Master's Degree in Social Science
Master's degree programs require a bachelor's degree and about two more years of college. Program requirements may be completing a research project or thesis in a specific area of social science. Graduates are prepared to work as mental health professionals, social workers, violence prevention supervisors, criminal justice lecturers, and teacher faculty.
Doctoral Degree in Social Science
The doctoral degree program, which can take an additional 2-6 years to complete, is for individuals who want to advance their education to the highest level. In addition to coursework, students may also be required to complete a dissertation and research project. The doctoral degree program is aimed at students who want to work in research or academia.