Advanced Standing MSW Online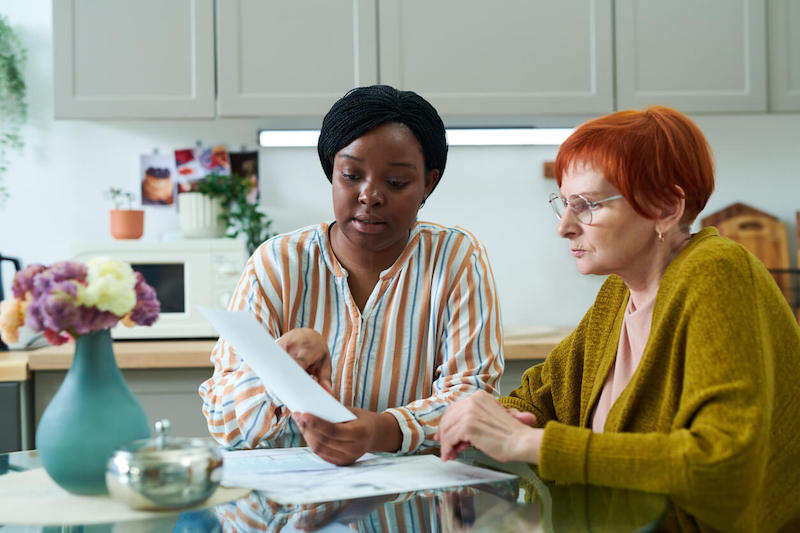 Are you currently working in the field of
social work
holding a
bachelor's degree in social work
but want to further your education? If so, there may be a few different paths toward making this happen. Many candidates are choosing an Advanced Standing MSW. Learn more about this option and see if it's right for you.
Is an Advanced Standing MSW Right for Me?
An Advanced Standing MSW can be a great way for you to advance your training and education. However, you must satisfy certain requirements. You must have a bachelor's degree in social work. This degree must have been earned within a certain timeframe. This can vary from school to school. Some programs require that the student must have earned the bachelor's degree within the past five years, while others allow up to ten years.
You must have had a GPA of at least 3.0 while earning the bachelor's degree. Additionally, while a student in the bachelor's degree program and since then, you must have demonstrated strong professional and academic performance in this field. In summary, the Advanced Standing MSW is probably a good choice for you if you already have a bachelor's degree and have been working as a social worker.
Am I Qualified for an Advanced Standing MSW?
| | | |
| --- | --- | --- |
| Application Requirements | Yes | No |
| Bachelor's Degree | BSW | Other |
| GPA | 3.0 | 2.9 or below |
| Accreditation | CWSE | None |
What is an Advanced Standing MSW?
The Advanced Standing MSW is a type of Master of Social work degree program aimed at students who have a bachelor's degree in social work. The degree must have come from a school accredited by the CSWE (Council on Social Work Education) and must have been earned within the required time frame. It's an ideal way to earn the Master of Social Work degree in less time than it would take to earn a regular social work master's degree. The Advanced Standing MSW can be completed in about a year and you can complete the majority of this program online.
Who Needs an Advanced Standing MSW?
This question is quite simple to answer. An individual who will benefit from this program is one that currently holds a valid bachelor's degree in Social Work (earned within the timeframe) and has been working as a social worker.
Another candidate who might need an Advanced Standing MSW is someone who cannot attend college on campus every day whether due to time or money restraints. The Advanced Standing MSW program is the ideal program for someone who wants to continue to work as a social worker while earning a graduate degree. In many cases, the student may get credit for the work he or she performed as a social worker.
Coursework in an Advanced Standing MSW
Despite being an advanced program that's accelerated in nature, the Advanced Standing MSW has several different types of coursework required. Students starting this program typically have been working as social workers, so they should have a good idea of what area of specialization they may want to pursue.
When choosing courses, the student should be sure to choose courses that coincide with that specialization area. Most Advanced Standing MSW programs include courses in areas of theory, practice, research, and policy. Many programs have a practical portion that allows students to complete internships, seminars, and field experiences to obtain as much hands-on training as possible.
Every school and program has different requirements so students are advised to check requirements prior to enrollment. Depending on the program, students are usually required to complete between 30 and 40 credits. Because it's an advanced program, there are a couple of bridge courses students must take.
These are designed to prepare the student to instantly jump into the graduate program. In addition to completing field education and bridge courses, students will complete elective courses, and courses related to their area of concentration or specialization. Course topics found in Advanced Standing MSW programs include:
Social Work Management
Policy and Programs
Social Work in Child and Family Settings
Social Work and Aging
Advanced Standing Seminar
Social Work Practice
Difference Between Traditional and Advanced Standing MSW
There are several differences between the traditional and the Advanced Standing MSW. Two main differences between them is the amount of time it takes to complete each program and the credits required for each. Traditional MSW Programs require the completion of 60 to 70 credits, which usually take from two to three years to complete depending on if the student studies part- or full-time.
Advanced Standing MSW programs usually require the completion of 30 to 40 credits, which can take from one to two years to complete. When a student starts the Advanced Standing MSW program, they're starting in what would already be the second year in a traditional MSW program.
One major advantage to taking the Advanced Standing MSW is that it's an accelerated program that allows you to take the courses and learn what you need to know without the repetition of taking courses you may have already taken in the undergraduate program. Another advantage is that it takes less time to earn the degree, which allows you to enter the workforce with your graduate degree that much sooner.
Can I Do an Advanced Standing MSW Online?
As advantageous as it can be to earn an MSW, many social workers can't earn this degree as quickly as they would like. They may not be able to fit going to college every day into their already busy schedule. Perhaps they can't afford to quit their job to attend college full-time. The great news for these individuals is that they can earn an Advanced Standing MSW online.
Many colleges and universities offer the Advanced Standing MSW through their distance learning program. The online programs have many of the same courses and requirements as the on-campus ones. Online students learn from the same faculty as students learning in the classroom. Although many of the Advanced Standing MSW programs are listed as 100 percent online, students are required to complete field experiences or internships on-site or on campus.
10 Online Advanced Standing MSW Degrees
1. University of Denver
This online program offers concentrations in mental health and trauma, and in health, equity, and wellness. Students can complete this program in 18 months. This program does not require GRE scores. In addition to coursework, students are required to complete an internship in their community.
2. Fordham University
FU's online Advanced Standing MSW program offers four areas of concentration: evaluation, organizations and community, individuals and families, and policy practice and advocacy. The program offers a skill-based curriculum that allows students to choose their courses based on their skill level and career goals.
3. University of Southern California
USC's program combines online courses and virtual field experiences. Students can finish this program in one year. They can choose to focus on social change, adults, or youth. The curriculum for the online program is the same as the traditional on-campus program.
4. Syracuse University
The Advanced Standing MSW program at SU offers concentrations in advanced integrated practice and advanced clinical practice. Students are also required to complete a supervised internship in their local community. There are no GRE scores required.
5. Simmons University
This online Advanced Standing MSW program can be completed in as little as 12 months, or students can choose a 15-month, 24-month, or 32-month option depending on the student's time and commitment. The self-paced curriculum allows students to work and study at their own pace.
6. George Mason University
GMU's online Advanced Standing MSW is a 33-credit program that offers concentrations in children, youth, & families, and in adults & healthy aging. This program accepts applications on a rolling basis.
7. Delaware University
The online MSW program at DU is offered as a traditional and an Advanced Standing option. The Advanced Standing program is for students who can transfer at least 28 credits from the bachelor's degree program into the MSW. This 30-credit program also requires the completion of an internship.
8. Adelphi University
Advanced Standing Online Master of Social Work
Adelphi University offers an online MSW that offers a blended curriculum that combines theory and practice. This 32-credit part-time program can be completed in 15 months. More than 90 percent of students who have taken this program are gainfully employed within a year after graduation.
9. Boston University
The online Advanced MSW program at BU offers majors in macro practice or clinical practice. It also offers students the choice of three tracks. This program includes self-paced learning as well as a live component. Depending on the track chosen, the student will need to complete either one or two field internships.
10. Texas State University
TSU offers an online MSW program that is liberal arts heavy. It offers students a variety of concentration-based elective courses. This 36-credit program can be completed in less than two years. Graduates are prepared to take state certification and licensure exams.
Salary and Job Outlook for Advanced Standing MSW
There are various types of social workers, and they often earn different amounts based on their experience and education. Social workers have the potential to make very good wages according to reports by the U.S. Bureau of Labor Statistics (BLS). A person can be a social worker with a bachelor's degree, but their wages are typically lower than an individual who has a master's degree. As of May 2021, social workers in general earned average annual wages ranging from about $36,000 to $82,840 or more with an average wage of about $50,390.
Clinical social workers must have a master's degree and licensure, and their wages are usually substantially higher than other social workers. Higher wage potential is often a driving factor for social workers choosing the Advanced Standing MSW.
In addition to being a career that offers good wages, social workers can also experience excellent job growth as the need for qualified social workers continues to grow every year. The BLS states that social workers should experience a nine percent employment growth during the 2021-2031 decade. About 64,000 new social worker jobs should be created by 2031.
Steps to Earn an Advanced Standing MSW
There are several steps towards earning an Advanced Standing MSW. This is a very popular and beneficial program, which means it's very important to perform all the steps needed not just to get into the program but also to complete it successfully.
Research the program thoroughly to ensure it's what you want. Ensure that the college is CSWE-accredited.
Have a high GPA while in the undergraduate social work program. Undergraduate students who know they want to enroll in the advanced program should not only get good grades but be as successful as possible in the undergraduate social work practicum.
Be aware of the application date. The Advanced Standing MSW program has a very selective admissions policy, so students should complete the admission requirements as early as possible. The date may differ for part-time and full-time students.
Complete all prerequisite courses.
Determine if you have transferrable courses. Many Advanced Standing MSW Programs allow students to transfer some of the credits from the bachelor's degree program. The number of transferrable credits can affect the start date.
Submit your application with the required documentation. This may include letters of recommendation from a faculty member in the BSW program, a letter of recommendation from a faculty member stating your qualifications, all transcripts, a personal statement indicating your career goals, and proof of a clear drug test and background check.
Pay the application fee when you submit your application and documentation.