CommonBond Private Student Loan Review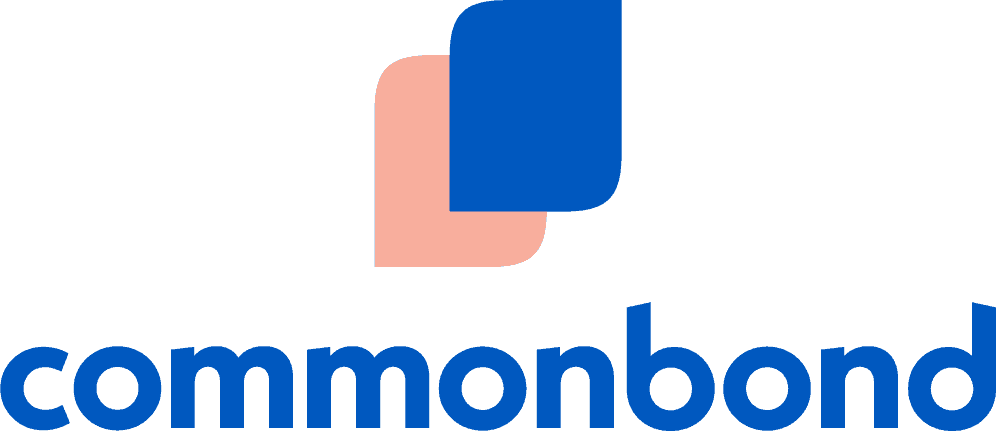 CommonBond Private Student Loan Review
Interest fees, rates and terms
Best for
People who want to refinance Parent PLUS loans into their own name
No need for a hard credit check to see if you qualify
Worst features
Not available in every state
This CommonBond Private Student Loan Review will examine the services offered to education financing. Commonbond is a non-traditional lender for private student loans. The online lender provides student loans, student loan refinancing, graduate student loans and refinancing for parent PLUS loans.
About CommonBond Private Student Loans
CommonBond was established in 2011 by David Klein, Jessup Shean, and Michael Taormina. David Klein led the creation of Commonbond based upon his experiences as a business school student borrower. Klein sought to develop a simpler, less costly, and streamlined process for borrowing for education finance than he experienced.
David Klein, Jessup Shean, and Michael Taormina met as MBA students at the prestigious Wharton School of Business at the University of Pennsylvania. David Klein asked why rates were so high, the application so complex, and the process so confusing. The answers came in the form of CommonBond; a company dedicated to presenting affordable and flexible solutions for student borrowers and their families.
The list of investors is impressive as it includes Tribeca Venture Partners, Social Capital, August Capital, and Neuberger Berman. The individual investors include former CEOs of major finance and media companies. The loan servicer is Firstmark Services a division of NelNet.
CommonBond has strong financial support in the finance and banking sector. Its lending capacity comes from funding institutions like Goldman Sachs, Citibank, Barclays, BMO, and ING. The CommonBond financing structure has made it an industry leader. CommonBond has closed over $5 billion in financings to date.
CommonBond works with a wide range of partners as referral agents. Large US banks, major employers make valuable referrals. A a successful lender, CommonBond enjoys the confidence of individual borrowers and their families that also make referrals.
The goal of CommonBond is to provide an alternative to private lending that uses traditional lending principles and methods. Online operations can pass savings through to borrowers from efficiency, funding costs, and lower costs of doing business. Online lending can be more accessible, simpler, and less confusing than traditional in-person transactions. CommonBond can typically process and application within one business day.
CommonBond offers competitive loan rates in the US based on prevailing economic conditions. The below-listed ranges were typical of the first quarter of 2022.
Private loans rates range from 3.80 percent to 9.36 percent
Refinancing rates range from fixed rates 2.00 percent to 6.87 percent
Variable rates range from 2.49 percent to 6.74 percent
Hybrid loans range from 2.85 percent to 6.57 percent
CommonBond provides an important level of borrower support. Student borrowers work with a dedicated advisor, and system users can have chat access during regular business hours.
What types of loans does CommonBond offer
CommonBond offers education loans for undergraduate students, graduate school students, business school students, and students seeking professional degrees in dental or medical schools. Loans range from $2,000 to the full costs of attendance. The lifetime loan maximum is $500,000, and the refinance maximum is $500,000.
Undergraduate loans are available for qualified students seeking a bachelor's degree with a co-signor. Legally, many undergraduate school applicants qualify to sign on their own, CommonBond requires a co-signor. The loan program is not available in every state and students must inquire about eligibility in their locations.
Undergraduate loan program the below-listed features.
Application review and a personalized rate estimate with soft credit check.
Individual student information support
Flexible repayment options while in-school
Co-signor required for all undergraduate loans
The undergraduate loan program works well with applicants that have a co-signor and that value the benefit of strong customer support. The repayment options have in-school choices and post school options.
The in-school options include immediate repayment, a fixed low monthly in-school repayment, and interest-only in-school repayment. Undergraduates can defer all payment until after graduation.
The post-school options include academic and military service deferments. With signed job offers, students can get deferments for internships, residency, or fellowships. Post -school grace period is six months. Each loan has up to 12 months of forbearance that borrowers can use in three-month increments.
There is no prepayment penalty, and the lender applies excess payments to Borrowers can apply to substitute the student borrower for the co-signor and release the co-signor's obligation. Student borrowers must apply for approval to release the co-signor; the basic requirements are twenty-four consecutive on-time payments and qualify or taking over the payments.
Graduate Loans
CommonBond works with graduate students and medical school students. The loan programs include professional students in law schools, MBA programs, and dental schools. Students can borrow to refinance parents PLUS loans. Borrowers can participate that reside in any US state except Missouri and Nevada.
Graduate loans offer up to 12 months of deferment over the course of the loan. Graduate school loans have no prepayment penalty, and borrowers can release cosigners after two years of on-time, consecutive payments. Rates depend on the type of education (Dental, Law, MBA, or Medical), the strength of the borrower's credit and employment if any.
CommonBond does not charge origination fees. The annual percentage rate includes a two percent origination fee for medical, dental, and business school degree.
Refinancing your CommonBond Loan
Refinance loans can help borrowers with a bachelor's degree or higher level of education. The loan terms offer up to 24 months forbearance during the life of the loan. CommonBond has features that at can be helpful. They include a SmartSave option to reprogram refinance savings into a high-yield savings account. CommonBond makes donations to an international education charity for each new refinance contract.
CommonBond provides student loan refinancing for graduates, parents, or graduate students with loans. Refinancing can help lower the monthly costs of loans and consolidate multiple loans into a more convenient and affordable payment plan. Refinancing can reduce interest and help pay off loans faster than a student's original loan or loans.
Consolidation of Federal Student loans keeps the loans within the federal system. Protections and policies like public service forgiveness and income-based repayment are federal policies. Refinancing with CommonBond converts federal loans to private loans. Federal policies will no longer cover borrower rights. Private loans do not have to offer forgiveness, public service credits, or repayment based on income.
How Does a CommonBond Private Student Loan Work?
Students and student families can apply for loans with CommonBond. The interface is simple and easy to follow. Applications get quick answers. Eligible loan categories include undergraduate studies, graduate programs, MBA, dental, and medical school education, and education loan refinancing. The lender disburses loan funds to the educational institutions with exceptions for some graduate and professional loans that allow a limited direct disbursement.
Degree holders must have graduated from an accredited college or university that would be eligible for federal student loan program participation. Eligible students will be US citizens, permanent residents, or a qualified Visa holder (categories H1-B, J-1, L-1, E-2, or E-3).
CommonBond requires co-signers for all undergraduate loans and some graduate loans. Disbursements go to the school in which the borrower must be enrolled at least halftime.
Graduate loans trigger a charitable contribution to the international educational partnership- Pencils of Promise- to help underprivileged Third-world children.
Credit score
Credit score is an essential part of qualifying for CommonBond loans and the costs of borrowing. CommonBond uses credit scores when deciding to accept or reject undergraduate loan applications. The co-signor requirement should be read as a co-signor with qualified credit scores. Bankruptcy may not be a factor if longer than seven years in the past. While a typical minimum credit score may be as high as 680 and the minimum annual income in the range of $65,000, the lender assesses each case on an individual basis.
The CommonBond process uses two types of credit reviews. To provide an estimated interest rate on a loan application, the lender uses a soft credit pull. Typically, a soft pull will not affect the applicant's credit score and it allows the lender to set a good estimate of the final interest rate. The next step towards finalizing the loan is a hard credit pull.
The hard credit pull examines the borrowers credit files in depth and will show on the credit report. The hard pull is necessary to examine the credit profile and set the actual rate for the loan.
Reputation
CommonBond enjoys a good rating from the Better Business Bureau. One rating service awarded five stars for student loan refinancing, and the lending program was rated highly for parent borrowers. The 24-month forbearance is longer than typical payment pause provisions. Student borrowers can refinance a parent Plus loan in the name of the student borrower.
CommonBond like most student loan businesses has strengths that appeal to some borrowers and do not fit well with others. Borrowers with a bachelor's degree may favor CommonBond because it offers a wide range of payment flexibility options. Co-signors with excellent credit scores will often find lower rates from other lenders. In such situations, high credit score borrowers should balance all Commonbond features when considering the interest rates such as flexibility, deferment, and grace period.
CommonBond's reputation includes recommendations and referrals form borrowers and their families. Word of mouth is a powerful form of advertising and while one cannot buy or sell trust. Customer confidence is the best CommonBond Private Student Loan review; customer testimonials demonstrate that staff involvement creates positive customer connections.
Repayment
CommonBond agreements permit academic deferment. Students that have begun to pay or are in a repayment grace period can request deferment when retuning to education. Graduates frequent decide the add to their education or training by further education for graduate degrees or post graduate specialization. The repayment terms also provide a deferment for military service.
Forbearance is a contract right under nearly all CommonBond loan repayment terms. Over the life of the loan, borrowers can use up to 24 months of non-payment due to forbearance. While forbearance may extend the term or repayment and add to the costs of the loan, a pause can be a valuable asset when navigating unexpected occurrences, career changes, and other life events.
The loan can be discharged upon death or disability of the borrower. Further, the discharge provision applies to the death or disability of the co-signor. The COVID-19 pause on Federal Student Loans did not apply to private loans. Each lender is free to determine a policy towards Covid-19 relief for borrowers.
Deferment
In the CommonBond system, deferment means postponing payments while still in school and for up to six-months after graduation. Deferments may be granted for return to school, military service, and participation in internships, fellowships, or residency programs. Undergraduate and graduate loans may each get 12 months of deferment. The overall maximum is 24 months per borrower.
Deferment relieves the obligation to make monthly payments, but it does not pause the accumulation of interests and debt. Students must be mindful of the impact of deferment on the repayment timetable and the overall amount to be repaid. Deferments extend the time needed to repay the loan and increase the interest and overall amount of the debt.
Terms
Interest rates depend on the applicant's creditworthiness, amount financed, and length of repayment. The repayment terms available are for fixed-rate loans, variable rate loans, and hybrid-rate loans.
Fixed-rate loans offer terms of five, seven, ten, 15 or 20 years.
Variable rate loans offer terms of five, seven, ten, 15 or 20 years
Hybrid-rate loans offer ten-year terms divided into five years of fixed rate payments and five years of variable rate payments.
All CommonBond refinance loans have no origination fees, no pre-payment penalty, and grace period deferment. Monthly payments begin between 3- to 60 days after disbursement of loan funds.
Social Contributions
CommonBond participates in global charities through an organization called Pencils of Promise. The partnership with Pencils of Promise involves contributions of funds to help educate children in the Third World. CommonBond works with a project in Ghana that provides education, equipment, and facilities.
CommonBond works with employers in the U.S. to offer student loan benefits to employees. The employers can help pay part of the student debt of its employees. These valuable benefit programs help employers and employees. The employer can get tax advantages for student loan benefit contributions; employees can pay their debts faster. Benefits have been a traditional method for employers to attract, retain, and reward employees.
Next Steps
If you are looking to private student loans to help fund your education, then CommonBond is a great choice. However, make sure you max out your other scholarship and grant options before choosing private loans.