Become a Mental Health Counselor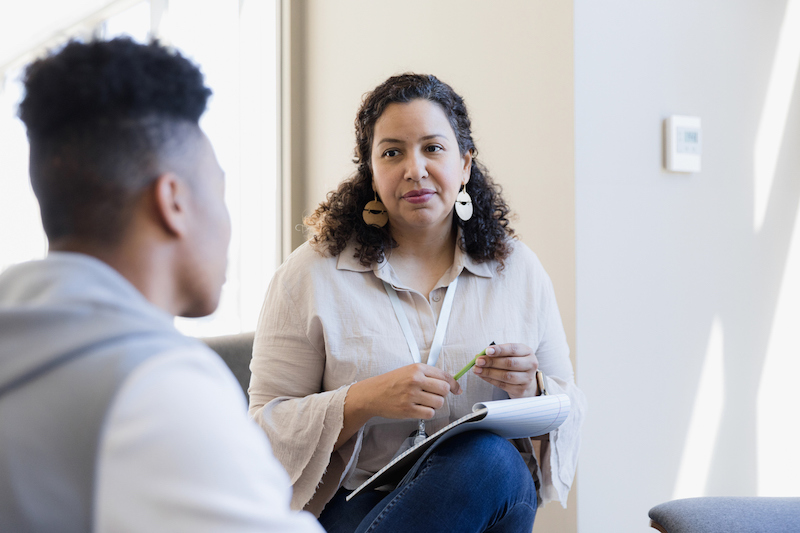 Mental health counseling can be a rewarding career helping people improve the quality of their lives.  Mental health workers must have compassion and respect for clients and listen to them talk about themselves, their situations and psychological problems.  They have to use insight to help clients work out solutions move forward.  They help clients cope with their own mental illness or that of a family member or friend.
What They Do
Mental health counselors are trained to talk with clients to identify psychological problems and provide a course of treatment.  They may work with doctors and psychiatrists to provide a client with a full range of services.  Mental illness covers a broad range of conditions, from dealing with change, emotions, life crises, relationship problems, anxiety, depression and an inability to deal with life stress.
Mental health counselors employ a variety of techniques, including cognitive behavioral therapy, to discover the cause of destructive behaviors and replace them with positive healthy habits.
Mental health counselors work with individuals, families, couples, one-on-one and in group settings.  Some specialize in certain age groups, such as children, adolescents, adults or seniors.  They may also specialize in the types of mental illness, such as post-traumatic stress disorder (PTSD), eating disorders, or phobias.
Education Requirements
Mental health counselors must have at least a Master's degree from an accredited university in mental health counseling.  A bachelor's degree in social work or liberal arts is a good foundation for post-graduate studies.  As with many counseling career tracks, mental health counselors are required to complete several years of supervised training before taking a certification or licensing exam.
While requirements will vary by state, some mental health counselors have to complete continuing education courses to stay current in their profession and maintain certification.
Licensing and Certification
Mental health counselors are required to be licensed by the state where they practice.  Licensing and certification requirements for mental health counselors vary widely by state and specialty. Licensure requires a Master's degree and up to 4,000 hours of supervised clinical experience by a licensed mental health counselor.  The National Board for Certified Counselors offers two levels of professional certification.
They need to pass the National Counselor Exam and complete a number of required continuing education courses.  CE courses are offered in a traditional setting or online. Many states may require a criminal background check and drug screening as part of the licensing process.
Work Environment
Mental health counselors work in a variety of settings.  Many work in private practice with a comfortable office setting for confidential conversations.  They may work in hospitals and mental health facilities, nursing homes, schools, colleges and universities, counseling centers, substance and drug abuse facilities and businesses.
Mental health counselors may work a regular office schedule with occasional evening and weekend appointments to accommodate clients with work or family obligations.  Counseling work is done face-to-face, though some can be done over the telephone as well.
Mental health counselors have to be able to deal with stressful situations.  Clients may have reactions that can pose a threat. They have to be confident, authoritative and able to handle difficult, stressful situations.  They have to have compassion and empathetic but able to set boundaries.
Earning Potential
The Bureau of Labor Statistics reported the annual median salary for a mental health counselor at $39,000.  The bottom 10 percent earned less than $25,000 and the top 10 percent earned more than $65,000 per year.  At $62,000 per year, the insurance carrier industry paid the highest salary.