How to Become a Parole Officer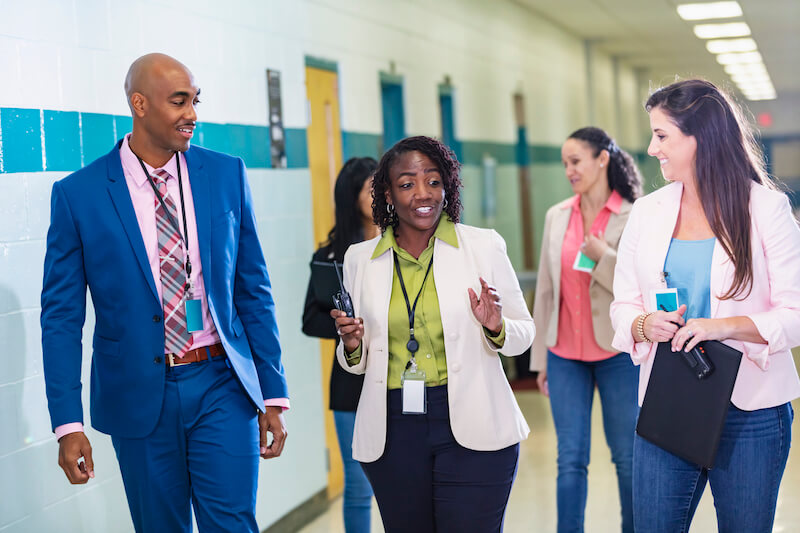 Are you interested in working in the field of criminal justice or law enforcement? Looking for a challenging job that puts you in a position where you can help people fresh out of prison? You might find working as a parole officer to be an ideal fit. This article will tell you how to become a parole officer, what to expect in the career, and what type of career outlook you can expect.
What is a Parole Officer?
As part of the criminal justice field, parole officers are trained professionals who work with individuals who have recently been released from prison. When felons are released from prison, they may be free but still have strict rules which they must follow. Many people confuse probation officers with parole officers.
While many of their duties are similar, the main difference is that probation officers work with individuals who are on probation because of some crime they've committed but are typically not in jail or prison. Parole officers, on the other hand, work with individuals who have been released from prison and are trying to re-enter society and lead productive lives while abiding by the law. Put in simpler terms, probation officers work with clients before prison, and parole offers work with clients after prison.
Parole officers provide parolees with various resources that offer them job training, substance abuse counseling, or just help them with their rehabilitation. They supervise parolees through personal contact with the parolee and often their families. In some states, parole officers act in the capacity of a parole officer and a probation officer.
Parolees are usually required to touch base with their parole officer regularly either through office visits or phone calls. The parole officer may even visit the parolee at his or her home or place of employment to ensure they are living their lives as per the law and their requirements. This may include drug testing or monitoring electronic devices.
The parole officer's primary goal is to assist the felon with joining the society and helping them not break the law again. Their main goal is always to monitor the felon's activities not just so the felon will stay out of prison but also to help them become law-abiding citizens with the possibility of a good future life. Parole officers act as liaisons between the parolee and the parole board.
Parole Officer Career Outlook
As of a 2021 report by the U.S. Bureau of Labor Statistics (BLS), there were about 94,500 parole and probation officer jobs held in the U.S. Of this number, about 52 percent working for the state government, excluding hospitals and academia. Despite the growing need for good parole officers, there is expected to be little to no job growth between 2021 and 2031. There are expected to be about 8,000 new parole officer jobs by 2031 according to O*Net.
One reason for this lack of growth is that job growth for parole officers and probation officers are dependent on state and government funding. The BLS states that as the government acknowledges that parolee officers are a better alternative to incarceration in certain cases, the employment growth for these professionals will begin and continue to grow. Although working as a parole officer can be very challenging and even stressful at times, the work can be very rewarding.
Parole officers generally work during the day but may be called in to work in the evenings or weekends by their clients or law enforcement. The states that have the highest number of employed parole officers, probation officers, and correction specialists include:
California – 14,970
New York – 5,720
Texas – 5,180
Florida – 4,630
Pennsylvania – 4,300
Parole Officer Salary
Parole officers with experience can make very good wages. The BLS states that parole officers earned an average yearly wage of $63,290 with wages ranging from $37,380 to $99,090 or more as of May 2021. The average hourly wage was about $30.43. Wages can vary by many factors.
Education
Years of work experience in this field
Certifications obtained
Location
The location where the parole officer works is probably the factor affecting wages most. Below you will see the five states where parole officers, probation officers, and correction specialists earned the highest wages followed by the five states where the lowest wages were earned.
States with high salaries for parole officers
California – $94,650
Connecticut – $89,960
Massachusetts – $83,980
New York – $77,270
New Jersey – $75,040
States with lower salaries for parole officers
Missouri – $37,200
Mississippi – $37,200
Arkansas – $37,230
Kentucky – $38,740
South Carolina – $40,200
If you compare the average wages in California to the wages in Missouri, you can see there is a substantial difference.
How to Become a Parole Officer
Wondering how to become a parole officer? O*Net reports that about 88 percent of employed parole officers have bachelor's degrees. The most common degree is a bachelor's degree in criminal justice. However, some parole officers have degrees in psychology, social work, or a similar field.
Although a great number of parole officers do have criminal justice degrees, some may be hired as parole officers with a psychology, communication, or education degree. These individuals are typically required to pass any parole officer certification exams that may be required in that state. After earning the bachelor's degree, the candidate must complete a training program and field experience working with a seasoned parole officer for at least a year.
Aspiring parole officers must pass psychological and physical exams and pass a background check. Some states require parole officers to be at least 21 years old. It can't be overemphasized that many of the parole officer requirements are dependent on that specific state.
An individual may be eligible to work as a parole officer in one state but be required to meet additional requirements in another state. Having experience working in the criminal justice field may be effective in getting hired as a parole officer.
In addition to earning a bachelor's degree and passing any required tests, parole officers should possess the following skills.
Good communication skills – Parole officers are often required to speak with clients and other law enforcement personnel, so they must be able to deliver information effectively.
Good listening skills – Parole officers spend a lot of time listening to parolees as well as law enforcement, which requires good listening skills and the ability to ask pertinent questions.
Social perceptiveness – Learning why a felon does what he does is very important when trying to help them. Parole officers must be aware of the felon's reactions to determine their actions and thought processes.
Good reading skills – The parole officer must be able to read and comprehend work-related documentation.
Critical thinking skills – Good critical thinking skills make it easier to identify problems, solutions to problems as well as alternative solutions.
In certain states, parole officers are allowed to carry and use firearms once they've completed a training program very similar to the program used by other law enforcement personnel. Some jurisdictions may even allow parole officers to attend the class with police officers who are also taking the class or program.
In some areas, the parole officer may attend a training academy specifically created for parole officers. These programs teach students about the following.
Parole law
Case management
Personal protection
New case processing
Drug investigations
Counseling
Interpersonal communications
Parole violations
Offender relations
Even after completing the training program, the parole officer may be required to work alongside an experienced parole officer for about a year.
A Day in the Life of a Parole Officer
A day in the life of a parole officer may be very similar every day but may also have various other not-so-similar duties. A parole officer has many different job duties, but their main duty is to supervise felons just out of prison as well as their activities.
They set up appointments with the parolees either in their office or the parolee's home to monitor the parolee's progress.
Parole officers not only work with felons right out of prison but also with individuals who are incarcerated.
They interview and assess parolees to monitor their progress.
They assist parolees and probationers in finding adequate housing.
They often assist parolees in finding gainful employment through job training and similar resources.
They determine, through interviewing and testing, the most appropriate course of rehabilitation.
They do drug and alcohol testing while also offering substance abuse counseling.
If necessary, they administer and monitor electronic devices to monitor the parolee's movements in the community.
They maintain case files and write up reports.
They may testify in court hearings.
Parole officers may have a large caseload or a smaller one depending on the agency and the size of the city. Parolees with serious issues generally take up more and more resources. Working as a parole officer is a full-time job that may require traveling from time to time for court cases or to the parolee's home.
Parolee officers may carry pepper spray or firearms for protection if they happen to be working with hardcore criminals or in a hostile environment. Again, their duties depend a lot on the caseload and the felons in their caseload. In a larger city, parole officers may choose to work on specific types of cases or with certain types of felons. They may include substance abuse, domestic abuse, or possibly juvenile offenders.
Licensure, Certification, and Continuing Education
Although parole officers are usually required to have a bachelor's degree, they are generally not required to obtain licensure and certification. Some states may require the officer to pass a certification exam through the state's Department of Justice Criminal Justice Standards Division.
Other states may require both pre-employment testing and certification. Parole officers and probation offers must be of high character and have impeccable backgrounds. Many are required to pass strict psychological and physical examinations as well as criminal background screenings.
Depending on the state, the individual may have to pass a district, city, or state-specific Civil Service Examination. In states where certification is required, it generally includes essay and multiple-choice questions to test the candidate's knowledge of:
Law
Situational decision making
Written communication
Case work procedures
Parole officer protocols
Even after obtaining the regular certification, the parole officer may be required to complete training courses periodically to maintain certification. Individuals pursuing this career are advised to learn the requirements of the state in which they want to work.
Parole officers who want to specialize in a certain area, such as drug abuse, may be required to pass a certification exam in that area. If you still have questions on how to become a parole officer in your state, you can always visit your local parole officer's department.
Get Started in a Parole Officer Career
Become a parole officer by taking the first step – getting a degree. Be sure to inquire with a few schools to find one that is the best fit.