Become an Addiction Counselor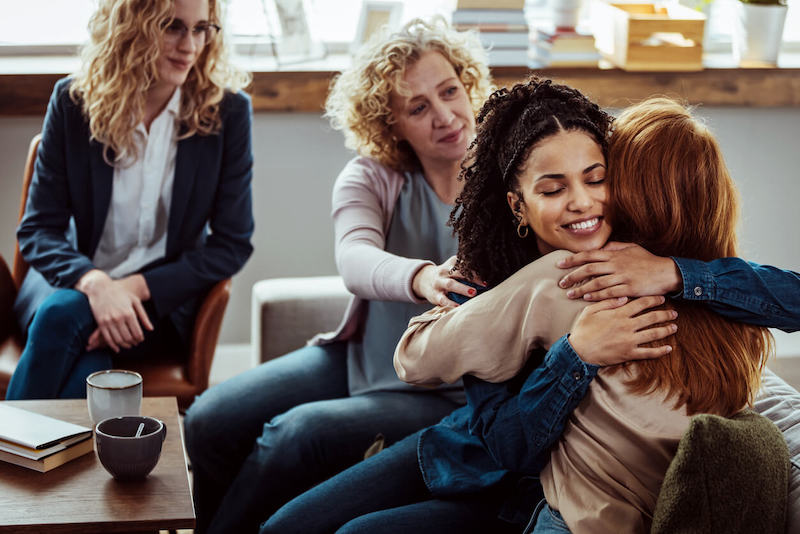 Substance abuse and addiction counselors treat individuals with drug and alcohol addictions. This career field is one of the most challenging mental health fields and requires a person with compassion, understanding and empathy.
They also must be strong, self-confident, and honest individuals able to deal with confrontation, stress, setbacks and incremental success. With the courts more willing to make drug or alcohol rehabilitation a part of sentencing for crimes involving substance abuse and addiction, the field is growing with opportunities in many areas.
Substance abuse counselors are in high demand, with the field expected to grow 22 percent from 2021 to 2031, rating this a much faster growth than other occupations. Learn how to become an addiction counselor with our comprehensive guide.
What Addiction Counselors Do
Some drug abuse and addiction counselors work in private practice with clients one-on-one or in group settings. They help clients confront their behavior and work through underlying causes.  Addiction and substance abuse often stem from traumatic situations and an inability to deal with the pressures of life or family relationships.
They also work with family members separately or as a group with the client, or conduct "interventions" which bring together family members and others close to the client as a means of confronting them with reality and to agree to undergo treatment.  Counselors also conduct preventive drug and alcohol addiction awareness seminars.
Counselors frequently deal with crisis intervention situations. Addiction and substance abuse often lead to homelessness, mental illness, AIDS and even death. Crisis intervention requires a supportive, non-judgmental attitude and the ability to control emotions of anger and frustration when clients revert to their old behaviors. This type of counseling can be very frustrating and the burnout rate is high.
Education Requirements for Addiction Counselors
Education requirements vary by state, but to obtain licensure as an addiction counselor, be prepared to learn!  Some states and levels of counseling require a bachelor's degree in psychology or a related field and a master's degree. In addition, states may require a minimum number of hours of supervised, full-time counseling work in addition to classroom instruction to practice as a counselor.
Many colleges and technical schools offer online associate and bachelor's degree programs with a major in psychology and certificate programs for substance abuse and addiction counseling. Counselors may be required by the state in which they practice to complete continuing education classes.
Most states will require 150 hours of education to earn a credential as an addiction counselor, which is a bachelor's degree (120 hours) plus a master's degree (30 hours).
Licensing/Certification for Addiction Counseling
Programs vary widely and prepare students for different levels of counseling and preparation for state licensing exams. Licensing and certification requirements vary widely by state.
You can read more about licensure for addiction counselors in our step-by-step section below.
Work Environment
Substance abuse and addiction counselors may work in private practice, seeing patients one-on-one or conducting group meetings. A private setting is essential to make clients feel comfortable sharing confidential and often difficult information as they work through their problems, so most counselors work in private offices.
Some counselors work in mental health clinics or rehab centers, with law enforcement and the prison systems. Since many young adults and adolescents deal with addiction to alcohol or prescription drugs, middle and high schools, colleges, and universities may have substance abuse and addiction counselors on staff to work with students struggling with these problems or to inform students of the warning signs and teach preventive coping skills.
Earning Potential for Addiction Counselors
The Bureau of Labor Statistics 2021 data reports the national median annual salary for substance abuse and addiction counselors at $48,520.  The bottom earners made less than $30,870 and the top earned more than $77,980. Full time work is most common, but many workers also work part-time. In this role, you may also work nights, weekends and holidays.
Addiction Counselor Salary by Place of Employment
Individual and family services
Source: Bureau of Labor Statistics Occupational Handbook
How to Become an Addiction Counselor
Now that you have a general overview of what it takes to become an addiction counselor, we will walk you through the process to work in this field, step-by-step.
Step One: Find out the licensure requirements for your state
The requirements to work as an addiction counselor can vary from state-to-state. Since they are so widely different, it's best to start out your search by finding out the requirements in your state and then working backward.
For example, in Idaho, addiction counselors work under a variety of credentials, and these credentials will determine the education needed and what course of action you must take.
Here are some of the available credentials in Idaho.
ACADC: Advanced Certified Alcohol/Drug Counselor
CADC: Certified Alcohol/Drug Counselor
CCS: Certified Clinical Supervisor
CPRC: Certified Peer Recovery Coach
CPS: Certified Prevention Specialist
CRC: Certified Recovery Coach
P-CPRC: Provisional Certified Peer Recovery Coach
P-CRC: Provisional Certified Recovery Coach
SUDA: Substance Use Disorders Associate
Another state, Arizona, has different titles and credentials for what are essentially the same thing. Here are some of the available credentials in Arizona:
LSAT: Substance Abuse Technician
LASAC: Associate Substance Abuse Counselor
LISAC: Independent Substance Abuse Counselor
As you can see, the requirements and titles are so different that it is best to figure out the process in your home state and then go from there.
Step Two: Earn a master's degree in counseling, addiction counseling or other behavioral science field
To work as an addiction counselor, you will need to have at least a master's degree. You will often see this listed on state certification pages as '150 hours.' This means 120 hours for a bachelor's degree and 30 hours for a master's degree. However, there are other roles within the addiction treatment field where you can get started with less college credits.
You can earn your degree online or on-campus, but for a counseling master's you will need to earn clinical hours which are supervised hours where a licensed counselor watches you treat patients at varying levels of responsibility and then are evaluated in your performance. The clinical supervisor will sign off on these hours and these hours are submitted as part of your licensing application with your state.
You'll need to enroll in a program that is accredited if you want to qualify for licensure. The National Addiction Studies Accreditation Commission offers an accreditation for associate's, bachelor's, and master's degrees. You can see the list of their accredited programs here.
NASAC was created to provide a single governing body to determine and uphold the standards needed to practice Addiction Science. Some states, such as California, have their own accreditation standards, and a list of accredited programs can be found here.
Step Three: Take your certification tests
You'll need to pay for and take certification exams to qualify for licensure. These exams are based on what you learn in your degree program or other education, and you must pass the exams.
IC&RC have a testing preparation site called Ready to Test, that gives sample questions and sample tests so you can practice. The test is the Alcohol and Drug Counselor examination, and it is accepted as the standard for addiction counselor licensure examinations.
NAADAC's National Certification Commission for Addiction Professionals (NCC AP) has instituted three main credentials for addiction counselors:
NAADAC has a National Certification Commission for Addiction Professionals (NCC AP) has three credentials for addiction counselors:
National Certified Addiction Counselor, Level I (NCAC I)
National Certified Addiction Counselor, Level II (NCAC II)
Master Addiction Counselor with Co-Occurring Disorders Component (MAC)
You can also get additional specialty credentials and endorsements:
National Certified Adolescent Addiction Counselor (NCAAC)
National Endorsed Student Assistance Professional (NESAP)
National Endorsed Co-Occurring Disorders Professional (NECODP)
National Peer Recovery Support Specialist (NCPRSS)
As well as other endorsements, this shows areas you can specialize in and how much dedication you have to your profession.
In some states, such as Oregon, certification exam fees are covered by grants.
However, even with these credentials, your state licensing department may have another name for the type of addiction counselor that you are!
Step Four: Continuing education
You must renew your credential every two years to ensure you are upholding the highest standard and latest methods of care. Each credential has a unique renewal process, and each state has its' own requirements, so it is important to go back to the webpage where you received your license to find out the exact requirements.
A requirement for all license renewals is continuing education, and it is again up to your state to determine the continuing education requirements of your credential.
For example, Washington state requires its Substance Use Disorder Professionals (SUDP) to complete 40 hours of CE, of which 28 are general CE credits and 12 are other PDA. The CE must include 14 hours of substance abuse and addiction treatment methods, cultural diversity in addiction treatment methods, counseling, confidentiality, and other coursework. You can find a full list of Washington's requirements here.
Take the First Step
As you have learned, education is of primary importance to anyone working in the behavioral health field, especially as an addiction counselor. If you want to become an addiction counselor, start inquiring with several degree programs so you can find the best fit.
back to What Can I Do with a Psychology Degree?