How to Become a Police Dispatcher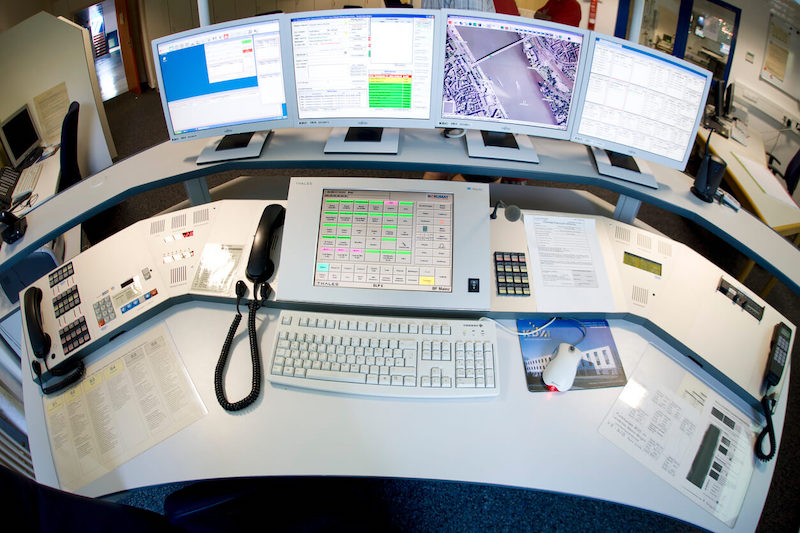 Are you thinking about switching to a career in which you can help others? 911 dispatchers serve as a crucial link between people in the community and first responders who can assist them in the event of an emergency. Whether you live in a small town or in a large city, police dispatchers are needed to help keep people safe.
If you are someone who stays cool under pressure, can gather critical information for first responders and law enforcement officials, and has effective communication skills, a career as a police dispatcher might be right for you.
911 Dispatcher Career Outlook
Public safety telecommunications careers are expanding as the result of a growth in community needs. The U.S. Bureau of Labor Statistics
(BLS) projects a 4 percent growth between 2021 and 2031. This is an average growth rate across most occupations.
This means that about 10,900 jobs will open in the public safety telecommunications realm each year over the course of the decade. These roles will open predominantly as the result of needing to replace current workers who will retire or transfer into other job roles.
In smaller communities, municipalities, or counties, only a handful of police dispatchers might be employed. In larger cities or counties, however, hundreds of police dispatchers might be employed.
Police Dispatcher Salary by State
The BLS states that the highest average annual salary for a police dispatcher working in a metropolitan area is $96,230, and certain states pay much higher on average than others. The states with the highest average annual salary for police dispatchers are:
California: $68,930
Alaska: $61,640
Washington: $61,550
Oregon: $58,030
Connecticut: $57,430
In metropolitan California areas – where the cost of living is exponentially higher than it is in other areas – there is a higher annual salary for the top 90th percentile of police dispatchers. Some of the states with these high annual 90th percentile wages are:
Alaska: $95,930
California: $99,180
Illinois: $82,160
Washington: $81,110
Salary
When researching how to become a police dispatcher, you are going to want to know what the typical salary is for this career. The BLS estimates that, on the lower end of the salary spectrum (or the 25th percentile), police dispatchers earn about $34,630 annually. The higher end of the spectrum (the 90th percentile) earns approximately $67,150.
For the most part, those in the 25th percentile are new to their police dispatcher careers and those in the 90th percentile have been in their roles for quite some time and hold the title of director or supervisor. However, the annual salary rate can vary based on location.
Education and experience both factor into how much you can make each year working as a police dispatcher. While you might not need a degree to get hired, many agencies will provide annual training education as a supplement. However, having an associate's or bachelor's degree in a field like criminal justice, public safety, communications, or emergency management can help increase your chances of getting hired and receiving a higher annual salary. Top-tier dispatchers tend to have a bachelor's degree in a related field, according to the BLS.
How to Become a Police Dispatcher
Learning how to become a police dispatcher takes a little bit of research. Requirements for training might vary by state, but they are all relatively similar in terms of what you need to complete. For example, in the state of Michigan, you need to complete a 40-hour standard telecommunications course that consists of sections like:
Phone skills
Stress reduction
Communication between individuals
Public health and safety
Radio communication
Additionally, before you reach two years of employment, you must complete the following training courses:
Homeland security
Suicide prevention
Emergency liability
Home abuse
On top of that, you will need to complete 24 hours of training every two years, potentially at your location of employment.
Some positions in states (such as Michigan) might require that you have a higher degree to remain employed. Bachelor's degrees in fields like Communications, Business, Criminal Justice, and Legal Studies are desirable, as is an Emergency Telecommunications Certificate.
Most positions will ask that you at least have a GED or equivalent high school degree. You will need to be at least 18 years of age to apply, but many locations of employment will prefer to hire adults that have at least a few years of work experience. Those who have previously worked in administrative support or customer service might have a better chance of landing a police dispatcher job.
If you are just starting out, it is important to look for jobs that will give you the skills that police dispatch centers are looking for. Cultivating vital skills will be highly beneficial to you. Focus on skills like:
Computer literacy
Remaining calm under pressure
Decision-making
Exerting control over your emotions
Organization
Compassion and empathy
There are other requirements for becoming a police dispatcher, one of which is passing a background check during your application process. This is something that anyone working in law enforcement and emergency response roles will have to do. Due to the sensitive nature of the job, you will need to pass a background check to access Criminal Justice Information Services (CJIS).
A Day in the Life of a Police Dispatcher
Police dispatchers generally go to work in their local call center. There will be computers and phones with headsets over which you will have to communicate with inbound callers as well as emergency personnel who respond to situations. You will be provided with desk space and a chair to sit in.
A normal shift for a police dispatcher lasts for eight hours. However, it is common for dispatchers to work overtime and on holidays. As is the case with the City of Fairfax, Virginia, most emergency call centers adhere to the federal and state governments' holiday schedules. If you are not listed as an essential employee, you will not be scheduled to work those days. Of course, essential employees will be scheduled to work with holiday pay included as an extra benefit.
Working as a police dispatcher is not a stress-free job. In fact, it can be quite stressful at times. According to a study published in the FBI Law Enforcement Bulletin, police dispatchers play a critical role in emergency response but all too frequently experience career burnout due to the high-stress, high-demand nature of the role. People who are prone to stress might not be able to remain cool under pressure, which is an essential job function for a police dispatcher.
You should get acquainted with your coworkers and supervisor, as these people will be your closest allies and sources of support while on the job. If you start experiencing stress or have just gone through a particularly emotional call, you will want to let your supervisor know in case you need time to deescalate your own emotions. This happens to even seasoned dispatchers and is nothing to be ashamed of, but it is something that comes with the territory of the job.
Licensure, Certifications and Continuing Education
There are a lot of training opportunities that come up on an annual basis for police dispatchers. Your supervisor will keep you informed of when and what those trainings will be. However, there are other things you can do on your own to push your career forward.
One thing that is highly recommended is taking CRP/First Aid Training. Getting a professional-level certification can help you better walk callers through emergency procedures like CPR. What's more, you will likely be required to take Telephone CPR (TCPR) or Dispatch Assisted CPR (DACPR) so that you are aware of the proper life-saving steps to assist callers with taking.
Organizations like International Academies of Emergency Dispatch (IAED) offer multiple types of certification courses for emergency dispatchers. These courses include training in medical, fire, and police dispatch calls. You can learn tools for coping with job-related stress in addition to gaining knowledge and skills needed for performing your essential job functions.
Some local community colleges and universities offer classes for police dispatchers as well. For example, Oakland Community College (OCC) in Michigan offers a 911 Dispatch Academy. This program provides you with a special certification and assists students with finding employment opportunities in the emergency dispatch field. This ultimately provides you with an advantage over other applicants going for police dispatcher roles, as your training will help you meet or even exceed current emergency services protocols. While these programs are not required to become a police dispatcher, they can certainly come in handy when you start your new job.
Getting Started
Getting started as a 911 dispatcher is simple if you look at the specific requirements of your state. Getting a degree in Criminal Justice or a related field is a good option if you think you may want to work in the field in other ways.