How to Become a Librarian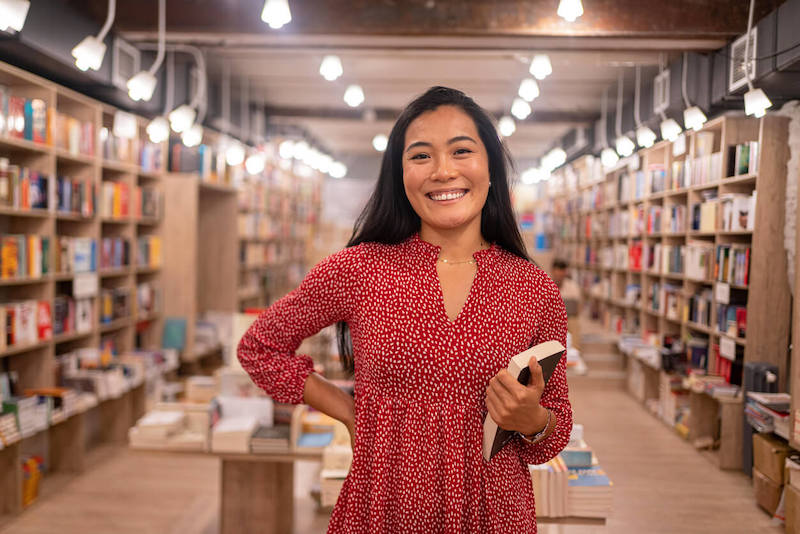 Most of us grew up seeing a librarian in school or at the public library. Whenever we needed access to books, we could go to the librarian and receive assistance. However, did you know that sorting books is not the only duty of a librarian? There are different types of librarians working for various institutions and organizations and they carry out many tasks. Working as a librarian means you are working in the field of education.
If you need to know what a librarian is and how to become one, continue reading. This is where we break down the steps on how to become a librarian and what the career looks like, including the education needed. You also get to learn how much librarians make and what it is like to be a librarian. A librarian also requires licensing and certification to operate in any institution.
What is a Librarian?
A librarian is a professional who works in different institutions and organizations to offer instructions about education. With the advancement in technology, the roles of librarians have notably changed. Librarians are the custodians of the library and specialize in information science. They are responsible for the virtual and physical registries in the library.
Librarians make it easy for the keepers to access educative materials with ease. Librarians are equipped with vast knowledge in different subjects and can work in any organization with specialized archives. Librarians are required to acquire professional knowledge in respective fields that match their responsibilities.

The following are some of the responsibilities of librarians:
Create and use the information of library resources
Organize library books and resources for easy access by the public
Assist library patrons in researching to determine best search results and reference resources
Maintain available resources and choose which educational resources to purchase
Organize for various programs depending on the audience
Research on various resources for purchase such as computers
Teach and equip classes on information materials
Train and oversee library assistants, support staff and technicians
Prepare and present the library budget
Depending on the size of the library, librarians can perform all these functions or focus on one library department. The services can be technical, user and administrative services for a large organization.
Among the librarians and library media specialists are:
Administrative services librarians
They are responsible for preparing budgets and negotiating library resources and equipment contracts. They can also engage in fundraising and public relations for the library.
School librarians
They are responsible for teaching students how to use different educational materials. These librarians are also called library media They are found in elementary and high schools. They also assist tutors in developing lesson plans and find resources for class guide.
Special librarians
They work in government agencies and businesses and are also known as information specialists. They provide information needs of the organization that houses the library. They also require a degree in their specialty to offer better services. The following are examples of special librarians:
Corporate librarians assist employees in private companies in conducting research and finding relevant data. They work with organizations such as insurance, real estate, consulting, and publishing firms.
Law librarians perform research to assist lawyers, judges, legal students, and clerks in finding and analyzing legal materials. They are found in law firms and law school libraries.
Medical librarians, also called health science librarians, provide health specialists, researchers, and patients with access to good health and science data. They can provide information such as new medical treatments, clinical trials, and procedures. They also teach medical students how to find medical information and answer related health questions.
Technical services librarians
They are responsible for obtaining and organizing electronic library resources. They arrange the resources to ease the work of finding information. They archive and preserve older materials and order new ones.
Career Outlook for Librarians
The librarian career has seen tremendous growth since 2021 and is projected to increase by about 6 percent before 2031. This is just above the normal growth of all other occupations. Every year, librarians are demanded in high numbers of about 15,000. The rising librarian vacancies are projected to result from the increased need to replace retiring workers or those who move to different occupations.
Even as the tradition of borrowing educational materials decline, librarians are still essential for holding different responsibilities in public libraries. Librarians offer opportunities for learners to access learning materials that they can't access from home. This makes it important to have librarians who can help patrons find any information they are looking for.
How Much Do Librarians Earn?
Librarians seem to make quite a good income. Research done in 2021 shows that the average librarian and library media professional wages amounted to approximately $61,200 annually. The study further shows that the least earned about $37,300 or less, while the highest 10 percent earned more than $97,800. Most librarians are full-time workers in their respective organizations, while a good number of those prefer to work part-time.
Many work part-time because many public and academic libraries operate on weekends, evenings and sometimes holidays. Those who work in schools have the same schedules as teachers. Therefore, they get vacation and summer off as teachers.
Special librarians typically work during regular working hours and days but are sometimes required to work more hours to meet deadlines. Salaries also differ depending on the state, years of experience and the type of employer, and position type. The wages increase based on the experience, merits, performance, and promotions.
Steps and Educational Requirements for Becoming a Librarian
Those aspiring to become librarians require a certain level of education and attain some qualities that can earn them a position among the best organizations. The following are among the steps you need to take if you want to know how to become a librarian:
Conduct Career Background Research
Find information that helps you to understand better how to become a librarian and what library science entails. The following are examples of different options offered for librarians in their career path:
K-12 school librarian
Public librarian
Law librarian
University librarian
Digital librarian
Branch management librarian
The requirements of a librarian vary depending on the state. You also need to know the different career paths available for librarians. Advanced knowledge about these things will help determine which degree or master's course to pursue. Various librarians prefer pursuing a Master's in Library and Science (MLIS).
Conduct MLIS Programs Research
You need to find out if the program you intend to pursue aligns with your goals. They all vary in focus, and you can choose once you are confident that the program will offer a platform for your specialization.
Enroll in a Bachelor's or a Master's Degree
Earn an undergraduate degree that can complement MLIS since undergraduate degree holders are not commonly considered for librarian positions. Most organizations require that candidates acquire a specialization related to library media. Special librarians must have a degree in the respective subject, such as a law degree for a law librarian.
Secure a Librarian Job
Get a librarian position in a company that works around your schedule or one that has a flexible schedule to allow you to gain experience as you pursue your career. Getting this position helps you climb the ladder while earning your degree and networking with people in your specialization. There are also available options, such as volunteering to help acquire relevant skills in your career.
Before you become a successful librarian, you need to have these essential qualities:
Communication skills to help in explaining ideas and data in simple and understandable ways.
Problem-solving skills to help you identify problems, determine where to get information to solve the problem and make positive conclusions.
Reading skills to help you keep up with the latest literature in your profession
Inventiveness to help you adapt to the regular changes in your responsibilities. You need to advance your knowledge regularly to be effective in your specialization.
A Day in the Life of a Librarian

There are so many types of librarians that a day in the life can be very different. A law librarian may answer questions and direct students and attorneys to the appropriate areas. A school librarian will deal more with students and teaching them how to use a library.
Here's a look at a day in the life of a school librarian, to give you an idea of what the day may look like.
8:00 am – Day begins
8:30 am – Work on scheduling and order new books
9:00 am – Take stock of any books that need repairs and send out for repair
9:30 am – Start having classrooms visit the library
1:00 pm – Break for lunch
1:30 pm – More classroom visits
2:30 pm – Upload new e-books to the virtual library
3:00 pm – Prepare lesson plans for the next day
4:00 pm – Go home
Librarian Licensure and Certification
Public libraries require librarians to have a teacher's certification and pass a certain test. The licensing and certification requirements are different depending on the state you are in.
After you earn your Master of Library Science, there are a variety of voluntary certifications you can get as a librarian or library assistant.
Get Started
Now that you understand all you need to become a licensed librarian, get the right school, pursue that degree, and secure a librarian dream job.