How to Become an English Teacher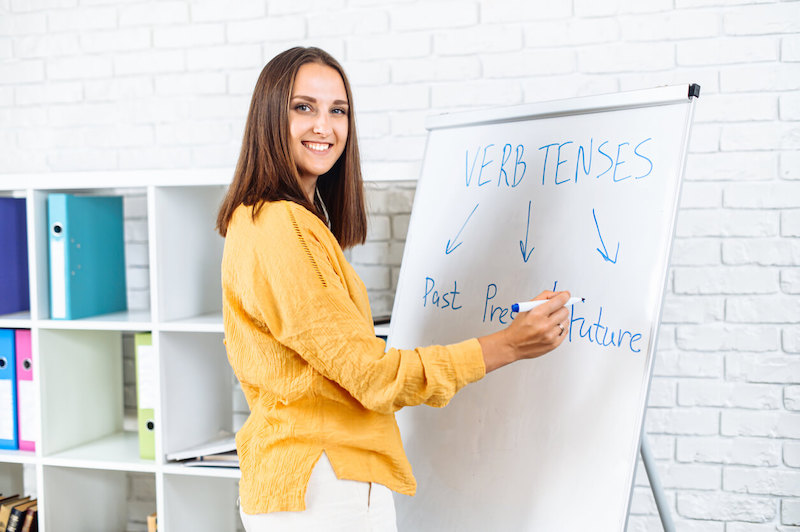 A career as an English teacher allows you to share your passion for literature and language with students. These professionals play an essential role in teaching and training young people in preparation for their future careers. If you're thinking about becoming an English teacher, understanding the typical qualifications and functions of these professionals might help you determine if this is the career route for you.
This article will discuss what English teachers do, how to become an English teacher, the key qualifications for these professionals, and the typical wage and job prospects for this career path.
What is an English Teacher?
English is the most widely recognized language in the world and the predominant language of global commerce. The language has cultural and regional distinctions in pronunciation and spelling. English teachers are college-educated professionals with state accreditation in teaching pronunciation, vocabulary, comprehension, and writing, as well as an appreciation of the language's literature and poetry.
English teachers are highly qualified educators working in private and public schools. Depending on their area of specialization, they may work with a single grade or have courses of various grades.
Some schools require English instructors to provide a broad range of literature, grammar, and writing abilities. Others hire teachers to focus on specific writing or literature, such as American literature or professional writing. Depending on their qualifications and the requirements of their students, English teachers may offer a combination of ordinary and advanced sessions.
Essential Skills for an English Teacher

Below are some essential skills English teachers should have to succeed at the job.
English proficiency
English instructors, being specialists in their profession, comprehend technical aspects of the English language, such as punctuation standards and sentence structure. They also have high reading comprehension abilities, allowing them to teach a variety of literary genres.
English professors sometimes specialize in topics such as current literature, poetry, or medieval literature. Due to this specific knowledge, such teachers may be able to teach high-level courses in these areas to older learners.
Teaching aptitude
English instructors integrate their language knowledge with excellent pedagogical abilities, which they gain through field experiences and education courses. They usually employ various strategies to assist learners with different educational demands.
The approaches they use in specific courses may also reflect the teaching material. They may, for instance, employ a lecture style to discuss the themes of a particular novel. On the other hand, interactive modeling activities may be applicable in assisting students in understanding complicated grammatical principles.
Communication
English teachers interact with a diverse spectrum of people regularly. They communicate with their students and offer comments on student exams and essays using their verbal and writing abilities.
In many classes, students receive additional assistance from specialized instructors and teacher aids. The English teacher will engage with these personnel to ensure their pupils receive the required assistance. An English teacher will typically have at least one consultation with each student's guardians or parents, and their communication skills will aid them in having successful discussions.
Interpersonal skills
Interpersonal skills such as conflict resolution and active listening can assist an English teacher in responding to students' needs and maintaining classroom order. Some students may react well to a sympathetic instructor who appreciates their feelings about the subject because learning English skills can be a challenging and demanding process for them. An English instructor with conflict resolution skills can help students overcome difficulties and collaborate more successfully.
Flexibility
While an English teacher may make thorough lesson plans, they may also need to be flexible enough to adjust their schedules to meet the requirements of their pupils. Unexpected assemblies or weather patterns can disrupt the school schedules and interfere with the teacher's preparations.
Additionally, they may need to reduce specific modules or add fundamental activities to aid students who want further assistance. For instance, an English teacher may prepare to teach a difficult grammatical concept but discover that their pupils want extra assistance with certain fundamental principles. They may create or print practice tasks to help them grasp the principles.
Organization
English instructors in many schools teach multiple class sections, which means they may have a few dozen pupils. Their organizational abilities enable them to manage comprehensive student records and guarantee that all students receive the assistance they require.
They can calculate grade averages and manage attendance using digital applications or paper records for each class. Teachers can provide attendance records and grades on schedule because of their capacity to arrange hundreds of student files.
English Teacher Salary and Career Outlook
The average annual compensation for an English instructor is $61,820, according to the BLS. The pay of an English teacher may vary depending on their expertise and region of operation. These professionals are often salaried full-time employees who may be entitled to several benefits such as paid time off, health insurance, and tuition reimbursement.
This profession also provides stability and long-term benefits. From 2021 through 2031, the US Bureau of Labor Statistics anticipates a 5% rise in employment for high school teachers, which includes English instructors. This growth is comparable to the general average increase for jobs across the economy, and it consists of a projected 77,400 job vacancies every year.
How to Become an English Teacher
The initial level of preparation, like with any profession, is a decent educational program. There are various factors to consider when choosing an English teacher training program. The first choice is where to go to school.
1.   Preparation for Education
When applying for a state license or certification, most states demand at least a bachelor's degree in education or English. Every state will have a list of authorized schools that can provide the degree necessary to achieve a license. As you browse your options, compare them to the State Board of Education's authorized list of colleges. Completing a degree program that is not accredited can result in license disqualification.
2.   Choosing a School
When researching suitable institutions, you may discover that your state provides both traditional programs at local universities or colleges. Some may offer online ones. Each style of schooling has its own set of advantages. For example, if you are currently employed and need to fit it into your school schedule, a more flexible online may be a smart option for you. On the other hand, if you are fresh out of high school and want to participate in co-curricular activities and dorm life on campus, traditional programs may be the best option for you.
3.   Choosing a Degree Program
You may also need to decide on the highest intended level of education. You can opt for a postgraduate degree or basic qualifications. A greater level of education may result in a better starter income. If you are new to college, it may be better to stay in school for the extra time now rather than return later.
A bachelor's degree program will be divided into sections. The first modules of your training are made up of general education, basic English subjects, and lower-division electives. The following phase will be similar, except for higher division courses. The instructional program will be the last stage.
This section will cover pedagogy as well as your teaching internship. A second master's degree program will often have core courses as well as a master's thesis.
4.   Alternative Degrees
You have several alternatives if you already have a degree and want to teach English. Most states consider previous college credits. Many states, particularly in key demographic areas, desperately need English teachers. You can engage in an alternate teaching pathway that will allow you to use your previous degree while still completing the requisite teaching preparation. This alternative option usually permits you to work full-time as a teacher and receive an income while taking classes.
5.   Exams in English Language Grade Levels, Arts, and Basic Skills
Each state has a series of necessary state examinations that establish your teaching eligibility. Some states require a portion of the examinations as a prerequisite for admission to the state's teaching program. Others will allow you to complete all the exams after you have graduated from high school.
The tests are known by several names, the most common of which are Praxis and The National Evaluation Series (NES). One part covers your fundamental writing, arithmetic, and reading capabilities. The next section will assess your understanding of English Language Arts. The results will determine if you teach in high school or primary education.
The license page for each state will include a link to the proper testing site. You can register for an account, schedule a test date, and view your account information there. This account will allow you to obtain your exam scores and access practice resources.
Day in the Life of an English Teacher
While the responsibilities of an English teacher may vary depending on their grade level, school, or specialty, they may be responsible for the following tasks on a typical school day:
Plan lessons according to the county curriculum standards and the instructional needs of their students.
Stimulate discussion on short tales, books, or poetry.
Enlighten learners on the grammatical components of the English language, including parts of speech, punctuation, syntax, and more.
Discuss literary topics and strategies.
Create and evaluate evaluation tools such as essay questions, book assignments, and examinations.
Instruct learners in many sorts of writing, such as book reports, essays, and speeches.
Tutoring learners who require specific instructions.
Encourage extracurricular activities such as poetry clubs.
Compile student performance reports
Create action plans for pupils in collaboration with educational support professionals and parents.
License and Certifications
You are ready to apply for your license or state certification to teach English in your state once you have completed your studies and passed the licensing exam criteria. To get a license, all states have common requirements that must be met. These stages are as follows:
Compiling formal documentation such as evidence of education, teaching experience, letters of recommendation, and completion of any state-specific courses.
Completing a fingerprint card and background investigation.
Making the appropriate payments.
Filling out an application, which may require notarization.
Once you've completed all these steps, you should be able to mail your application and all your documents to the address listed on your state's licensing page. Many states enable you to complete a large portion of the procedure online. However, you must still transmit physical copies of needed papers via standard mail.
The time it takes to finish the process varies by state. It can also change depending on the season. Some states have a reduced processing window during the off-season when there is less activity.
Understanding how quickly you can complete each stage in the licensing process is one way to speed up how to become an English teacher. A background check, for example, may take weeks to complete. This is something you should finish as quickly as possible. You will also save time by requesting official test scores and transcripts as soon as they are available.
Getting Started
The first step to become an English teacher is to begin your education. Figuring out where you'd like to go to school is a good start.