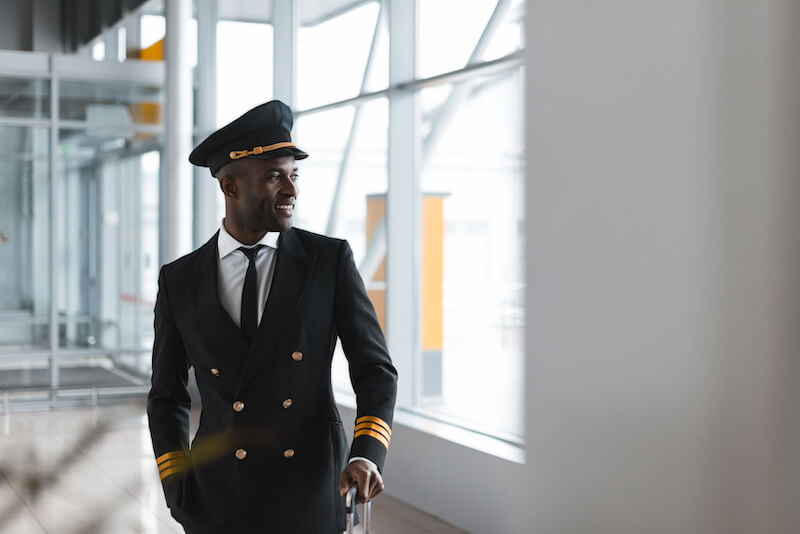 Flying up in the clouds is as exciting for one person as it might be frightening to another. Many passengers wonder what it would be like to be the pilot and be in control of the plane. Have you ever wished you could be a pilot or wondered how to become a pilot? If so, continue reading and learn everything you might want to know about a career as a pilot as well as how to become a pilot.
What is a Pilot?
A pilot is an individual who oversees flying and controlling the plane or aircraft using the plane's directional flight controls. If there is a problem on the plane, it is the responsibility of the pilot to identify the problem and take measures to correct the problem. Although the pilot is the one who is ultimately in control of the plane, the pilot s also assisted by other personnel like flight engineers, ground crew, mechanics, navigators, and flight attendants. There are various types of pilots.
Recreational pilot
Commercial pilot
Student piolet
Airline transport pilot
Sport pilot
Private pilot
Career Outlook
Every year more and more people are choosing to fly whether it's due to gas prices or just a love of flying. Many people are just choosing to fly to their destinations after being cooped up by the pandemic. This bodes well for pilots because it puts them more in demand. The employment growth for airline and commercial pilots is expected to increase by six percent during the 2021-2031 decade according to the U.S. Bureau of Labor Statistics (BLS).
This predicted growth is like the average for all other occupations. They also predict there will be about 18,100 new job openings for pilots every year during that decade. These job openings are the result of pilots retiring or moving to a different occupation. The employment growth for commercial pilots is due a lot to their services being needed in the healthcare industry to transport patients to other medical facilities.
Although pilots may work for various industries, the highest number work for scheduled air transportation.
The states with the highest number of pilots employed are:
| | |
| --- | --- |
| State | Number Employed |
| Texas | 8,460 |
| California | 8,070 |
| Florida | 6,400 |
| New York | 6,280 |
| Illinois | 5,280 |
Salary
Working as a pilot generally brings in a good wage. As of a May 2021 report by the BLS, airline pilots, flight engineers, and copilots earned an average annual wage of $198,190. Wages at the lowest ten percent were $100,110 with wages at the top 90 percent were $202,180. Factors such as degree, certifications, years of experience, and location can all affect wages. Below are the top five states where pilots are paid the highest wages.
States with the highest pilot wages:
| | |
| --- | --- |
| State | Annual median salary |
| Florida | $232,600 |
| California | $227,870 |
| Washington | $222,340 |
| New York | $219,980 |
| Michigan | $214,640 |
How to Become a Pilot
Becoming a pilot involves much more than completing a few flying lessons and taking a flight test. Additionally, the requirements may also vary depending on if the individual wants to become an airline pilot or a commercial pilot. There are generally fewer requirements for becoming a commercial pilot than there are for airline pilots. However, they both have specific requirements that must be met.
Airline pilots should have at least a bachelor's degree and some experience working as military or commercial pilots. The bachelor's degree can be in engineering, transportation, and business, among a few others. The individual must also complete an airline training program accredited or approved by the Federal Aviation Administration.
Aspiring commercial pilots must also complete a training program but are not always required to have a degree. This all depends on the employer. Students in a commercial flying program must meet age and flight-hour requirements as well as pass a written test and a knowledge test.
However, the candidate must complete an admissions flight before he or she can enroll in an airline training program. The purpose of the admissions flight is to show the student what to expect in the training program and demonstrate how to operate the controls. Becoming a pilot also requires meeting specific medical requirements.
A medical examination may not be necessary to take the flight instruction, but it is required before the individual can complete the solo flight portion of the flight training. The FAA offers a few different medical certificates aspiring pilots can complete.
First Class Medical Certificate
Second Class Medical Certificate
Third Class Medical Certificate
Basic Med Certificate
Once the student has satisfied these requirements, the student can complete the flying program.
A Day in the Life of a Pilot
Since the main duty of a pilot is to navigate and fly planes, helicopters, and similar aircraft, one might think that's all they do, and that couldn't be further from the truth. They have many duties throughout the course of their say.
They assess the overall condition of the plane both before and after each flight. If everything is not perfect, the airline does not leave the ground.
They make sure the aircraft is balanced and meets weight limit requirements.
They prepare flight plans and send them to air traffic control.
They ensure weather conditions are acceptable for flying.
They make sure there is enough fuel in the aircraft.
They use the aircraft's radio system to communicate with air traffic control.
They monitor fuel consumption and engines during the flight.
They respond to emergencies such as inclement weather or similar changing conditions.
They use visual references and cockpit instruments to navigate the plane.
They complete documentation and records on the flight and the status of the plane or aircraft.
They may teach students how to fly using dual-controlled aircraft and simulators.
As exciting as flying a plane may seem, taking off and landing can be very tricky and complex. It's also not something the pilot does by himself. The pilot must coordinate with the flight engineer, copilot, ground personnel, and air traffic controllers if they're present.
Difference Between Airline Pilot and Commercial Pilot
Although an airline pilot and a commercial pilot are very similar in that they both fly planes and other aircraft, there are some differences between the two.
Airline pilots typically work for an airline company and transport passengers on a specific schedule. They also transport cargo. If you've ever flown somewhere for vacation, it was an airline pilot who handled the plane. The pilot, which may also be the captain, is responsible for the flight and oversees the copilot or whoever is second in command. Airline pilots may also be deputized as federal agents with the proper training. They may also be issued weapons to protect the cockpit.
Commercial pilots fly planes and other aircraft in flights that are not scheduled. These might include aerial tours, charter flights, or other aerial applications. They may also have other duties other than flying. Commercial pilots may load luggage, schedule certain flights and even arrange for aircraft maintenance. If they're transporting company executives, they may greet these passengers and ensure their comfort. Commercial pilots may not be required to have a degree, unlike airline pilots who must have a degree.
Licensure, Certification, and Continuing Education
Students in an airline training program must satisfy requirements set by the FAA. These include earning specific certificates and ratings. The BLS states that there are several types of sequential certificates, and they must be earned in a specific order.
Student Pilot Certificate
Private Pilot Certificate
Instrument Rating
Commercial Pilot Certificate
Multi-Engine Rating
Airline Transport Pilot Certificate
The airline transport pilot certificate is equivalent to a license, and it is required before an individual can work as an airline pilot. In order to pass any of the certificates and ratings, the student must pass both a ground test and a practical flying test or check ride.
These certificates are required for airline pilots but not for commercial pilots. A commercial pilot who wishes to become an airline pilot can earn the degree, obtain the required hours of flying, and earn any of the above certificates.
Some students who have earned all the ratings and certificates choose to advance and earn a flight instructor certificate. There are many civilian flight schools certified by the FAA. Many colleges also offer pilot training as part of an aviation degree program. Pilots newly hired, both airline and commercial, must still complete on-the-job training as per the FFF requirements.
The fact that they were hired as pilots does not mean their training is done. The individual must complete a certain number of hours of on-the-job training. A pilot must have many years of flying experience before he or she can be hired by a major airline.
Pilots must keep up with their training throughout their careers. They do this by performing specific maneuvers and procedures a certain number of times and at specific times. The pilots must also undergo periodic medical exams and training either yearly or every other year. The airline must be sure their pilots are in the best possible condition both mentally and physically.
Getting Started
Get information about available pilot education programs and see which one is the best fit.