How to Become a Digital Forensics Expert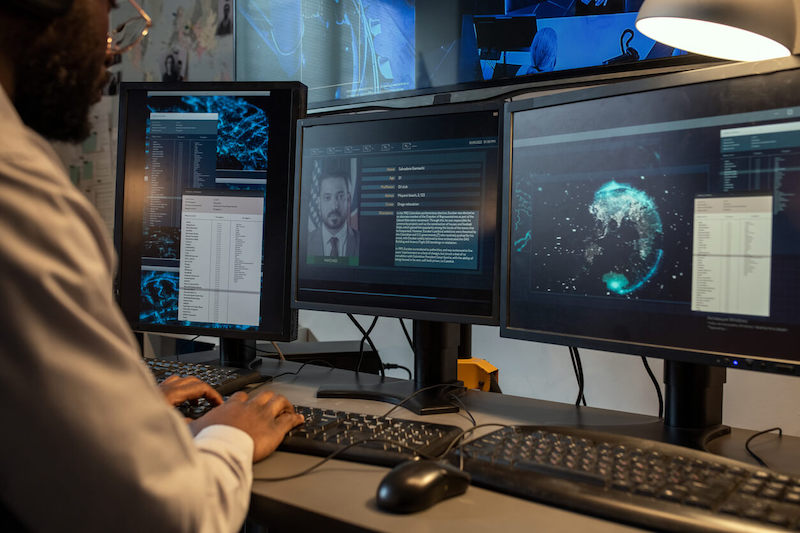 Do you consider yourself computer savvy? Would you like the idea of a career where you can use your computer skills to solve crimes? If you answered yes to these questions, you'd probably find working as a digital forensic expert to be not only challenging and exciting but also very rewarding. Read on to get all the important information you need on this CSI career.
What is a Digital Forensics Expert?
Digital forensics is a type of investigative work used to analyze and recover data and materials for digital devices. In most cases, this work is performed to help solve crimes and prosecute criminals. This branch of forensic science is aimed at identifying, obtaining, analyzing, processing, and documenting anything stored electronically.
A digital forensic expert is a professional who performs this very important work. Digital forensics has only been around since the 90s. Prior to that time, this field was known as computer forensics. The increasing use of digital media and devices has made the need the digital forensics and digital forensics very high.
Digital forensics is very important to law enforcement because almost all criminal activities involve some sort of electronic evidence. Digital forensic experts are also referred to as digital forensic analysts and forensic computer examiners.
Career Outlook for Digital Forensics
The increasing need for highly trained digital forensic experts has put these professionals very much in demand. Although the U.S. Bureau of Labor Statistics (BLS) does not list digital forensic experts in their job groups, they do categorize them with information security analysts and forensic science technicians.
Forensic science technicians are expected to see an 11 percent job growth between 2021 and 2031, while information security analysts could see a growth of up to 35 percent during that same decade.
In addition to working as digital forensic experts, these professionals are qualified for many other similar jobs. Here are a few of the many potential job opportunities available to digital forensic experts as well as the projected job growth.
Computer Systems Analyst – Nine percent job growth
Information Technology Auditor – Seven percent job growth
Malware Analyst – 33 percent job growth
Security Consultant – 28 percent job growth
Forensic Computer Analyst – 21 percent job growth
Digital Forensics Expert Salary
In addition to having very good job growth, digital forensic analysts have the potential to make very good wages as well. According to a May 2021 BLS wage report, forensic science technicians earned an average annual wage of $61,930, while information security analysts earn about $ 102,600. Below are the average annual wages for the careers listed above.
Computer Systems Analyst – $99,270
Information Technology Auditor – $77,300
Malware Analyst – $88,898
Security Consultant –$85,667
Forensic Computer Analyst –$85,800
Other possible positions include cyber investigator; forensic intelligence analyst; digital forensics investigator; IT forensic expert; digital forensic examiner; cybersecurity incident response specialist; cyber security network forensic analyst; and digital forensics specialist.
How to Become a Digital Forensics Expert
To become a digital forensic expert, you must complete a training program and become certified. Digital forensic experts are generally required to have at least a bachelor's degree. Although the bachelor's degree is usually in computer forensics or computer science, there are various other degree/major options for aspiring digital forensic experts.
These may include forensic science, physical science, IT systems, criminal justice, and law enforcement to name just a few. Many of the programs also offer various areas of concentration. For instance, a student may choose a bachelor's degree in computer science or criminal justice with a specialization in forensic science or computer forensics.
Some digital forensic experts start their careers in law enforcement or criminal justice and pursue further training in digital forensics. The bachelor's degree program consists of some general education courses, some major-related courses, and an internship or field experience to obtain some hands-on training in this field. The on-the-job training is a very important part of the program.
Some digital forensic experts or forensic science technicians may choose to earn a bachelor's degree in natural science followed by a graduate degree in forensics. This is one career that offers various educational options. Candidates interested in earning a degree in forensic science can find several schools through the American Academy of Forensic Sciences.
Skills needed to become a digital forensics expert
Education and training are very necessary for this career, but candidates must also possess certain skills.
Critical-thinking skills – Working with evidence like DNA, fingerprints, and other physical evidence requires someone to have very good judgment.
Communication skills – Good communication and interpersonal skills are vital for this career because in addition to communicating with law enforcement officials and co-workers, they may also have to testify in court.
Math and science skills – In order to successfully analyze data, the individual must have a good understanding of natural sciences and statistics.
Problem-solving skills – In order to be able to help law enforcement solve crimes, the individual must be knowledgeable in using scientific methods and tests.
Detail-oriented – Digital forensic experts must have an eye for details and the ability to notice small things in order to collect and analyze evidence effectively.
Degree programs for aspiring digital forensic experts provide students with valuable information on all things related to digital forensic science. However, we've all heard the saying that not everything can be learned from a book, and this saying applies to this career. There are many things that a student should pay special attention to while earning their degree or choosing their courses.
Operating systems – Windows is no longer the only operating system, and students must learn about finding and retrieving data from other operating systems, such as Unix, Android, and macOS.
Digital storage devices – The desktop computer is also no longer the only storage device we have. Information and data can be stored on hard drives, phones, and various other electronics. Students need to learn how it's stored on different devices.
Communication – Although digital forensic experts may spend a lot of time communicating their findings to other computer-savvy people, they may also need to communicate with non-technical people.
Data privacy laws – There are so many data privacy laws out there today to protect sensitive information, and digital forensic experts should become familiar with all of them at the federal, local, and international levels.
Cryptography – More and more criminals are choosing to encrypt data, so it's important to be proficient at encrypting and decryption procedures. It's also important to learn about digital forensic software and decryption tools.
Day in the Life
A day in the life of a digital forensic expert or forensic science technician can vary from one day to another. However, regardless of the day, they're probably spending a large part of the day working on computer-based crimes. They gather and analyze data used to discover and prosecute scams, electronic fraud, and identity theft.
The more data they can uncover, the better their chance of solving crimes. Once they gather and analyze the data, they write up reports for law enforcement or any other type of client for whom they might be working. Digital forensic experts must perform their work with dignity and the utmost professionalism because they often work for law enforcement, which means their reports and testimonies must be accurate and flawless.
Forensic science technicians may choose to work at crime scenes or in laboratories. When they're working at crime scenes, they analyze the crime scene to decide what actual evidence is and what is not. They make sketches and take pictures of the evidence and the entire crime scene. The evidence they collect might be DNA or bodily fluids, fingerprints, and weapons.
They also record everything they find and collect. Because of the importance of the evidence, it must be cataloged and safe while it's en route to crime laboratories. In addition to documenting what they see and the evidence they've collected, they often reconstruct crime scenes to determine if there are any other possibilities.
Digital forensic experts who choose to work in laboratories have a different set of duties, although they are similar in that they're also helping to solve crimes. Once they get the evidence from crime scenes, it's put under a microscope so they can perform biological and chemical analyses.
Using DNA and similar scientific analyses, the technician can determine if there are any connections between the crime and the suspects. Digital forensic experts also collaborate with professionals in similar fields, such as odontology, toxicology, and similar branches of forensic medicine. Regardless of where they choose to work, these professionals are an important part of law enforcement and the judicial system.
Licensure, Certifications, and Continuing Education
In addition to earning a degree, digital forensic experts should also be certified. Some employers may require certain types of certifications, and others may not. Even if certification is not required, the more certifications the individual has, the better it looks on a resume. Vendor and industry certifications are also a way to demonstrate commitment and knowledge to employers.
Computer Examiner Certifications
To become certified in a certain area, the candidate must meet certain requirements, including passing a certification exam. Some possible certifications include:
Each certification is valid for a specific amount of time. To maintain certification, the individual is usually required to complete continuing education prior to the end of the certification period. For example, the CIPP certification is valid for two years.
At the end of the two years, the individual must complete 20 hours of continuing education credits. Failure to complete the continuing education will require the individual to retake the certification exam.
Next Steps
Getting started in a career in digital forensics means starting with education. Inquire with a few programs to see which one is the best fit.