How to Become a Forensic Science Technician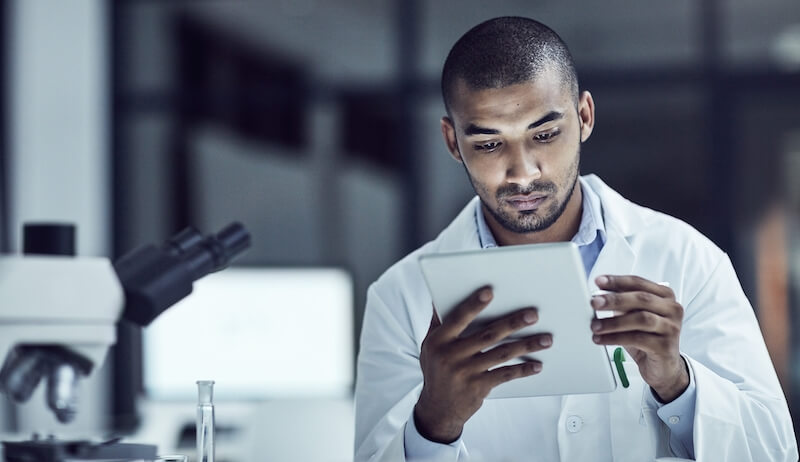 With so many crime scene investigation shows on TV, it would be unusual to not watch one of these shows and see a forensic science technician hard at work. Forensic science technicians are often shown as the professionals who solve crimes with their knowledge and skills.
Forensic science technician is a title to describe a specific person, but they are also part of a larger group of professionals who work in the field of forensic science. If you're wondering how to become a forensic science technician or what this CSI career entails, continue reading here to get all the information you need.
What is a Forensic Science Technician?
Forensic science technology is a very popular field today. U.S. News & World Report states that forensic science technician ranks No. 8 among best science jobs. Forensic science technicians play an important role in helping law enforcement solve crimes.
Although some forensic science technicians go out in the field searching for evidence, many of them spend their time in the lab analyzing and ciphering through the evidence. Some also work in a legal setting, and some work in all sorts of capacities. They typically go to a crime scene to look for any relevant evidence like DNA, fingerprints, or blood spatter.
They collect it, take it back to the lab for analysis, preserve it and send it to the crime lab for further analysis. Their knowledge of forensics also makes them ideal witnesses in court cases. In fact, their testimonies are often the most important part of crime solving because as they say, DNA does not lie.
Career Outlook

Forensic science technology may appear to be a small occupation in terms of the number of employed in the nation, but it is still a growing field with excellent career growth potential. Forensic science technicians should see a 11 percent job growth between 2021 and 2031 according to the U.S. Bureau of Labor Statistics (BLS). There should be about 2,000 new forensic science technician jobs created in the U.S. by 2031.
The increasing number of new technological and scientific advances puts these individuals very much in demand. They continue to gain popularity in the legal system because of their use as expert witnesses. Forensic science technicians work in a variety of settings. They may find employment working for crime labs, federal law enforcement agencies, hospitals, and the coroner's office.
Some choose to work independently as forensic science consultants. Whichever setting they choose the work they do as forensic science technicians can be exciting, stimulating, and yet very challenging and rewarding. Forensic science technicians may find work in the following positions.
Forensic science technicians may also be called digital forensic analysts or forensic computer examiners. The job outlook for forensic science technicians can vary from state to state. Employment is typically better in larger areas that use crime labs. Rural areas may share the same forensic science technician, or even use one from a nearby urban area.
Although the BLS does not list data for all 50 of the states, below are the five states with the highest number of forensic science technicians employed followed by the states where the lowest number of the states reported as of May 2022.
States with the highest numbers of forensic science technicians
California – 2,600
Florida – 2,260
Texas – 2,040
Arizona – 820
New York – 730
States with the lowest numbers of forensic science technicians
Minnesota – 130
Massachusetts – 100
Iowa – 90
New Jersey – 60
Kentucky – 40
Salary
Forensic science technicians have the potential to earn very good wages. According to a 2022 BLS report, forensic science technicians earned an average annual wage of $63,740, but their wages varied from about $39,710 to $104,330 or more. Forensic science technicians make the most in local government settings, with a $71,030 annual national salary.
The wages of a forensic science technician can vary by location, employer, degree level, work experience, and certification. Here are the states that pay the highest wages to forensic science technicians followed by the five lowest-paying states.
States with the highest salaries
| | |
| --- | --- |
| States | Median annual salary |
| Oregon | $ 93,900 |
| California | $ 93,630 |
| Illinois | $ 91,380 |
| Massachusetts | $ 87,500 |
| New York | $ 82,100 |
States with the lowest annual wages
| | |
| --- | --- |
| State | Median annual wage |
| Arkansas | $45,630 |
| South Carolina | $49,040 |
| Mississippi | $50,480 |
| West Virginia | $50,120 |
| North Carolina | $51,300 |
How to Become a Forensic Science Technician
Get an education
To become a forensic science technician, an individual must meet certain education and experience requirements. Their career typically requires the individual to have a bachelor's degree. The major is generally in forensic science or natural science. It's beneficial for the student to take as many forensic science courses as possible.
The candidates who have completed the program and have extensive lab experience generally see the best career opportunities. Some students earn a bachelor's degree in natural science and later pursue a master's degree in forensic service. There are few different paths towards becoming a forensic science technician, but most of these put as much emphasis on relevant work experience as they do on education.
Complete on-the-job training
Before an individual can work as a forensic science technician, he or she must complete on-the-job training. Many forensic science technicians first attend a police academy, start their careers as police officers and later switch to forensic science technology positions.
When choosing an educational program, the individual should choose an accredited program. The American Academy of Forensic Science offers a list of schools that offer forensic science degree programs. Although forensic science technicians are required to have a bachelor's degree and extensive work experience, they should also possess other skills to make them good at their jobs.
Excellent Math Skills
Good Oral and Written Communication Skills
Good Analytical Skills
Familiarity with the Legal System and Court Proceedings
Good Problem-Solving Skills
Critical-Thinking Skills
Good Science Skills
Detail Oriented
Choose a specialization
Forensic science technicians may choose to specialize in specific areas of forensic science technology. These might include:
Criminalistics
Crime Scene Investigation
Forensic Anthropology
Forensic Pathology
Individuals who pursue specialized areas typically receive on-the-job training in the lab, at a crime scene, and at settings where they might work once training is completed.
Day in the Life
A day in the life of a forensic science technician can be challenging, exciting, stressful, and rewarding, but the one thing it is not is boring. Crimes are committed every day, and forensic science technicians must be on their toes and up to date on the latest technologies and be very knowledgeable with their work.
Although their main job is to gather and analyze evidence to aid in solving crimes, their day consists of so much more because they're constantly busy. Crimes are not just committed Monday through Friday. They're committed all times of day and night and in all types of weather.
Therefore, forensic science technicians may be required to workdays, evenings, and even weekends. When a crime is committed, the evidence must be collected as soon as possible, which is why forensic science technicians are so valuable to the legal system. Their main duties include collecting, analyzing, and preserving evidence.
While some work in both the lab and at crime scenes, others choose to work in just one of the areas. Forensic science technicians working at crime scenes may perform the following duties.
Going to crime scenes to analyze what evidence should be gathers
Observing the crime scene, including position and location of evidence
Sketching and photographing the evidence and crime scene
Recoding findings
Collecting physical evidence, such as fingerprints, weapons, and bodily fluids
Documenting and preserving evidence for secure transfer to crime labs
Reconstructing the crime scene
Forensic science technicians working in the lab perform the following duties.
Performing microscopic, biological, and chemical analyses on crime scene evidence
Analyzing the DNA results and studying possible connections to perps and criminal activities
Consulting with other experts in specialized fields
Using a computer to examine evidence and DNA
Perform research to connect match suspects to certain evidence like weapons or vehicles
Prepare written reports of their findings
Communicate their findings to other professionals in the field
Licensure, Certifications, and Continuing Education
Forensic science technicians are not required to be licensed in any state. Certification is also not required, but certification can be a boost to the individual's career and will also demonstrate the individual's commitment to his or her profession. The type of certification can vary from one state or jurisdiction to another because they may have different requirements.
Certifications may be available through the American Board of Forensic Toxicology, the American Board of Criminalistics, Forensic Toxicologist Certification Board, and International Crime Scene Investigators Association. The International Crime Scene Investigators Association offers several levels of certification to forensic science technicians and crime scene investigators.
Certified Crime Scene Analyst
Certified Senior Crime Scene Analyst
Certified Crime Scene Investigator
Certified Crime Scene Investigator
Because the work forensic science technicians perform is so vital to law enforcement, they must keep up with the latest technology and forensic techniques and procedures. This generally means completing additional courses, workshops, seminars, and similar continuing education. Continuing education credits are also required to maintain certifications.
Getting Started
A degree combined with on-the-job training will set you on a good path as a forensic science technician. Inquire with a few schools and you will be well on your way to a new and exciting career.