How to Become a Forensic Nurse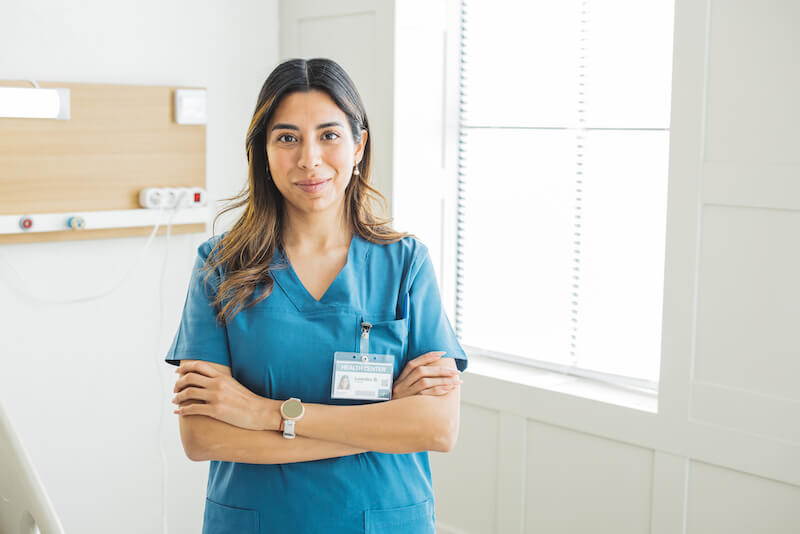 Forensic nursing is a specialty medical profession that involves caring for people who have been victims of traumatic psychological and physiological violence. In this career, professionals are tasked with identifying injuries, collecting evidence, contributing to public policy, assisting with law enforcement, and developing educational programs. In the following guide, you'll learn how to become a forensic nurse and what this type of career is like.
What is a Forensic Nurse?
A forensic nurse is a type of registered nurse who cares for victims of sexual assault and partner violence. They combine the principles of science, medicine, and law during their everyday tasks. While providing care to a victim of violence, a forensic nurse is also responsible for conducting medical forensic exams. During this exam, a forensic nurse will collect evidence that could be referenced later in the case.
The main objective that a forensic nurse has during an examination is to make sure that the medical well-being of the patient is maintained or improved. You must be able to show sensitivity and compassion towards those who have survived violence. Forensic nurses have roles in the criminal justice and healthcare industries.
It's possible to earn a job as a forensic nurse in a psychiatric institution, anti-violence program, hospital, correctional facility, or medical examiner's office. These professionals often work alongside social workers, public health organizations, medical professionals, and law enforcement.
Career Outlook
The career outlook for a forensic nurse is strong. From 2021-2031, this field is expected to grow by 6%, which is as fast as the average for other careers. While the forensic nurse career is a specialty available to registered nurses, the Bureau of Labor Statistics estimates that another 195,000 registered nurses per year will obtain jobs in the decade between 2021-2031. A decent percentage of these nurses will follow the career path of becoming a forensic nurse.
It's likely that many of these openings will be available because of the need to effectively replace workers who have exited the job market to retire or have transferred to another occupation. Job growth is also expected throughout nearly all types of healthcare settings, which include psychiatric facilities and hospitals.
Salary
When looking at the median annual wage for forensic nurses, it was around $77,600 as of May 2021. The lowermost 10% earned below $59,500. As for the highest 10%, they earned over $120,000 per year. The median salary for a forensic nurse differs depending on the exact industry they work in. The main facilities that employ forensic nurses include:
Government – $85,970
Hospitals – $78,070
Ambulatory healthcare services – $76,700
Nursing facilities – $72,420
Another factor that determines how much you earn per year is location. Forensic nurses can earn more when working in a high cost-of-living city. The top five states and areas for salary are:
California – $124,000
Hawaii – $106,530
Oregon – $98,630
District of Columbia – $98,540
Alaska – $97,230
The five states with the lowest salary for a forensic nurse include:
South Dakota – $60,540
Alabama – $61,920
Mississippi – $63,130
Iowa – $64,990
Arkansas – $65,810
How to Become a Forensic Nurse
1. Earn a nursing degree
No matter where you live, the steps involved with becoming a forensic nurse largely remain the same. All forensic nurses are required to have a combination of legal expertise and nursing science knowledge. Your first step is to earn a nursing degree, which could be a:
Two-year associate's degree in nursing
Hospital-based program in nursing that can be completed in three years
Four-year bachelor's degree in nursing
2. Get your RN license
Once you've obtained the necessary degree, you'll need to take an RN licensing exam, which is referred to as the National Council Licensure Examination (NCLEX). This exam designates you as a registered nurse, which puts you on the path of being a forensic nurse and allows you to start applying for jobs. This is a standardized exam that's the same in all states.
3. Get clinical nursing experience
The next step you need to take to become a forensic nurse is to gain the necessary experience. Employers usually prefer that applicants have gained clinical nursing experience, which can be obtained in pediatric, psychiatric, and medical-surgical fields.
4. Get a forensic nursing certificate
You might also want to enroll in a forensic nursing certificate program, which can give you the skills you need to excel in this specialty. These programs are available through continuing education or with post-graduate departments. If you'd like to earn an advanced degree, there are master's and doctoral degree programs in forensic nursing that you can select.
5. Earn an advanced degree
If you enter an advanced degree program, the subject matter you learn will prepare you for roles in teaching, forensic psychiatric nursing, violence prevention programs, legal nurse consulting, and clinical forensic nursing.
Forensic Nursing Programs
Keep in mind that having this degree doesn't mean that you'll automatically find a job that fits your specific skill set. To gain a better understanding of the degrees and programs you can enter when starting a career as a forensic nurse, a few examples are detailed below.
Emory University offers a Bachelor of Science in Nursing (BSN) that takes four years to complete and is considered one of the best nursing programs in the country. In the first two years of this program, students will receive general education. The remaining two years involves the practice of nursing in classroom and clinical settings. The nursing portion of this program can be completed in around four semesters when you're enrolled on a full-time basis.
The University of Pennsylvania offers a highly respected Bachelor of Science in Nursing (BSN) degree that focuses on clinical practice and mentorship. The availability of a state-of-the-art simulation lab provides students with the ability to gain hands-on nursing experience.
If you've already obtained a bachelor's degree in nursing, you may want to seek a master's degree to improve your job prospects. Xavier University offers an online nursing program with an annual tuition of $24,120. This program can be completed in two to three years and will allow you to earn a Master of Science in Nursing (MSN).
You could also choose to obtain an MSN as well as a Master of Science in Criminal Justice. For just the MSN, you'll be tasked with completing 36 credits, of which 10 center around forensics. This program is almost entirely online but still requires four or more credits in nursing practicum.
Day in the Life
According to a job posting from the Santa Clara Valley Medical Center, the types of tasks that a forensic nurse will complete on a day-to-day basis include:
Interviewing patients or family members to gain information that can be used to make a nursing assessment
Using the assessment data to develop a nursing diagnosis
Applying knowledge of standard parameters to identify any deviations from the norm
Making observations about cultural, physical, patient response, and learning needs
Identifying patient care issues
Understanding the plans and goals of care for patients
Creating a patient care plan
Revising patient care plans depending on the needs of each patient
Planning patient teaching activities
Setting priorities for a patient care plan
Implementing the care plan
Accepting accountability for all aspects of nursing care
Recording all nursing care that was given
Teaching patients and families
Taking part in research projects
Evaluating patient's response to care
Communicating all outcomes of the evaluation
Licensure, Certifications, and Continuing Education
As a registered nurse, you can obtain specialty certification from the International Association of Forensic Nurses (IAFN). They offer two distinct tracks, which include a certified adult/adolescent sexual assault nurse examiner (SANE-A) and a certified pediatric sexual assault nurse examiner (SANE-P). If you want to sit for one of these exams, you must meet certain criteria, which include:
Take a SANE training program that consists of 40 didactic hours
Earn at least 16 clinical practice hours that involve sexual assault examinations and evidence collection
Get 300 hours of SANE-related experience
Read the appropriate certification handbook
Fill out and submit your application
Once you've earned a SANE license, you'll need to renew it every two years, which costs $40. The credential expires alongside your registered nurse license. Renewing these credentials requires that you complete five hours of continuing education pertaining to the role of a SANE-A or SANE-P nurse. A total of 30 hours is needed to renew your registered nurse license.
Getting Started
Now that you understand how to become a forensic nurse, you can start your journey by entering a college program that will give you the skills and knowledge you require to be a registered nurse.