How to Become a Business Analyst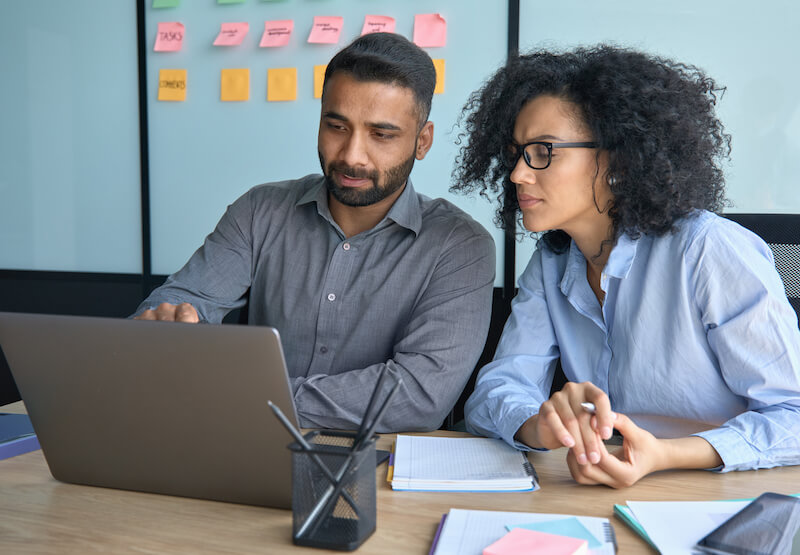 For someone interested in data science and analytics, becoming a business analyst can be an incredibly rewarding career path because of the chance to do valuable work for improving the efficiency of an organization and gaining soft and hard skill sets that can be transferred for many different roles. The outlook for those entering this field is positive in terms of employment opportunities, upward mobility and earning potential.
What is a Business Analyst?

A business analyst focuses on an organization's or corporation's internal processes, data and procedures and analyzes what technological solutions might be available to make an organization's processes more efficient and accurate. A helpful way to think of the role of a business analyst within an organization as a liaison between research analysts and business management or senior technology positions in terms of identifying issues within an organization and explaining how technology may be able to help.
The business analyst is seen as the fixer within an organization because they work to point out the best tech solutions to help move the organization to the next level. They are also responsible for making sure that the tech solutions they propose are cost-effective and are priced properly. This requires market research and vetting of some potential vendors to get the best price on tech solutions. The more proactive a business analyst can be in identifying workable and affordable IT solutions, the more valuable the analyst will be to senior management within the organization.
Career Outlook for a Business Analyst

The good news for anyone looking to begin a career as a business analyst is that there will likely be more career opportunities for years to come. In fact, job opportunities for business analysts are estimated to grow by at least 14 percent from now until 2026. Another benefit of becoming a business analyst is that it is a great launching pad for other career opportunities within business. The background that a business analyst gains in data gathering and analysis is a helpful framework for many other positions within business and operational analysis and management.
Salary for a Business Analyst
A business analyst can expect to earn a median salary per year of $83,610. This computes to an hourly wage of $40.20 on average. The potential to earn this stable salary while engaging in interesting and valuable work makes choosing to invest in an education program for business analysis an easy decision. The growth projections and salary potential in this field alleviate any concern over having to take out student loans to finance an education.
The average salary for a business analyst can vary widely by state as well as the industry in which the business analyst is working. Typically, business analysts who work for large corporations in larger urban areas can expect to earn more than a business analyst working at a smaller organization. It is also typical for business analysts to receive a benefits package that includes health care insurance as well as retirement savings from an organization if they are employed full-time.
How to Become a Business Analyst
Having experience in business administration or data science is always a positive step towards getting hired as a business analyst. A bachelor's degree in a field related to business is a good platform from which to launch a career as a business analyst. It is important to have both analytical skills as well as soft skills to effectively operate within the business world. Important soft skills include communication, conflict resolution and time management. It is crucial that a business analyst be able to work within a team so that they are presenting the most comprehensive tech solutions to a business problem in an accessible way.
For someone looking to take on their first position as a business analyst, they should be encouraged that entering this field in business does not require many years of experience in the profession. Many business analysts who earn an above average salary for this field only have about five years of experience as a business analyst.
If you are already employed at a large corporation, you may be able to seek out a mentor or supervisor who can help you explore professional development opportunities to either take courses while employed or choose the best business education program for you. Pursuing a career change and acquiring the educational requirements while you are already employed can be an effective way to ease the financial burden of transitioning into a new career without having to give up your salary.
A Day in the Life of a Business Analyst
Typically, a business analyst can expect to work in a traditional office atmosphere with regular work hours. Travel requirements should be minimal, if at all. Given the analytical nature of the position, there may be opportunities for a business analyst to work remotely for certain companies. Most business analysts work closely with the IT department within an organization. They can expect to attend meetings with senior management in which they are presented with issues that the organization is looking to solve from a high level. Many of their typical working hours are spent researching IT solutions based on the data that they have reviewed. They then present these potential tech solutions to their senior management and answer any questions they might have about the benefits of implementing the proposed tech solutions.
Business Analysts, or BAs, as they are sometimes referred, can add a human touch to data in many parts of an organization. By 2020, it is estimated that up to 40 percent of data science tasks will be automated, according to The Uncommon League. This leaves room for leadership positions for BAs to analyze the data and make sense of it for their organizations.
Licensure, Certifications and Continuing Education Requirements for a Business Analyst

While there is not a specific state regulation or requirement that a business analyst earn a particular degree or pass a licensure exam, it is always a good idea to stay on top of continuing education opportunities within the field. Many organizations will not hire a business analyst who has not earned a bachelor's degree in some sort of business field. Larger corporations may have their own internal programs for training and professional development that a business analyst would be expected to attend.
Sources
https://www.bls.gov/ooh/business-and-financial/mobile/management-analysts.htm