How to Become a Marketing Analyst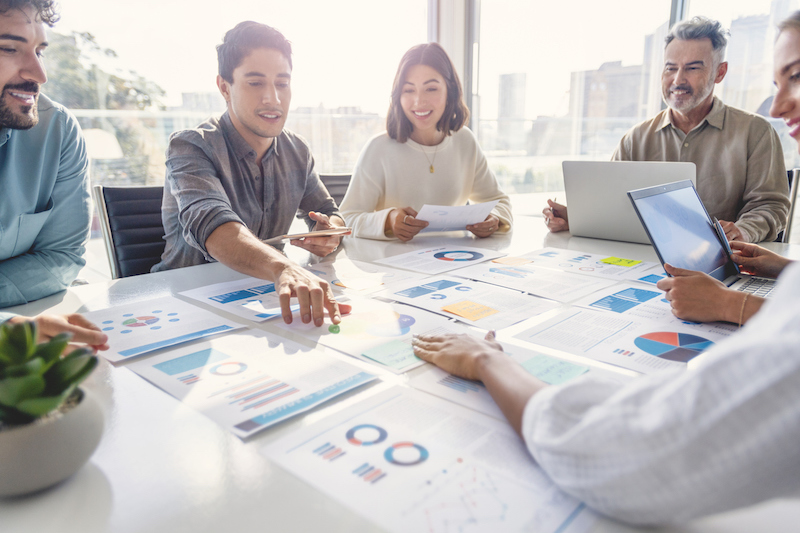 Overview – What is a Marketing Analyst?
Marketing analysts help businesses and organizations determine the best products and services to sell in order to meet their business goals. Also known as "market-research analysts," these professionals evaluate market trends, consumer behavior, industry conditions, and competitor activity to advise their clients on how to succeed in business. Based on this market research, companies can select what to sell, determine the best price to offer, and choose the best consumer market in which to invest their advertisements.
Marketing Analyst Career Outlook
According to the Bureau of Labor Statistics (BLS), experts project the employment prospects for marketing analysts to increase by 23 percent between 2016 and 2026 (or much faster than average for all occupations). Due to the explosive growth of the data science industry, experts expect companies to seek professionals who can accurately collect and interpret relevant data. Marketing analysts also provide important insights into consumer behavior (helping companies understand human motivations behind purchases) and supply important forecasts on the future of capital markets and business entities.
Marketing Analyst Salary
The annual salary for a marketing analyst depends on the professional's chosen work sector. Marketing analysts can work in practically any industry, including management consulting, manufacturing, advertising, finance, publishing, and think tanks. According to the U.S. News and World Report, the median salary for a marketing analyst is $63,230 per year. States and regions with the highest median annual salary for marketing analysts include California, Texas, New Jersey, Delaware, and Washington, D.C.
Salary Information
Glassdoor
Average Base Pay: $54,289
Minimum: $39,634
Maximum: $77,321
U.S. News & World Report
Average Base Pay: $63,230
Minimum: $46,460
Maximum: $89,200
Bureau of Labor Statistics
Median Pay (2018): $63,120
Popular Employers
American Express
Thomson Reuters
PepsiCo
Travelers
Note: Salary information from Glassdoor, U.S. News, and the Bureau of Labor Statistics reflects data retrieved as of June 2019.
Steps to Become a Marketing Analyst
Earn a degree in statistics, computer science, marketing, economics, or business administration.
Education
The minimum qualification for employment as a marketing analyst is a bachelor's degree in a related field. Popular undergraduate majors that strengthen your chances of employment in this field include statistics, mathematics, computer science, economics, and business administration. You should be able to demonstrate a strong quantitative background to any prospective employer.]
Courses Needed
The best courses to prepare to work as a marketing analyst emphasize quantitative and analytical thinking skills. Required courses usually include microeconomics and macroeconomics, statistics, econometrics, college-level math (such as calculus), and information science. Additional courses in research methods, logic, and consumer psychology can also strengthen your analytical skills and help you prepare for the field.
Further Education
With the rise of "big data" and the necessity of analyzing large sets of information, the analytics industry has transformed rapidly in terms of technical specialization. Because of this, you will typically need a master's degree for certain promotions or management positions. Recommended master's degrees include data science, business analytics, information systems, or an MBA in Marketing with a concentration in market analysis.
Hone technical skills and business skills toward analytical thinking
Analytical thinking differs from other types of work protocol. To train yourself as a market research professional, you may wish to hone specific skill sets. You can take courses online or attend workshops to add relevant skills to your resume and work life.
Recommended technical skills for marketing analysts:
Competence in statistical analysis software like SAS, SPSS, or STATA
Training in data mining and data visualization
Knowledge of SQL databases and querying languages
Coding or programming skills
Ability to use business intelligence software
Knowledge of industry tools like Google Analytics or SEMrush
Recommended business skills for marketing analysts:
Analytical Research Skills- The ability to amass vast amounts of data, translate findings, and write reports that produce discernable results.
Critical Thinking Skills – The ability to interpret data and consumer behavior to make inferences and recommendations for businesses.
Communication Skills – The ability to speak to both consumers and clients in non-technical language that the audience can understand.
Intellectual Curiosity and Soft Skills – The willingness to learn specific industry quirks in order to produce better results for the client.
Obtain recommended licensing, certifications and continuing education for marketing analysts
While marketing analyses certification is voluntary, it is a great addition to your resume and can show employers that you meet the standard level of industry competence in your work. Two types of licensing and certification for marketing analysts include the Professional Researcher Certification (PRC) and the Certified Market Research Analyst (CMRA).
The PRC is a certification from the Insights Association and requires that candidates pass an exam, demonstrate three years of experience, and complete 12 hours of related industry courses. PRC members must also complete 20 hours of continuing education every two years for certificate renewal. The CMRA is a certification from the International Institute of Market Research and Analytics (IIMRA). While the IIMRA does not require work experience to sign up, candidates must complete continuing education to remain certified throughout their careers. The IIRA also offers additional credentials such as Certified Data Analyst and Certified Market Research Professional for individuals who wish to strengthen their skills set.
A Day in the Life of a Marketing Analyst
Working as a marketing analyst can allow an individual to address a range of exciting business areas each day, including overseeing marketing platforms, crunching numbers, writing reports on completed marketing campaigns, and making forecasts on future marketing projects. On any given day, the responsibilities of a marketing analyst may include the following:
Create methods for amassing data from consumers
Analyze consumer data using a statistical program
Collect competitor data and business intelligence
Assess the profitability of an ongoing marketing campaign
Report findings to internal departments using plain language
Forecast industry projections and the success of proposed business projects
Job requirements may vary specifically by industry. In addition, upper-level positions may involve employee management while lower-level management may require increased workstation responsibilities. Overall, individuals interested in the quantitative side of marketing and turning consumer data into profit can find their niche as marketing analysts.
References:
https://www.bls.gov/ooh/business-and-financial/market-research-analysts.htm
https://money.usnews.com/careers/best-jobs/market-research-analyst/salary
https://www.glassdoor.com/Salaries/marketing-analyst-salary-SRCH_KO0,17.htm