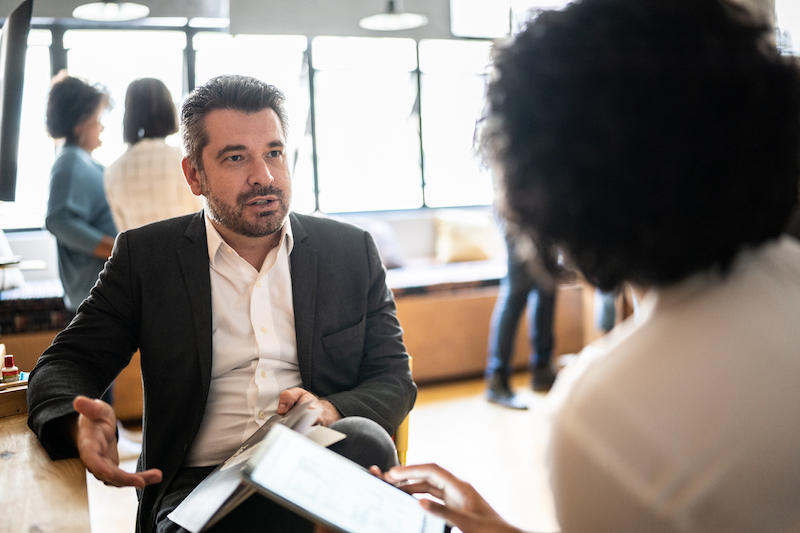 There are several methods of succeeding in human resources. However, if you really want to be a leader within your organization, an advanced degree is the best choice. Both an MBA that has a focus in HR and an HR master's degree will get you ready to take on human resources leadership positions within organizations in every industry imaginable: marketing firms, insurance companies, law firms, and more.
Graduates of master's and easiest MBA programs in HR go on to obtain such high-powered positions as vice president or director of HR and choose the direction of human resources procedures and policies in their companies.
Students in an MBA program that have a concentration in HR management may take classes in business concepts and strategies as well as business coaching, compensation management, benefits analysis, and corporate headhunting.
Essential Details
MBA programs in HR management usually involve learning about and creating advanced level reports, assignments, group projects, internships, and presentations. Such programs might be available in online, weekend only, or full-time formats, depending upon the school. Typically, programs take around two years to finish, although some may take less. A bachelor's degree and firm academic background are needed to enroll in such programs.
As each track provides advanced training in HR, managerial theories and concepts, and an MBA that has a focus in HR is going to delve deeper into business operations, as well as assist you in playing a strategic part to advance organizational objectives, increase employee satisfaction, and improve employee performance.
The extremely specialized master's in human resources helps you gain a solid foundation in global, strategic, and developmental human resources issues. A few key subjects that you will study include human resource planning, organizational change, international human resources, compensation, project management for human resources professionals, and organizational training. Whether you wish to pursue an M.S. (Master of Science) or M.A. (Master of Arts), you'll acquire the skills and knowledge needed to succeed in the competitive workplace today.
Requirements for entry

In order to study a Masters in HR Management you will need to hold a related undergraduate degree. A few universities claim that they'd like your degree to be within a subject associated with management, while others are open to graduates of all academic backgrounds, especially if you're able to demonstrate a solid level of interest in human resources. Most universities will accept students who don't hold an undergraduate degree yet have extensive professional expertise in the industry.
Career Outlook
HR managers may have various job tasks, from determining how a company ought to be staffed to making the selection between hiring from inside the corporation or using independent contractors. In addition, managers train and recruit employees and make sure that they're high performers. An MBA in HR Management program graduate may work in positions including:
Payroll director
Affirmative action officer
Human resource manager
Your masters in HR Management will equip you with the knowledge and skills to enter an array of specialized human resource careers and prepare you more broadly for management positions in all types of companies.
The most obvious career choice with a masters in HR Management, an HR manager works to make sure that human resource tasks in a company, like staff training and recruitment, are effectively handled and follow best practices. Human resource managers will require an excellent awareness of the corporation's goals to hire the proper staff members, and also will handle staff welfare, effectively offering a link between management and employees. Popular careers in recruitment and human resources include:
Diversity and equality officer
If you possess an interest in diversity and equality, as well as how it relates to HR, you might want to pursue a career within this industry. You'll implement your company's diversity and equality policies, and work to avoid discrimination or negativity inside the workplace. An employer will highly value all relevant work experience that demonstrates your dedication to this area. Therefore, it might be useful to join a diversity and equality committee or associated society when at a university.
Development and training manager/officer
Development and training managers/officers oversee the professional development and learning of a corporation's employees and seek to make sure that all staff members are equipped with the practical skills and knowledge necessary to do required tasks. Of course, this will considerably vary depending upon the field you work. As is the fact for all human resource careers, work expertise in any leadership-oriented role is beneficial for role entry.
Recruitment consultant
If the Masters in HR Management has provided you a particular interest within the recruitment methods of companies, this career may suit you. A recruitment consultant works with client corporations to match and attract prospective staff members in permanent or temporary roles. As with most human resource careers, the role will require outstanding interpersonal and communication skills, and a capability of coping with pressure, as well as challenging briefs.
A management consultant uses their business skills to offer expert advice to assist organizations in improving their performance by solving problems, maximizing growth, and creating value. As a Masters in HR Management graduate, you might provide specialized consultancy upon HR-oriented issues. You also are likely to require solid analytical and numerical skills for this role that might involve advising companies in a broad array of industries.
MBA in HR Salary
According to the United States Bureau of Labor Statistics, general HR manager employment is expected to increase nine percent over the 2014 to 2024 period. The United States Bureau of Labor Statistics stated that average earnings for such managers was $104,440 in May of 2015. Faster than average growth of six percent is expected for benefits and compensation managers from 2014 to 2024, and faster than average growth of seven percent is reported for development and training managers for the exact same period. Benefits and compensation managers received average wages of $111,430 in May of 2015 and development and training managers received average earnings of $102,640.
Curriculum
The MBA in HR curriculum usually involves corporate business and management strategies, organizational design and behavior, ethical leadership, as well as detailed human resource concepts as they're related to general management. You will take core classes in macroeconomics, accounting, marketing, financial management, and much more. Then, you'll specialize in HR with your elective classes.
Usually, coursework for HR master's degrees involves in-depth studies of human resource subsystems, which include legal issues within the workplace, benefits and compensation, and training and recruitment. In addition, students take courses that cover strategic and leadership management concepts, organizational psychology and design. What you'll learn in a master's in HR will assist you in addressing the necessity for strategic management within the modern workforce. You will tackle a broad array of subjects which include diversity, employee retention, career development, the global economy, incentives, performance management, and new technologies.
Plus, since universities and colleges countrywide know that folks who pursue advanced degrees often are working professionals, they provide many options online and flexible schedules. Those include blended programs where students may do a lot of the work on the internet then meet occasionally on campus with additional like-minded students.
Typically, coursework will involve basic business concepts and HR-specific subjects. Students may be taught business strategies, as well as learn to utilize them in daily business operations. Subjects covered within a program may include:
Marketing
Organizational development
Finance management
Economics
Business analysis
Accounting
Common specializations provided in masters in HR Management classes include:
Employment law Specializations
Critical for all companies, this specialization concentrate on the laws that affect HR management, and practices for making sure of compliance with every relevant regulation. A few universities provide this specialization along with an international outlook, whereas other ones will concentrate in-depth on the labor laws of a certain country – typically the country where the university is located.
Talent management
A key part of human resource careers is assisting companies in effectively attracting, retaining and nurturing skills and talents. Within this specialization, you will explore a variety of approaches to management and resourcing talent, and the impact it may have on company success. You will consider issues like developing and identifying talent, downsizing, managing turnover, building human capital, and safety and health in the work place.
Diversity management
Sometimes, this specialization is discovered as a compulsory module within master's in Human Development classes, yet also is oftentimes provided as an optional specialization. You'll gain a crucial understanding, typically with a global concentration, of the ways where equal opportunities rules have the goal of ensuring every employee (or prospective employee) is treated equally irrespective of gender, age, sexuality or additional personal factors.
Comparative industrial relations
Within this specialization, you will approach HR in an international context, and develop knowledge of the increasing importance of worldwide industrial relations for the ones in human resource careers. You will learn about various practices in human resources and business operations and obtain knowledge of how they're influenced by economic and social factors.
Additional popular human resource specializations include development and training, occupational psychology, reward management strategy, HR issues in outsourcing, employee engagement, and management and leadership development.
Tuition and Fees
Tuition rates vary. However, some provide tuition discounts for United States service members, both part time and full time, and the spouses of the ones on active duty. Costs range depending upon the school, length of the program, if you have any transfer credits and other factors so it is important to work with an admissions specialist to determine your specific situation.
MBA in HR Program Options
Adelphi University
Master's Degree in Business Administration with a Specialization in Human Resource Management
Modality: Traditional
Credits: 33 to 66 depending on prior coursework
GMAT required: Yes, minimum score 450
Adelphi University offers an MBA with a specialization in Human Resource Management as a part of their traditional MBA program. Adelphi requires a minimum GPA of 3.0 in all coursework, and may start classes in Fall, Spring or Summer sessions. Human Resources specialization coursework includes Training and Career Development, Performance Appraisal and Compensation Administration and Selecting for Organizational Excellence.
Bethel University
Executive MBA-HRM Concentration
Modality: Online
Credits: 36
GMAT Required: No
The Executive MBA-HRM from Bethel University is a four-term, Executive program aligned with SHRM's HR Education Guidelines to provide a terminal degree for HR professionals that combines graduate-level MBA concepts with HR theory and practice. Coursework will include Managerial Accounting and Economics along with Performance Management and Strategic HR. The program takes about 23 months to complete, but students can also stack courses to complete even more rapidly.
Brandman University
Master of Business Administration – HR Emphasis
Modality: Hybrid, Online
Credits: 36
GMAT Required: No
Brandman University has an MBA with an emphasis in human resources that prepares its graduates for a leadership role in HR, specifically in administrative and organizational development functions. Students must have either a 3.0 GPA, a 2.5 GPA plus a GMAT, a portfolio, or a previously earned Master's degree for admission. Classes may be taken in-person at the Irvine campus, in a hybrid model, or 100% online. The MBA program is 36-48 credits and includes a Human Resources Emphasis, with courses like Workforce Planning, Talent Management, Labor Relations and Conflict Negotiation.
Brigham Young University
Master of Business Administration in Organizational Behavior & Human Resource Management
Modality: Traditional
Credits: 64
GMAT Required: Yes
BYU has an MBA with a Strategic Human Resources Management track that involves all of the typical MBA coursework such as Finance, Marketing, Change Management and Operations, and adds nine courses of an HR emphasis including options like International Human Resources, Negotiations and Organizational Analytics. Students can choose three courses from the HR emphasis depending on their area of interest. Students must have taken the GMAT/GRE, have at least 3.4 undergraduate GPA and have at least two years of post-graduation work experience, although most entrants have at least four years.
Bryan College
Master of Business Administration with a Concentration in Human Resource Management
Modality: Online Only
Credits: 36
GMAT Required: No
Bryan College offers a 100% online MBA program that can be completed in as little as 14 months. It is designed for working adults and takes 36 credits to graduate. All courses are taught from a Christian worldview and they run in 9-week sessions. Students will take traditional MBA coursework like Accounting and Economics along with specific HR courses such as Human Resources Development and Managing Organizational Change.
California Southern University
Master of Business Administration with a Concentration in Human Resources Management
Modality: Online
Credits: 36
GMAT Required: No
California Southern University has an MBA program with a specialization in Human Resource Management. The program is 36 credits long and is a combination of business courses and specialized Human Resources courses like Labor Relations, Compensation Issues and Effective Training and E-Learning.
Clayton State University
MBA in Human Resource Leadership
Modality: Traditional, One night per week
Credits: 33
GMAT Required: No, unless applying with a lower GPA
The Human Resource Leadership Concentration of the MBA Degree for Clayton State University is a SHRM-recognized, rigorous program designed to prepare future HR leaders. With five start dates – two in Fall, two in Spring and one in the Summer, there is flexibility in starting classes. Coursework will include Finance, Decision-Making, Design Thinking and Strategic Management along with nine credit hours specific to Human Resources curriculum. These classes include Global Human Resource Leadership and Talent Development. The SHRM student chapter at this school is nationally recognized.
Grand Canyon University
Master of Business Administration with an emphasis in Strategic Human Resource Management
Modality: Online, Evening
Credits: 54
GMAT Required: Yes
GCU's MBA in Strategic Human Resource Management is 54 credits in nine-week courses designed to provide foundational business knowledge along with specific HR knowledge. Their program uses Christian servant leadership principles and is recognized by the Society of Human Resource Management (SHRM). Courses include Business Probability and Statistics, Economics, and Operations Management for the MBA curriculum and Human Capital and Designing HR for the HR specialization. Their flexible program delivery is designed for the working adult.
Northcentral University
Masters of Business Administration (MBA) Human Resources Management specialization
Modality: Online
Credits: 30
GMAT Required: No
The Master of Business Administration – Human Resources Management specialization at Northcentral University is a 10-course, 30-credit program designed for working adults. Their program is 100 percent online and gives access to doctoral-level faculty. Northcentral also offers an accelerated track, which allows motivated students to complete their program in as little as 12 months. Courses include Managerial Decision-Making, Strategic Planning and Managing People and Teams, and the HR specialization includes Recruitment and Human Resources Information Systems, Legal Issues in HRM and Labor Relations.
Purdue University Global
Masters of Business Administration, with a specialization in HR 
Modality: Online
Credits: 60-76
GMAT Required: No
Purdue University Global offers a Master of Business Administration with a specialization in Human Resources. If you opt to add a concentration to your MBA, you can expect to add 16 credits to the 60 credits of core courses you are required to take. With the Human Resources specialization, you will learn about recruitment and hiring practices, change management, corporate policies and more. This program has multiple start dates and is 100 percent online. Motivated students with work experience can also look into their ExcelTrack, which is a way to finish the MBA program faster and for less money.
Regent University
MBA with a concentration in Human Resource Management
Modality: Traditional, Hybrid, Online
Credits: 42
GMAT Required: Not for all, can earn waiver depending on certain factors
Regent University's Online MBA program is continually ranked as one of the top five best in the country by U.S. News and World Report. They offer a variety of delivery options: on-campus, online or hybrid, so you can make this degree work with any schedule. Their MBA with a concentration in Human Resource Management (HRM) is taught from a Christian perspective, is 42 credits and starts eight times per year for flexibility. Students will take courses like Training and Development, Performance Management and Labor Relations and Collective Bargaining, along with traditional MBA coursework. This program prepares students to sit for the SHRM-CP exam.
Saint Leo University
Master of Business Administration with a Concentration in Human Resources Management
Modality: Online
Credits: 36
GMAT Required: Yes, if less than a 3.0 GPA in undergrad
Saint Leo University has a Master of Business Administration in Human Resource Management for business leaders looking to excel in HR job functions. Students will learn about ethical, economically responsible business decisions and business implications in the new economy, among other topics. MBA students may take up to two courses at a time during each eight-week term, allowing them to finish their degree in as little as one year. The program is 36 credits and offers an additional three-credit internship at the end of the program.