Best Online Colleges that Accept FAFSA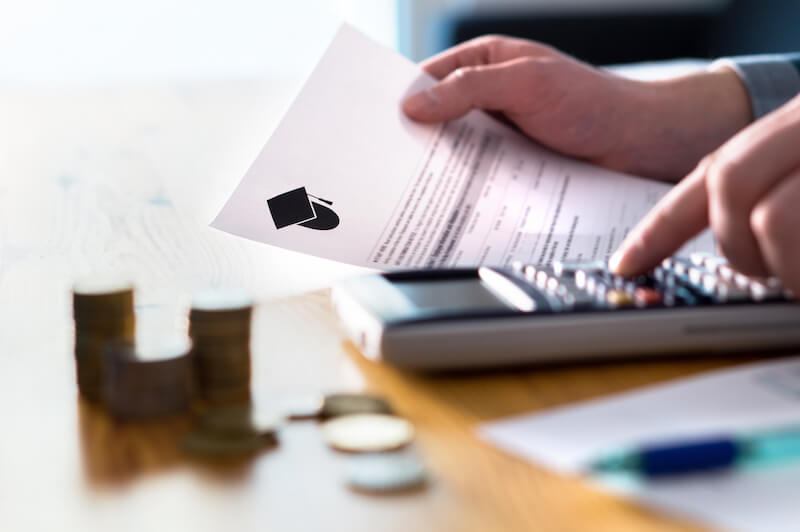 Whether it's a young student interested in earning a degree or an older adult wishing to advance his or her education, cost is almost always a factor. How will you pay for it? Will you be able to get assistance? How many years will you spend paying off student loans? These are very real concerns for aspiring students. More and more students today are choosing online schools and programs. However, many students wonder if online colleges accept FAFSA. Continue reading to learn more about FAFSA as well as a list of the 5 best online college that accept FAFSA.
What is FAFSA?
FAFSA is the abbreviation for Free Application for Federal Student Aid. It's an application used by students and prospective students to determine if they are eligible for financial aid. Many students, if not most of them, would not be able to attend college if it were not for financial aid. Financial aid makes it possible for students to earn a degree when they might not have otherwise been able to.
However, students must meet certain requirements before they can receive financial aid. Financial aid is a great way to pay for college and can be in the form of several types.
Grants – Grants do not have to be repaid as long as you stay in college. If you drop out of college, you may be required to return the grant or part of it. The Pell Grant is one of the most common types of student grants, although, there are other types of grants.
Scholarships – This is financial aid offered by businesses, schools, and nonprofit organizations. It's based on academics, talents, and areas of study. Scholarships also do not need to be repaid.
College Work Study – Students can earn money for work they perform at an approved location. This money is for the student to keep.
State Grants – This is money offered to residents in certain states. The state's government site often lists the various grants available to eligible students.
Student Loans – Like most loans, student loans must be repaid. The interest rates are generally lower than what is offered through banks.
Tuition Reimbursement – Some employers offer tuition assistance or tuition reimbursement. There may be conditions on this such as length of employment or what type of degree you are able to earn with the funds.
In order to receive financial aid, students must apply for it by filling out the FAFSA application. The same requirements apply to online schools as on-campus colleges. The student must meet eligibility requirements.
Must be enrolled in a degree-seeking program from an accredited college
Must complete a designated number of credits each semester
Must submit FAFSA form
Must maintain passing grades
Must meet income requirements
Must be a citizen or an eligible non-citizen
Must complete and submit all required documentation as early as possible.
5 Best Online Colleges That Accept FAFSA
Southern New Hampshire University (SNHU) is an accredited nonprofit university that offers both on-campus and online programs. SNHU boasts of having some of the lowest tuition in the nation. They offer more than 200 online degree programs in various fields, including business, criminal justice, art & design, engineering, education, healthcare, psychology, and technology, among others.
This college also offers programs at the associate, bachelor's, master's, and doctoral degree levels. Students at SNHU can take advantage of various ways to save money, including military discounts, employer tuition assistance, and transferring credits. As of 2020, SNHU had more than 170,000 online students enrolled.
During the 2021-2022 school year, about 51% of the students received scholarships or grants with the average amount at $3,875. About 34% of incoming freshmen were awarded scholarship at SNHU, and about 68% were recipients of federal grants according to univstats.com.
Founded in 1976, the University of Phoenix is an online college that offers online programs at the associate, bachelor's, master's, and doctoral degree levels as well as certificate programs. Their areas of study include nursing, healthcare, business administration, technology, elementary education, accounting, and more.
An interesting fact is that more than 5,900 bachelor's degrees were earned in General Business Administration and Management, which just happens to be the most popular program at the University of Phoenix-Arizona. UP has several campus locations for students who are taking on-campus courses or need to attend the campus. The university offers students locked-in rates so they never have to worry about increasing costs. The amount they pay when they start the program will be the same amount when they finish.
The University of Phoenix had about 85,576 online students enrolled for the 2021-2022 academic year. The total enrollment at UP in 2021 was 171,672. About 62% of the undergraduate students at UP received financial aid through grants, and about 61% received it through student loans. Approximately 75% of all freshmen at UP received some sort of financial aid.
As part of the Purdue University System, Purdue Global is an online accredited university that offers more than 175 online degree programs covering every level from associate's degree up through doctoral degrees. Some of their areas of study include business, business administration, aviation, human resources, communication, education, criminal justice, and many more.
More than 10,400 online degrees were awarded to students in 2021. In 2021, 68% of undergraduate students received financial aid through loans or grants, which was an increase over the previous year. About 32,500 online students are enrolled at Purdue Global. Although most of the programs are 100% online, there are some that require a little time on campus.
University of Arizona is an accredited online university that's ranked among some of the best online colleges along with its bachelor's degree programs, which are ranked on top as well. The university offers associate's, bachelor's, master's, and doctoral degree programs. Engineering, emergency medical services, business administration, healthcare, nursing, criminal justice, and legal studies are just a few of the many areas of study offered at the University of Arizona Online.
More than 8,100 online undergraduate and graduate students were enrolled at the University of Arizona Online in 2022. This number was an increase of 800 students from 202. As of 2023, about 77% of the undergraduate students at UA received financial aid. The average amount of financial aid that was awarded to students was $12,861. In many cases, this amount is sufficient enough that the student may not need to pay anything for the degree.
Grand Canyon University is an accredited Christian online university that offers a variety of degree programs, including engineering and technology, business and management, criminal justice, psychology, performing arts, healthcare, nursing, and teaching, among many others. GCU offers more than 200 online majors and concentrations in almost any degree level a student could want. Tuition is the same for out-of-state students as for in-state students.
In the academic year 2021-2022, there were about 85,500 online students enrolled at Grand Canyon University. The college expects a 14% increase in enrollment in the 2023 academic year. Approximately 5,647 first-time freshmen received financial aid in the way of scholarships, grants and other sources in the 2021-2022 year. This number was 99% of the freshmen class. Approximately 72% (42,420) of the undergraduates received some sort of financial aid.
Admission Requirements

While the admission requirements are similar at most online colleges, there may be differences depending on the college and program. All online colleges will require students to submit an application, and most of them can be completed online. Some online colleges will complete the online process online, while others may complete it through a telephone conversation. Some schools may require the student to participate in an interview.
The degree level the student is pursuing can also play a part in the admission requirements. At some online colleges offering bachelor's degrees, the requirements might be the following.
GPA from high school or any other school you may have attended
High school transcripts
An essay
ACT or SAT scores
An interview
Letters of recommendation
A portfolio
Most admission requirements for online colleges can be found on the school's website.
Why an Online Program?
As stated earlier, the number of online colleges is increasing every year. Online colleges are particularly popular with adults who want to earn a degree but can't or don't wish to quit their jobs. They are also popular with young students who don't want every day to be spent inside a classroom. Online programs can be completed at the student's convenience and in the comfort of their home or wherever they might be.
All online degrees require is a computer with high-speed internet access. All students have to do is log in to the school site. Once they're on their page, they can retrieve assignments, take tests, listen to lectures, and communicate with other students. Online students typically look for the best online college that accepts FAFSA so they can save as much money as possible.
In addition to the savings that financial aid can provide, online students can also save money in other ways. As an online student, you'll save money on gas and also eliminate the daily wear and tear on your vehicle. And let's not forget the time you would have to spend commuting to and from college every day.
Some online programs have lower tuition and fees than on-campus programs. If you're a stay-at-home parent, you will also save on daycare. There are just so many benefits to choosing an online program or online college.
Flexibility
Convenience
Financial Savings
Students can complete online programs in more or less time than on-campus programs.
Time saving
Getting Started
Once you've decided that you want to go to college, and you want to do it online, you may be wondering where to start. Hopefully, you've already chosen your area of study. If not, it's time to do that. When choosing a program, it's important to choose one that's in alignment with their interests and career goals. So many students choose programs that can lead to high wages or programs that they feel they should take rather than choosing one that interests them.
What good is a degree if it's in a field that you'll never use? With that in mind, begin your search for online colleges that accept FAFSA and online colleges that offer the program you wish to complete. Once you've reached this stage, it's time to narrow down your search and find what you consider the best online college that accept FAFSA.
The next step will be checking out the college's admission and program requirements. Keep in mind that college admission requirements are different than program requirements. For instance, some programs may require you to complete specific courses (prerequisites) prior to starting your program.
The final step will be completing and submitting your application. If you have problems with the college application or the FAFSA, you can always meet with the college officials or check out the FAFSA website.