Is Marketing a Good Major?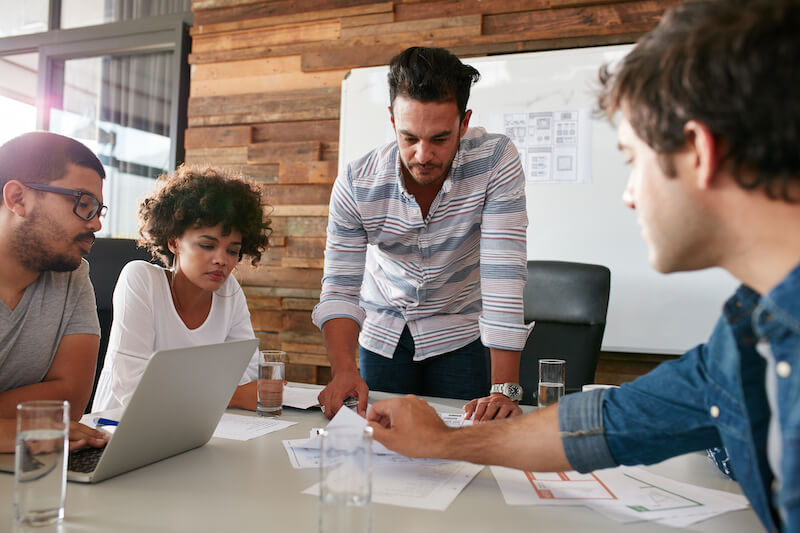 Every one of us has watched eye-catching commercials on television that have made us want to buy a certain product. We may also see billboards that advertise a certain company or individual. Summertime often brings about children's lemonade stands. Their advertising sign, as well as the pitcher of lemonade itself, are marketing tools.
These are all types of marketing ads to promote a person or product to sell the product and make money. Regardless of where you look, you'll find some sort of marketing because marketing is everywhere. Is marketing a good major is probably a big concern, and it is a popular business degree. Read on and learn everything you need to know about a marketing career.
What is Marketing?
Marketing is the process of promoting products or a business to supply the sales team with supply leads. Campaigns, which tell the story or history of a business, are the most common types of marketing. Successful marketing involves more than just advertising and hanging up posters or billboards.
Research is a big and very important part of marketing. The research will give the seller a better idea of the target audience so the seller can make campaigns aimed at that audience. A perfect example of this can be found in sports. Sporting goods, such as clothing and shoes, are a large market, so a marketing firm would want to focus its marketing campaign on schools or athletes.
Once the target audience has been reached, the business will do surveys to determine how many people it reached and its effectiveness. There are a few different types of marketing, including content marketing, SEO marketing, social media marketing, and analytical marketing. Marketing is used in almost every product or business that sells something. There are many benefits to marketing.
Educate about the product – Successful marketing campaigns inform the audience what the product is all about and what they can expect.
Gaining and maintaining loyal customers – Good marketing helps to get and keep loyal customers.
Save money – Some marketing tools like email, social media posts, and blogs can be even more successful than traditional printed advertisements.
Better generation with a target audience – Once you determine your target audience, your company will be more profitable because you'll know where to promote your marketing campaign.
Increased awareness – A successful marketing campaign can make customers aware of the product and any changes it may have gone through.
How Much Do Marketing Majors Make?
Marketing majors have the potential to offer very good wages. Some marketing jobs offer higher wages than others, but marketing, in general, can be a lucrative career. Below are some average annual wages earned by marketing graduates in 2021 according to the U.S. Bureau of Labor Statistics (BLS).
| | |
| --- | --- |
| Marketing Job Category | Annual Average Wage |
| Advertising, promotions, and marketing | Average wage of $127,150 with wages ranging from $77,680 to $208,000 |
| Advertising sales agent | Average wage of $25,340 with wages ranging from $28,700 to $125,370 |
| Editors | Average wage of $63,350 with wages ranging from $36,970 to $129,420 |
| Market research analyst | Average wage of $63,920 with wages ranging from $37,570 to $128,320 |
| Sales manager | Average wage of $127,490 with wages ranging from $61,090 to $208,000 |
| Public relations specialist | Average wage of $62,800 with wages ranging from $37,020 to $124,620 |
| Public relations and fundraising managers | Average wage of $100,810 with wages ranging from $60,400 to $204,430 |
| Cost estimators | Average wage of $65,170 with wages ranging from $38,880 to $115,690 |
Why Marketing vs. Communications?
We've heard a lot about marketing and what a good major it can be, but what about other majors like communication? Many aspiring students find themselves pondering the question of marketing vs. communications. What is the difference, and which one is best for you?
One might not realize it, but marketing and communications are very closely linked. Marketing is all about reaching your target audience to tell them about your product. Communications, on the other hand, deals with what to say to the audience and what method to use to deliver the message. Marketing and communications work side by side. You really couldn't have one without the other.
One difference between the two majors is in the course load you'll take. A marketing degree might include courses like consumer behavior, digital marketing, business strategies, and research-based courses. A communications major might have courses like professional writing, gender and communication, interpersonal communication, and organizational communication.
While marketing focuses on the customer, communications focus on ways to reach the customer (email, brochures, digital ads, etc.). These two majors prepare students for similar positions, such as digital marketing managers, marketing analysts, and regular marketing managers. One popular option is to take one as a major and the other as a minor or area of concentration.
Jobs You Can Hold with a Marketing Degree
Marketing degrees are offered as associate, bachelor's, and master's degree programs. Many colleges offer marketing degrees online. One of the first questions a marketing student might ask is what type of job they can get with a marketing degree. This depends on a lot of things. What type of marketing experience do you have? What type of degree do you have?
What type or size company do you want to work for? Where do you plan to work after graduation? Typically, different types of jobs come with different degree levels. Below are some possible jobs available with different degrees. As you'll notice, some jobs are available with a couple of different degree levels.
Marketing major associate degree-level jobs
Merchandiser
Event promoter
Advertising manager
Social media specialist
Retail sales manager
Marketing associate
Digital marketer
Public relations specialist
Advertising sales representative
Market research assistant
Junior account executive
Marketing major bachelor's degree-level jobs
Digital marketing instructor
Social media marketing manager
Regional marketing specialist
Inside sales associate
Sales and marketing national manager
Director of Marketing
Social media specialist
Sales manager
Cost estimators
Marketing major master's degree-level jobs
Marketing research analyst
Fundraising professional
Marketing director
Sales Professional
Writer
Director of Marketing
Product manager – marketing
Marketing analytics manager
Is Marketing a Good Major?
As most individuals with a marketing degree will tell you, marketing is a very good major for several reasons. It will not only put you in a position where you can make good wages, but it also offers occupations that are predicted to have very good job growth.
Here are a few of the many positions you might find with a marketing degree along with the predicted job growth for the decade of 2021-2031 as reported by the BLS.
| | |
| --- | --- |
| Marketing Job Category | Percent Growth 2021-2031 |
| Advertising, promotions, and marketing | 10% |
| Advertising sales agent | 8% |
| Editor | 5% |
| Marketing research analyst | 19% |
| Sales manager | 5% |
| Public relations specialist | 8% |
| Public relations and fundraising managers | 8% |
| Cost estimators | 2% decline |
As stated earlier, many marketing degrees are offered online. These programs are very convenient for students who are already employed in this field. The online programs allow them to advance their studies and knowledge while continuing to earn money and earn a degree.
Another good thing about a marketing major is that it allows you to specialize in various other areas, which will make you even more valuable in the job market. Some possible areas of concentration or minors you might choose include:
Finance
Accounting
Statistics
Social media analytics
Advertising
Computer science
Graphic design
Business/Business administration
International business
Communications
Consumer psychology
As you can see from the course list, marketing is a very versatile degree that can branch out into several other fields besides just marketing. If you've been working in marketing for a few years and are looking for a change, you'll find many possibilities available to you from the many courses, minors, or concentrations you may have taken.
Marketing is just such a big part of any business regardless of the size. Without a good marketing plan, the sales would not be very profitable. After all, how will consumers and businesses know what you offer if you didn't tell them, that is what marketing is all about.
Is a Marketing Degree Worth It?
A marketing degree is more than worth the time and money, especially in terms of what you'll get in return. It may consist of some hard work and commitment, but you'll generally reap the rewards in no time at all. Many very good positions are available to graduates of a marketing degree. They can be not only good positions but ones that can branch out in many directions. Marketing professionals are very much in demand.
While you may find a couple of marketing jobs that appear to offer a slow to moderate job outlook, many of them offer very good employment growth. Another bonus of a marketing degree, and one that makes it worth it, are the various courses included in the program. These may include:
Digital marketing promotions
Digital marketing
Digital Internet marketing
Ad marketing
Marketing basics
Social media
Promotional graphic design
Sales representatives
Marketing promotions
The job market seems to fluctuate, and most people are looking for careers that may not be affected by recessions and layoffs. This is often the case with a marketing career. With marketing such a vast field, there are many positions a marketing graduate might find if one doesn't work out.