Online Master of Divinity Degree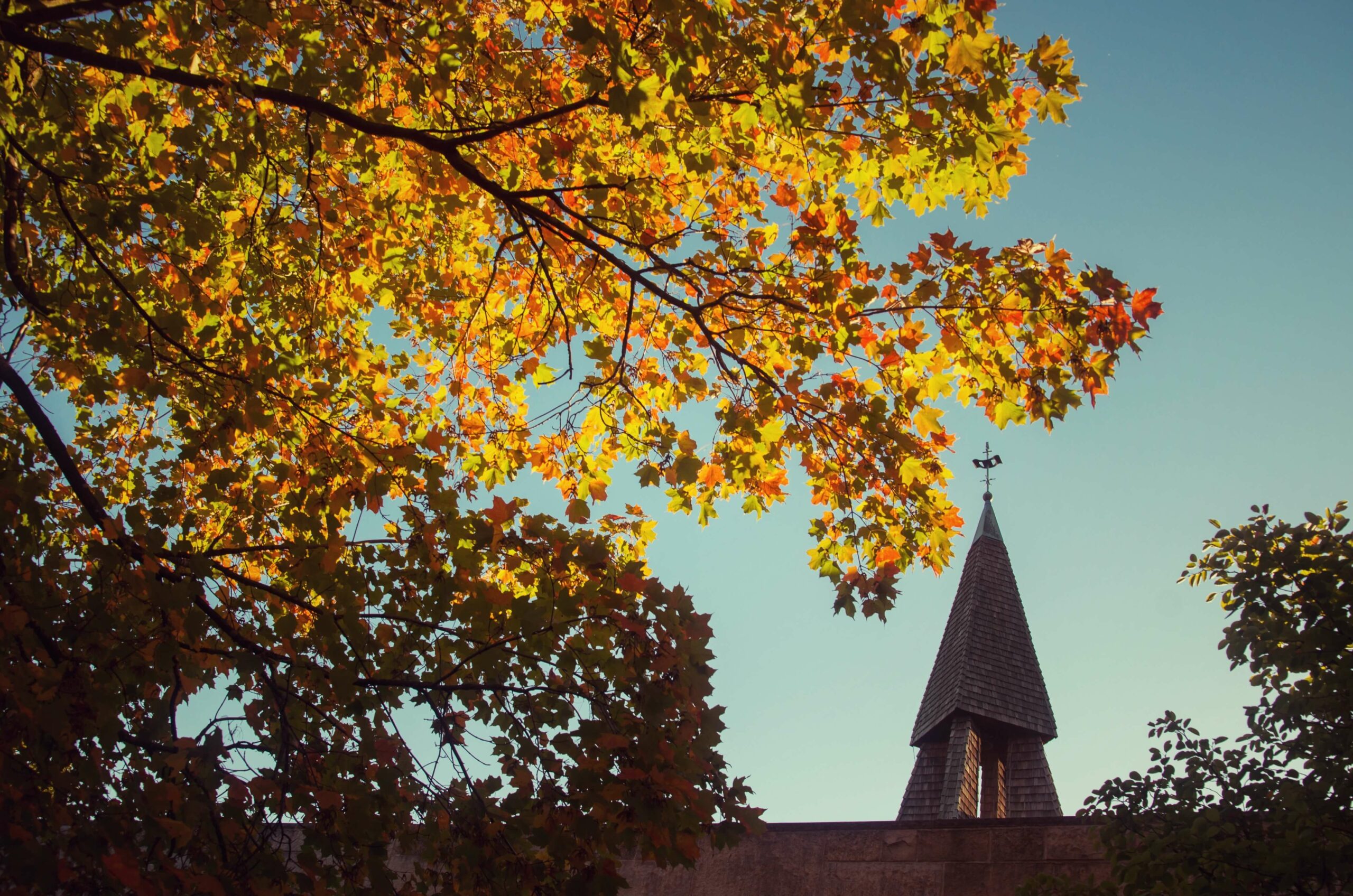 Are you interested in a career that allows you to lead a ministry, church, or parachurch group, or even a nonprofit? Are you looking for a school or program that prepares you for ordination and full-time ministry? Students who answer yes to these questions often find an Online Masters in Divinity to be the perfect option. The Online Masters in Divinity, also known as the Online M. Div., provides students with not only the foundational theological and biblical education but also intentional mentorship, and the practical skills to prepare students for effective and faithful ministry.
What is an Online M. Div Degree?
The Master of Divinity is a very practical and comprehensive program post-baccalaureate degree for people interested in earning a pastoral degree. The Association of Theological Schools indicates that it's also one of the most popular professional degrees in seminaries, divinity schools, and related institutions.
In the past, many aspiring pastoral professionals chose programs like General Theological Studies or Ministerial, but today more and more are choosing the Masters in Divinity. One reason might be that the Masters in Divinity degree is required for licensure with many Christian dominations, including the American Baptist Church, United Methodist Church, and the Disciples of Christ.
Another reason might be because the M.Div. program is a very good program and one that offers the education and training required to be successful in this profession in a variety of religious settings. The online M.Div. program is basically the same as an on-campus program as far as what you'll learn. One of the main advantages of the online program is that a large portion of the work can be done online.
Students have the flexibility to complete the assignments at a time convenient to them. Because of the online option, students may also be able to complete the program earlier or later depending on their schedule and time. Many students earn the online M.Div. degree while continuing to work. Although the program does offer much of the curriculum online, some components may have to be completed in person.
This includes mentorships, field experience, practicum courses, and internships. The individual may earn these credits by spending a designated number of hours assisting a licensed pastor. Even if the program is considered a 100% online program, the student will still be required to complete some practical experiences. In most cases, the candidate pursuing the master's degree must already have a bachelor's degree in some field.
MDiv Program Highlights
Prior to getting into the Divinity master's degree program, applicants may have to satisfy certain admission requirements. They must have a bachelor's degree. Although a bachelor's degree can be in any major, the students with the strongest biblical backgrounds will have the most advantages. Applicants may also have to submit, letters of recommendation, official transcripts, and personal essays. Each school or program may have different requirements.
The online Masters of Divinity program generally requires completion of about 75-100 credits depending on the program. The course format may vary by school. One school may offer eight-week courses, and another school may offer admission on a rolling basis. Students attending the program on a full-time basis can typically complete it in three to four years.
Students often feel that because the program is online, it doesn't require the same commitment. Few things could be further from the truth. The program may include both asynchronous and synchronous components, but it can be every bit as challenging as an on-campus program.
The educational part, practicum courses, and internships all serve one purpose, and that is to teach students what is required to earn the degree and become a minister or pastor. These are the main facets of the program.
Students learn how to preach the truths of Scripture to certain settings, contexts, and cultures.
Students learn how God's work is performed by para-church and private ministries through the assistance of specialized missions and calls.
Their church leadership skills are developed by learning how to lead a pastoral program, event, or area of ministry.
The students also learn to transform their important biblical ideas into well-communicated lessons and messages.
Students learn how personal devotion and spiritual growth help them to become successful ministry leaders.
Students can choose a specific area of ministry in which they want to specialize.
Course topics can vary from program to program but may include the following.
Systemic theology
Latin and Hebrew
Studies of the New and Old Testament
Theology
Pastoral theology
Liturgical studies
Philosophy
Christian education
In addition to the coursework, pastoral students may be required to complete an apprenticeship or a thesis as part of the degree requirements. Many of the programs offer students the choice of different areas of specialization. Here are a few of the many tracks students may choose from.
Missiology
Biblical counseling
Pastoral ministries
Intercultural studies
Christian education
Potential Job Titles for Online Master of Divinity Graduates
Graduates of the M. Div. program can look forward to careers where they can preach God's word and teach others about religion and Christian living. Students who successfully complete the program may find careers with the following job titles.
Pastoral counselor
Educator
Chaplain
Lead pastor
Associate pastor
Hospice chaplain
Minister
Spiritual counselor
Dean of spiritual life
Campus minister
Career and Salary Outlook
Students earning an online M.Div. Degree can look forward to good career opportunities and salary outlook. The U.S. Bureau of Labor Statistics (BLS) reports that members of the clergy earned an average annual wage of $51,940 as of May 2020. Their wages ranged from $28,410 to $89,510. Level of education, experience, and location may all play a part in determining wages and career opportunities. The highest wages were earned in the District of Columbia, where the average annual wage was $73,920.
Career growth for clergy personnel has been good since 2004. New York is the state with the highest number of employed clergy professionals, with 7,200 employed in 2020. These professionals can expect employment growth of almost three percent in the decade of 2019 to 2029. This growth should result in the creation of 201,330 new clergy jobs by 2029. Regardless of what the economy may be, it seems like members of the clergy are always in demand.
Top Schools for the Online M. Div. Degree
Liberty University
With its campus located in Lynchburg, Virginia, Liberty University is a highly regarded university that offers a comprehensive 100 percent online seminary program for aspiring missionaries, ministers, chaplains, and other ministry professionals. This two-year program, offered with eight-week courses, requires 75 credits. Applicants to this two-year program can transfer up to 50 percent of their required credits toward the program. The program is accredited by the Association of Theological Schools (ATS).
Loyola University
The online program at Loyal University offers a blended curriculum of theoretical and contextual education. Halfway through the program, students much go through a midpoint review in which a student writes a statement about their practice, vocation, and even identity. This statement is a vital part of the program. In addition to the online courses, students must take Liturgical Leadership on campus. Full-time students can complete the 72-credit program in three to four years and can enter the program in any season (spring, summer, fall, or winter). Loyal University is a Roman Catholic School located in Chicago, Illinois. The program is accredited by the Higher Learning Commission and the ATS.
Eastern University
Eastern University is a Pennsylvania-based university that offers a 78-credit, three-year online program that starts in March or August of each year. The online program offers two tracks: adaptive leadership and pastoral leadership. This divinity program is based on the six practices of the church. The program is accredited by the Middle States Commission on Higher Education.
Grace School of Theology
Grace School of Theology offers a comprehensive online program that prepares students for futures as ministerial leaders. The well-rounded curriculum includes biblical and theological studies along with practical ministry skills. This three-year program requires the completion of 95 credits and results in a master's degree. The school is accredited by the ATS. Graduates of this program are qualified for various types of ministry work. This program has a selective admissions process, so applicants should meet all requirements as early as possible.
Regent University
Regent University, a university located in Virginia Beach, Virginia, offers an online Masters in Divinity program that offers different areas of specialization, including interdisciplinary studies, biblical languages, missiology, and marketplace ministry. The program's mixed curriculum of practical experiences and theological students prepares students to be leaders in various settings. The program is accredited by the ATS. Completing the 72 required credits can usually be accomplished in three years.
Houston Boston University
Located in Houston, Texas, Houston Boston University is a diverse school that offers programs not just for Baptists by other denominations as well. The program offers two areas of concentration: English language and Biblical languages. The program requires students to earn 72 credits. HBU is accredited by the Schools Commission on Colleges and the Southern Association of Colleges.
Mercer University
Mercer University's 100 percent online Masters in Divinity program is offered through MU's McAfee School of Theology. To successfully complete the four-year program, students must complete between six and seven credits each semester for a total of 78 credits. Students can choose from various tracks, including Biblical students, Global and cultural studies, and Ministerial and Public leadership. The school offers the opportunity to earn a master's degree along with a few other master's degrees, such as the Master of business administration. ATS accredits this program.
Portland Seminary
The Portland Seminary offers aspiring pastors the Master of Divinity degree at George Fox University. Most students can complete this 78-credit online program in four years. The university is located in Newberg, Oregon and accredited by the Northwest Commission on Colleges and Universities and the ATS. This program offers several areas of concentration: Chaplaincy, Spiritual Formation and Discipline, Biblical Studies, Spiritual Direction, and Christian History and Theology.
Fuller Theological Seminary
The Master's in Divinity program at Fuller Theological Seminary is a multi-denominational Christian program that prepares students to become leaders possessing a deep spiritual foundation. This program may be online, but it still requires the students to complete extensive apprenticeships, which can take more than nine months to complete. This Christian program is accredited by the ATS and the Western Association of Schools and Colleges. Students must complete about 80-semester units to graduate.
Columbia International University
The online M. Div. program at Columbia International University in Columbia, South Carolina is an online program that offers several concentrations: Missiological studies, Muslim-Christian Relations, Bible Exposition, Chaplaincy, and Care and Counseling. This program prepares graduates to work in any pastoral care setting but is exceptionally valuable for those working in underserved areas. Southern Association of Colleges and Schools and the ATS accredit this 72-credit program.