Master's in Organizational Leadership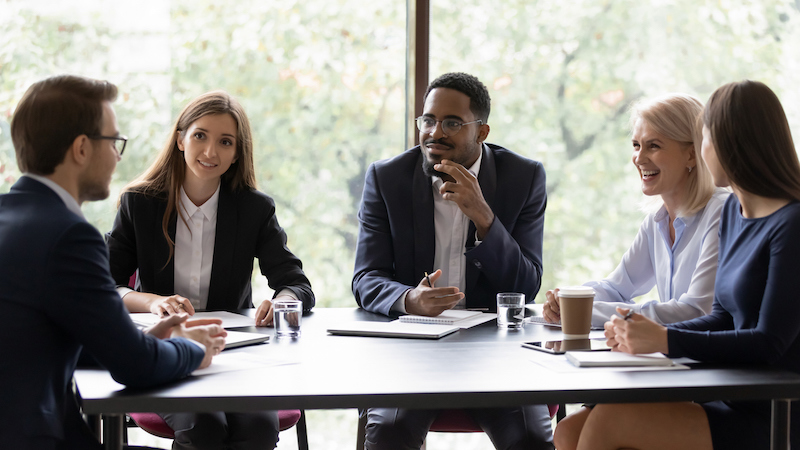 What is Organizational Leadership?
Students pursuing a master's degree in organizational leadership are striving for a career focused on communication, leadership, and human resources. While it is specialized under the broad umbrella that covers business, a master's degree in organizational leadership provides students with skills that can help them gain employment in every field. This is an ideal field for a business professional who might otherwise seek an MBA and who wants to use their creative abilities to think outside of the box at work. Students who are creative thinkers and enjoy working hand in hand with other people should consider pursuing graduate education in organizational leadership.
What can you do with a Master's in Organizational Leadership?
There are a variety of different careers available to those with a master's degree in organizational leadership. Because it is such a broad discipline, the skills developed are ideal for management, human resources, and development positions. Interpersonal communication is essential to these tasks and is one of the primary skills developed while studying organizational leadership.
An organizational leadership degree is great for objective tasks as well as subjective tasks in the workplace. This is why so many graduates pursue careers as business or financial analysts. Organizational leaders understand how to improve the day to day operations of a company or a project through both improve interpersonal communication and advanced data analysis.
Program Highlights
Typically, a master's in organizational leadership is a two-year program that is comprised of around 36 credit hours. Most programs offer a concentration during the course of study. These concentrations could include accounting, management, intelligence, and human resource management. Before looking into a certain program, be sure to learn the school requires a math component. A math component may not be relevant to the career of a student pursuing human resources or interpersonal management. It is more relevant to those who are looking to get into analytics or finance.
Organizational leadership's broad and diverse nature makes each program unique. This is why it is important to understand what your long-term goals are before application and admission. Certain schools are ideal for human resources while others might be more geared towards management or technology. The kind of program you enroll in is just as important as the quality of that program.
Despite each different program's specialty, students will still take classes across many disciplines while fulfilling the credit hours you need to get a degree in organizational leadership. It is an ideal business degree for someone who wants to be valuable across a variety of disciplines to their employer.
Potential Job Titles
The potential job titles available to those with a master's degree in organizational leadership are vast. You will see a concentration amongst a few titles, though. These are human resources manager, training and development manager, sales manager, and operations manager.
One common thread you will see is that most people with a background in organizational leadership end up working in a management role of some type. This is because their education gave them both the skills to think subjectively while being creative enough to work with people of all types throughout each workday. They balance the best of both worlds with their skill set. Organizational leadership is an ideal background for an individual looking to pursue a career at the corporate level.
Salary Outlook
The job titles for organizational leaders vary vastly, meaning the salaries do as well. Salaries typically hover over $100,000, depending on the job type and the type of company. The highest paying salaries are usually found with human resource managers working for tech companies. Jobs on the lower end are social and community manager positions working for the federal or local government. Training and development managers also make near the top end of the organizational leadership salary scale.
Here's a look at some top organizational leaders and their salaries according to the Bureau of Labor and Statistics:
Those with organizational leadership degrees typically make a median salary of over $110,000 during their first five years if they have a master's degree. This is noticeably higher than those who only possess a bachelor's degree in a similar field.
Sample Curriculum
The program can vary from school to school. Most master's students will have taken at least 30 credit hours before receiving their degree and entering the workforce. While each program is completely different, there are some classes you will find at most schools. These include classes in communication, information technology, and human resources. Some programs have more strict math requirements than others, so be sure to investigate that before choosing a program to enroll in.
Sample Courses:
Human Behavior
Strategic Management
Organizational Leadership
Responsible Corporate Leadership
Leading Change
Programs in Organizational Leadership
Gonzaga University
Master's in Organizational Leadership
Modality: Online
Cost per credit: $955
Time to complete: 2-2.5 years
This program offers an opportunity for current and aspiring business leaders to learn from faculty and former classmates who come from the likes of PayPal, Microsoft, Lyft and more. There are multiple concentrations including Change Leadership, Global Leadership, Servant Leadership, and Strategic and Organizational Communication. There is a study abroad option and domestic immersion options, where students can attend in-person sessions if they choose at the Spokane campus. There are immersion sessions on Team Building and Leadership, Psychology of Leadership, Leadership and Storytelling, among others. The curriculum consists of four core classes, five electives and one capstone.
Pepperdine University
Master's in Management and Leadership
Modality: Online
Time to complete: 12 months
If you are looking for a fast-track graduate degree with no GRE requirements, then the Master's in Management and Leadership from Pepperdine University in Malibu fits the bill. Different than some other online classes, the classes at Pepperdine are streamed in real-time, so as a student you get the benefit of seeing your instructor and other students live and collaborating on discussion topics face-to-face (but virtually) through an online platform. The coursework is self-paced based on the week, and you can use WeWork facilities in your area to eliminate distractions.
University of Colorado Boulder
Master of Science in Organizational Leadership
Modality: Online
Cost per credit: $725-$795
The MSOL is a 100% online degree program offering five separate tracks: Strategic Leadership, Human Resources, Leading Innovation, Organizational Communication and a broad Organizational Leadership option. The degree program is designed for working professionals and is offered in a cohort style, so students can connect with classmates by following along with the same group through each seven-week class. The program starts in either Summer or Fall and no GMAT or GRE is required for admission.