Ascent Private Student Loan Review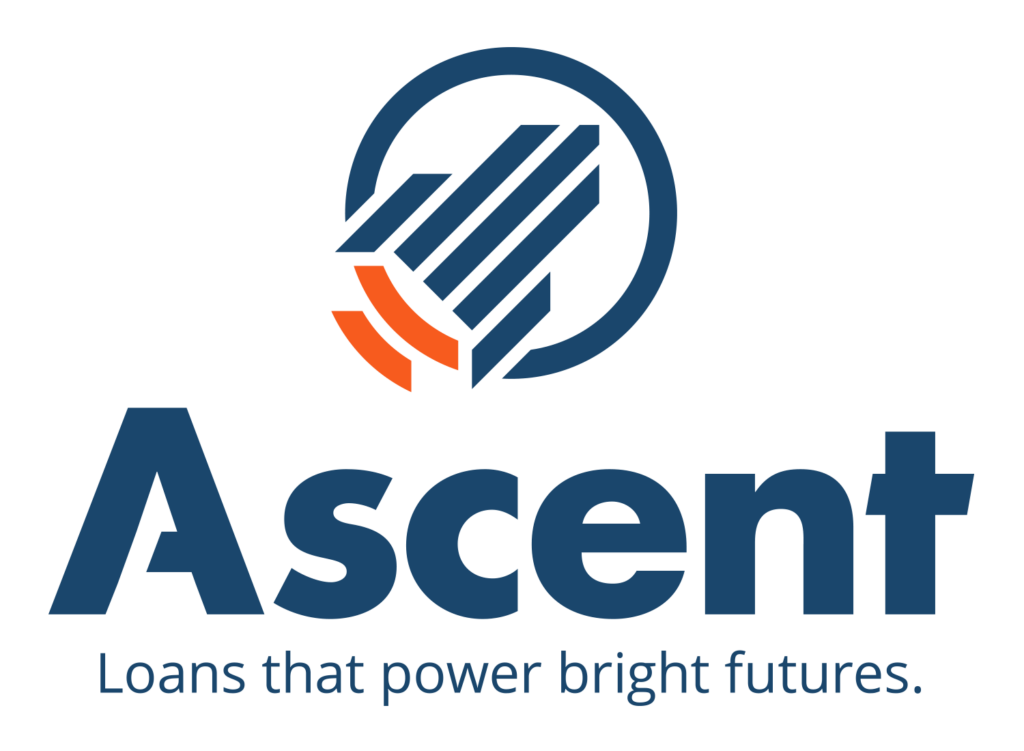 Ascent Private Student Loans
Interest fees, rates and terms
Best for
Only good for students enrolled full-time
No international student co-signer option
Worst features
Payment flexibility
Students who have a solid co-signer
About Ascent
Also known as Ascent Funding or Ascent Student Loans, Ascent is an online lending institution that was founded on January 1, 2015, by Ken Ruggiero. The company is based in San Diego, CA, but they offer loans to students across the nation as well as international and undocumented students.
Funding for Ascent private student loans comes from the Bank of Lake Mills and Richland State Bank, both of which are members of FDIC. Private student loans through Ascent are serviced by Launch Servicing. If students have any questions or issues with their Ascent student loan, Launch Servicing is available to assist them, whether it's processing payments, sending out statements, or helping students set up autopay.
Students doing an Ascent private student loan review typically find this company to be quite an attractive option mostly because of their low-interest rates and flexible repayment options. Their high rating among other students is also a driving factor in why so many students choose Ascent private student loans. In addition to offering private student loans, Ascent pays out more than $60,000 in scholarships each year.
Ascent is a popular online lender for college students. The best way to find the best place for private student loans is through research and reviews. Below is an Ascent private student loan review.
What Type of Loans Does Ascent Offer?
Ascent offers several types of private student loans for students in undergraduate and graduate programs at accredited colleges. They offer private student loans with or without a cosigner. Ascent offers three options for borrowers.
Cosigner student loan – This is a traditional student loan that requires a cosigner. This option is best for students who want a cosigner and wish to pay the loan off sooner. Students using a cosigner typically get better loan terms.
Non-cosigner credit-based student loan – This loan type does not require a cosigner, but eligibility is based on the student's credit. This loan type is good for students who have two years of good credit history and meet income requirements. There is a credit score requirement for this loan type.
Non-cosigner future income-based student loan – This loan type does not require a cosigner, but eligibility is based on the student's expected future income. This loan type is typically chosen by students with no cosigner, no credit history, and no income. It's only available to juniors and seniors, and they must have a GPA of 2.9 or higher.
Cosigned and non-cosigned loans that are income-based require the applicant to have at least $24,000 income annually. However, the non-cosigner future income-based loans do not have this income requirement for eligibility.
Ascent also offers bootcamp loans and consolidation loans. Students enrolled in an accelerated-learning program or a bootcamp often choose bootcamp loans. Consolidation loans are popular with students that have several student loans and wish to consolidate them into one loan with smaller loan payments.
International and undocumented students can choose the cosigner option if the cosigner is a U.S. citizen with good credit. Student loan money can also be used to pay for past-due tuition. Many lenders today are offering student loan assistance due to Covid-19 issues. Ascent does not offer refinancing loans or parent loans.
Ascent offers private student loans for amounts ranging from $2,001 to $200,000 for non-cosigner credit-based loans and from $2,001 to $20,000 for non-cosigner future income-based loans. Ascent is one of only a few that offer private student loans that do not require a cosigner.
How does it work?
The process for getting an Ascent private student loan is quite straightforward and simple. Students fill out an application and apply online. The student will receive a basic approval or denial in a few seconds. After only four steps, the applicants will also be advised of which option will work best for them.
Students must be enrolled at least half-time to be eligible for an Ascent private student loan. Students who are approved for an Ascent private student loan are required to complete an online financial literacy course prior to receiving their scholarship money. Even students or cosigners who have filed for bankruptcy can apply for an Ascent loan if at least five years have gone by since the bankruptcy.
To be eligible for an Ascent private student loan, the borrower must meet credit and/or income requirements, which will depend on what loan type they want. The company will conduct a soft credit check to determine creditworthiness. The soft credit check will not affect the borrower's credit scores. The actual application process only takes a day or two. How soon the students receive their money typically depends on the lender. Payment generally comes within eight days.
When completing the loan application, students need to provide the following information.
Social Security number
Permanent address
Schools they chose
Requested loan amount
Financial aid they anticipate receiving
Income and employer information
Current mortgage or rent information
Credit score
As a rule, students applying for an Ascent private student loan must have a credit score of at least 540. However, the credit score requirements vary depending on which student loan type in which the student is applying.
If a student is applying on his own, the credit score must be at least 600. If the student is applying for a cosigned loan, the student must have a credit score of at least 540, and the cosigner's score must be 740 or higher.
If the student is applying for a credit-based loan without a cosigner, the student's credit score must be at least 680. The student must also have at least two years of credit history. There is no credit score requirement for cosigned future income-based student loans.
Reputation
An excellent reputation is the first thing an Ascent private student loan review will indicate. Both Forbes Advisor and NerdWallet have named Ascent the best private student loan for 2021. They are also rated very high by the Better Business Bureau.
There are several things that make Ascent private student loans very popular with students and parents.
They have flexible payment options to accommodate the students.
Their approval process is very quick.
Students get conditional approval in seconds and final approval in about a week.
Ascent offers forbearance and deferment options.
Students enrolled in autopay get a discount.
Ascent offers a refer-a-student program. Students can borrow an additional $525 for every student referred.
They offer a one percent cash-back option that gives students cash back upon graduation.
There are no origination, prepayment, or application fees.
Repayment
The flexible and convenient repayment options are another reason why Ascent is so highly rated. They offer three repayment options. Students must be attending school at least half the time to be eligible for any of the options.
Fixed repayment – Students can make payments as low as $25 per month. This option saves you more money than the deferred option but less than the interest-only option.
Interest-only repayment –Students only make payments on the interest portion of the loan. This option saves students the most money over the life of the loan.
Deferred repayment – Students do not start making payments until after they've graduated. There is a nine-month grace period before the graduate must begin making payments.
Dental and medical resident students can make reduced payments while they're completing the program. They can also postpone payments for one to three months. Ascent also offers a graduated repayment option that allows students to make lower payments while in school without increasing the original term of the loan.
Deferment
Students enrolled in college generally have a good idea of what they'll be required to pay in student loans and when it's expected to be paid. As much as we hate to think about unfortunate things happening, they do happen occasionally. Ascent understands that sometimes life gets in the way of the best-made plans and wants to help by offering one of the longest forbearance options.
Students experiencing financial hardships may be eligible for forbearance for one to three months at a time. Students can get up to four consecutive forbearance periods for a maximum of 24 months over the term of the loan. They will not have to make any payments during this period. Although they are not required to make payments during this time, the loan will continue to incur interest.
Ascent is all about helping students earn a degree and repaying the student loans in the most convenient and least costly manner. To help with this, they offer both forbearance and deferment options. The basic deferred payment allows students to not make any payments while they are in school.
The student will not have to begin making payments until he or she is out of school for six months. This option is very attractive to students who are carrying a full load in college and have little income coming in. However, students are allowed to make payments if they can. Interest on the loan will continue to grow each month whether the student makes or doesn't make payments.
Bachelor's degree students who are in an internship or residency program can defer payments for up to 24 months. Students who are enrolled at least half-time can defer payments for up to 24 months as well. Military personnel can defer payments for up to 36 months. If a student dies or becomes permanently disabled, the loan is forgiven.
Terms
Students applying for an Ascent private student loan are often concerned about what rate they'll be required to pay. Once a student has applied for a student loan, they will receive that specific information. However, Ascent does offer some basic rates to give applicants a general idea of what they can expect to pay.
Although they offer both fixed rates and variable rates, their variable rate loans are only available for loans with a term of five or ten years. Their fixed rates range from 3.44 percent to 11.41 percent. The variable rates range from 1.47 percent to 9.05 percent.
Ascent offers various loan terms designed to allow students to choose a repayment plan that they can comfortably afford. They offer loan terms of five, seven, ten, 12, or 15 years. If the student is more than ten days late on the payment, the student will be charged a five percent late fee on the unpaid payment. The late fee can be anywhere from $5 to $25. Students can make biweekly payments through autopay. They offer a one percent discount for students using autopay.
Ascent Private Student Loan Review
College students often end up with thousands of dollars in student debt, which is why it's so important they research private school loans and lenders to get the best deal and from a reputable company. Ascent has a lot to offer students not just in their loan amounts but also their flexible terms and various options. If this Ascent private student loan review indicates anything it's that Ascent is a highly rated company dedicated to helping college students earn a degree with flexible financing options.