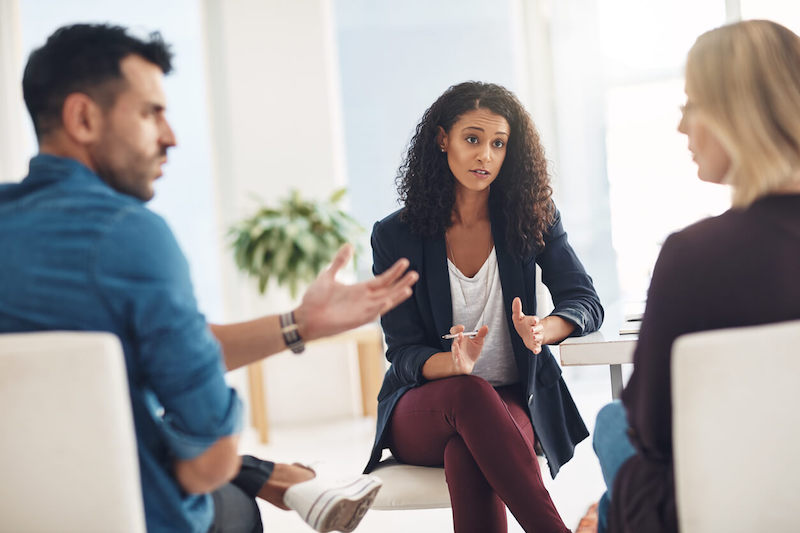 When people or organizations cannot resolve a dispute on their own, they can call on an arbitrator or mediator trained in conflict resolution to help work through the situation and come to an agreement.  Disputes can range from union contact negotiations, financial transactions, child custody cases, divorce settlements and other legal matters.
Conflict resolution uses dialogue to get people talking, bring out the facts, consider options and arrive at a mutually beneficial solution.  Successful conflict resolution can help avoid costly lawsuits by settling disputes out of the courts.
What They Do
Arbitrators and mediators meet with clients to clarify issues and understand any underlying concerns.  They identify the needs of clients and what they feel is a reasonable resolution to the conflict.  They have to be able to listen and communicate to draw out information and analyze the information to understand different perspectives and offer possible resolutions.
They have to be able to deal with changes and with emotions of the parties involved.  A mediator has to remain neutral in the negotiations, always striving for a resolution that both parties can agree to.
Mediators prepare reports and documents relevant to the conflict resolution.  They also inform both parties of any possible legal liability.
Education Requirements
Education requirements vary with the type of mediation and where you work.  You can earn a certificate in conflict resolution from a traditional college or university or online.  Many positions require a bachelor's degree.   You can earn a Masters Degree in Psychology in conflict resolution or complete a combination J.D and Master's program which offers a balance between conflict resolution and law.
Licensing and Certification
As is usually the case, licensing requirements vary widely by state.  Some states will only grant mediator or arbitrator status to those who already have a law degree.  In states where law degrees aren't required, employers or clients may prefer or require a Master's degree in conflict resolution.
There are companies specializing in arbitration and mediation which train and certify their employees.  Most states appoint arbitrators to an arbitration board.  They provide training and any required continuing education.  Arbitrators with at least five years' experience and demonstrated proficiency can become members of The National Association of Arbitrators (NAA)  
Work Environment
Arbitrators and mediators can work wherever there are conflicts and disputes requiring a neutral third party.  They can work in the court system; for corporations, unions, healthcare providers, law firms, colleges and universities and for private parties.   Federal, state and local governments use arbitrators in contract disputes or come to agreement to the best interest of the public.
They work in private offices, the courts and at a client site.  Most work regular hours, but may be required to work evenings and weekends.  Some conflict resolution sessions can continue around the clock until parties reach an agreement.
Earning Potential
The Bureau of Labor Statistics reports the median annual salary of an arbitrator, mediator or conciliator involved in conflict resolution at $57,000, with the lowest 10 percent earning under $31,000 and the highest 10 percent earning more than $107,000.
The Federal Executive Branch of Government offered the highest salaries at $118,000, with colleges, universities and professional schools second at $79,000 per year.